Press Release
Demonstration experiment of drone blood transportation between a blood transfusion center and a hospital was conducted on November 13, 2023 in Ulaanbaatar, Mongolia, with the aim of establishing a regular medical delivery network in the future. ~Succeeded in the world's first*1; automatic navigation over DID in an environment with an outside temperature of -15°C and an altitude of 1,300 m ~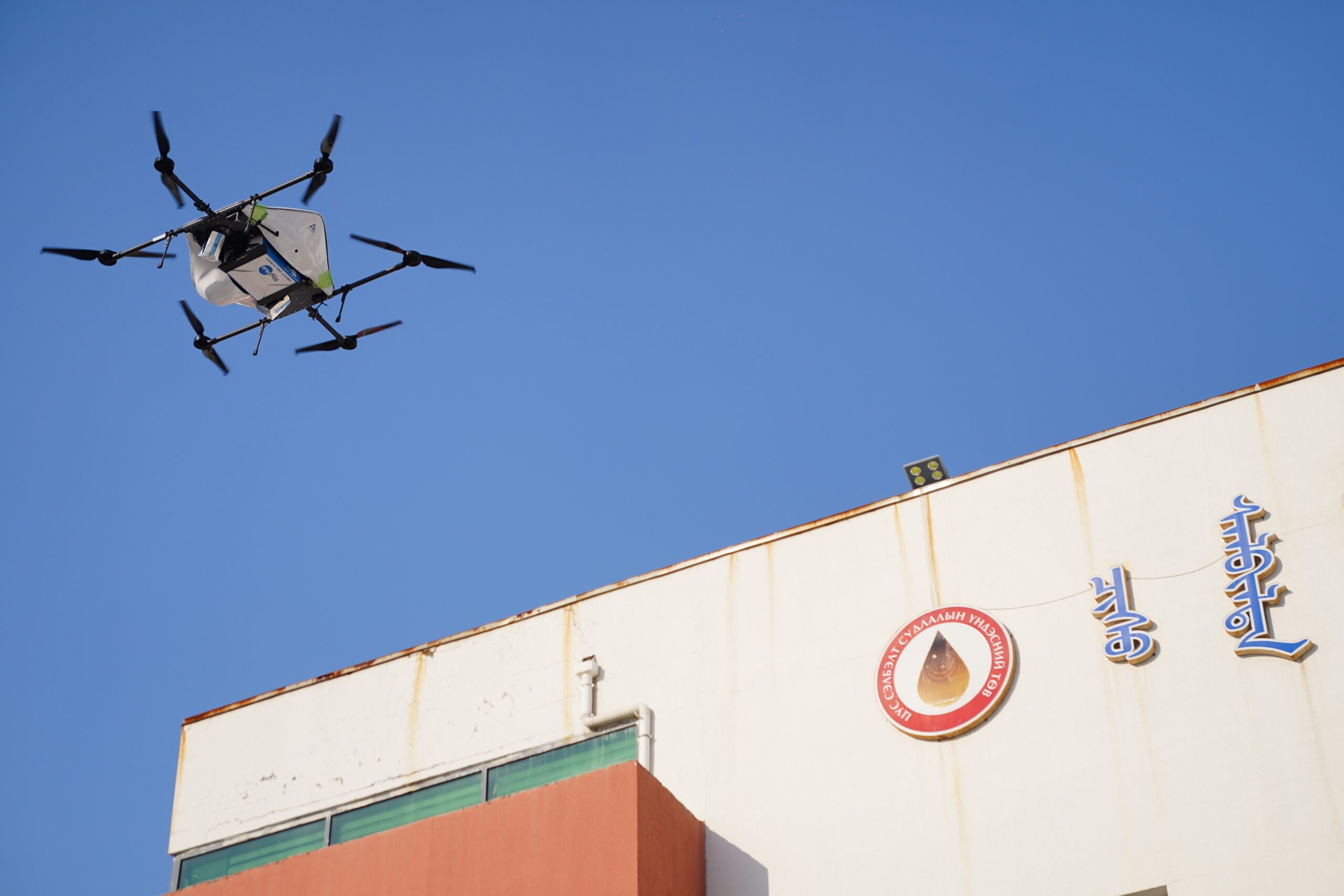 Aeronext Inc. (Shibuya-ku, Tokyo; CEO: Keisuke Toji; hereinafter "Aeronext"), Newcom Group (Ulaanbaatar, Mongolia; CEO: B. Baatarmunkh), Seino Holdings Co., Ltd. (Ogaki City, Gifu Prefecture, Japan; President and CEO: Yoshitaka Taguchi; hereinafter "Seino HD"), and KDDI SmartDrone Inc. (Minato-ku, Tokyo; President: Masafumi Hirono; hereinafter "KDDI SmartDrone") conducted a demonstration experiment of blood transportation by drone between the National Center for Transfusion Medicine and the Mongolia-Japan Hospital attached to the National Medical University of Mongolia in Ulaanbaatar, Mongolia as a round-trip flight of approximately 9.5 km in total on Monday, November 13.
Ulaanbaatar is located at an altitude of 1,300 meters above sea level, and on the day of the flight, the temperature was an extremely cold -15°C outside. Under these harsh conditions, the team successfully conducted an automatic flight over a third party, which falls under the Japanese term of "Level 4 (BVLOS、Beyond Visual Line of Sight flight in a manned area)".
This demonstration flight was conducted with the support and cooperation of the Civil Aviation Authority of Mongolia(commonly known as MCAA), the City of Ulaanbaatar, the Land Surveying and Mapping Agency, and the Meteorological and Environmental Research Agency and was conducted by Aeronext flight operation and engineering team, which has extensive experience and experience in various areas including the implementation of drone delivery services in Japan, and official data. This is the first flight in Mongolia for transportation and delivery applications to be officially approved by MCAA.
This was a demonstration experiment of high social significance that will lead to the construction of future air infrastructure to solve serious problems in the medical field caused by chronic traffic congestion and weak road infrastructure in the city of Ulaanbaatar.
This is the first step in the activities of the "Mongolia New Smart Logistics Promotion Working Group*4 (hereafter referred to as the Working Group)," which was announced at the "New Smart Logistics Symposium" held in Ulaanbaatar in September this year to study the possibility of constructing a delivery network using drones and the societal implementation of drone delivery, the New Smart Logistics*2 SkyHub™*3 in Mongolia.
Demonstration Experiment Overview
1.Background
Half of Mongolia's total population (approximately 1.6 million) is concentrated in the city of Ulaanbaatar. In terms of logistics and transportation, chronic traffic congestion and inadequate road infrastructure have had a negative impact on economic activities as well as medical care. Air pollution is also increasing due to localized use of gasoline-powered vehicles in the urban center.

On the other hand, the demand for individual delivery is increasing due to the rise in income levels and the increase in the number of e-commerce users as a result of the improvement of the IT and telecommunications environment. Therefore, in order to contribute to the improvement of the urban living environment, including medical services, the "Mongolia New Smart Logistics Symposium 2023" was held in September this year, aiming to realize the creation of a logistics infrastructure that is highly sustainable in terms of immediacy, economy, and environment through the use of air transportation.
This verification experiment is the first step in the activities of the Working Group, with a view to future societal implementation of drone delivery networks in the medical field.
2.Purpose
In the medical field, the almost daily transportation of blood for transfusion from the National Center for Transfusion Medicine, the only blood transfusion center in Mongolia, to various hospitals by car is a long and inefficient process, requiring the accompaniment of nurses and amid chronic traffic congestion.
If a regular drone route between the Blood Transfusion Center and hospitals or between hospitals can be established, it will be possible to transport goods quickly and efficiently without being affected by traffic congestion, which will improve the working environment for nurses and the sustainability and quality of medical care. The drone flight from the National Center for Transfusion Medicine to the Mongolia-Japan Hospital of MNUMS will be tested and verified as the first part of a regular route.
3.Details of the Demonstration Experiment
The drone delivery involved a round-trip flight of approximately 9.5 km in total, covering a distance of 4.75 km one way between the National Center for Transfusion Medicine in Ulaanbaatar and the Mongolia-Japan Hospital of MNUMS, to deliver blood for transfusion.
The aircraft is AirTruck*5, a logistics-specific drone with a maximum payload of 5 kg and a maximum flight distance of 20 km, which was jointly developed by Aeronext and ACSL Ltd. from scratch specifically for logistics applications. Mobicom communications will be used for communication, and the aircraft will be controlled by the operation management system, which enables remote control and autonomous flight of the aircraft using mobile communications. And a drone operation overseas has been "remotely monitored" from Japan.
In the delivery process, nurses at the National Center for Transfusion Medicine store 11 packs of 3 different types of blood and medical fluid packs, weighing approximately 2.3 kg, in a special AirTruck box with temperature-controlled packaging based on Seino HD's know-how, set the box in the AirTruck, and the AirTruck takes off from the parking lot of the National Center for Transfusion Medicine. It flew automatically as pre-programmed for a distance of 4.75 km one way, and after about 13 minutes landed on the roof of the Mongolia-Japan Hospital of MNUMS, where it off loaded and detached the specialized box, and returned to the parking lot of the National Center for Transfusion Medicine from where it took off after replacing the battery.
The delivered boxes were picked up by a nurse at the Mongolia-Japan Hospital of MNUMS, who confirmed that the contents had arrived safely and temperature-controlled.
During the demonstration conducted on November 13, the four representatives commented as follows:
<Comments from ERDENEBAYAR Namijil, M.D., Ph.D., Director of the National Center for Transfusion Medicine>
We have long desired to implement blood transportation by drone, and in 2020 we tried it ourselves with the help of the Rotary Club, but it was very difficult and did not work. Because of that experience, the success of today's demonstration is truly an incredible result. This successful result is thanks to the collaborative efforts of the working group. We are grateful to the group. I believe that this success will change the public's perception. With this success as a starting point, and I would like to continue to try new initiatives and advance them in a way that is appropriate for Mongolia. We also have high hopes that this initiative in Mongolia will be spread worldwide.
<Comments from Newcom Group CEO B.Baatarmunkh>
I am thrilled to acknowledge this historic transportation drone flight in Mongolian airspace. Newcom Group, a leading force in diverse industries, firmly believes that the Drone Industry holds the key to addressing social challenges in Mongolia, such as traffic congestion and a lack of human resources, in a highly efficient and environmentally friendly manner.
<Comments from Keisuke Toji, CEO of Aeronext>
First of all, I am pleased that this demonstration experiment was a success. This was one of the more challenging days we have had. In terms of our business development in Mongolia, I find it fascinating that there are concrete social issues in front of us that need to be solved by drones, and that the regulations and rules that are prerequisites for addressing these social issues are also being implemented at the same time. I believe this will be a model for the creation of a new industry. Also, the harsh natural environment of Mongolia was very attractive for us to measure the potential of new drone technology. We are happy to have had the opportunity to get to involved Mongolia. The Mongolian expansion will be a major turning point for the Aeronext group. I am convinced of that.
<Comments from Shuji Kawai, Executive Officer of Seino Holdings>
Ulaanbaatar is facing logistics issues, traffic congestion, and other challenges that are characteristic of a city that will growing and developing. We feel that it is very meaningful for new smart logistics to be incorporated as part of infrastructure development in line with urban upgrades and population growth. By verifying this initiative in cooperation with Newcom Group and other local companies, we expect to reverse innovate and introduce these achievements to Japan.
<Comments from Masafumi Hirono, President and Representative Director of KDDI SmartDrone>
We are very pleased to have successfully demonstrated the world's first medical logistics using drones in a harsh environment of -15°C outside temperature and at an altitude of 1,300 meters. We believe that this initiative will open up new avenues for medical logistics and may help solve the traffic congestion problem in Ulaanbaatar. We will continue our efforts to advance our technology and contribute to society.
The four parties will continue to contribute to solving social issues in Mongolia through the activities of this working group, starting with the establishment of a regular medical delivery network using drones, and promoting the development of social infrastructure by building a new smart logistics SkyHub™ in line with social issues and the needs of Mongolian residents.
(Reference)
*1 Based on an Internet survey conducted by Aeronext (as of the end of October 2023)
*2 New Smart Logistics
A public-private initiative to find solutions to the issues commonly faced by the logistics industry, such as labor shortages, environmental and energy issues, and DX areas, while utilizing digital and technology to ensure the future sustainability of logistics, which is an indispensable infrastructure for people's daily lives. The project aims to realize the last mile joint delivery, the best mix of land and air transportation, freight and passenger consolidation, automated technology, etc., through co-creation based on an open public platform (O.P.P.) that transcends the boundaries between the industry and the outside world.
*3 New Logistics SkyHub™
A new smart logistics platform jointly developed and deployed by Aeronext and Seino HD that connects existing land transportation and drone logistics, as well as connecting ground and air infrastructure to deliver goods anytime, anywhere. An open and standardized platform with built-in drone delivery, operating from Drone Depots®︎ and using cars and drones as delivery vehicles, and SkyHub™ TMS as the base for SkyHub™ Delivery (shopping service), SkyHub™ Eats (food delivery), SkyHub™ Medical (pharmaceutical delivery), as well as joint delivery of packages from different logistics companies in bulk, to develop and provide services tailored to local issues and needs.
The introduction of SkyHub™ not only has the logistics benefits of promoting unmanned and inventory-free operations and improving last mile delivery efficiency, but also introduces a new logistics infrastructure. Where the logistics industry facing the "2024 Logistics Problem," SkyHub™ will contribute to solving social issues in the region, such as transportation problems in specific depopulated areas, medical problems, disaster countermeasures, and measures for the vulnerable in logistics, SkyHub™ will also contribute to address regional issues such as traffic problems in specific depopulated areas, medical problems, disaster countermeasures, and measures for the vulnerable in logistics, as well as raise the level of satisfaction of residents and communities by improving convenience and quality of life.
*4 Mongolia New Smart Logistics Promotion Working Group
A working group of 10 Mongolian and Japanese organizations and businesses was established at the "New Smart Logistics Symposium" held in Ulaanbaatar on September 28, 2023 to study the possibility of building a drone delivery network in Mongolia and the societal implementation of drone delivery using the SkyHub™ new smart logistics system. Participating institutions are Japan International Cooperation Agency (JICA), Newcom Group, the National Center for Transfusion Medicine, Mobicom Corporation LLC, the Mongolia-Japan Hospital of MNUMS, Tok Tok LLC, Aeronext Inc, ACSL Ltd, KDDI SmartDrone Inc, Seino Holdings Co., Ltd.
*5 Dedicated Logistics Drone AirTruck
AirTruck, the first mass-produced logistics drone developed in Japan by Aeronext Corporation, a next-generation drone technology startup, in collaboration with ACSL, achieves stable flight with Aeronext's proprietary 4D GRAVITYTM*6 airframe structure design technology. The AirTruck is a dedicated logistics drone that goes "faster, farther, and is more stable" with enhanced for logistics, specialized for forward motion, and aerodynamic characteristics required for long-distance flight. It has a top-class flight record in Japan, having flown in implementation areas and demonstration tests in various regions of Japan.
*6 Airframe structural design technology 4D GRAVITY™
Airframe structure design technology developed by Aeronext optimizes aerodynamic characteristics by equalizing motor speed regardless of attitude, condition, or movement during flight and controlling lift, drag, and fuselage center of gravity based on fuselage shape and structure to improve the basic performance of industrial drones, such as stability, efficiency, and mobility, and the transportation performance of drones dedicated to logistics. Aeronext has patented this technology and manages it as part of the 4D GRAVITYTM patent portfolio. 4D GRAVITYTM improves basic performance and opens up new markets and applications for industrial drones.
【About Aeronext Inc.】
Aeronext, an IP driven R & D technology startup for next-generation drones, is a company that designs the sky through technology to create a world where the sky becomes a social infrastructure, is economized, and solves social issues through drones. Our core technology is 4D GRAVITYTM, a unique structural design technology that improves basic drone performance such as stability, efficiency, and mobility of industrial drones by optimizing the center of gravity of the aircraft. In order implement this 4D GRAVITYTM as standard equipment on industrial drones, we have constructed a strong patent portfolio and are promoting a partnership-based platform business for the 4D GRAVITYTM license globally.
Aeronext has also founded a subsidiary to implement the SkyHub™ smart logistics and pursue drone delivery.
*For more information: https://aeronext.com/company/
【About Newcom Group】
Newcom is Mongolia's leading investment firm with over 30 years track record of pioneering change across multiple industries having successfully transformed Mongolia's telecom, aviation, and energy sectors.
*For more information https://www.newcom.mn/
【About Seino Holdings Co., LTD.】
With logistics as its central axis, Seino Holdings also provides one-stop value in areas peripheral to logistics, such as finance, human resources, and procurement. We aim to be a corporate group that connects hearts and minds beyond logistics to contribute to the prosperity of our customers and bring smiles and happiness to all. Under the slogan of "Team Green Logistics," we are currently working to develop an open public platform (O.P.P.) that transcends industry and corporate boundaries as an overall strategy to solve social issues facing Japan, such as the declining birthrate, aging population, and environmental problems, and to take on the challenge of co-creating "green logistics" that will optimize a sustainable logistics network. In the last mile area, we are actively building a "last mile O.P.P. that solves social issues" as a countermeasure for vulnerable shoppers and poor families, in line with the changing lifestyles and structures of society as a whole.
*Open Public Platform (O.P.P.)
Our concept is to build a logistics platform that is open and accessible to all, regardless of industry or location, to improve the efficiency and value to each user, and to contribute to industry, the environment, and people's lives as an infrastructure.
* For more information: https://www.seino.co.jp/seino/shd/overall-condition/
【About KDDI SmartDrone】
KDDI SmartDrone builds services that enable safe remote and long-distance flights by controlling drones using mobile communications such as 4G LTE. KDDI SmartDrone is working to create new businesses with drones and provide agile services that meet customer needs in various fields such as inspection, logistics, surveillance, agriculture, and surveying.
*For more information https://kddi.smartdrone.co.jp/
*Aeronext and the Aeronext logo, as well as "4D GRAVITYTM" "SkHubTM" "Drone DepotTM" "Drone StandTM" are trademarks of Aeronext Inc.
*Other company names and product/service names mentioned in this press release are registered trademarks or trademarks of their respective owners.