Press Release
Demonstration of drone delivery service for residents in Sakai Town, Ibaraki ~Initiative to Launch SkyHub®, a New Smart Logistics System Using Drones~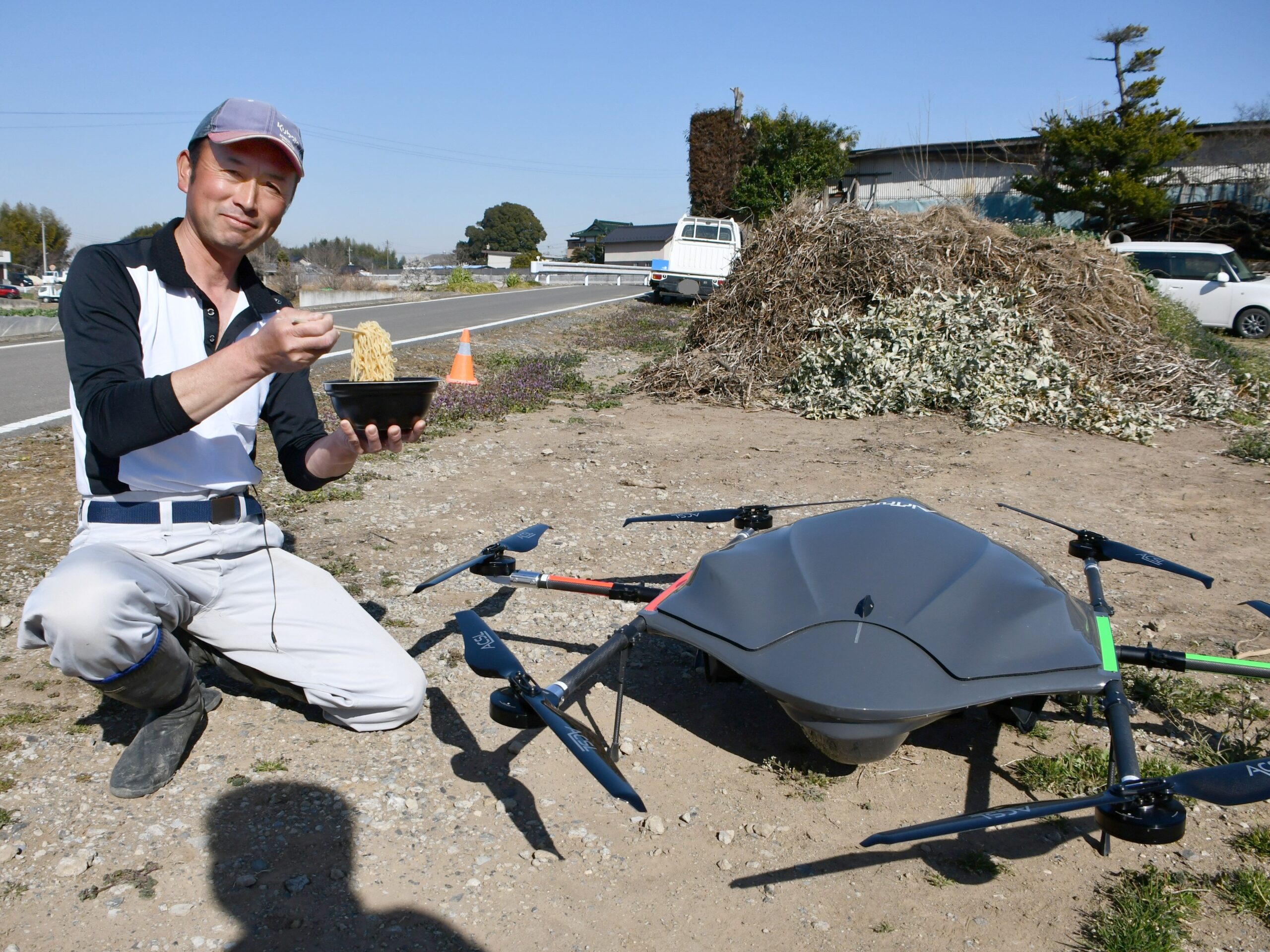 NEXT DELIVERY Inc. (Head office: Kosuge-mura, Yamanashi Prefecture; President: Keisuke Toji; hereinafter "NEXT DELIVERY") conducted a demonstration of a drone delivery service for residents in Sakai Town, Ibaraki Prefecture, on February 28, 2023, as an initiative to launch a new smart logistics*1 SkyHub®*2 utilizing drones.
Based on the "Agreement on the Utilization of Next Generation Advanced Technologies including Drones and Self-Driving Buses" that was signed by Sakai Town, Seino Holdings Co., Ltd. (hereinafter referred to as "Seino HD"), Aeronext Inc. (hereinafter referred to as "Aeronext"), BOLDLY Inc. and Cenec Co., Ltd. on October 3, 2022, NEXT DELIVERY opened "Drone Depot*3 Sakaimachi" on February 3, 2023, as a base for "SkyHub®," a new smart logistics service that integrates drone delivery and land transportation. This demonstration is part of the plan.
NEXT DELIVERY is a subsidiary of Aeronext, and is engaged in the practical implementation of the new smart logistics "SkyHub®," including drone operations and the operation of "Drone Depot Sakaimachi.
Demonstration Experiment Overview
Purpose and Background
In Japan, the problems of maintaining public transportation, labor shortages in the logistics industry, and shopping refugees, including the elderly, in depopulated rural areas are becoming more serious. In light of this situation, SkyHub®, a new smart logistics system that links ground transportation and drone delivery, aims to solve the problem of logistics manpower shortage, improve convenience for the elderly and shopping refugees, and revitalize the local economy. It also reduces CO2 emissions and environmental impact compared to conventional means of logistics.
Details
In this demonstration experiment, ground transportation and drone delivery were linked from the city center to residents in the Kaneoka area of Sakai Town to deliver ramen noodles from Yamadaya located alongside Drone Depot Sakaimachi and a beef sirloin boxed lunch from Kappo Hisashi.
It was transported by light van from the drone depot to the former gate ball field, a 5-minute drive, mounted on a drone, and delivered to the customer after flying a distance of 3 km for about 5 minutes by AirTruck*4, a dedicated logistics drone developed by Aeronext.
After receiving the freshly made ramen and lunch boxes, Mr. Inagaki commented, "The ramen was hot and steamy, and tasted just like what you would get at a restaurant. I think it would be nice if you could deliver to the fields in the future."
NEXT DELIVERY will continue to address regional issues in the logistics industry and reduce CO2 emissions, while improving convenience for residents and stimulating the local economy, by developing services in Sakai Town based on an efficient logistics system utilizing drones and self-driving buses that meet the needs of Sakai Town and its citizens. The company will also aim to improve convenience for residents and revitalize the local economy.
(Reference)
*1 New Smart Logistics
A public-private initiative to find solutions to the issues commonly faced by the logistics industry, such as labor shortages, environmental and energy issues, and DX areas, while utilizing digital and technology to ensure the future sustainability of logistics, which is an indispensable infrastructure for people's daily lives. The project aims to realize the last mile joint delivery, the best mix of land and air transportation, freight and passenger consolidation, automated technology, etc., through co-creation based on an open public platform (O.P.P.) that transcends the boundaries between the industry and the outside world.
*2 SkyHub®︎
A new smart logistics platform jointly developed and deployed by Aeronext and Seino HD that connects existing logistics and drone logistics, and connects ground and air infrastructure so that goods can be delivered anytime, anywhere. SkyHub® is an open and standardized system that incorporates drone delivery. On this platform, based on the Drone Depot®︎, we develop and provide services tailored to local issues and needs, such as delivery agency services based on the SkyHub® application, on-demand delivery, pharmaceutical delivery, and joint delivery of packages from different logistics companies in one package. The introduction of SkyHub® not only has the logistics benefits of promoting unmanned and inventory-free operations and improving last mile delivery efficiency, but also contributes to addressing social issues in the region, such as the shortage of workers due to the declining population and aging population, transportation problems in specific depopulated areas, medical problems, disaster countermeasures, and measures for the vulnerable in logistics, from the aspect of logistics reform, and will also raise the level of satisfaction of residents and communities by improving convenience and quality of life.
*3 Drone Depot®
Warehouses and bases for the accumulation and delivery of goods at the connection points between existing land-based logistics and drone logistics, with a setup that enables drone delivery of goods.
*4 Dedicated Logistics Drone AirTruck
AirTruck, the first mass-produced logistics drone developed in Japan by Aeronext Corporation, a next-generation drone technology startup, in collaboration with ACSL, achieves stable flight with Aeronext's proprietary 4D GRAVITY®*5 airframe structure design technology. The AirTruck is a dedicated logistics drone that goes "faster, farther, and is more stable" is enhanced for logistics, specialized for forward motion, and aerodynamic characteristics required for long-distance flight. The prototype has flown in demonstration tests in various regions of Japan and has the No. 1 flight record in Japan.
*5 Airframe structural design technology 4D GRAVITY®
Airframe structure design technology developed by Aeronext optimizes aerodynamic characteristics by equalizing motor speed regardless of attitude, condition, or movement during flight and controlling lift, drag, and fuselage center of gravity based on fuselage shape and structure to improve the basic performance of industrial drones, such as stability, efficiency, and mobility, and the transportation performance of drones dedicated to logistics. Aeronext has patented this technology and manages it as part of the 4D GRAVITY® patent portfolio. 4D GRAVITY® improves basic performance and opens up new markets and applications for industrial drones.
【About NEXT DELIVERY Inc.】
A subsidiary of Aeronext, a company mainly engaged in drone delivery, established in Kosuge Village, Yamanashi Prefecture in 2021 with the vision of "becoming a country where affluence is spread to every corner of the earth through 4D LogisticsTM infrastructure that connects air, land, and time in the age of 100 years of life. The company is also involved in the development, manufacture, sale, rental, and maintenance of hardware and software related to drone delivery. We are also developing peripheral businesses such as development, manufacturing, sales, rental, and maintenance of hardware and software related to drone delivery. Starting with Kosuge Village in Yamanashi Prefecture, we are working to improve the efficiency and revitalization of regional logistics in places such as Kamishihoro Town in Hokkaido and Tsuruga City in Fukui Prefecture.
*For more information: https://nextdelivery.aeronext.co.jp/
*Aeronext and the Aeronext logo, as well as "4D GRAVITY®" "SkyHub®" "Drone Depot ®" "Drone Stand ®" are trademarks of Aeronext Inc.
*Other company names and product/service names mentioned in this press release are registered trademarks or trademarks of their respective owners.