Press Release
Aeronext and ANA HOLDING INC. Enter Partnership for Joint Development of Delivery Drones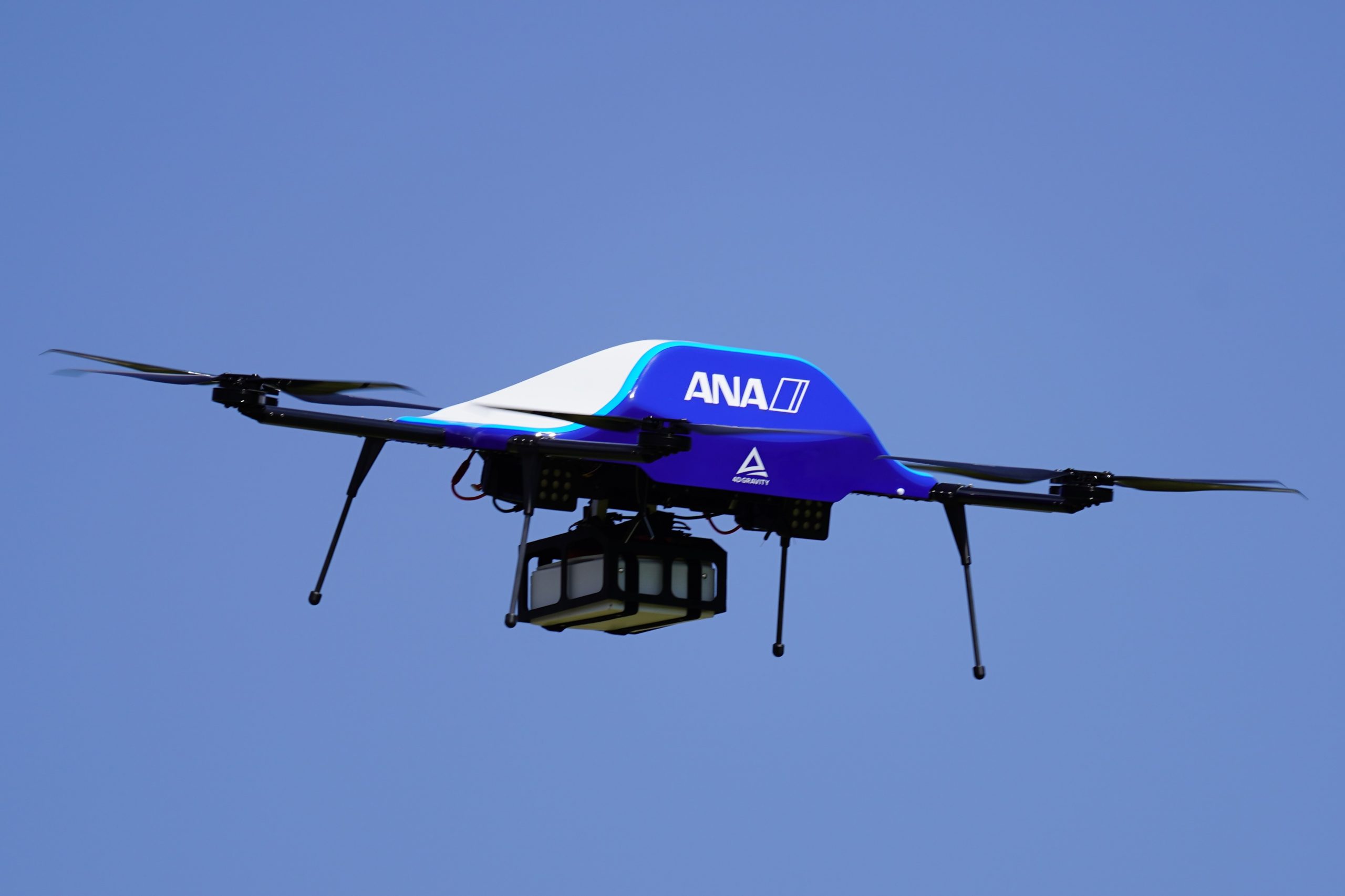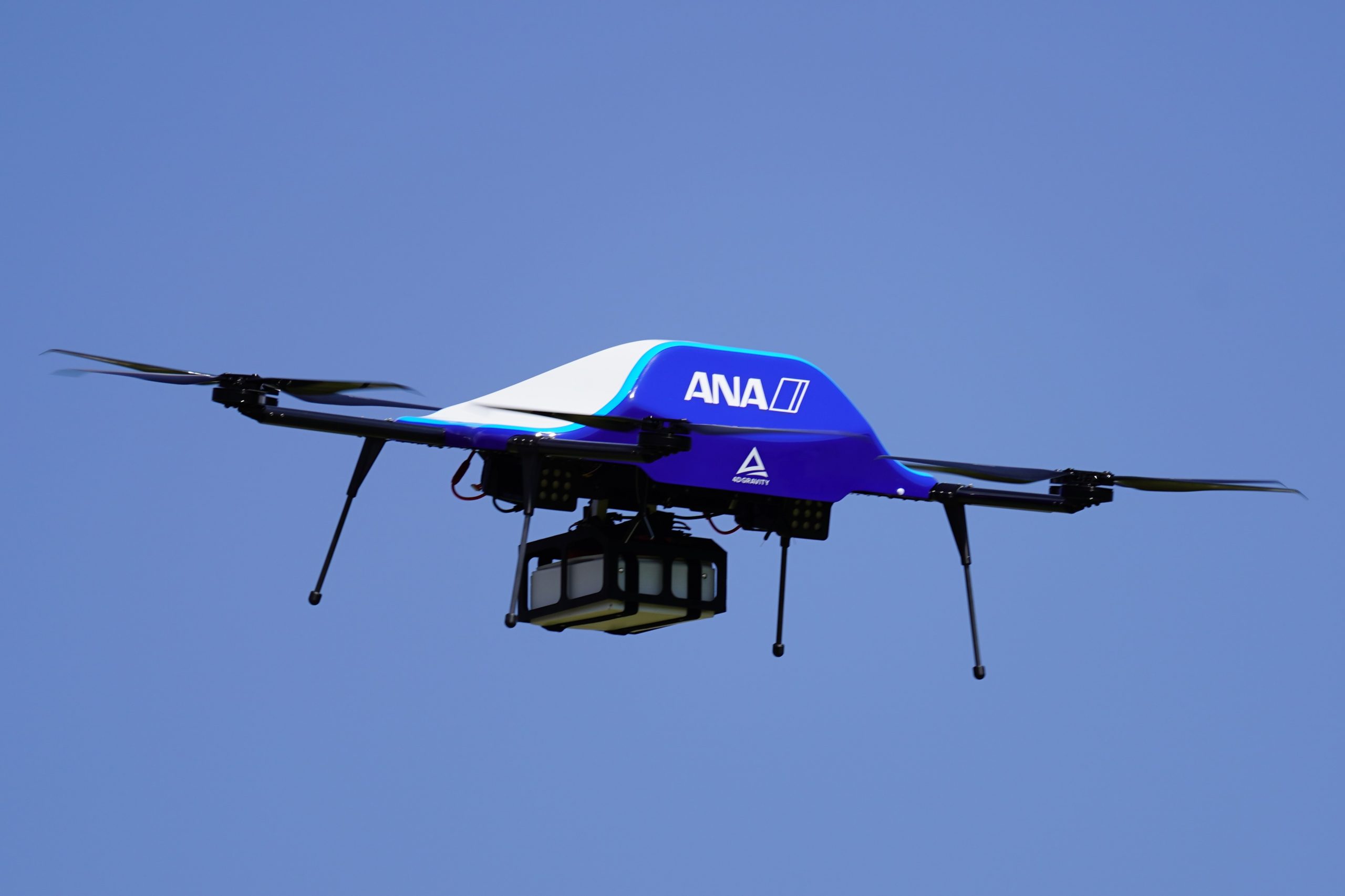 ~Challenge to develop " Next DELIVERY*1″, an aircraft that handles drone delivery services in urban areas~
~Aiming to work with domestic and international drone manufacturers for expansion of drone transport infrastructure~
ANA HOLDINGS INC. (Minato-ku, Tokyo, President & CEO: Shinya Katanozaka, hereafter ANAHD) and Aeronext Co., Ltd. (Shibuya-ku, Tokyo, CEO: Keisuke Toji, hereafter Aeronext) will combine ANAHD's airline and drone operation and Aeronext's structural design technology, 4D GRAVITY® *2, that improves the basic performance of industrial drones, and start a business partnership for the joint development of delivery drones for Aerial Industrial Revolution Level 4*3 (BVLOS, Beyond Visual Line of Sight, over populated areas). The two companies look to use their developed aircraft as a base for alliances for mass production with domestic and international drone manufacturers, and future transport infrastructure, for the increased adoption by society.
*For flight video of the latest prototype "Next DELIVERY®", check  https://youtu.be/Dpxz9_R-sjQ
 Partnership Purpose
ANAHD and Aeronext will jointly develop high quality, reliable, and safe drones for implementation of the FY2022 Aerial Industrial Revolution Level 4 (Delivery of daily necessities and medicines in areas where land transportation is difficult, and parcel delivery, including urban areas) defined by the "2019 Industrial Aerial Roadmap".
 Roles
・ANAHD
Using ANAHD's knowledge of safe flight operations for airplanes, and experience of PoC flight testing under Level 3 condition (BVLOS, over less-populated areas), conducted in Fukuoka and Goto, ANAHD continues implementation and testing delivery drones for service. ANAHD will provide insights and expertise from an operator's point of view regarding major applications, basic aircraft performance, and functions required for aircraft maintenance and flight management.
・Aeronext
Aeronext focuses on the development of drones for delivery, aiming at "realization of a drone-based society" and "economization of new airspace", and is developing a "Next DELIVERY®" drone aircraft for delivery equipped with 4D GRAVITY®. The airframe structure of conventional delivery drone follows the airframe structure for drone that were developed for aerial photography applications so that the airframe and the cargo sections of the drone were inflexibly fixed together so that the cargo parts had to move at the same angle and attitude as the flight parts of the drone. "Next DELIVERY® allows for the flight part and the cargo parts to move separately and the cargo can remain level at an optimal center of gravity. This design revolution allows production of higher performance drones. Aeronext will provide 4D GRAVITY® technology for joint development of delivery drones.
ANAHD and Aeronext will start a demonstration testing jointly developed delivery drones within FY2020 and look to mass produce those drones with the start of Aerial Industrial Revolution Level 4 in FY2022. We aim to implement drone delivery services as a new infrastructure that solves regional issues for society.
*1 4D GRAVITY®-equipped drones specialized for delivery applications have excellent flight performance, response performance, and landing performance. Even in situations where, for example, there is an outbound trip with luggage and a return trip with no luggage, the structure maintains the proper center of gravity at all times, even under conditions that affect the flight attitude such as gusts. The speed of the motors is uniform, which makes it able to go faster for longer, while enabling efficient and stable flight without tilting the cargo.
*2  Structural design technology that optimizes the center of gravity of the aircraft to make the motor speed uniform regardless of the attitude, state, and movement during flight, and improves the basic performance of the industrial drone in areas such as stability, efficiency, and mobility. This technology is characterized by a coupling structure between the airframe and payload. Aeronext patents this technology and manages its 4D GRAVITY® patent portfolio. By improving the basic performance industrial drones, 4D GRAVITY®, expands the applications of industrial drones allowing for expanded markets.
*3  Announced in June, 2019, Public Meetings to determine issues related to the environment related of unmanned aerial vehicles, produced the "Roadmap for the Aerial Industrial Revolution 2019," in which a goal for implementation for "non-assisted non-visual flight in manned areas" by FY2022 was set.
【Aeronext Inc.】
Aeronext's business includes research and development of airframe structure technology for industrial drones, patent portfolio development, and licensing business. We have built a strong patent portfolio to encourage the standard implementation of Aeronext's structural design technology, 4D GRAVITY®, which improves the basic performance of industrial drones, by optimizing the center of gravity of the industrial drone. Aeronext seeks to promote 4D GRAVITY® license business worldwide.
*For More Information: https://aeronext.com/company/
【Inquiries】
ANA CO., LTD. Corporate Communications
Tel: 03-6735-1111
Aeronext Inc. PR(Ito)
Tel: 03-6455-0626 Email: contact@aeronext.com
*Aeronext, the Aeronext Logo, 4D GRAVITY®, Next DELIVERY® are registered marks of Aeronext Inc.
*All other marks belong to their respective owners.