Press Release
Aeronext to Exhibit at IFA2019 in Berlin, Germany
Next generation drone Aeronext Co., Ltd. (Shibuya-ku, Tokyo, CEO: Keisuke Toji, hereinafter referred to as Aeronext) will be exhibiting at IFA 2019 at the Messe Berlin, in Berlin, Germany from September 6th (Friday) to 11th (Wednesday), 2019. IFA, the Internationale Funkausstellung, is one of the world's leading consumer electronics exhibitions, and brings together startups, R & D organizations and cutting-edge IT companies from around the world. We will exhibit in the "IFA NEXT" area, reserved for innovation, for the first time there, and we will show one of its concept models, 360°VR Photography Drone, Next VR™, equipped with our proprietary center of gravity control technology "4D GRAVITY®."
(Next VR™ Flight Test Video https://www.youtube.com/watch?v=9flPVFeeyJs)
IFA is a consumer electronics event that has a longer history than CES and is held in Berlin, Germany every year in early September. Aeronext will exhibit in "IFA NEXT," a special area specializing in innovation that brings together startups, R & D institutions, and cutting-edge IT companies around the world and has attracted a lot of attention from participants. When "IFA NEXT" established partner countries in 2019, Japan was selected as the first partner country. Aeronext will be exhibiting in the "IFA NEXT2019 JAPAN Pavilion" and was selected as a company representing Japanese innovation to the world.
Aeronext won the CEATEC Award 2018 "Minister of Economy, Trade and Industry Award" and at the same year was the Shenzhen international "Nanshan" Entrepreneurship Star "Contest 2018" competition held in Shenzhen, where Aeronext won both the third place prize overall and the Intellectual Property Award. After this honor, in May, 2019, we established a new subsidiary, 天次科技(深圳)有限公司 (English name: Aeronext Shenzhen Ltd.), in Shenzhen City and partnered with SMD and MMC in the Chinese market to enhance our 4D GRAVITY® technology license business for the Chinese market.
This first IFA exhibition will be the full-scale booth exhibition for Aeronext, following CES Asia held in Shanghai, China in May 2019. Aeronext sees IFA as a valuable opportunity to talk directly with potential partners for application and use case development and customer development in the global market for "Flying Robots," equipped with unique center-of-gravity control technology that improves the stability, fuel consumption, and mobility of industrial drones are now driving the movement toward drone delivery and the social implementation of flying cars around the world.
In Japan, China and in the global market, Aeronext will continue to work toward a drone based society and on the economic opportunities of new airspace.
IFA NEXT2019 JAPAN Pavilion Exhibition Information
•Dates: Friday, September 6, 2019 through Wednesday, September 11, 2019 10:00am to 6:00pm
•Location: Messe Berin, Berlin Exhibition Site Hall 26 Stand No. 210, 211, 213
•Concept for the exhibition: "Interface with Consideration and Sensibility"
•Aeronext Booth Details: Hall 26, Stand No. 211
•Organizer: Ministry of Economy, Trade and Industry
•Press release from Ministry of Economy, Trade and Industry:
URL:https://www.meti.go.jp/english/press/2019/0806_002.html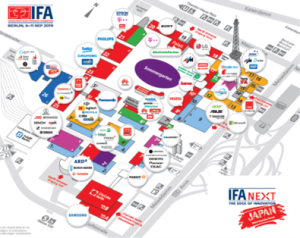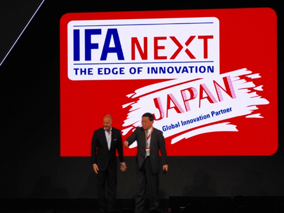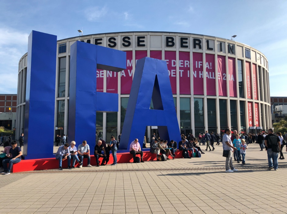 【Press Inquiries】
Aeronext Inc.Press Relations(Natsuko Ito)
Email: contact@aeronext.blue
【About Aeronext Inc.】
Aeronext is a next generation drone laboratory for drone architecture founded in Japan to achieve the ideal aircraft design for UAVs and multi-copters. Aeronext emphasizes "attitude control" as its central theme and pioneered the original center of gravity control technology, "4D GRAVITY®", that improves stability and increases efficiency and productivity of drones because of multi-function capability. By combining the 3 elements of core technology, IP portfolio and brand into one package, Aeronext is able to conduct its 4D GRAVITY® license business globally.
For details on Aeronext, please see: https://aeronext.com/company/
【About IFA】
IFA is the world's largest consumer electronics event held in Berlin, Germany every year in early September. Its history began in 1924, before CES, and is also famous for an opening speech given by Einstein. Today, the scale of the vent has increased year by year. Last year, the total exhibition area was 161,200㎡, and more than 1,800 companies and organizations exhibited, were visited by more than 244,000 visitors.
For details on IFA, please see:  https://www.ifa-berlin.com/
*4D GRAVITY®, Next VR ™, Next DELIVERY®, Next INDUSTRY® are all trademarks of Aeronext Inc. Other trademarks and logos herein are properties of their respective rights owners.