Press Release
Annaka City、Seino HD, and Aeronext Sign Comprehensive Cooperation Agreement Signed to Establish New Smart Logistics that Contributes to Solving Regional Issues Using Next-Generation Advanced Technology, Including Drones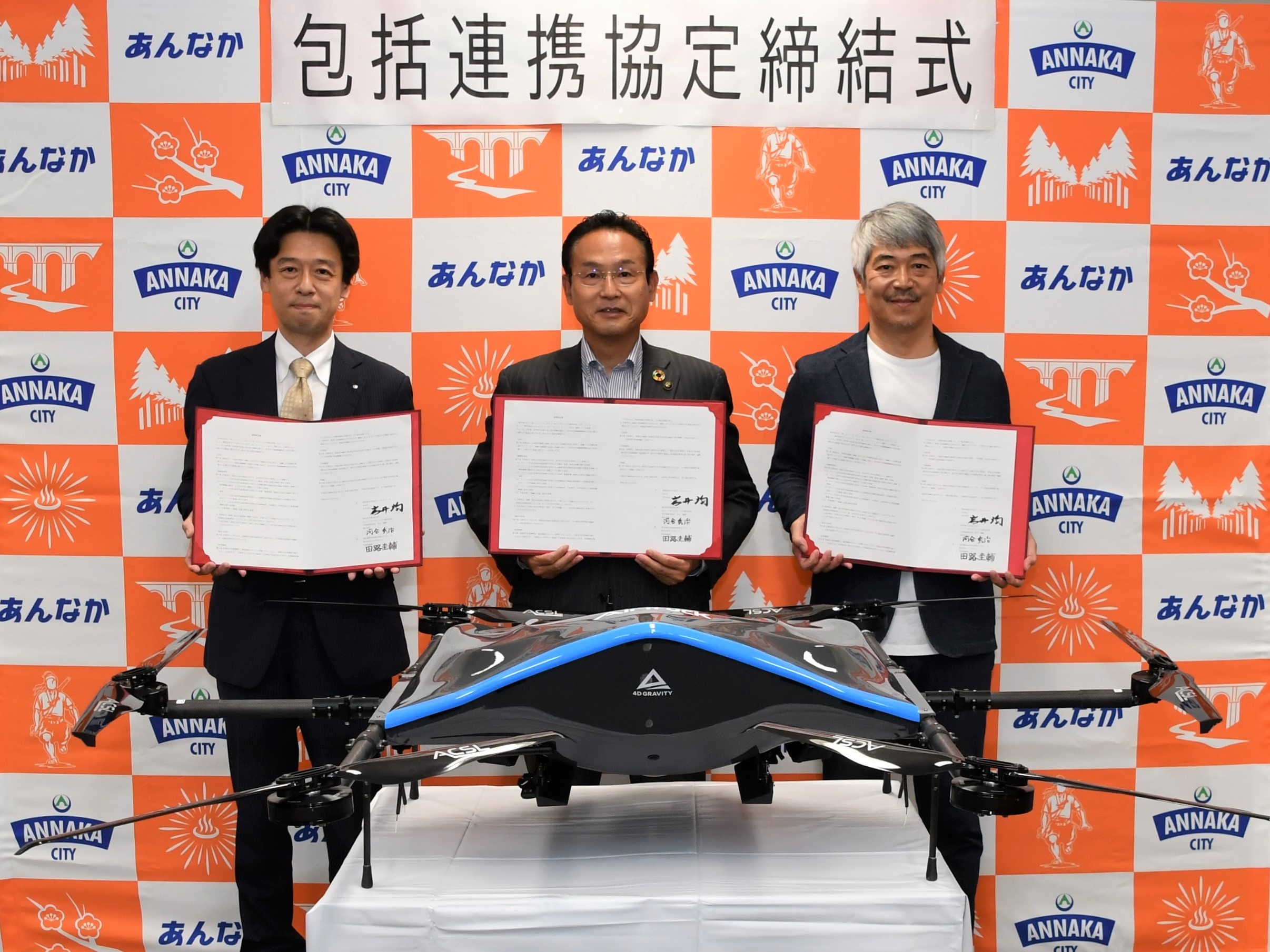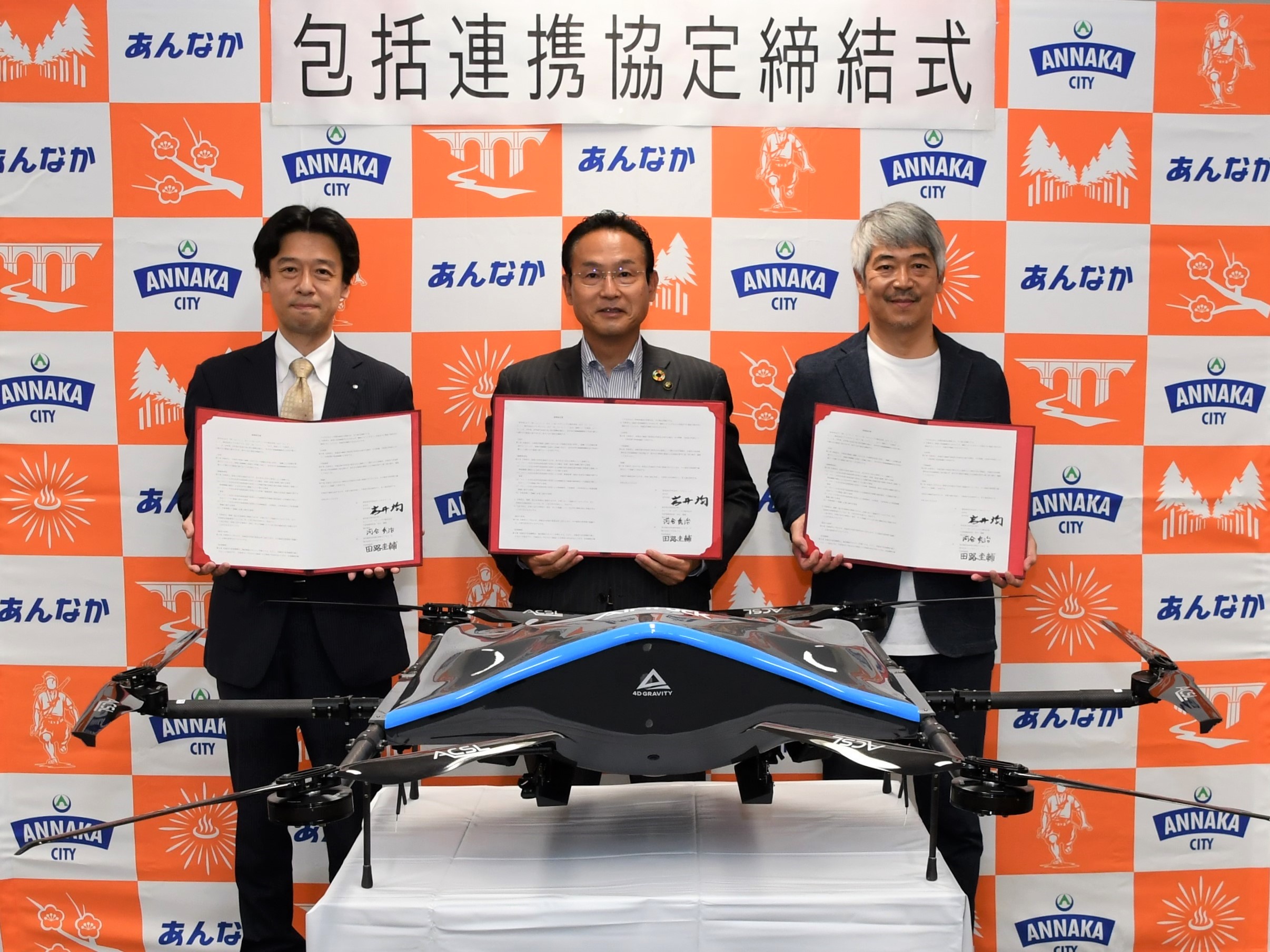 Annaka City (Mayor: Hitoshi Iwai), SEINO HOLDINGS CO., LTD. (Head Office: Ogaki City, Gifu Prefecture; President: Yoshitaka Taguchi; hereinafter "Seino HD"), and Aeronext Corporation (Head Office: Shibuya-ku, Tokyo; CEO: Keisuke Toji; hereinafter "Aeronext") signed a comprehensive cooperation agreement on October 4, 2022, to build new smart logistics*1 that will contribute to solving regional issues by utilizing next-generation advanced technologies, including drones.
The purpose of this agreement is to strengthen mutual cooperation for 10 to 20 years in the future through mutual coordination and cooperation, and to build a new business model for logistics by utilizing next-generation advanced technology, including a demonstration experiment of drone delivery, to contribute to solving regional issues associated with such areas as aging and depopulation in Annaka City.
<Outline of Comprehensive Cooperation Agreement>
Agreement Date
October 4, 2022
Details of the Agreement
Through the use of next-generation advanced technology, including drones, coordination in the following areas
(1)Promotion of tourism, industry and economy
(2)Creating a livable environment by solving logistics issues in cooperation with sustainable regional transportation and local businesses
(3)Enhancement and continuation of medical care, medication monitoring, and general health and welfare
(4)Contribute to local disaster prevention and regional decarbonization, as well as the development of new social infrastructure
(5)Regional employment, human resources education, human resources development, and industrial infrastructure development
Outline of Planned Initiatives
The population of Annaka City peaked at 64,893 in 2000 and has continued to decline since then, currently standing at 55,546 (as of the end of August 2022). The city is also characterized by the absence of population centers (DID districts), resulting in a low-density, diffuse urban structure without a high concentration of population in the city center. In addition, public transportation such as shared-ride buses and shared-ride cabs are in operation, but the number of users is decreasing year by year and the government support burden is increasing. Transportation is also an issue for maintaining the convenience of daily shopping and hospital visits for people living in aging areas and areas without bus routes.
In order to optimize logistics, the private sector and the government will collaborate to conduct a demonstration experiment to solve these issues by creating a system that provides shopping services, disaster relief, and pharmaceutical delivery by introducing a new smart logistics system that incorporates drone delivery as the last mile transportation method and connects and integrates ground transportation and drone delivery.
In the demonstration project planned for the future, we are studying the possibility of cooperating with local volunteer organizations and local businesses, including the former Matsuida Town area, to deliver food, daily necessities, and medical supplies to local residents.
The signing ceremony for the Comprehensive Cooperation Agreement was held on October 4 at Annaka City Hall, with Annaka Mayor Hitoshi Iwai, Seino HD Executive Officer Shuji Kawai, and Aeronext CEO Keisuke Toji in attendance, each making the following comments.
<Comment from Mayor Hitoshi Iwai of Annaka City>
With depopulation and aging of the community in Annaka City, the number of citizens who have difficulty going shopping and receiving medical care is expected to increase in the future. With the signing of this agreement, along with the expansion of public transportation, the city will utilize next-generation advanced technology to provide in-depth shopping services and medical services, aiming to become a city where people everywhere can live with peace of mind.
<Comment from Shuji Kawai, Executive Officer of Seino HD>
Seino HD is actively promoting and expanding its last-one-mile delivery service in the area of last-mile delivery by leveraging its strengths in trunk line transportation, responding to changes in lifestyles and structure, and solving social issues such as measures for people with shopping difficulties and impoverished households. In Annaka City, we are pursuing the role of logistics and how the implementation of technology can lead to the creation of an enriched, attractive, and energetic city where residents can live with peace of mind, as well as to the provision of services to residents.
<Comments from Keisuke Toji, CEO of Aeronext>
Perhaps the people of Annaka City do not feel inconvenienced in their daily lives. But that is due to the currentefforts of local businesses, and it will be difficult to keep it that way in another 5 or 10 years. Many local governments across Japan are interested in our activities and our desire to create a new lifestyle infrastructure for local communities, and Annaka City was one of the first to give us the opportunity to make it a reality. We are pleased and excited to help maintain and improve a convenient living environment for the residents of Annaka City.
Through this cooperation agreement, the three parties will mutually collaborate and cooperate to help solve local issues and revitalize the community in Annaka City by utilizing next-generation advanced technologies, including drones, in line with the city's issues and the needs of its citizens. And from Annaka City, we will deliver future regional models to Gunma Prefecture, to Japan, and to the world.
<Reference>
*1 New Smart Logistics
A public-private initiative to find solutions to the issues commonly faced by the logistics industry, such as labor shortages, environmental and energy issues, and DX areas, while utilizing digital and technology to ensure the future sustainability of logistics, which is an indispensable infrastructure for people's daily lives. The project aims to realize the last mile joint delivery, the best mix of land and air transportation, freight and passenger consolidation, automated technology, etc., through co-creation based on an open public platform (O.P.P.) that transcends the boundaries between the industry and the outside world.
*2 AirTruck
AirTruck, the first mass-produced logistics drone developed in Japan by Aeronext Corporation, a next-generation drone technology startup, in Cooperation with ACSL, achieves stable flight with Aeronext's proprietary 4D GRAVITY®*3 airframe structure design technology. The AirTruck is a dedicated logistics drone that goes "faster, farther, and is more stable" with enhanced for logistics, specialized for forward motion, and aerodynamic characteristics required for long-distance flight. The prototype has flown in demonstration tests in various regions of Japan and has the No. 1 flight record in Japan.
*3 New Logistics SkyHub®︎
A new smart logistics system that connects existing logistics and drone logistics jointly promoted by Aeronext and Seino Holdings Co., Ltd., and connects the ground and air infrastructure so that goods can be delivered anytime, anywhere. It features an open platform and standardized mechanism that incorporates drone delivery and realizes joint delivery. The introduction of SkyHub will contribute to solving social issues in the region, such as population decline, labor shortage due to declining birthrate and aging population, traffic problems in specific depopulated areas, medical problems, disaster countermeasures, and measures against vulnerable logistics from the aspect of logistics reform. It is possible to raise the satisfaction level of residents and communities by improving the convenience and quality of life of residents, which is also meaningful in promoting regional revitalization.
【About Annaka City】
Annaka City was established on March 18, 2006 through the merger of the former Annaka City and Matsuida Town, and is located in the western part of Gunma Prefecture. The city was an important transportation hub along the Tousando Road in ancient times and the Nakasendo Road and customs posts in modern times.
Annaka City is currently pursuing a variety of measures to develop its tourism business by taking advantage of the Isobe Hot Springs and the old Usui Pass, and to enhance commerce and industry by taking advantage of the convenient transportation.
For more information: https://www.city.annaka.lg.jp/gaiyou/index.html
【About Seino HD】
Seino Holdings strives to be a value-creating comprehensive logistics trading company and aims to "provide value that transcends time and space" to its customers. Seino embraces an overall strategy of the group is to embody "Open Public Platform Construction (OPP)" that provides better and optimal services to customers through connections both inside and outside the industry in an open-neutral relationship in order to build a platform that is easy for customers and other companies in the same industry to use. In the last mile area, we are actively promoting and expanding the construction of a last mile O.P.P. that solves social issues such as measures for vulnerable shopping and measures for lower income families, while responding to changes in lifestyle and structure.
* For more information: https://www.seino.co.jp/seino/shd/overall-condition/
【About Aeronext】
AERONEXT, an IP driven R & D technology startup for next-generation drones, is a company that designs the sky through technology to create a world where the sky becomes a social infrastructure, is economized, and solves social issues through drones. Our core technology is 4D GRAVITY®︎, a unique structural design technology that improves basic drone performance such as stability, efficiency, and mobility of industrial drones by optimizing the center of gravity of the aircraft. In order implement this 4D GRAVITY®︎ as standard equipment on industrial drones, we have constructed a strong patent portfolio and are promoting a partnership-based platform business for the 4D GRAVITY®︎ license globally.
AERONEXT has also founded a subsidiary to implement the SkyHub® smart logistics and pursue drone delivery.
*For more information: https://aeronext.com/company/
*AERONEXT and the AERONEXT logo, as well as "4D GRAVITY®" and "SkyHub® are trademarks of AERONEXT Co.
*Other company names and product/service names mentioned in this press release are registered trademarks or trademarks of their respective owners.