Press Release
Demonstration Experiment in Ashikaga City to Use Drones to Assist Vulnerable Shoppers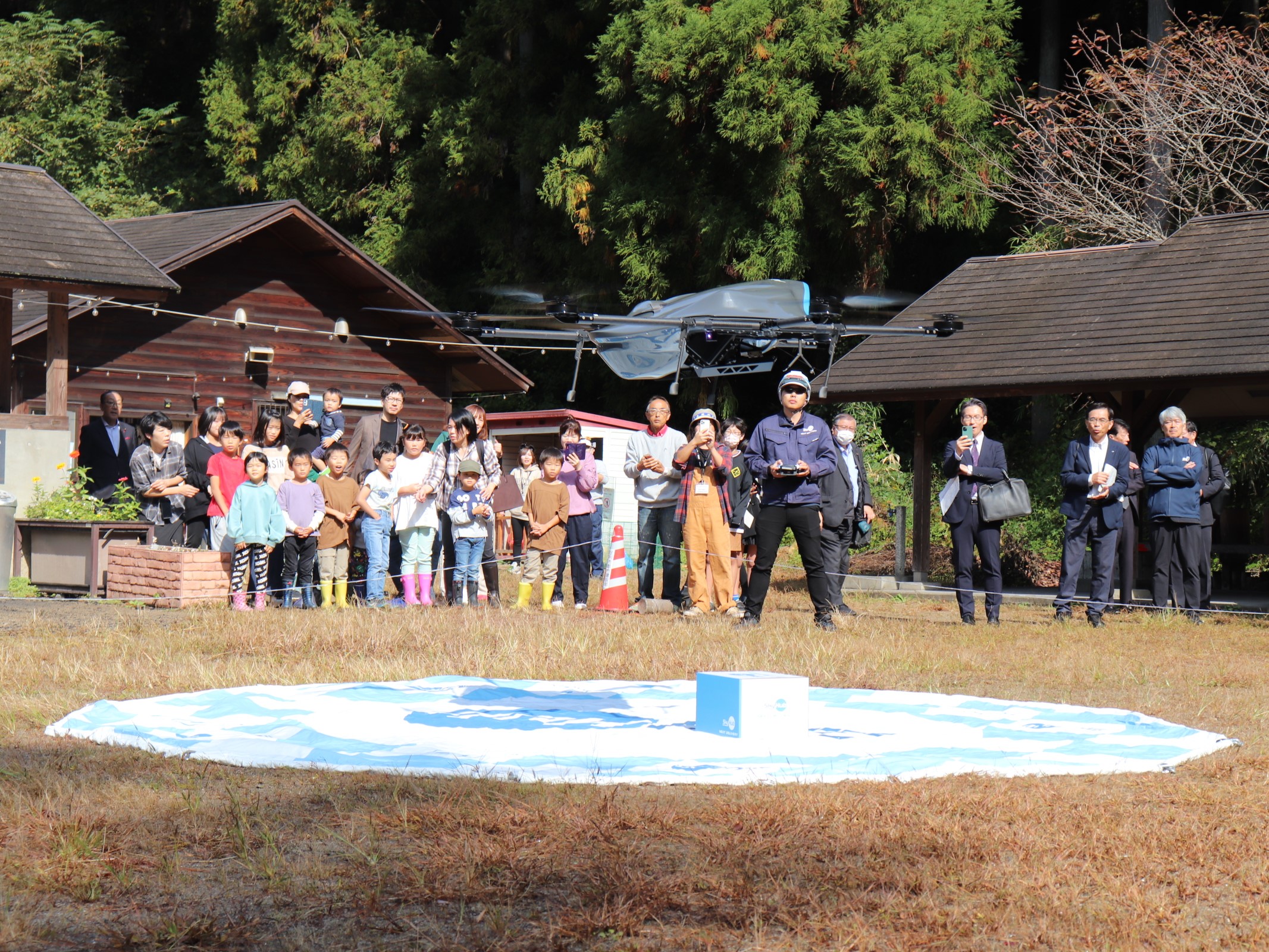 Ashikaga City, Tochigi Prefecture (Mayor: Naohide Hayakawa) and NEXT DELIVERY Inc.(Kosuge Village, Yamanashi Prefecture; President: Keisuke Toji) conducted a demonstration experiment on Saturday, October 28, 2023, in the Miwa area to explore the possibility of using drones to provide shopping assistance to vulnerable shoppers and to transport goods in the event of a disaster.
Demonstration Experiment Overview
1.Background and Purpose
Ashikaga City has a total population of 139,764 (as of October 2023), which peaked at 167,686 in 1990 and continues to decline. In local communities where the birthrate is declining and the population is aging, activities to watch over and support each other within the community are expected to become increasingly important.
Against this backdrop, a demonstration experiment using drones was conducted.
2.Implementation Content
Various sweets were delivered by AirTruck*1, a drone dedicated to logistics, on two routes: from Miwa Community Center to the former Matsuda Elementary School in Ashikaga City in case of disaster, and from Miwa Community Center to RECAMP Ashikaga (Matsudagawadam Fureai Hiroba), envisioning a shopping delivery service.
Mr. Katsumi Kobayashi, Manager of RECAMP Ashikaga, commented " This was a precious moment. Since the campsite is located in a mountainous area and far from the city center, it may become an important infrastructure for the local community to provide supplies using drones in the event of a disaster." after receiving sweets delivered in about 12 minutes from Miwa Community Center to RECAMP Ashikaga, a distance of about 5 km one way.
Reference
*1 Dedicated Logistics Drone AirTruck
AirTruck, the first mass-produced logistics drone developed in Japan by Aeronext Inc., a next-generation drone technology startup, in collaboration with ACSL, achieves stable flight with Aeronext's proprietary 4D GRAVITY®*2 airframe structure design technology. The AirTruck is a dedicated logistics drone that goes "faster, farther, and is more stable" with enhanced for logistics, specialized for forward motion, and aerodynamic characteristics required for long-distance flight. AirTruck has flown in demonstration tests in various regions of Japan and has a top-class flight record in Japan.
*2 Airframe structural design technology 4D GRAVITY®
Airframe structure design technology developed by Aeronext optimizes aerodynamic characteristics by equalizing motor speed regardless of attitude, condition, or movement during flight and controlling lift, drag, and fuselage center of gravity based on fuselage shape and structure to improve the basic performance of industrial drones, such as stability, efficiency, and mobility, and the transportation performance of drones dedicated to logistics. Aeronext has patented this technology and manages it as part of the 4D GRAVITY® patent portfolio. 4D GRAVITY® improves basic performance and opens up new markets and applications for industrial drones.
【About Ashikaga City, Tochigi】
Located in the southwestern part of Tochigi Prefecture, about 80 km north of Tokyo.
In addition to the JR Ryomo Line and Tobu Isesaki Line, there is a road network that includes the Ashikaga Interchange on the Kita-Kanto Expressway. The green Ashio Mountains in the north, the Watarase River flowing east to west, and the Kanto Plain spreads out to the south. Ashikaga is known as a "City of History and Culture" with many historical assets such as Ashikaga School and Banna-ji Temple, a historical site. The textile industry has flourished in Ashikaga since olden times, and the production of Ashikaga Meisen and tricot has flourished. In recent years, various industries such as aluminum, machinery and metal, and plastic products have grown, and the city has transformed itself into a comprehensive commercial and industrial city. As for agriculture, in addition to rice and wheat, the region produces tomatoes, strawberries, asparagus, and lisianthus.
Ashikaga Flower Park, famous for its wisteria and illumination, and temples and shrines, including the national treasures Bannna-ji Temple and Orihime Shrine, are also popular destinations for tourists.
* For more information:(https://www.city.ashikaga.tochigi.jp/index.html)
【About NEXT DELIVERY】
A subsidiary of AERONEXT, a company mainly engaged in drone delivery, established in Kosuge Village, Yamanashi Prefecture in 2021 with the vision of "becoming a country where affluence is spread to every corner of the earth through 4D LogisticsTM infrastructure that connects air, land, and time in the age of 100 years of life. The company is also involved in the development, manufacture, sale, rental, and maintenance of hardware and software related to drone delivery, and related peripheral businesses. Starting with Kosuge Village in Yamanashi Prefecture, we are working to improve the efficiency and revitalization of regional logistics in places such as Kamishihoro Town in Hokkaido and Tsuruga City in Fukui Prefecture.
*For more information: https://nextdelivery.aeronext.co.jp/
*AERONEXT, the AERONEXT logo, and NEXT DELIVERY, as well as "4D GRAVITY®" "SkyHub®" "Drone Depot®" "Drone Stand®" are trademarks of Aeronext Inc.
*Other company names and product/service names mentioned in this press release are registered trademarks or trademarks of their respective owners.