Press Release
Aeronext Participates in a Drone Delivery Project Using Starlink to Support Livelihoods in Nakatsugawa Area of Chichibu City, Japan, Following Landslide ~ Starting the & Project, eight parties cooperating to build a community that can feel at ease ~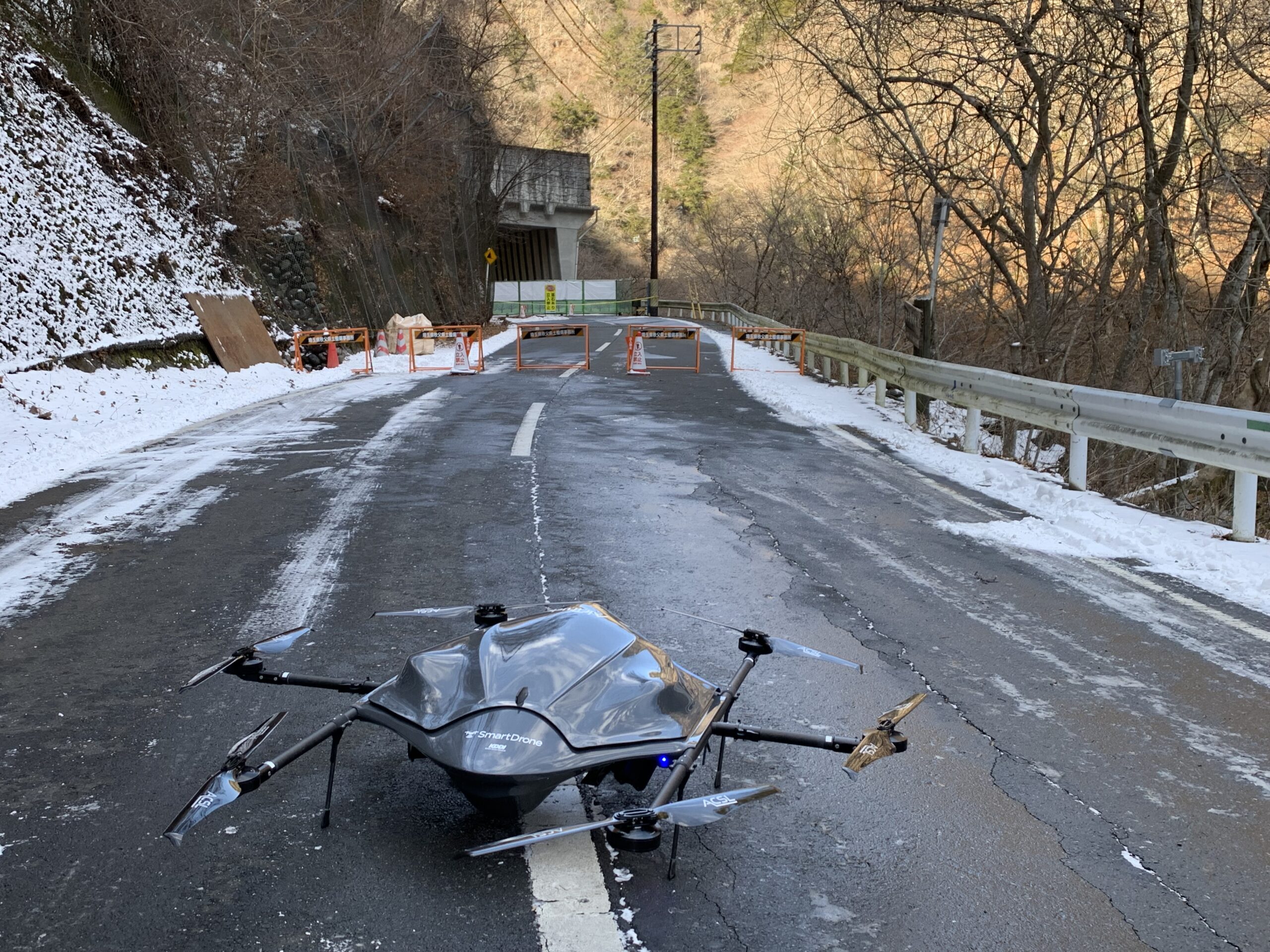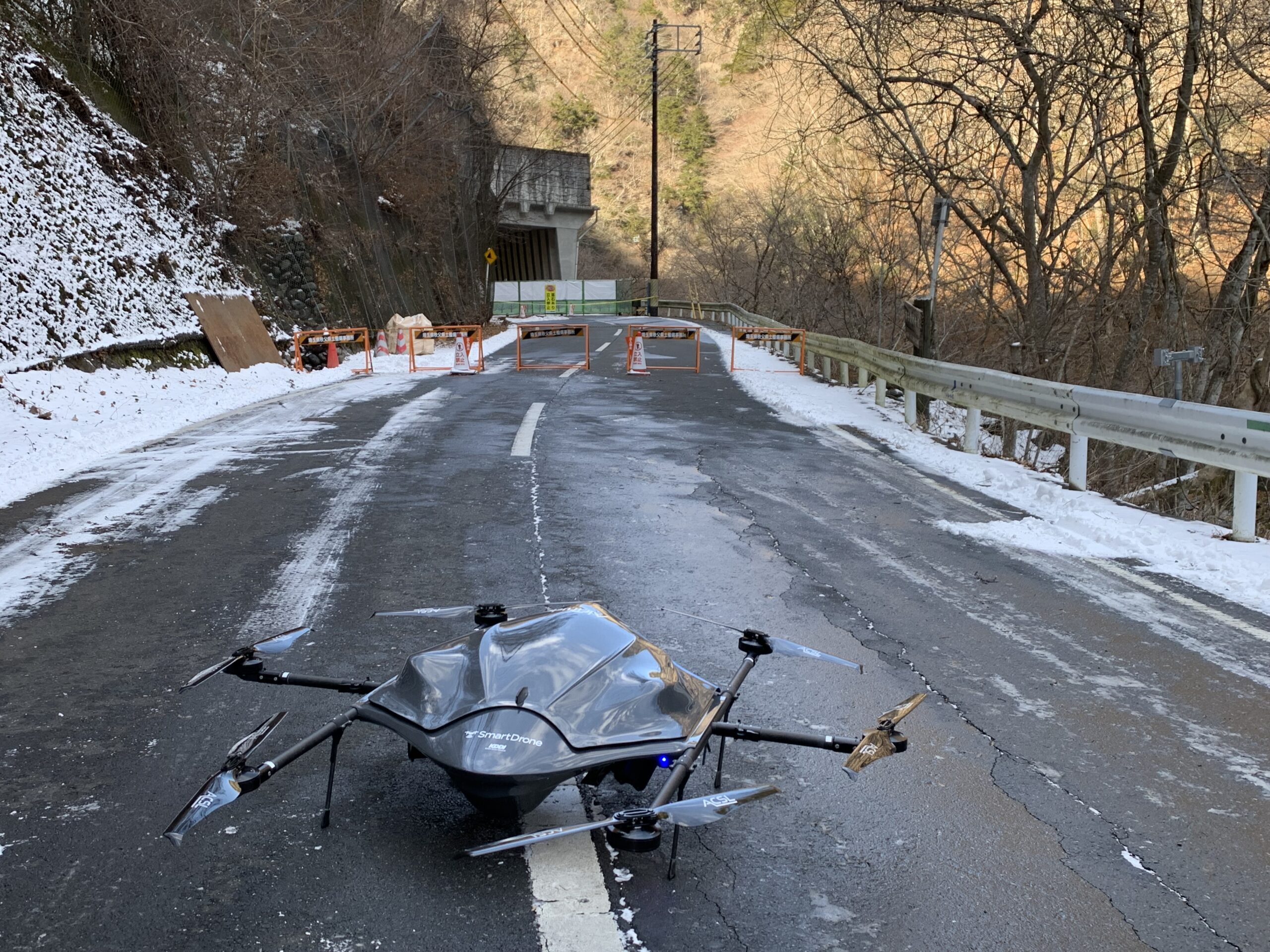 Aeronext Inc. (Shibuya-ku, Tokyo; CEO: Keisuke Toji; hereafter "Aeronext"), Chichibu City, ZENRIN CO., LTD. (hereafter "Zenrin"), KDDI Corporation (hereafter "KDDI"), KDDI SmartDrone Inc. (hereinafter "KDDI SmartDrone"), Chichibu Tourism Organization Corporation (hereinafter "Chichibu Tourism Organization"), and Welcia Yakkyoku Co., Ltd. (hereinafter "Welcia") will participate in the regular drone delivery of goods in the Nakatsugawa area of Chichibu, which is still affected by the landslide that began on January 26, 2023 (hereinafter "this initiative").
This initiative aims to provide livelihood support during the winter period to local residents in the Nakatsugawa area of Chichibu City, where logistics were disrupted by a landslide in September 2022. Based on the "Collaboration Agreement on Emergency Goods Transportation" signed by Chichibu City and Zenrin on October 25, 2022, six supporting companies will join together to collaborate and implement the "& (and) Project". The realization of regular drone deliveries will make it possible to deliver food, daily necessities, medical supplies, and other items to the Nakatsugawa area in a short period of time.
Access to the Nakatsugawa area is via the Kanayama-Shigasaka Route (*1), a forest management road that only allows some emergency vehicles to pass through, but during winter it is extremely difficult due to snowfall and icy conditions. This area is where supplies are delivered by drone. In addition, due to the unstable mobile communication environment caused by the topography of the area, we will use the Starlink satellite broadband service to ensure the au mobile communication environment and deliver supplies by remote autonomous drone flights. The drone will make multiple deliveries of supplies weighing up to 5 kg, such as food and daily necessities, to help residents in the Nakatsugawa area during the winter season.
The drone will be operated by NEXT DELIVERY Inc. (Kosuge Village, Yamanashi Prefecture, President: Keisuke Toji, hereinafter "NEXT DELIVERY"), a subsidiary of Aeronext Inc.
Overview of Drone Scheduled Delivery
| | |
| --- | --- |
| Dates | Thursday, January 26, 2023 through the end of March ※1 One drone delivery per week (Thursdays). |
| Area | Nakatsugawa, Chichibu City, Saitama Prefecture |
| Products | Food, beverages, household goods, pharmaceuticals, etc. |
| Aircraft used | AirTruck ※Dedicated logistics drone jointly developed by Aeronext Inc. and ACSL Inc. |
Parties and Structure
Zenrin, which has been conducting drone logistics demonstrations and service implementations throughout Japan, was in charge of the overall project management, and together with other companies with technical and delivery know-how, established a system.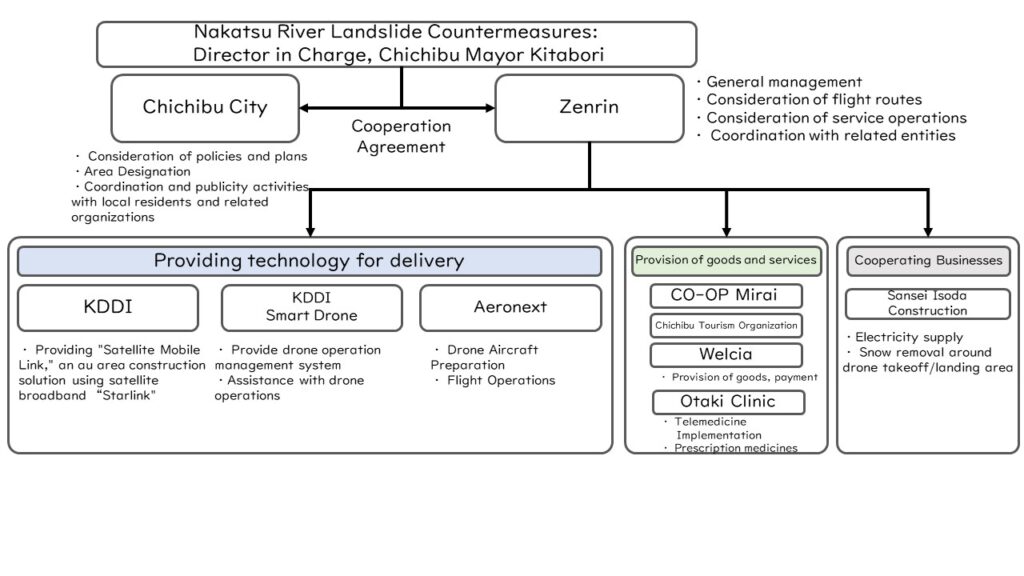 Delivery Flow
Residents order items in advance by phone or other means.
CO-Op Mirai, Welcia Chichibu Kagemori store, and FamilyMart Roadside Station Otaki Onsen store picked up the ordered items.
Trucks from each company deliver to Otaki Onsen Roadside Station.
Chichibu Tourism Organization boxes up orders in individual boxes.
Ordered goods are delivered to the drone take-off point.
Orders are delivered by drone.
Ward heads in the Nakatsugawa area receive the ordered products and deliver them to the respective households.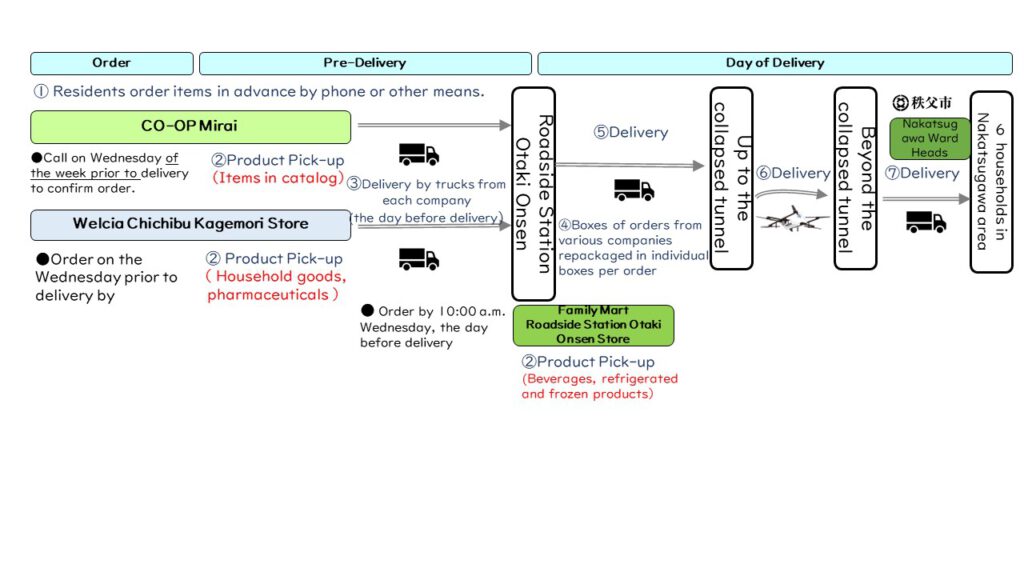 Thoughts behind the naming of the "& Project"
The project name AND comes from (A) "akiramezu", Japanese for "never give up," (N) for the Nakatsugawa area, and (D) for drone delivery. The project vision is to help ensure the safety and security of residents' lives and to contribute to the relief of the community. This time, eight parties who agree with this vision have decided to collaborate and launch this initiative.
System configuration for mobile communication and drone delivery using Starlink
It is not possible to place operators or other workers at the drone takeoff/landing sites in the Nakatsugawa area, and it is not possible to visually confirm the takeoff/landing sites in the Nakatsugawa area from the point in front of the disaster area. Therefore, with all flights to the Nakatsugawa area, aircraft takeoffs and landings, and unloading must be performed remotely.
In this initiative, the following products and services were combined to create a system.
Starlink Use
Satellite Mobile Link, a solution that utilizes satellite broadband Starlink to build an au area "anywhere, quickly, and over a wide area," has enabled an au mobile communication environment that also allows remote control of drones using video.
Use of Smart Drone Tools and AirTruck
By combining the Smart Drone Tools flight management system with the AirTruck, a dedicated logistics drone, remote control of the aircraft's flight, takeoff/landing, and unloading is made possible.
Smart Drone Tools
A system developed by KDDI SmartDrone that enables remote control of drones, autonomous flight, and real-time video sharing.
AirTruck dedicated logistics drone
Created by Aeronext in collaboration with ACSL, this is Japan's first mass-produced logistics-specific drone with a payload of 5 kg. Faster, farther, more stable" aircraft developed from scratch specifically for logistics applications. 4D GRAVITY®, a unique airframe structural design technology that optimizes the aerodynamic characteristics of Aeronext, reduces cargo sway and ensures stable flight. It also offers excellent operability, including a remote-controlled cargo detachment and top-loading and bottom-loading mechanism. Received the "2022 Nikkei Superior Products and Services Award, Grand Prize" sponsored by Nihon Keizai Shimbun, Inc.
Outlook
Aeronext will accumulate operational expertise on regular drone deliveries in communication-impaired areas and explore solutions to enable drone deliveries in mountainous areas and during disasters and other situations where the communication environment is unstable.
Aeronext aims to achieve societal implementation of drone delivery in various regions and environments throughout Japan.
(Reference)
・Chichibu City and Zenrin Sign Collaboration Agreement on Emergency Goods Transportation(Released on October 25, 2022)
https://www.zenrin.co.jp/information/public/221025_02.html
・Mobility support platform utilizing Zenrin's drones, etc.(examples of demonstrations and implementations across Japan)
https://www.zenrin.co.jp/product/category/technology/drone/index.html
【About Aeronext Inc.】
Aeronext, an IP driven R & D technology startup for next-generation drones, is a company that designs the sky through technology to create a world where the sky becomes a social infrastructure, is economized, and solves social issues through drones. Our core technology is 4D GRAVITY®︎, a unique structural design technology that improves basic drone performance such as stability, efficiency, and mobility of industrial drones by optimizing the center of gravity of the aircraft. In order implement this 4D GRAVITY®︎ as standard equipment on industrial drones, we have constructed a strong patent portfolio and are promoting a partnership-based platform business for the 4D GRAVITY®︎ license globally.
Aeronext has also founded a subsidiary to implement the SkyHub® smart logistics and pursue drone delivery.
*For more information: https://aeronext.com/company/
*Aeronext and the Aeronext logo, as well as "4D GRAVITY®" and "SkyHub® are trademarks of Aeronext Inc..
*Other company names and product/service names mentioned in this press release are registered trademarks or trademarks of their respective owners.