Press Release
First time ever in Japan: success demonstrating relay delivery of cow milk samples using a drone in Kamishihoro, Hokkaido. One step forward toward practical use maintaining safety and quality.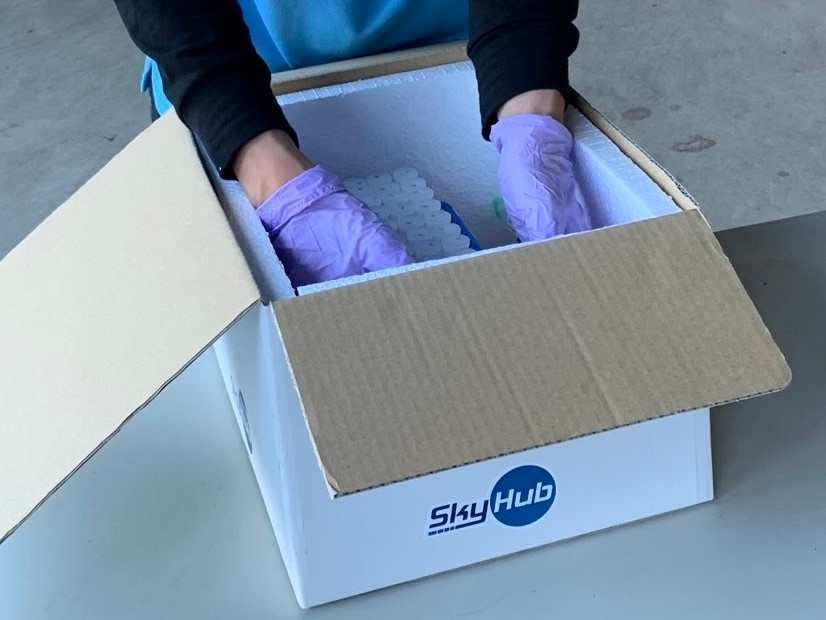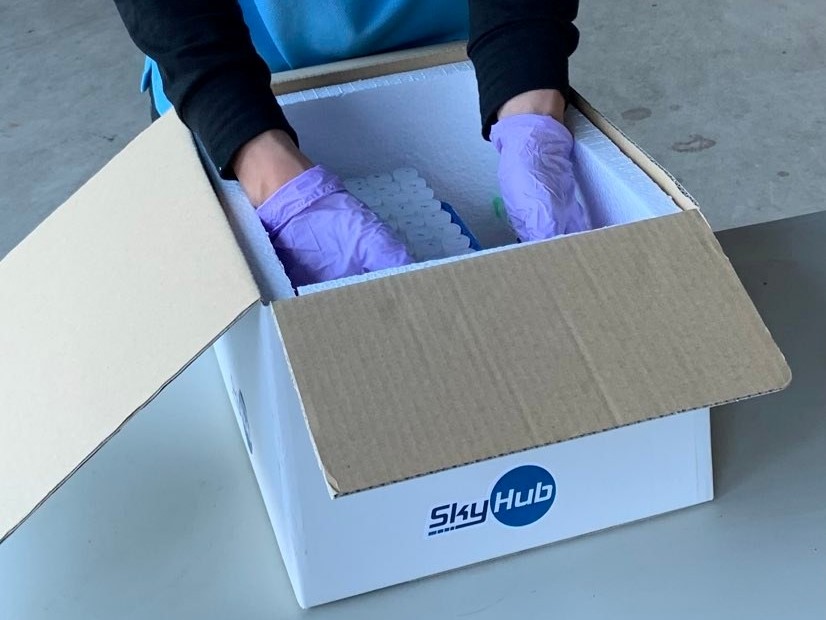 Ministry of Economy, Trade and Industry Hokkaido Bureau of Economy, Trade and Industry (Sapporo City, Hokkaido, hereinafter referred to as Ministry of Economy, Trade and Industry), Innovation Challenge Executive Committee (Executive Committee Chair: Mitsugi Takenaka, Mayor of Kamishihoro) and Seino Holdings Co., Ltd. (Headquarters: Ogaki City, Gifu Prefecture, President and CEO) : Yoshitaka Taguchi, hereafter Seino HD), Aeronext Inc. (Headquarters: Shibuya-ku, Tokyo, CEO: Keisuke Toji, hereafter Aeronext) announced that on Friday, October 8th, with the cooperation of Nobels Co., Ltd. (Headquarters: Hokkaido Kamishihoro Town, Representative Director Yuichiro Nobuyo, hereinafter referred to as Nobels), conducting the first demonstration of delivery of bovine mammitis milk test specimens using drones in Japan.
Specifically, the demonstration looked at delivery of bovine mammitis test milk specimens using a combination of drone delivery and over land delivery, and evaluation of temperature control and vibration controls, as well as coordination between drone delivery and over land transportation. After conducting the evaluations, the results demonstrated success and there were no problems in terms of either safety or quality.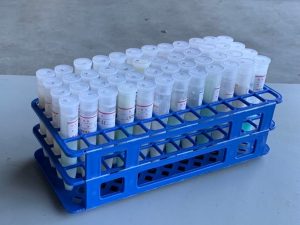 48 specimens of cow milk for mastitis tests carried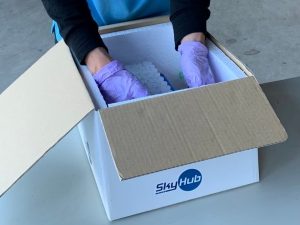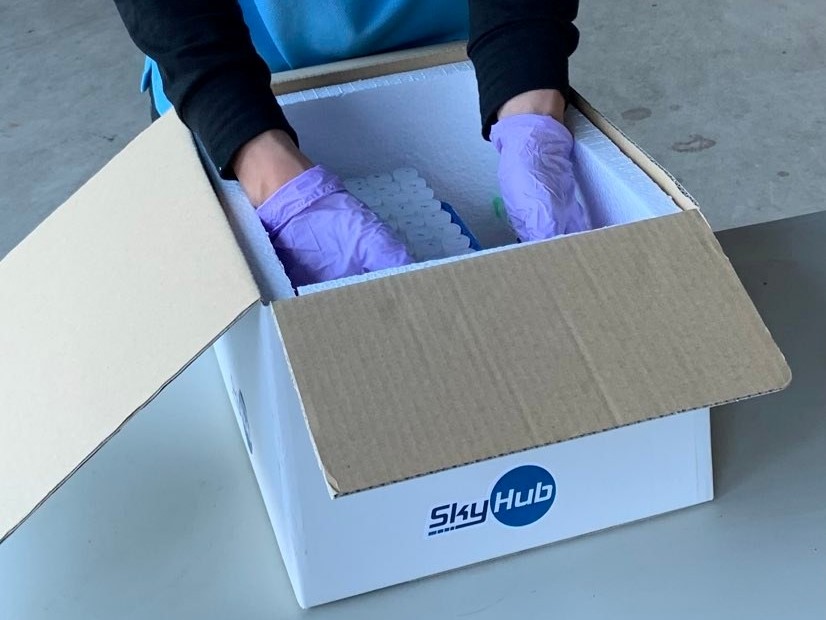 Delivery staff packs samples in boxes
This demonstration was carried out in conjunction with the Ministry of Economy, Trade and Industry's "Regional Industry Digitalization Support Project" (implementing agency: Hokkaido Science and Technology Promotion Center).
*Please see this video for an overview of the demonstration experiment. YouTube link: https://youtu.be/T8agtCiAP4c
<Demonstration Details>
1.Background and Purpose
It is becoming increasingly difficult for biotech companies that carry out inspection work on individual cattle to transport samples from remote dairy production areas due to labor shortages in logistics. Current methods use traditional over ground transportation and covering distances of over 60km may take about two days raising concerns about quality maintenance. To explore new delivery methods, we conducted a demonstration experiment to investigate the possibility of using drones. If quality maintenance can be proven in delivery using drones in this experiment, the effectiveness using drones can be demonstrated, and, in the future, using drones, transportation will be possible in a shorter time than the current over land method. This experiment evaluated the delivery of bovine mastitis specimens (milk) from the viewpoint of, among other aspects, temperature changes and effects of vibration. The tests will confirm whether drone delivery would impair safety and quality.
2.Outline and Results
■ Forty-eight cow milk specimens in test tubes were mounted on Aeronext's latest logistics drone equipped with 4D GRAVITY®*1 and flew twice for 20 minutes (about 3 km) on the premises of the Nobels Kamishihoro Headquarters. After that flight, the specimens were transferred to Seino HD trucks and delivered to the Nobels Laboratory's Obihiro Center. The next day, the specimens were tested at the laboratory.
■ As a result of the demonstration, it was confirmed that the vibration during drone delivery does not affect the inspection quality after delivery. Further that means the system is fit for widespread application since the quality of the specimen is maintained so there are no negative impacts on the testing procedure. This test verifies the feasibility of implementing smart logistics in the livestock industry as a whole, which has many issues in areas such as delivery.
As digital transformation progresses in various fields, the livestock industry faces serious problems due to a shortage of workers, which, in turn, is due to the declining birthrate and aging population. The utilization of each technology is required to ameliorate these issues. Against this background, this demonstration represents the first series of deliveries of cattle specimens using drones in Japan. Success means that the possibilities are limited to milk samples, but to blood samples, fertilized eggs and other items that contribute to the livestock industry as a whole. This was a significant step in the societal implementation of new smart logistics, including drone delivery in general. For more practical uses in the future, we plan to continue collaborative studies while also considering demonstrations in cold climates.
In addition, the possibilities of this application and expansion are not only in the livestock industry, but also in other industries, as well.
Reference
*1 Airframe structural design technology 4D GRAVITY®
Structural design technology that optimizes the center of gravity of the aircraft to make the motor speed uniform regardless of the attitude, state, and movement during flight, and improves the basic performance of the industrial drone in areas such as stability, efficiency, and mobility. This technology is characterized by a coupling structure between the airframe and payload. Aeronext patents this technology and manages its 4D GRAVITY® patent portfolio. By improving the basic performance industrial drones, 4D GRAVITY®, expands the applications of industrial drones allowing for expanded markets.
【About the Ministry of Economy, Trade and Industry Hokkaido Bureau of Economy, Trade and Industry】
The Ministry of Economy, Trade and Industry solves social issues through implementation and industrial promotion of technology in new areas such as the movement of goods between points by drones and the movement of people with flying cars, and challenges itself to create a" safe and secure + exciting" future. The Hokkaido Bureau of Economy, Trade and Industry supports the implementation of technology efforts in regions and companies, such as the first nationwide delivery of non-face-to-face medical care and prescription drug drones under the theme of building a new business model that utilizes cutting-edge technologies such as drones.
Please see this link for more information:https://www.hkd.meti.go.jp/
【About the Innovation Challenge Executive Committee】
The Innovation Challenge Executive Committee works together with the government, local organizations, and private companies, utilizing ICT and visualizing information in order to support the city of Kamishihoro's long term success in enhancement of mobile services and logistics issues.
【About Seino HD】
Seino Holdings strives to be a value-creating comprehensive logistics trading company and aims to "provide value that transcends time and space" to its customers. Seino embraces an overall strategy of the group is to embody "Open Public Platform Construction (OPP)" that provides better and optimal services to customers through connections both inside and outside the industry in an open-neutral relationship in order to build a platform that is easy for customers and other companies in the same industry to use. In the last mile area, we are actively promoting and expanding the construction of a last mile O.P.P. that solves social issues such as measures for vulnerable shopping and measures for lower income families, while responding to changes in lifestyle and structure.
*About Seino Holding: https://www.seino.co.jp/seino/shd/overall-condition/
【About Aeronext】
Aeroext, an IP driven R & D technology startup for next-generation drones, is a company that designs the sky through technology to create a world where the sky becomes a social infrastructure, is economized, and solves social issues through drones. The core technology is 4D GRAVITY®︎, a unique structural design technology that improves basic drone performance such as stability, efficiency, and mobility of industrial drones by optimizing the center of gravity of the aircraft. In order implement this 4D GRAVITY®︎ as standard equipment on industrial drones, we have constructed a strong patent portfolio and are promoting a partnership-based platform business for the 4D GRAVITY®︎ license globally.
AERONEXT has also founded a subsidiary to implement the SkyHub® smart logistics and pursue drone delivery.
*For more information: https://aeronext.co.jp/company/
【About Nobles Group】
The Nobels Group was established in 2006 to bring about new innovations in the livestock industry. Based in the Tokachi region of Hokkaido, we develop beef cattle, dairy and food businesses, operating 10 farms in Hokkaido and 1 farm in Yamagata prefecture, and currently raise more than 30,000 cattle. In the beef cattle business, we have established an efficient production system for fattening Japanese beef calves and crossbred cows (Our brand: Tokachi Herb Beef) by commercializing the advanced production model "Crossbreed 1 production fattening". The Japanese beef fattening business started in 2016, and even though we entered the dairy business market in 2011, the amount of milk we ship exceeds 50,000 tons per year, making it the largest business in Hokkaido and one of the largest in Japan. In order to realize sustainable agriculture, we are pursuing productivity through fertilized egg research, production and ICT utilization of Japanese beef, and we are also working on recycling agriculture through farming cooperation.
About Nobels Group https://nobels.co.jp/company/
*Aeronext, the Aeronext Logo, 4D GRAVITY® are registered marks of Aeronext Inc.
*All other marks belong to their respective owners.