Press Release
Aeronext Enters Cooperation Agreement with Kosuge Village and Opening Regular Drone Delivery Routes ~To Realize Drone Delivery Business and Regional Revitalization Through Introduction of Drone Delivery~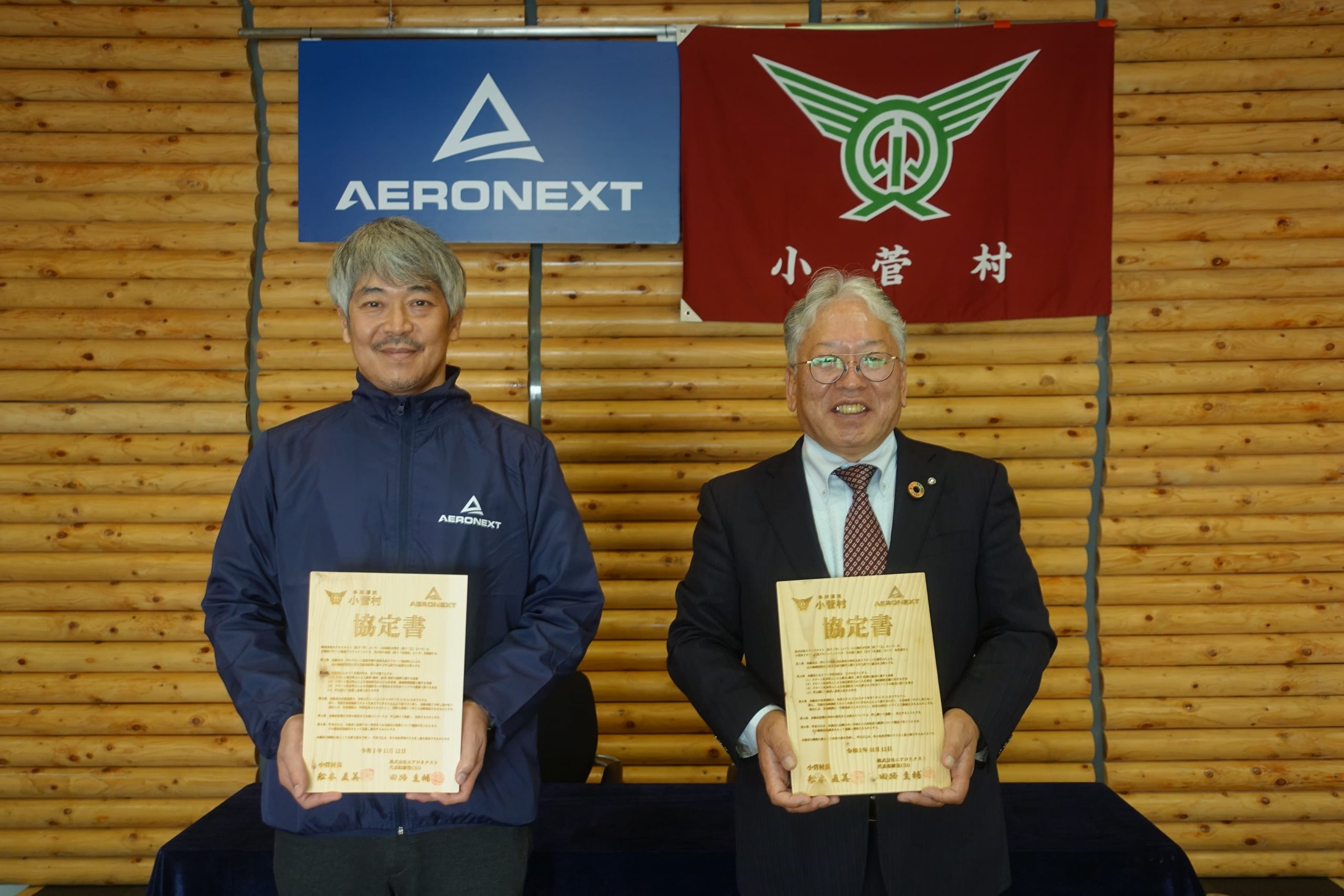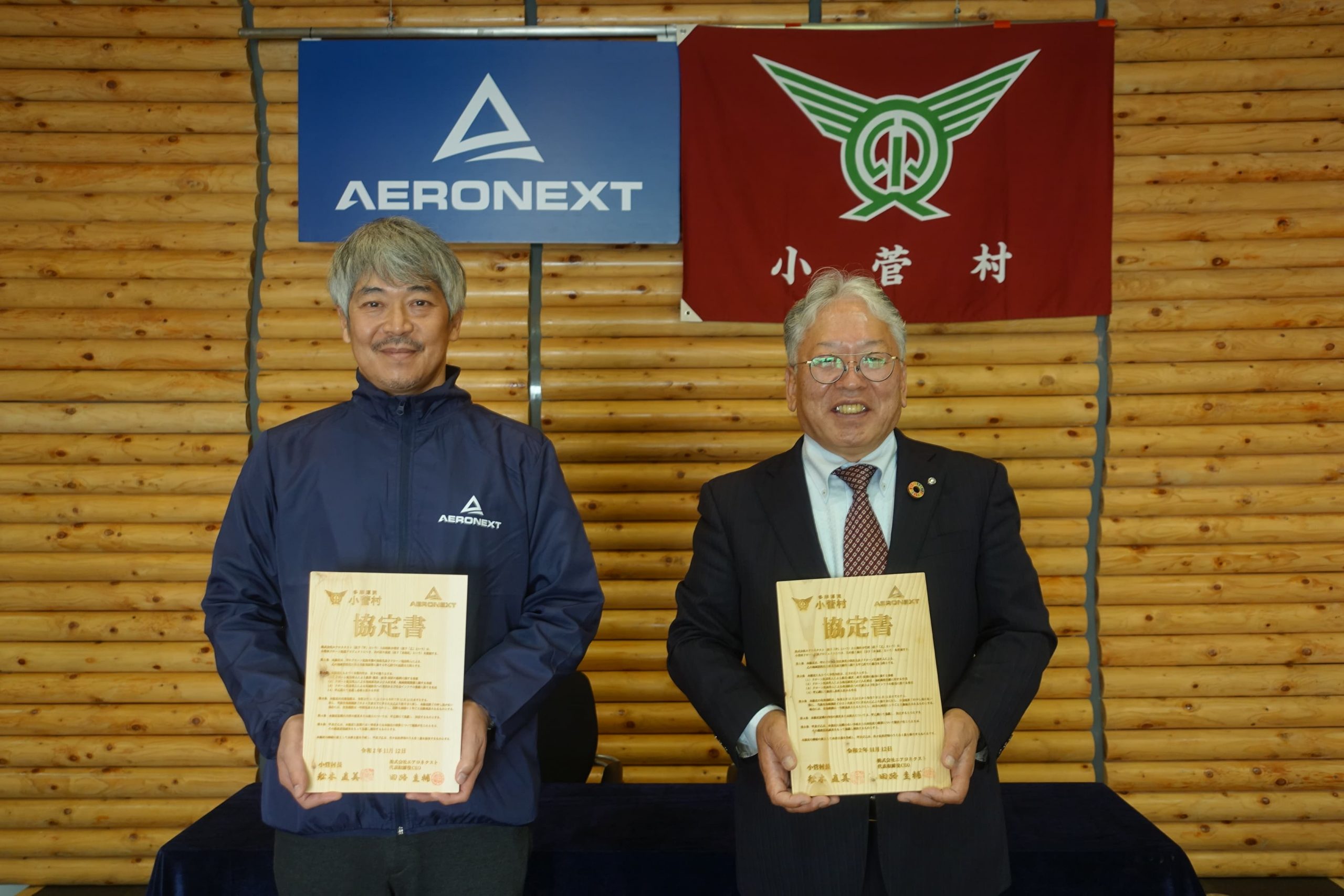 Kosuge Village, Yamanashi Prefecture (Mayor: Naoyoshi Funaki) and Aeronext Inc.(Shibuya-ku, Tokyo, CEO: Keisuke Toji, hereinafter Aeronext) announce they have signed a cooperation agreement for regional drone delivery business introduction and implementation.
Kosuge and Aeronext will promote, via the implementation of drone delivery, agriculture, tourism, industry, economic regional employment, human resource development, regional environment improvement, contribution to regional disaster prevention, and improvement of social infrastructure.
Specifically, with the understanding and cooperation of Kosuge and the citizens, Aeronext will set up a research and development base with a test airfield for delivery drones in Kosuge. We will also seek to demonstrate new logistics, establish drone delivery routes (Drone Experimental Lines), and aim for social integration of continuous operating drone delivery.
1. Agreement Date
November 12, 2020
2. Areas of Cooperation
(1) Promotion of agriculture, tourism, industry, and economy by introducing drone delivery
(2) Regional employment, human resource development, and regional environment improvement derived from introducing drone delivery
(3) Contribution to regional disaster prevention stemming from introducing drone delivery and matters related to the development of social infrastructure
(4) Any other areas deemed appropriate or necessary from discussions between Kosuge and Aeronext
3.Specific Implementations (Planned)
(1) Establishment of R & D base and test airfield for delivery drones
(2) Establishment of regular drone delivery routes (Drone Test Lines)
(3) Experimentations demonstration of new smart logistics integrating drone delivery and land based delivery
Kosuge is located in the headwaters of the Tama River, about 2 hours from Tokyo, and is surrounded by scenic nature with a population of 715 (as of September 1, 2020). Kosuge also has an information transmission base "Road Station Kosuge." Kosuge operates a number of initiatives for regional revitalization, including holding the "Tiny House Design Contest." Other innovation initiatives include collaborating with, and attracting companies outside the prefecture, and actively promoting innovation and new technologies. Kosuge has attracted attention from all over the country as a successful model for regional revitalization. The population declined from the peak population to 1/3 pervious levels. An increasingly aging population (aging rate 46%) And natural disasters are pressing issues handled by an information-oriented society. It is also one of a few special limited delivery areas nationwide, working with major delivery companies regarding logistics and issues of frequency and number of deliveries.
Aeronext researches and develops drones for a wide range of industrial applications centered on its proprietary aircraft structure design technology 4D GRAVITY® * 1. 4D GRAVITY® has become the indispensable technology for delivery drones and plays a major part in Aeronext's develop of its "Next DELIVERY*2 drones, especially in the area of drones with cargo, where traditional drones are limited and face instability due to cargo shifting the center of gravity.
Aeronext looks toward the FY2022 Aerial Industrial Revolution Level 4 (Delivery of daily necessities and medicines in areas where land transportation is difficult, and parcel delivery, including urban areas) and to a society that has implemented delivery by drone. Aeronext seeks out partnerships in the fields of research and development, as well as development in the social infrastructure, including the essential establishment of specific air routes.
In concluding this cooperation agreement, Mayor Funaki of Kosuge stated " We are looking forward to becoming partners with Aeronext through the conclusion of the cooperation agreement and working together to support the development of the village. Kosuge Village was hit by a heavy snowfall in 2014, and at that time I strongly felt the need for a drone. I would like to use drones to create disaster-resistant villages.  I hope that Kosuge Village will cooperate with each other with a sense of speed, which will be a meaningful initiative for both parties." In addition, Aeronext CEO Toji said, "Kosuge is a wonderful village where the Mayor and citizens are friendly, kind, and warm. We are grateful for your welcoming us into your community. Aeronext sincerely hopes that this partnership will help solve issues facing the community. We look to move fast to create a new society through a smart delivery system made possible by a new and never before seen delivery drone implementation to share with the rest of Japan and the world."
After the agreement ceremony, we conducted the flight demonstration in the village.  Assuming delivering vegetables and products between "Roadside Station" and the small community in the village, we set luggage packed with Kosuge village's specialty products such as salt-grilled mountain maiden fish, wasabi, and Himalayan Mushroom. In fact, it was an opportunity to showcase the latest drone flight of Aeronext's delivery drone in the beautiful scenery of Kosuge Village, and to confirm the high quality of delivery without collapsing luggage even after the flight.
Under this cooperation agreement, both parties will cooperate and cooperate with each other, and in line with the issues and the needs of the villagers, promote agriculture, tourism, industry, economy by introducing drone delivery, as well as promote regional employment and human resource development, regional environment improvement, contribute to disaster prevention and promote the development of social infrastructure. We will contribute to the realization of the drone delivery business, the development of local communities and the local economy, through introducing drone delivery.
*1  Structural design technology that optimizes the center of gravity of the aircraft to make the motor speed uniform regardless of the attitude, state, and movement during flight, and improves the basic performance of the industrial drone in areas such as stability, efficiency, and mobility. This technology is characterized by a coupling structure between the airframe and payload. Aeronext patents this technology and manages its 4D GRAVITY® patent portfolio. By improving the basic performance industrial drones, 4D GRAVITY®, expands the applications of industrial drones allowing for expanded markets.
*2 A drone equipped with 4D GRAVITY® that has excellent flight performance, response performance, and landing performance, specializing in delivery applications. By equalizing the number of revolutions of the motor with a structure that always maintains the proper center of gravity in both the outbound route with luggage and the return route without luggage, and even in situations that affect the flight attitude such as gusts, it enables both fast and long range performance, and does not tilt based on the cargo enabling a efficient and safe flight.
*3  "Roadmap 2020 for the Industrial Revolution in the Sky" was announced by the Public-Private Council for Environmental Improvement for Small Unmanned Aerial Vehicles in July 2020 to implement the realization phase of "non-visual flight without assistance in the zone".
【Kosuge Village】
Kosuge Village, Yamanashi Prefecture, is located at the headwaters of the Tama River, which flows through Kanagawa Prefecture, Tokyo, about 2 hours from Tokyo. It is directly connected to the Okutama area and has a population of 715 (as of Sept. 1, 2020). It consists of 95% forest. Since 1987, it has been creating villages with the keyword "Tama headwaters", and in recent years it has succeeded in attracting tourists and immigrants.
* Kosuge Village Please see http://www.vill.kosuge.yamanashi.jp/ for details.
【Aeronext Inc.】
Aeronext is a company that designs the sky through technology in order to create a world where the sky becomes social infrastructure, economized, and drones are used to solve social issues. The core technology is 4D GRAVITY®︎, a proprietary structural design technology that improves the basic performance of industrial drones in areas such as stability, efficiency, and mobility, by optimizing the center of gravity of the aircraft. Aeronext has established a robust patent portfolio to incorporate 4D GRAVITY®︎ as a standard feature on industrial drones, and is promoting a partnership-based platform business based on 4D GRAVITY®︎ licenses on a global scale.
* Please see https://aeronext.co.jp/company/ for the company profile of Aeronext Co., Ltd.
【Press Contact】
Aeronext Inc.  Ito Tel: 090-4611-4223 Email: ito@aeronext.com
Kosuge Village Hall Mochizuki Tel: 0428-87-0111 Email: tetsu-mochizuki@vill.kosuge.yamanashi.jp
*Aeronext, the Aeronext Logo, 4D GRAVITY®, Next DELIVERY® are registered marks of Aeronext Inc.
*All other marks belong to their respective owners.