Press Release
Aeronext to Exhibit AirTruck, a Dedicated Logistics Drone, in International Media Center for G7 Hiroshima Summit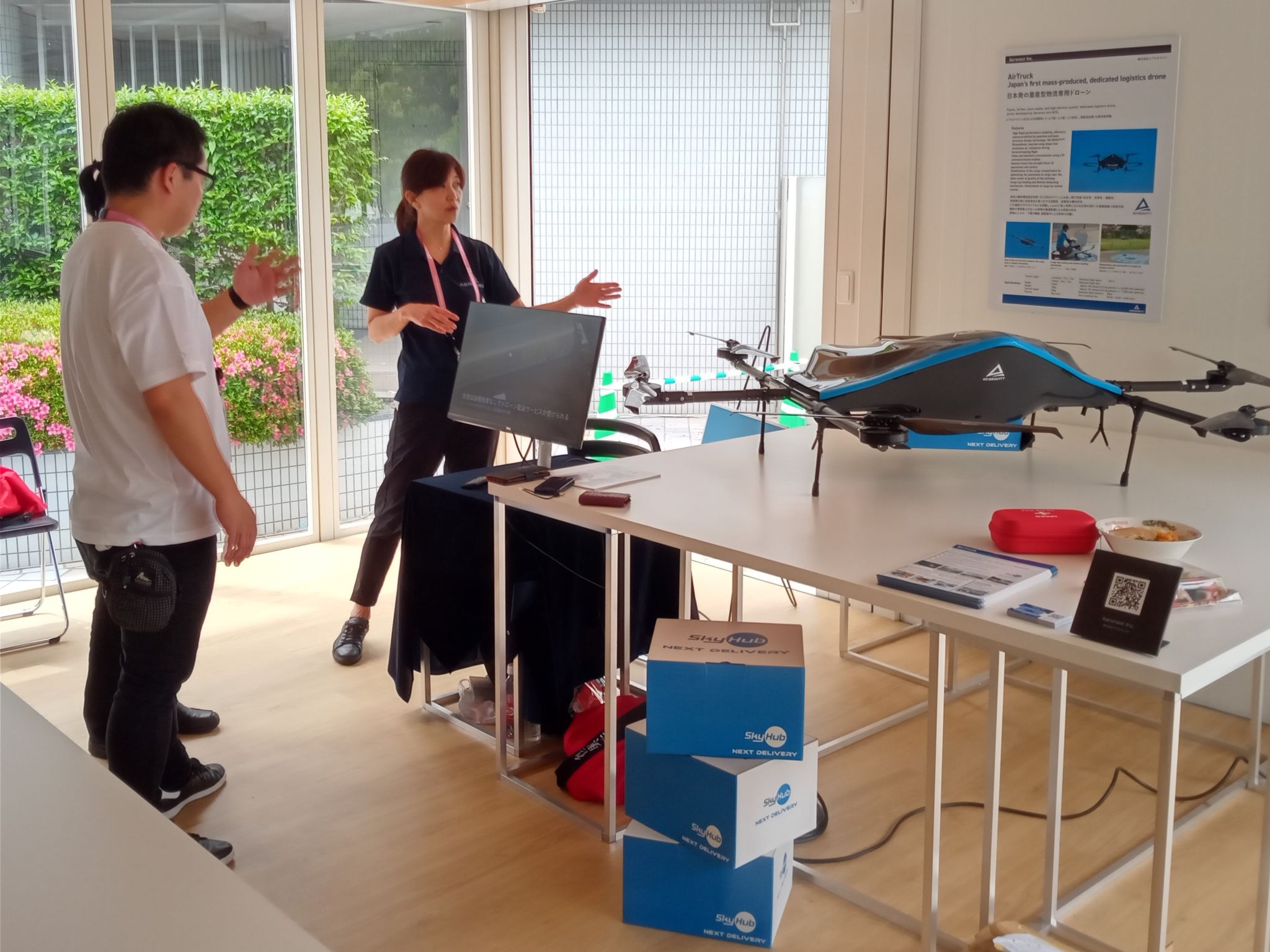 Aeronext Inc. (Shibuya-ku, Tokyo; CEO: Keisuke Toji; hereinafter referred to as "Aeronext") exhibited AirTruck, Japan's first logistics drone, in the International Media Center (IMC) in conjunction with the G7 Hiroshima Summit to be held from Thursday, May 18 to Monday, May 22, 2023, in Hiroshima, Hiroshima Prefecture.
AirTruck is a "faster, farther, more stable" mass-produced logistics drone from Japan, developed from conception by Aeronext Inc., in collaboration with ACSL Inc., specifically for logistics applications. Equipped with 4D GRAVITY®︎*1, a unique airframe structural design technology that optimizes aerodynamic characteristics, the flight section and cargo loading section are independently balanced to reduce cargo sway and achieve stable flight. It also has excellent operability, including remote-controlled detachment of cargo and a mechanism for loading and unloading. Airtruck is also used in high-frequency drone deliveries, such as in delivery service to customers. As of the end of March 2023, the new smart logistics*2 SkyHub®*3, which links drone delivery and ground transportation, has been used in 5 societal implementations of drone delivery and 27 demonstration experiments, making it one of the top performers in the drone logistics market in Japan.
In the government public relations exhibition space in the International Media Center (IMC) Hiroshima Prefectural General Gymnasium (Hiroshima Green Arena), Aeronext is exhibiting as an introduction of Japanese technology in more than 80 exhibition projects that would contribute to solutions to challenges facing the international community: "From Reconstruction to Peaceful Society and Sustainable Future," "Succession of Japanese Culture through Tradition and Cutting-edge Technology," and "Pioneering the Future with the Next-generation Power."
The Aeronext booth was visited by both domestic and international media during the exhibition. The media showed great interest in the high delivery quality of ramen noodles and sushi without spilling any liquid, the easy-to-operate top-loading/bottom-loading mechanism of the cargo, the technical capabilities
to realize them, as well as the wide range of applications for the delivery of relief supplies and for tourism, and the fact that the drone delivery service has actually already been implemented in society.
In February this year, Aeronext was selected by the Japan International Cooperation Agency (JICA) as a recipient of its FY2022 "SME and SDGs Business Support Project" for a "Needs Assessment Study on the Construction of a Medical Goods Delivery Network Using Drones in Mongolia". Aeronext is taking its first step toward overseas expansion of our new smart logistics service SkyHub®, which is currently being deployed throughout Japan.
IMC for G7 Hiroshima Summit Exhibit Overview
URL: https://www.g7hiroshima.go.jp/en/topics/detail005/
(1) Dates: Thursday, May 18 – Monday, May 22, 2023
(2) Venue: Hiroshima city, Hiroshima Prefecture
G7 Summit: Grand Prince Hotel Hiroshima
International Media Center: Hiroshima Prefectural General Gymnasium
(3) Aeronext Booth: in the government public relations exhibition space in the International Media Center (IMC) Hiroshima Prefectural General Gymnasium
(Reference)
*1 Airframe structural design technology 4D GRAVITY®
Airframe structure design technology developed by Aeronext optimizes aerodynamic characteristics by equalizing motor speed regardless of attitude, condition, or movement during flight and controlling lift, drag, and fuselage center of gravity based on fuselage shape and structure to improve the basic performance of industrial drones, such as stability, efficiency, and mobility, and the transportation performance of drones dedicated to logistics. Aeronext has patented this technology and manages it as part of the 4D GRAVITY® patent portfolio. 4D GRAVITY® improves basic performance and opens up new markets and applications for industrial drones.
*2 New Smart Logistics
A public-private initiative to find solutions to the issues commonly faced by the logistics industry, such as labor shortages, environmental and energy issues, and DX areas, while utilizing digital and technology to ensure the future sustainability of logistics, which is an indispensable infrastructure for people's daily lives. The project aims to realize the last mile joint delivery, the best mix of land and air transportation, freight and passenger consolidation, automated technology, etc., through co-creation based on an open public platform (O.P.P.) that transcends the boundaries between the industry and the outside world.
*3 New Smart Logistics SkyHub®
A new smart logistics system jointly developed and deployed by Aeronext and Seino HD that connects existing logistics with drone logistics and connects ground and air infrastructure to deliver goods anytime, anywhere.
Based on the SkyHub® system, the joint delivery service provides services such as joint delivery of packages from different logistics companies, shopping, delivery, food, medicine, etc. to Drone Stands® or private homes, based on the Drone Depot®.
The introduction of SkyHub® not only has the logistics benefits of promoting unmanned and inventory-free operations and improving last mile delivery efficiency, it also introduces a new logistics infrastructure, and from the aspect of logistics reform, it can be used to solve social issues in the region, such as labor shortages due to population decline and aging populations, transportation issues in specific depopulated areas, medical issues, disaster countermeasures, and measures for the vulnerable in logistics, as well as raising the level of satisfaction of residents and communities by improving convenience and quality of life for them.
【About Aeronext Inc.】
AERONEXT, an IP driven R & D technology startup for next-generation drones, is a company that designs the sky through technology to create a world where the sky becomes a social infrastructure, is economized, and solves social issues through drones. Our core technology is 4D GRAVITY®︎, a unique structural design technology that improves basic drone performance such as stability, efficiency, and mobility of industrial drones by optimizing the center of gravity of the aircraft. In order implement this 4D GRAVITY®︎ as standard equipment on industrial drones, we have constructed a strong patent portfolio and are promoting a partnership-based platform business for the 4D GRAVITY®︎ license globally.
AERONEXT has also founded a subsidiary to implement the SkyHub® smart logistics and pursue drone delivery.
*For more information: https://aeronext.com/company/
*Aeronext and the Aeronext logo, as well as "4D GRAVITY®" "SkyHub®" are trademarks of Aeronext Inc.
*Other company names and product/service names mentioned in this press release are registered trademarks or trademarks of their respective owners.