Press Release
Hidakagawa Town, Seino HD, Aeronext, and Uhuru Signed a Collaboration Agreement for the Digitial Transformation (DX) of Daily Living using New Smart Logistics ~Aiming to Expand New Smart Logistics to Address Regional Issues~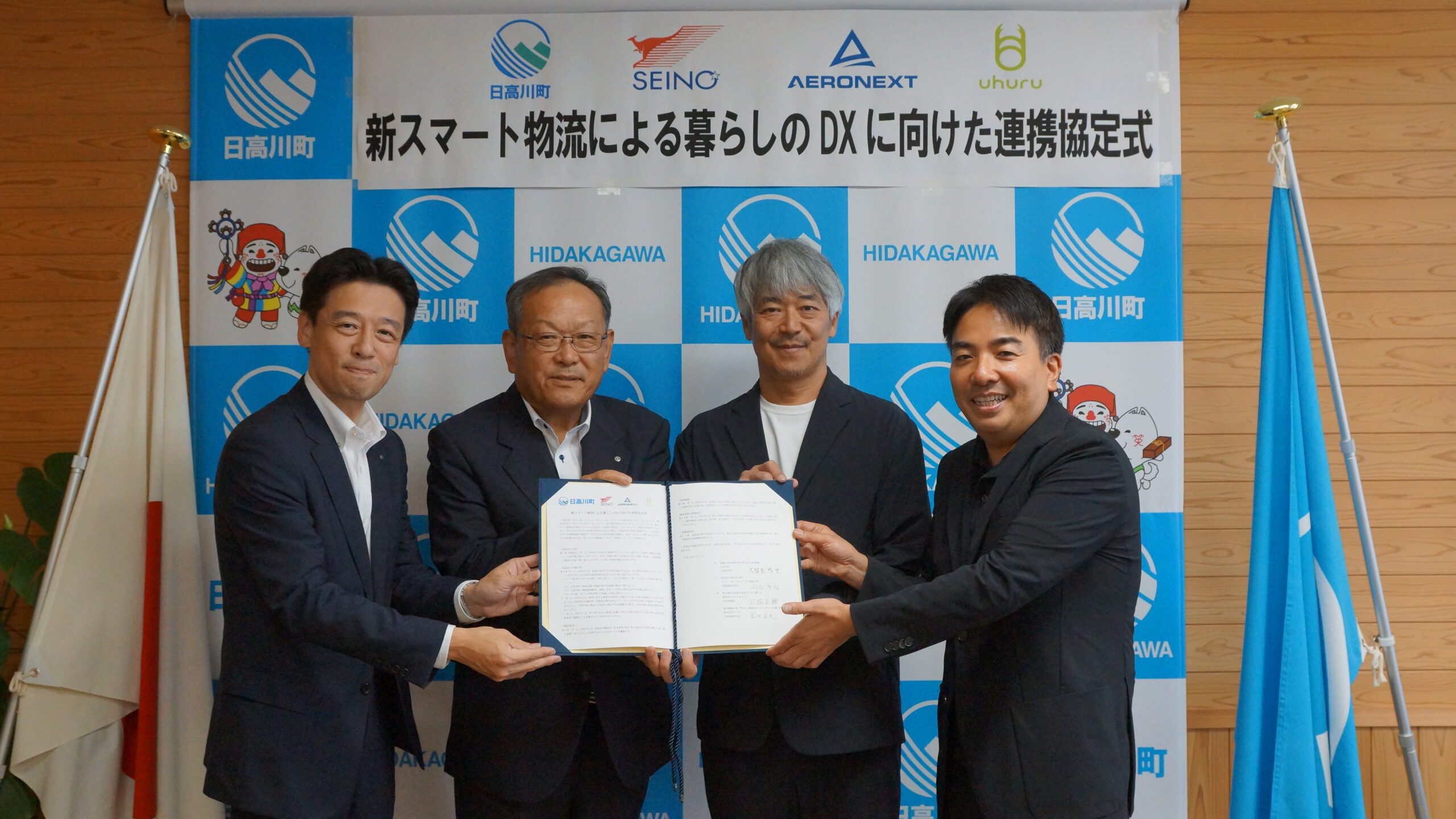 The town of Hidakagawa, Wakayama Prefecture (Mayor: Hirofumi Kurume), Seino Holdings Co., Ltd. (Head Office: Ogaki City, Gifu Prefecture; President: Yoshitaka Taguchi; hereinafter "Seino HD"), Aeronext Inc. (Head Office: Shibuya-ku, Tokyo; CEO: Keisuke Toji; hereinafter "Aeronext"), and Uhuru Inc. (Head Office: Minato-ku, Tokyo; Takashi Sonoda, President and CEO; hereinafter "Uhuru") signed a collaboration agreement on August 31, 2023, for the digital transformation (DX) of living through new smart logistics.
Hidakagawa Town, Seino HD, Aeronext, and Aeronext subsidiary NEXT DELIVERY, as part of the "New Smart Logistics Implementation Project Using Drones," a part of the FY2023 Digital Rural City National Concept Promotion Grant (Digital Implementation Type 1), on July 6, 2012, established a Drone Depot®*3 in Kawarago, Hidakagawa Town to serve as a base for the New Smart Logistics*1 SkyHub®*2 and started services in the Miyama and Nakatsu districts.
With the new addition of Uhuru, the four parties aim to alleviate the isolation of residents in the depopulated areas of Hidakagawa Town. Based on the new smart logistics SkyHub® mechanism jointly developed by Seino HD and Aeronext, and linked with Uhuru's data integration platform, map portal, and other next-generation technologies, we will provide services tailored to individual residents and contribute to improving the quality of life and wellbeing of local residents.
Outline of Collaboration Agreement
1. Agreement Date
August 31, 2023

2. Agreement Details
To implement new smart logistics, we will work on the areas listed below while utilizing next-generation advanced technologies including data collaboration platforms and drones.
(1) Address regional issues faced by Hidakagawa Town's regional transportation and logistics
(2)Contributions toward addressing regional issues, health, and enhancing disaster preparedness in the town of Hidakagawa
3. Outline of Planned Initiatives
Hidakagawa Town is located in the central part of Wakayama Prefecture and is a lush green region with approximately 90% forested land. The crystal clear Hidakagawa River, seasonal customs, and high quality agricultural products are its main attractions. As population decline and agins continues, the society faces serious challenges in terms of transportation and lack of young and middle-aged people. Shopping and access to daily necessities have become difficult, and there is a need to facilitate mutual aid and assistance, especially for single-person households. It is also necessary to develop means for providing information in the event of a disaster and a system for the prompt provision of emergency relief supplies.
The four parties will work to develop a logistics environment utilizing digital technology in order to provide Hidakagawa Town residents with a more secure lifestyle. Seino HD and Aeronext are jointly developing a new smart logistics system using SkyHubⓇ and drones, and combining next-generation technologies such as Uhuru's service orchestration platform "CUCON "*4 and map portal "elcompath "*5. The goal is to provide services that are tailored to individual residents, with logistics as the starting point. In the future, the distribution network will be used to provide services to care for the elderly and single-person households, as well as to promptly provide emergency relief supplies in the event of a disaster, thereby contributing to the realization of wellbeing that supports the security and health of local residents.
At the collaboration agreement ceremony held on August 31, the four representatives made the following comments.
<Hirofumi Kurume, Mayor, Hidakagawa Town>
Hidakagawa Town was created on May 1, 2005 through the merger of Kawabe Town, Nakatsu Village, and Miyama Village. The Miyama district which is a mountainous area, has an aging population of 52.5% (according to the 2020 census). With such a rapidly declining population and super-aging society recently, various issues are arising (or clearly coming), and in order to create a town where each and every resident can live with peace of mind, we believe that in addition to the new smart logistics system that is currently being implemented, collaboration using next-generation technology is necessary. We will identify local issues and pursue digital transformation for use in daily life, including health and disaster prevention, with the aim of creating a community where residents can live with peace of mind five, ten years into the future.
<Shuji Kawai, Executive Officer, Seino HD >
In the area of last-one-mile delivery, Seino Holdings is responding to lifestyle and structural changes by leveraging its strengths in trunk line transportation, and is actively promoting and expanding the construction of last-one-mile services that solve social issues such as measures for vulnerable shoppers and lower income households. In Hidakagawa Town, we will work to build a new logistics model by air and land, with a view to automating logistics by drone in the future, while considering the role that logistics plays and whether the implementation of technology will help create a town where residents can live with peace of mind and maintain and improve services for residents.
<Keisuke Toji, CEO, Aeronext >
The Aeronext Group, together with Seino Holdings, is implementing the new smart logistics SkyHub®︎ nationwide with the aim of improving the efficiency of regional logistics. On July 6, 2023, we established a Drone Depot®︎, the base of SkyHub®︎, in Hidakagawa Town, and began providing shopping and other services in the Miyama and Nakatsu areas. We hope that this new team, with the addition of Uhuru, will work together to realize new services that will solve various issues facing local communities in the future.
<Takashi Sonoda, Founder & CEO, Uhuru Corporation>
Uhuru has been based in Wakayama Prefecture since 2018 and has provided support for smart cities in the prefecture and throughout Japan. The challenges facing Hidakagawa Town are also those faced by municipalities across Japan. We hope to use this case study as a model case to address issues throughout Japan.
Through this partnership agreement, the four parties will mutually collaborate and cooperate to address regional issues and contribute to regional development in Hidakagawa Town by utilizing next-generation advanced technologies, including drones, in accordance with the town's prioritues and the needs of its citizens.