Press Release
Higashikawa Town and Seino Holdings, Dentsu Hokkaido, and Aeronext Town Official Partnership with 3 Companies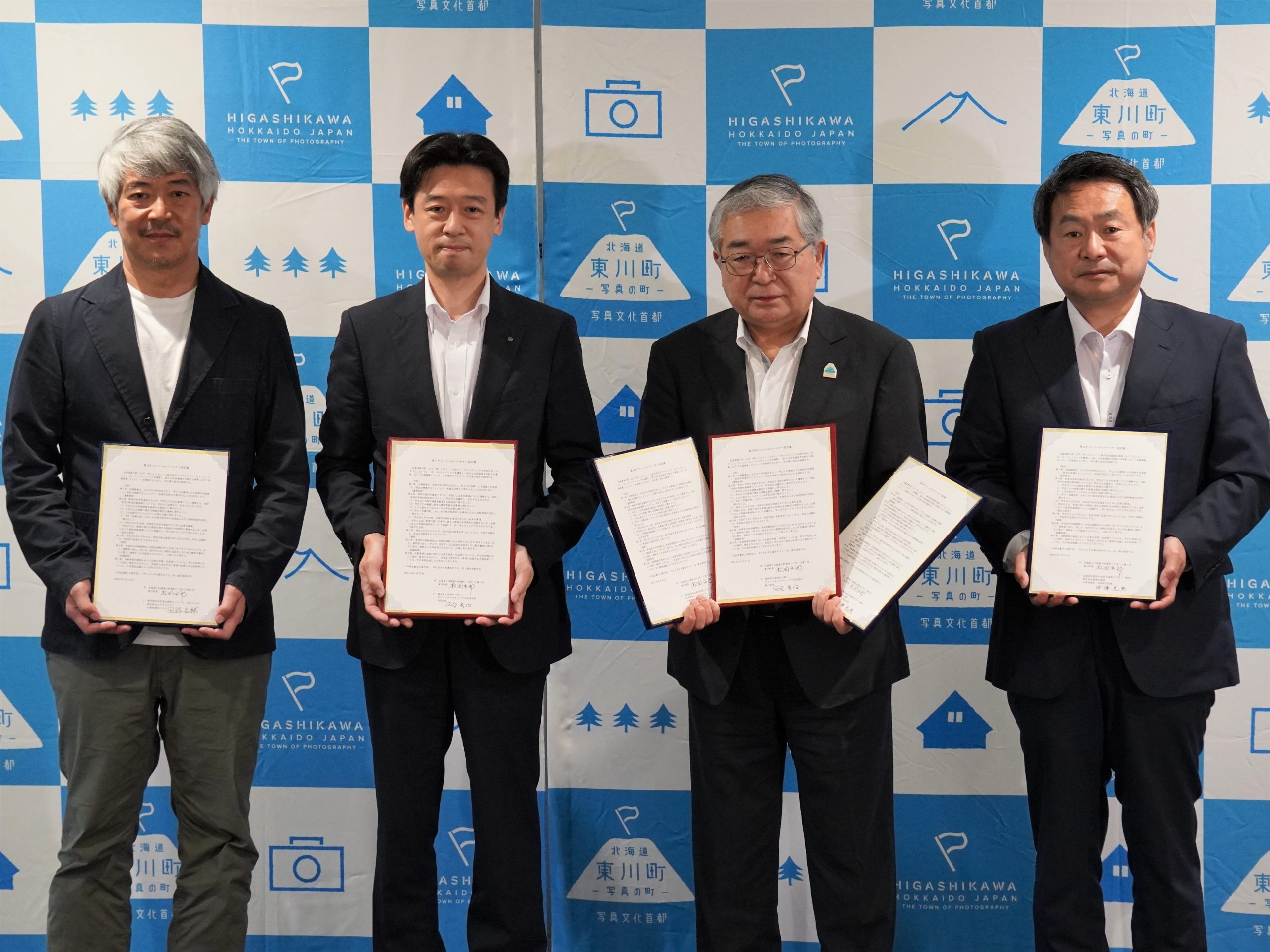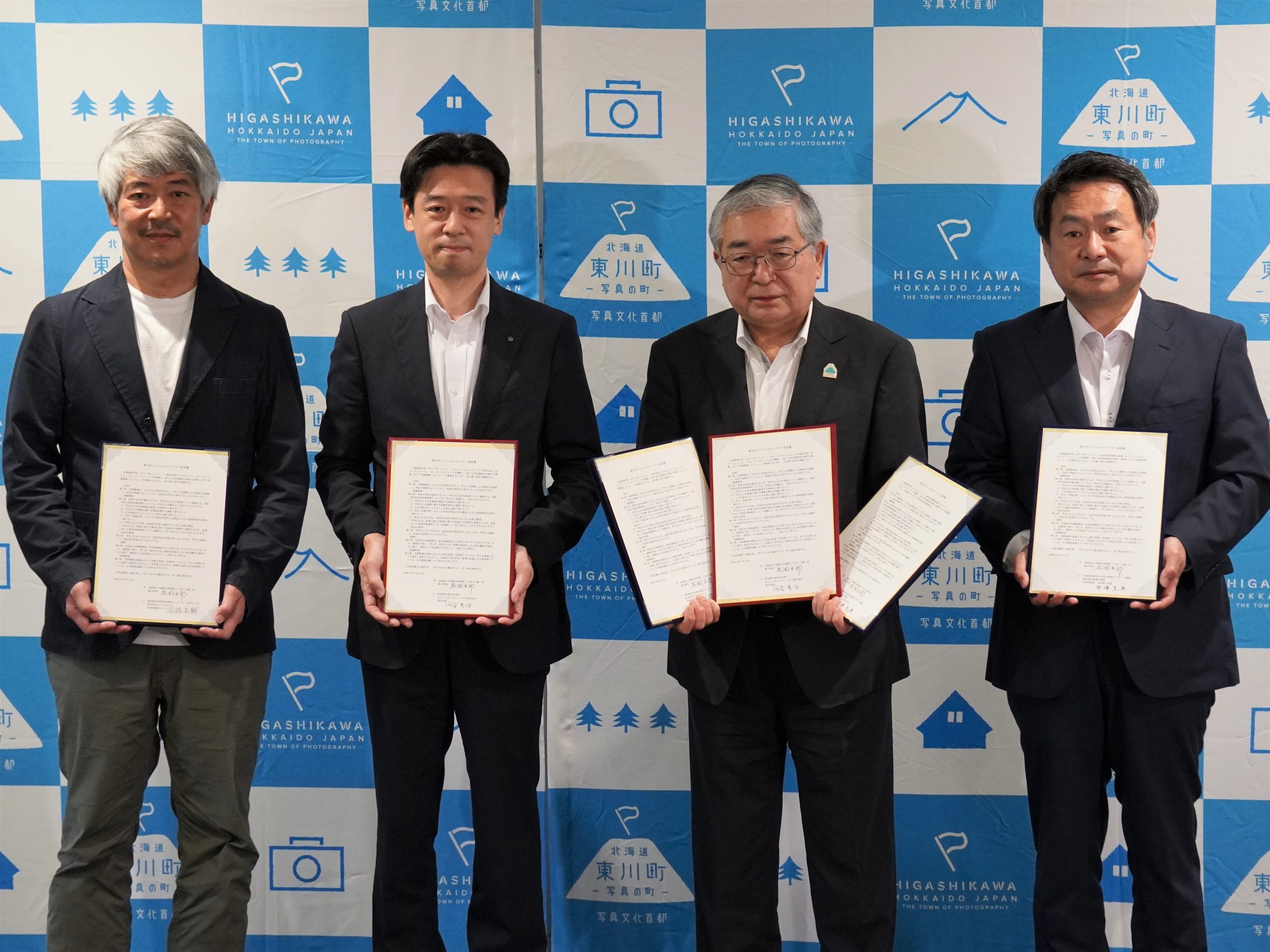 Higashikawa Town (Mayor: Ichiro Matsuoka), Seino Holdings Corporation (Head Office: Ogaki City, Gifu Prefecture; President: Yoshitaka Taguchi; hereinafter "Seino HD"), DENTSU HOKKAIDO INC. (Head Office: Sapporo, Hokkaido; President and Representative Director: Mitsuo Okitsu; hereinafter referred to as Dentsu Hokkaido) and Aeronext Inc. (Head Office: Shibuya-ku, Tokyo; Keisuke Toji, CEO; hereinafter "Aeronext") concluded an official partnership agreement on August 23, 2022.
Higashikawa Town's "Official Partner System" aims to build partnerships with related companies to co-create social values that will nurture the future of the region, Japan, and the world. Under this agreement, Higashikawa Town and the companies will form a partnership to promote projects that co-create new social value, such as projects that utilize each other's resources and characteristics, and contribute to the revitalization of the region through a variety of collaborations.
Higashikawa Town hosted the "New Smart Logistics Symposium for Realizing the Digital Rural City State Concept," which was held on March 22, 2022 and attended online by nearly 300 local government officials from across Japan. The event was hosted by Kamishihoro Town, Hokkaido, which is working to promote new smart logistics to solve regional issues, along with Kosuge Village, Yamanashi Prefecture; Sakai Town, Ibaraki Prefecture; and Tsuruga City, Fukui Prefecture. Mayor Ichiro Matsuoka of Higashikawa serves as a board member of the New Smart Logistics Promotion Council, which was announced at the event and launched on May 16 this year.
Higashikawa Town, Seino HD, Dentsu Hokkaido, and Aeronext plan to conduct a last mile logistics demonstration using a logistics drone on the 29th and 30th of this month as the first initiative under the official partnership agreement, with the aim of solving the "problem of people with shopping difficulties" that is expected to be an issue in the town in the future.
<Outline of Cooperative Agreement>
Date
August 23, 2022
Areas of Cooperation:
(1)efforts to create social value through collaboration between the two parties.
(2)exchange of information and cooperation between the parties
(3)activities that foster the lifestyles of each company's employees
(4)utilization of the "Town of Photography" Higashikawa shareholder system and corporate hometown tax payment system
(5)matters necessary to achieve the objectives of the agreement
Demonstration Overview
・Dates: August 29-30, 2022
・Locations: Distribution stores, roadside stations, restaurants, community centers, and private residences in Higashikawa Town
・Demonstration Services:
(1)Shopping Delivery Service
(2)Layaway Delivery Service
(3)Food Delivery Service
<Comments from Mayor Ichiro Matsuoka of Higashigawa Town>
Since 1985, when Higashikawa declared itself a "Town of Photography," We have promoted the sparsely populated town Higashika, where nature, culture, and people meet and live together. This time, we have signed an official partnership agreement with Seino Holdings, Aeronext, and Dentsu Hokkaido, and we will conduct demonstration experiments using drone technology with the aim of resolving various issues facing the region. We would like to work together with each business partners so that we can provide better administrative services.
<Comments from Mr. Shuji Kawai, Executive Officer, Seino HD of Seino HD>
Seino Holdings is currently working with Aeronext to implement the new smart logistics "SkyHub®" in Kosuge Village in Yamanashi Prefecture and Kamishihoro Town in Tokachi in Hokkaido by the end of this fiscal year. By concluding an official partnership agreement with Higashikawa Town, we will work together to revitalize the town, especially from a logistics perspective. In addition, in order to help protect the sparsely populated town Higashikawa, we will work toward the construction of new air and land infrastructure while preserving the existing excellent town structure and products.
<Comments from Mr. Mitsuo Okitsu, President and Representative Director of Dentsu Hokkaido>
We strive to be an Integrated Growth Partner that provides integrated solutions to the increasingly complex and sophisticated issues faced by local communities and companies on the vast island of Hokkaido. With the conclusion of this official partnership agreement with the town of Higashikawa, we hope to help improve the quality of life in the sparsely populated town of Higashikawa through various collaborative projects in the future.
<Comments from Mr. Keisuke Toji, CEO of Aeronext Inc.>
After implementing "SkyHub®"*3, a new smart logistics system utilizing drones, in several towns, we see it becoming more and more important to provide optimal services by combining multiple means, rather than thinking of the movement of people and goods separately and on a piece by piece basis. The town of Higashikawa has a vision of "Creating a Symbiotic, Cooperative, and Mutually Prosperous Community". We hope to help maintain and improve a convenient living environment for all residents toward the realization of Higashikawa's vision.
<Reference>
*1 National New Smart Logistics Promotion Council https://smartlogistics.jp/
For achieving a prosperous regional society through new smart logistics, it is extremely effective to share the valuable experiences of leading regional initiatives and implementation processes among the parties concerned. In order to achieve the government's Digital Rural City Nation concept of "maintaining the attractiveness of rural areas while offering convenience and possibilities that rival those of cities," diverse players will pool their knowledge and wisdom to build a new social infrastructure together. Centered on local governments, this organization will promote faster social implementation of new smart logistics through open discussions and information sharing that transcends the boundaries between the public and private sectors, inside and outside the industry.
*2 AirTruck
AirTruck, the first mass-produced logistics drone developed in Japan by Aeronext Corporation, a next-generation drone technology startup, in collaboration with ACSL, achieves stable flight with Aeronext's proprietary 4D GRAVITY®*3 airframe structure design technology. The AirTruck is a dedicated logistics drone that goes "faster, farther, and is more stable" with enhanced for logistics, specialized for forward motion, and aerodynamic characteristics required for long-distance flight. The prototype has flown in demonstration tests in various regions of Japan and has the No. 1 flight record in Japan.
*3 SkyHub®︎
A new smart logistics system that connects existing logistics and drone logistics jointly promoted by Aeronext and Seino Holdings Co., Ltd., and connects the ground and air infrastructure so that goods can be delivered anytime, anywhere. It features an open platform and standardized mechanism that incorporates drone delivery and realizes joint delivery. The introduction of SkyHub will contribute to solving social issues in the region, such as population decline, labor shortage due to declining birthrate and aging population, traffic problems in specific depopulated areas, medical problems, disaster countermeasures, and measures against vulnerable logistics from the aspect of logistics reform. It is possible to raise the satisfaction level of residents and communities by improving the convenience and quality of life of residents, which is also meaningful in promoting regional revitalization.
*AERONEXT and the AERONEXT logo, as well as "4D GRAVITY(R)," and "Next DELIVERY®" are trademarks of AERONEXT Co.
*Other company names and product/service names mentioned in this press release are registered trademarks or trademarks of their respective owners.