Press Release
Toward Solving the Problem of People with Difficulties in Shopping for Daily Necessities in Sparsely Populated Higashikawa Town Conducting a Demonstration Experiment for Drone-Based Shopping Delivery~Japan's first flight verification of 6 routes in 2 days such as at private homes and community centers based on temporary Drone Depot®~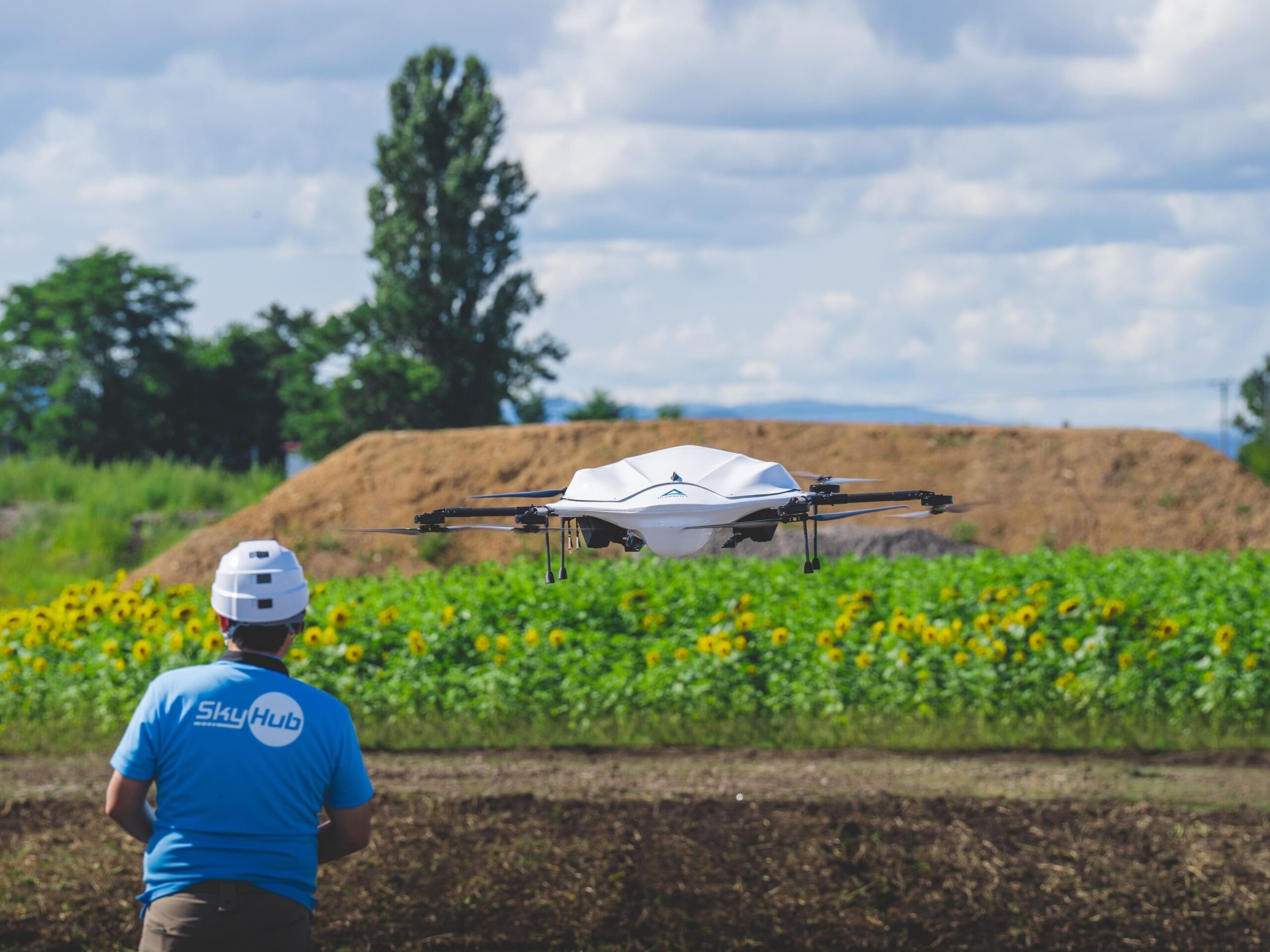 Higashikawa Town (Mayor: Ichiro Matsuoka), Seino Holdings Corporation (Head Office: Ogaki City, Gifu Prefecture; President: Yoshitaka Taguchi; hereinafter "Seino HD"), DENTSU HOKKAIDO INC. (Head Office: Sapporo, Hokkaido; President and Representative Director: Mitsuo Okitsu; hereinafter referred to as Dentsu Hokkaido), Aeronext Inc. (Head Office: Shibuya-ku, Tokyo; Keisuke Toji, CEO; hereinafter "Aeronext"), and NEXT DELIVERY Inc. (Headquarters: Kosuge Village, Yamanashi Prefecture; Representative Director: Keisuke Toji; hereafter "NEXT DELIVERY") announced on Tuesday, August 30 that they had conducted a demonstration experiment of shopping using drones delivery in Higashikawa Town from Monday, August 29 to Tuesday, August 30 to help improve issues of for people with difficulties shopping.
This demonstration experiment is the first initiative under the Higashikawa Town Official Partner Agreement signed by Higashikawa Town, Seino HD, Dentsu Hokkaido, and Aeronext on August 23, and is being developed and conducted by Seino HD and Aeronext with the aim of solving problems for people with difficulty shopping, which is an issue for the future of Higashikawa Town. The new Smart Logistics*1 "SkyHub®*2," system and technology that combines drone delivery and land transportation, will be utilized, and Aeronext's subsidiary NEXT DELIVERY will oversee the drone delivery service.
【Demonstration Experiment Overview】
1.Background and Purpose
Higashikawa has been promoting a "sparse lifestyle" that is not "depopulation. Higashikawa Town has a total population of 8,520 (as of July 28th, 2022). The town's population peaked at 10,754 in 1950, and, for a while. decreased year by year. The population, which was less than 7,000 once in 1994, recovered to 8,000 in 2016, an increase for the first time in 40 years. In an era of declining population, the town's population continues to grow, a rarity in the country. "In Higashikawa Town the aging rate has increased by approximately 5 percentage points over the past 10 years and is currently at 32.8%, which is higher than the national average of 28.1% in Japan. In order to help solve the problem of people with difficulty shopping," which will become more of an issue for the town in the future due to the aging population, we will conduct a "shopping delivery demonstration experiment" in cooperation with distribution stores, roadside stations, and restaurant businesses in the town, utilizing the new smart logistics SkyHub® system and technology, which has the potential to enrich the "sparse lifestyle" of Higashikawa Town. The purpose of the experiment was to identify issues that need to be addressed in order to implement the future service, and to gain the support of the town's residents.
2.Experiment Scope
Envisioning support for transportation challenged people who live in areas far from the center of the city where there are few distribution outlets and restaurants, we delivered assorted sets of freshly picked vegetables ordered by residents from local farmers at a local supermarket by delivered by AirTruck*3, a dedicated logistics drone developed by Aeronext, from the temporary Drone Depot (Iki Iki Noen administration building) to the temporary Drone Stand® at the Western Area Community Center (round trip flight distance: 6.9 km approx. 23min.).
In Higashikawa Town, where there is no food delivery service, we envision a new food delivery service in which ordered food and drinks are delivered immediately to the recipient by AirTruck. To that end our drone delivered a popular curry from a local curry shop to students who were taking a yoga class at the District 1 Community Center. (One-way fright distance: approx. 11.1 km 20min.).
In addition to the above, we also carried out drone delivery from the same base to a total of 6 routes, 2 private homes of the townspeople, District 2 Community Center, and District 3 Community Center in 2 days. This is the first initiative in Japan (according to our own research).
* Please see here for the actual video of this demonstration experiment. https://youtu.be/DMp_fwthe8M
(This video and some photos taken and provided by photographer, Mr. Hiroki Inoue)
Based on the Higashikawa Town Official Partner Agreement, the four parties will continue to mutually collaborate and cooperate with each other to contribute to the creation of a "TEKISO" town in Higashikawa Town by ensuring sustainable local transportation and logistics, creating a livable environment, contributing to local disaster prevention and local decarbonization, and promoting new social infrastructure by utilizing next-generation advanced technologies including drones, in accordance with Higashikawa Town' needs and the needs of its residents.
<Reference>
*1 New Smart Logistics
A public-private initiative to find solutions to issues commonly faced by the logistics industry, such as labor shortages, environmental and energy issues, and DX transformation, while utilizing digital and technology to ensure the future sustainability of logistics, indispensable infrastructure for people's daily lives. The project aims to realize the last mile joint delivery, the best mix of land and air transportation, freight and passenger consolidation, automated technology, etc., through co-creation based on an open public platform (O.P.P.) that transcends the boundaries between the industry and the outside world.
*2 SkyHub®︎
A new smart logistics system that connects existing logistics and drone logistics jointly promoted by Aeronext and Seino Holdings Co., Ltd., and connects the ground and air infrastructure so that goods can be delivered anytime, anywhere. It features an open platform and standardized mechanism that incorporates drone delivery and realizes joint delivery. The introduction of SkyHub will contribute to solving social issues in the region, such as population decline, labor shortage due to declining birthrate and aging population, traffic problems in specific depopulated areas, medical problems, disaster countermeasures, and measures against vulnerable logistics from the aspect of logistics reform. It is possible to raise the satisfaction level of residents and communities by improving the convenience and quality of life of residents, which is also meaningful in promoting regional revitalization
*3 AirTruck Logistics Drone
AirTruck, the first mass-produced logistics drone developed in Japan by Aeronext Corporation, a next-generation drone technology startup, in collaboration with ACSL, achieves stable flight with Aeronext's proprietary 4D GRAVITY®*3 airframe structure design technology. The AirTruck is a dedicated logistics drone that goes "faster, farther, and is more stable" with enhanced for logistics, specialized for forward motion, and aerodynamic characteristics required for long-distance flight. The prototype has flown in demonstration tests in various regions of Japan and has the No. 1 flight record in Japan.
*4 Airframe structural design technology 4D GRAVITY®
Structural design technology that optimizes the center of gravity of the aircraft to make the motor speed uniform regardless of the attitude, state, and movement during flight, and improves the basic performance of the industrial drone in areas such as stability, efficiency, and mobility. This technology is characterized by a coupling structure between the airframe and payload. Aeronext patents this technology and manages its 4D GRAVITY®︎ patent portfolio. By improving the basic performance industrial drones, 4D GRAVITY®︎, expands the applications of industrial drones allowing for expanded markets.
【About Aeronext】
Aeronext, an IP driven R & D technology startup for next-generation drones, is a company that designs the sky through technology to create a world where the sky becomes a social infrastructure, is economized, and solves social issues through drones. Our core technology is 4D GRAVITY®︎, a unique structural design technology that improves basic drone performance such as stability, efficiency, and mobility of industrial drones by optimizing the center of gravity of the aircraft. In order implement this 4D GRAVITY®︎ as standard equipment on industrial drones, we have constructed a strong patent portfolio and are promoting a partnership-based platform business for the 4D GRAVITY®︎ license globally.
AERONEXT has also founded a subsidiary to implement the SkyHub® smart logistics and pursue drone delivery.
*For more information: https://aeronext.co.jp/company/
【About NEXT DELIVERY】
A subsidiary of AERONEXT, a company mainly engaged in drone delivery, established in Kosuge Village, Yamanashi Prefecture in 2021 with the vision of "becoming a country where affluence is spread to every corner of the earth through 4D LogisticsTM infrastructure that connects air, land, and time in the age of 100 years of life. The company is also involved in the development, manufacture, sale, rental, and maintenance of hardware and software related to drone delivery. We are also developing peripheral businesses such as development, manufacturing, sales, rental, and maintenance of hardware and software related to drone delivery. Starting with Kosuge Village in Yamanashi Prefecture, we are working to improve the efficiency and revitalization of regional logistics in places such as Kamishihoro Town in Hokkaido and Tsuruga City in Fukui Prefecture.
*For more information: https://nextdelivery.aeronext.co.jp/#company/
AERONEXT and the AERONEXT logo, as well as "4D GRAVITY(R)," and "SkyHib®," "Drone Depot®,' and "Drone Stand®" are trademarks of AERONEXT Co.
*Other company names and product/service names mentioned in this press release are registered trademarks or trademarks of their respective owners.