Press Release
Mie Prefecture conducts a demonstration experiment to validate "Drone Logistics" business models aiming to "revolutionize air transportation".~Japan's first demonstration of drone transportation of parcels in cooperation with trucks~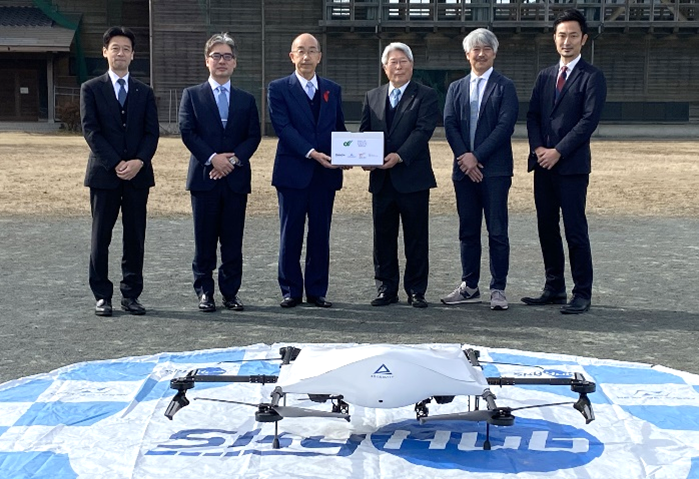 Mie prefecture (Governor: Katsuyuki Ichimi), Deloitte Tohmatsu Consulting LLC (Chiyoda-ku, Tokyo; Consulting CEO: Masato Sase; hereinafter "Deloitte Tohmatsu"), Aeronext Inc. (Shibuya-ku, Tokyo; CEO: Keisuke Toji; hereinafter "Aeronext"), Seino Holdings Co., LTD.(Ogaki City, Gifu Prefecture; President: Yoshitaka Taguchi; hereinafter "Seino HD"), and Japan Airlines Co., Ltd. (Shinagawa-ku, Tokyo; President: Yuji Akasaka; hereinafter "JAL") conducted a demonstration experiment in Iga City, Mie Prefecture (Mayor: Sakae Okamoto) on Friday, January 13, to verify a drone logistics business model in Mie Prefecture.
This demonstration experiment was conducted based on the contract with Deloitte Tohmatsu for the "Advanced Drone Logistics Research Project for Realizing the Air Mobility Revolution "*1 that Mie Prefecture is implementing in fiscal 2022, with the aim of leading to commercializing drone logistics. The results of this experiment will be presented at the "Mie Prefecture Symposium 2023 for the Realization of the Air Mobility Revolution" scheduled to be held on Tuesday, February 14.
Demonstration Experiment Overview
Description and Purpose
Mie Prefecture aims to commercialize drone logistics by studying use cases for drone-based logistics in the prefecture, building related business models, and identifying and resolving issues, with the aim of realizing a "revolution in air transportation.
As part of this initiative, a demonstration experiment using a drones was conducted to identify issues related to drone flights for the business model studied this year.
Verification Activities and Points
In this verification experiment, the following two use cases were assumed, and services were provided to local residents who served as monitors, while the "feasibility" and "sustainability" of the established business model were verified from the perspective of both service users and providers through questionnaires and other means.
① Shopping Service
Solving the problem of "shopping refugees" by providing shopping services and drone delivery in disadvantaged areas with few shopping options (places and items).
② Courier delivery
Improving logistics efficiency by replacing part of the transportation of goods by vehicles with drones
Demonstration Organizational Roles


| | |
| --- | --- |
| Overall project planning and supervision | Mie Prefecture, Deloitte Tohmatsu |
| Aircraft operation and demonstration planning (route selection, etc.) | Aeronext |
| Demonstration planning (advice on logistics use cases, etc.) | Seino HD |
| Demonstration planning (advice on laws and regulations related to operation, etc.) | JAL |
| Site provided by | Iga City, Awa Area Civic Center |
| Product Offerings | ANYS Sanpei |

Demonstration Details
One of the local issues identified through surveys and studies in this project is the problem of "shopping refugees. In this experiment, in order to solve this problem through drone logistics, a resident monitor acting as a customer ordered a "snack set" (approx. 3 kg) consisting of rice crackers, chocolates, etc., and ANYS Sanpei shopped for each item at a supermarket (ANYS Sanpei) on behalf of the customer. The drone delivered the goods in about 20 minutes, covering a distance of about 9 km one way from the adjacent Seseragi Sports Park (Hirata, Iga City) to the Oyamada Higashi Ground (Saruno).
The aircraft was AirTruck*2, Japan's first logistics-specific drone developed by Aeronext, which performed Level 3 flights (autonomous out-of-sight flights over uninhabited areas).
The products were safely delivered to the hands of local resident monitors who were waiting for them at the Oyamada Higashi Grounds. A community monitor who received a product delivered by drone commented, "The sweets were not collapsed, and the rice crackers inside were in perfect condition. I am grateful that the product arrived so quickly after ordering. In the future, as the population ages, it will be difficult to move to supermarkets, but I have high hopes that drones will play an active role in maintaining our daily lives."
In this region, where the volume of cargo transport is low, but the transport distance and time are long, and logistics efficiency is needed, a drone was used to transport a parcel (approx. 3 kg) from the Ueno Branch of Mie Seino Transport in Chitose Shimizu, Iga City, to Seseragi Sports Park by truck, then to Oyamada Higashi Ground beyond that point, where the parcel was switched to a drone and transported. This was Japan's first drone logistics demonstration in conjunction with a delivery truck.


In addition to shortening the time it takes for packages to arrive, the combination of trucks and drones is expected to bring various benefits to both residents and delivery companies, such as shorter working hours for truck drivers and reduced fuel consumption due to shorter driving distances.
The company will work to solve various local issues in the prefecture and maintain and improve the quality of life in the region, aiming to resolve the issues identified through this verification experiment and subsequently commercialize drone logistics.
(Reference)
*1 Advanced Drone Logistics Research Project for Realization of the "Air Mobility Revolution"
The purpose of this project is to investigate and demonstrate the possibilities of flight modes made possible by Level 4 flights (unassisted, out-of-sight flights in manned areas), which are scheduled to be lifted based on the government's revised system, in order to address issues such as labor costs, costs, and limitations in the scope of services due to limited flight routes over manned areas in Mie Prefecture, and to lead to the commercialization of drone logistics.
*2 AirTruck Logistics Drone
AirTruck, the first mass-produced logistics drone developed in Japan by Aeronext Corporation, a next-generation drone technology startup, in collaboration with ACSL, achieves stable flight with Aeronext's proprietary 4D GRAVITY®*3 airframe structure design technology. The AirTruck is a dedicated logistics drone that goes "faster, farther, and is more stable" with enhanced for logistics, specialized for forward motion, and aerodynamic characteristics required for long-distance flight. The prototype has flown in demonstration tests in various regions of Japan and has the No. 1 flight record in Japan.
*3 Airframe structural design technology 4D GRAVITY®
Airframe structure design technology developed by Aeronext optimizes aerodynamic characteristics by equalizing motor speed regardless of attitude, condition, or movement during flight and controlling lift, drag, and fuselage center of gravity based on fuselage shape and structure to improve the basic performance of industrial drones, such as stability, efficiency, and mobility, and the transportation performance of drones dedicated to logistics. Aeronext has patented this technology and manages it as part of the 4D GRAVITY® patent portfolio. 4D GRAVITY® improves basic performance and opens up new markets and applications for industrial drones.
【About Deloitte Tohmatsu Consulting LLC】
DTC is a member of the international business professional network Deloitte, and part of the Deloitte Tohmatsu Group in Japan.
As a member of Deloitte, DTC provides consulting services in Japan, leveraging Deloitte's and the Deloitte Tohmatsu Group's comprehensive and global capabilities in audit, tax, legal, consulting, and financial advisory services to assist with all manner of corporate and organizational issues, from building strategy to the execution and even operation of technology-based operations.
Our approximately 4,000 consultants work together with Deloitte firms from all around the world, creating a structure that can provide the most appropriate service for any region or area on the planet.
*For more information: http://www.deloitte.com/jp/en/dtc/
【About Aeronext Inc.】
AERONEXT, an IP driven R & D technology startup for next-generation drones, is a company that designs the sky through technology to create a world where the sky becomes a social infrastructure, is economized, and solves social issues through drones. Our core technology is 4D GRAVITY®︎, a unique structural design technology that improves basic drone performance such as stability, efficiency, and mobility of industrial drones by optimizing the center of gravity of the aircraft. In order implement this 4D GRAVITY®︎ as standard equipment on industrial drones, we have constructed a strong patent portfolio and are promoting a partnership-based platform business for the 4D GRAVITY®︎ license globally.
AERONEXT has also founded a subsidiary to implement the SkyHub® smart logistics and pursue drone delivery.
*For more information: https://aeronext.com/company/
【About Seino Holdings Co., LTD.】
Seino Holdings strives to be a value-creating comprehensive logistics trading company and aims to "provide value that transcends time and space" to its customers. Seino embraces an overall strategy of the group is to embody "Open Public Platform Construction (OPP)" that provides better and optimal services to customers through connections both inside and outside the industry in an open-neutral relationship in order to build a platform that is easy for customers and other companies in the same industry to use. In the last mile area, we are actively promoting and expanding the construction of a last mile O.P.P. that solves social issues such as measures for vulnerable shopping and measures for lower income families, while responding to changes in lifestyle and structure.
*For more information: https://www.seino.co.jp/seino/shd/overall-condition/
【About Japan Airlines Co., Ltd. 】
We believe that it is the responsibility of the JAL Group to widely promote next-generation air mobility, as represented by drones and flying cars, in all regions of Japan by leveraging the knowledge and technologies for air safety that we have accumulated through our air transportation business since our founding. To date, we have actively participated in demonstrations and surveys in various regions of Japan, and are steadily advancing efforts toward commercialization, with plans to launch a drone business in the Amami Islands in fiscal 2023. We will continue to chart a vision of a society in which drones and flying vehicles will play an active role in each area, and lead the way in new markets. Aiming to realize a world in which a variety of air mobility vehicles fly overhead with high frequency, we will also build a platform to support safe and smooth operations so that more businesses can utilize air mobility with peace of mind.
*For more information: https://www.jal.com/en/
*Aeronext and the Aeronext logo, as well as "4D GRAVITY®" "SkyHub®" are trademarks of Aeronext Inc.
*Other company names and product/service names mentioned in this press release are registered trademarks or trademarks of their respective owners.