Press Release
Demonstration Experiment Aims to Build a New Logistics Service in Iwaizumi Town Using Next-Generation Advanced Technology Drone Delivery in Mountainous Areas"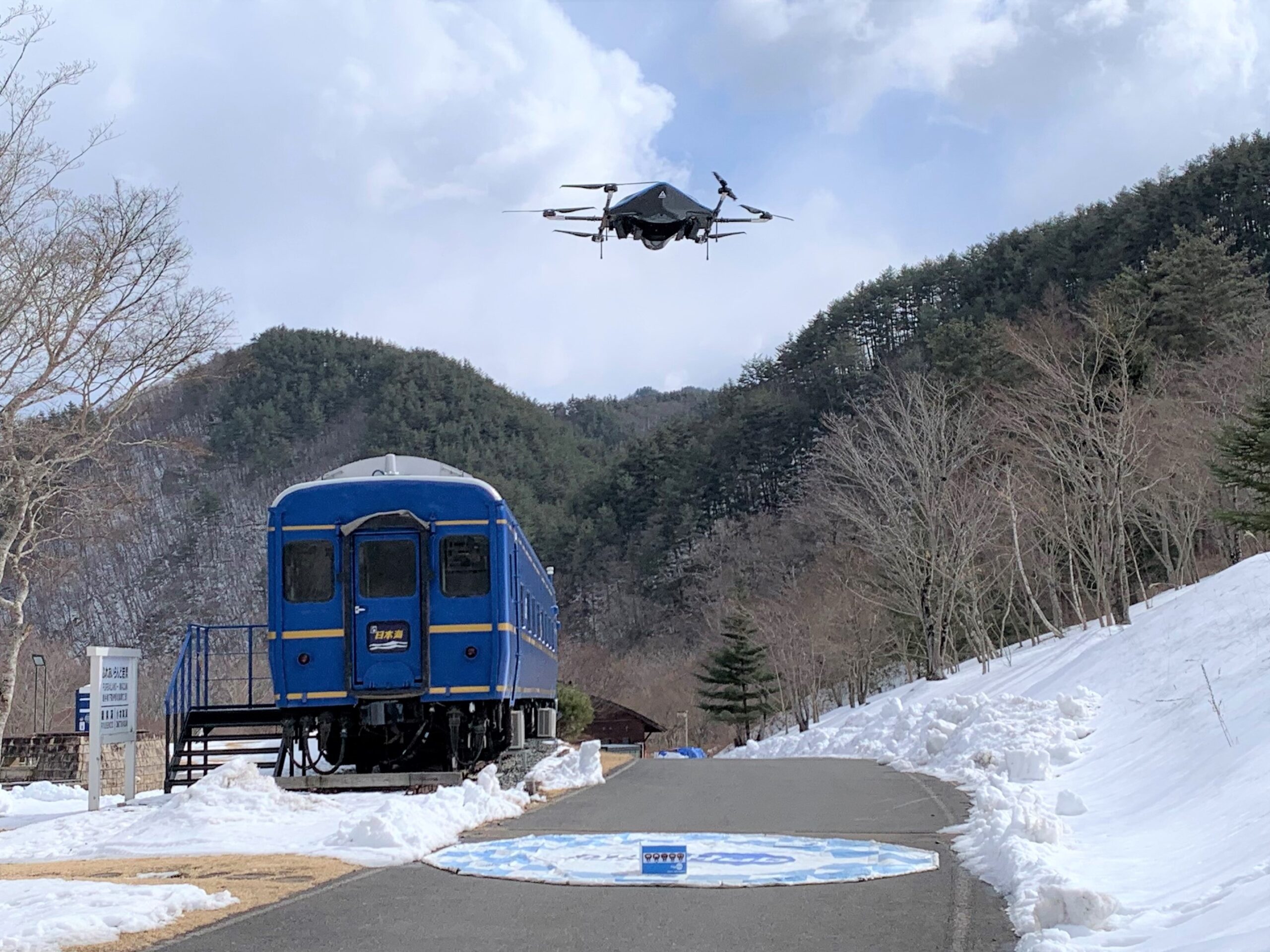 Iwate Prefecture (Governor: Takuya Tatsumasu), Iwaizumi Town (Mayor: Kenichi Nakai), Seino Holdings Co., Ltd. (Head Office: Ogaki City, Gifu Prefecture; President: Yoshitaka Taguchi; hereinafter "Seino HD"), Iwaizumi Holdings Co.(Head Office:Iwaizumi Town, Iwate Prefecture; President:Kinya Yamashita, hereinafter "Iwaizumi HD"), Aeronext Inc. (Head Office: Shibuya-ku, Tokyo; Keisuke Toji, CEO; hereinafter "Aeronext"), and NEXT DELIVERY Inc. (Head Office: Kosuge Village, Yamanashi Prefecture; Keisuke Toji, CEO; hereinafter "NEXT DELIVERY") conducted a demonstration experiment for drone delivery in mountainous areas in Michi-no-Eki Iwaizumi in Otomo, Iwaizumi Town on February 21, 2023, aiming to establish a new logistics service by utilizing next-generation advanced technology.
This demonstration experiment was commissioned by Iwate Prefecture as part of the "2022 Demonstration Experiment for Addressing Regional Issues Using Drones in the Mid-Mountainous Areas of Iwate Prefecture," and is part of a project developed by Seino HD and Aeronext to address regional issues faced by Iwaizumi Town by integrating drone delivery and land transportation. The project will utilize the "SkyHub®*2" technology, a new smart logistics*1 system that combines drone delivery and land transportation, to address the local issues faced by Iwaizumi-machi. NEXT DELIVERY, a subsidiary of Aeronext, which focuses on the drone delivery service business, has been conducting this project.
Demonstration Experiment Overview
Background and Purpose
Iwaizumi Town is the only prefecture in Japan where the percentage of the population with food inaccessibility exceeds 40%, which is very compared to other areas across the nation. In addition, there is concern that the aging of the population in the mountainous areas is likely face reduction in the accessibility of daily shopping and receiving medicine in the future.
In order to maintain and optimize logistics services, the private sector and the government will work together to create a system for shopping on behalf of customers, creation of tourism resources, disaster relief, and pharmaceutical delivery, etc., by incorporating drone delivery into the last mile transportation and introducing a new smart logistics system that links and integrates ground transportation and drone delivery. The purpose of this demonstration experiment is to promote understanding of drones in the local community and to conduct research toward the construction of the "Iwaizumi Model" for societal implementation of the new smart logistics system, which Iwate Prefecture has set as its goal.
Details
We made a drone delivery of daily necessities (eggs, yogurt drink, bread, and hormon-nabe sets) from the main S-Mart store in Iwaizumi Town to the former Asanai Station, with the expectation of providing shopping support and emergency supplies in the mid-mountainous areas. The flight was taken about 7 minutes, by AirTruck*3, a specialized logistics drone developed by Aeronext, for approximately 3.5 km from main S-Mart's main store one way to the (hypothetical) customer waiting at the Old Asanai Station. Receiving the items delivered from the sky by drone, Mr. Oie commented " It's great to be able to order something fresh and have it delivered right away.".
In addition, with the cooperation of Iwaizumi Holdings, Inc., food was delivered from Roadside Station Iwaizumi to Fureai Land on the other side of the river for the purpose of encouraging tourism. The famous Ryusendo Kurobuta Miso Ramen, a hot specialty made at Restaurant Iwaizumi in Roadside Station Iwaizumi, was delivered to the (hypothetical) order recipient who was waiting in front of the Blue Train Nihonkai. After tasting the ramen, Mr. Sasaki "It was hotter than I imagined, and the soup arrived without spilling, and I thought that it was really possible to make the ramen fly. It was no different than eating at a restaurant.".
The six parties will continue to mutually cooperate and collaborate with each other and with local businesses to study the societal implementation of "SkyHub®," a new smart logistics system that integrates drone delivery and land delivery by utilizing drones and other next-generation advanced technologies, in accordance with the town's issues and the needs of the town's residents. We will contribute to the resolution of local issues and the revitalization of the local community in Iwaizumi Town.
(Reference)
*1 New Smart Logistics
A public-private initiative to find solutions to the issues commonly faced by the logistics industry, such as labor shortages, environmental and energy issues, and DX areas, while utilizing digital and technology to ensure the future sustainability of logistics, which is an indispensable infrastructure for people's daily lives. The project aims to realize the last mile joint delivery, the best mix of land and air transportation, freight and passenger consolidation, automated technology, etc., through co-creation based on an open public platform (O.P.P.) that transcends the boundaries between the industry and the outside world.
*2 New Logistics SkyHub®︎
A new smart logistics system that connects existing logistics and drone logistics jointly promoted by Aeronext and Seino Holdings Co., Ltd., and connects the ground and air infrastructure so that goods can be delivered anytime, anywhere. It features an open platform and standardized mechanism that incorporates drone delivery and realizes joint delivery. The introduction of SkyHub will contribute to solving social issues in the region, such as population decline, labor shortage due to declining birthrate and aging population, traffic problems in specific depopulated areas, medical problems, disaster countermeasures, and measures against vulnerable logistics from the aspect of logistics reform. It is possible to raise the satisfaction level of residents and communities by improving the convenience and quality of life of residents, which is also meaningful in promoting regional revitalization.
*3 AirTruck
AirTruck, the first mass-produced logistics drone developed in Japan by Aeronext Corporation, a next-generation drone technology startup, in collaboration with ACSL, achieves stable flight with Aeronext's proprietary 4D GRAVITY® airframe structure design technology. The AirTruck is a dedicated logistics drone that goes "faster, farther, and is more stable" is enhanced for logistics, specialized for forward motion, and aerodynamic characteristics required for long-distance flight. The prototype has flown in demonstration tests in various regions of Japan and has the No. 1 flight record in Japan.
【About Iwate Prefecture】
Iwate Prefecture, with a population of 1,180,512 (as of October 1, 2022), is located in the northeastern part of Honshu, and has a long oval shape from north to south, measuring approximately 122 km east to west and 189 km north to south. It is the second largest prefecture in Japan after Hokkaido, with an area of 15,275.01㎢, accounting for 4% of the total area of Japan.
In addition to its magnificent nature surrounded by the sea and mountains, and the historical and cultural attractions represented by the three World Heritage Sites of Hiraizumi, Hashino Iron Mine, and Goshono Ruins, the prefecture has a diverse and appealing food culture, blessed with delicacies from the mountains and the sea.
Having overcome natural disasters such as the Great East Japan Earthquake and Tsunami and Typhoon No. 10 in 2016, we are making steady progress in reconstruction. We are pursuing the initiatives set forth in the "Iwate Prefectural Citizens' Plan (2019-2028)," aiming to realize "Iwate, a rare and wonderful place where people mutually protect and nurture each other's happiness."
【About Iwaizumi Town】
Located northeast of Morioka City, the capital of Iwate Prefecture, the town consists of a mountainous area surrounded by lush green mountains and a coastal area facing the beautiful sea, with a population of less than 8,300 and an area of 992.92㎢, making it the largest townby area in Honshu.
The town is rich in water and greenery, with one of the three largest limestone caves in Japan, Ryusendo-do Cave, and its underground lake boasting some of the clearest water in the world, and the cleanest air produced by the forests that cover approximately 92% of the total area of the town.
Having suffered two major natural disasters, the Great East Japan Earthquake in 2011 and Typhoon No. 10 torrential rain disaster in 2016, the town has had to rethink its vision of the future that it had envisioned, but it is also a town where the residents are working together to make progress toward restoration and recovery.
【About Iwaizumi Holdings】
Iwaizumi Holdings is a third sector company that merged in 2019 its subsidiaries Iwaizumi Dairy Corporation and Iwaizumi Industrial Development Co. In addition to developing products that utilize the raw milk, water, and other resources produced in the rich natural environment of Iwaizumi Town, including our signature products, Iwaizumi Yogurt, Ryusendo water, and Ryusendo skin care series, we also operate two roadside stations (Iwaizumi and Mitagai Branch) in Iwaizumi Town.
【About Seino Holdings Co., LTD.】
Seino Holdings strives to be a value-creating comprehensive logistics trading company and aims to "provide value that transcends time and space" to its customers. Seino embraces an overall strategy of the group is to embody "Open Public Platform Construction (OPP)" that provides better and optimal services to customers through connections both inside and outside the industry in an open-neutral relationship in order to build a platform that is easy for customers and other companies in the same industry to use. In the last mile area, we are actively promoting and expanding the construction of a last mile O.P.P. that solves social issues such as measures for vulnerable shopping and measures for lower income families, while responding to changes in lifestyle and structure.
* For more information: https://www.seino.co.jp/seino/shd/overall-condition/
【About Aeronext Inc.】
Aeronext, an IP driven R & D technology startup for next-generation drones, is a company that designs the sky through technology to create a world where the sky becomes a social infrastructure, is economized, and solves social issues through drones. Our core technology is 4D GRAVITY®︎, a unique structural design technology that improves basic drone performance such as stability, efficiency, and mobility of industrial drones by optimizing the center of gravity of the aircraft. In order implement this 4D GRAVITY®︎ as standard equipment on industrial drones, we have constructed a strong patent portfolio and are promoting a partnership-based platform business for the 4D GRAVITY®︎ license globally.
AERONEXT has also founded a subsidiary to implement the SkyHub® smart logistics and pursue drone delivery.
*For more information: https://aeronext.com/company/
【About NEXT DELIVERY】
A subsidiary of Aeronext, a company mainly engaged in drone delivery, established in Kosuge Village, Yamanashi Prefecture in 2021 with the vision of "becoming a country where affluence is spread to every corner of the earth through 4D LogisticsTM infrastructure that connects air, land, and time in the age of 100 years of life. The company is also involved in the development, manufacture, sale, rental, and maintenance of hardware and software related to drone delivery. We are also developing peripheral businesses such as development, manufacturing, sales, rental, and maintenance of hardware and software related to drone delivery. Starting with Kosuge Village in Yamanashi Prefecture, we are working to improve the efficiency and revitalization of regional logistics in places such as Kamishihoro Town in Hokkaido and Tsuruga City in Fukui Prefecture.
*For more information: https://nextdelivery.aeronext.co.jp/
*Aeronext and the Aeronext logo, as well as "4D GRAVITY®" and "SkyHub®" are trademarks of Aeronext Inc.
*Other company names and product/service names mentioned in this press release are registered trademarks or trademarks of their respective owners.