Press Release
Demonstration Experiment Aims to Build a New Logistics Infrastructure in Iwate Town Using Next-Generation Advanced Technology Drone Delivery in Mountainous Areas"~Toward societal implementation of "SkyHub®," a new smart logistics system that combines drone and land delivery~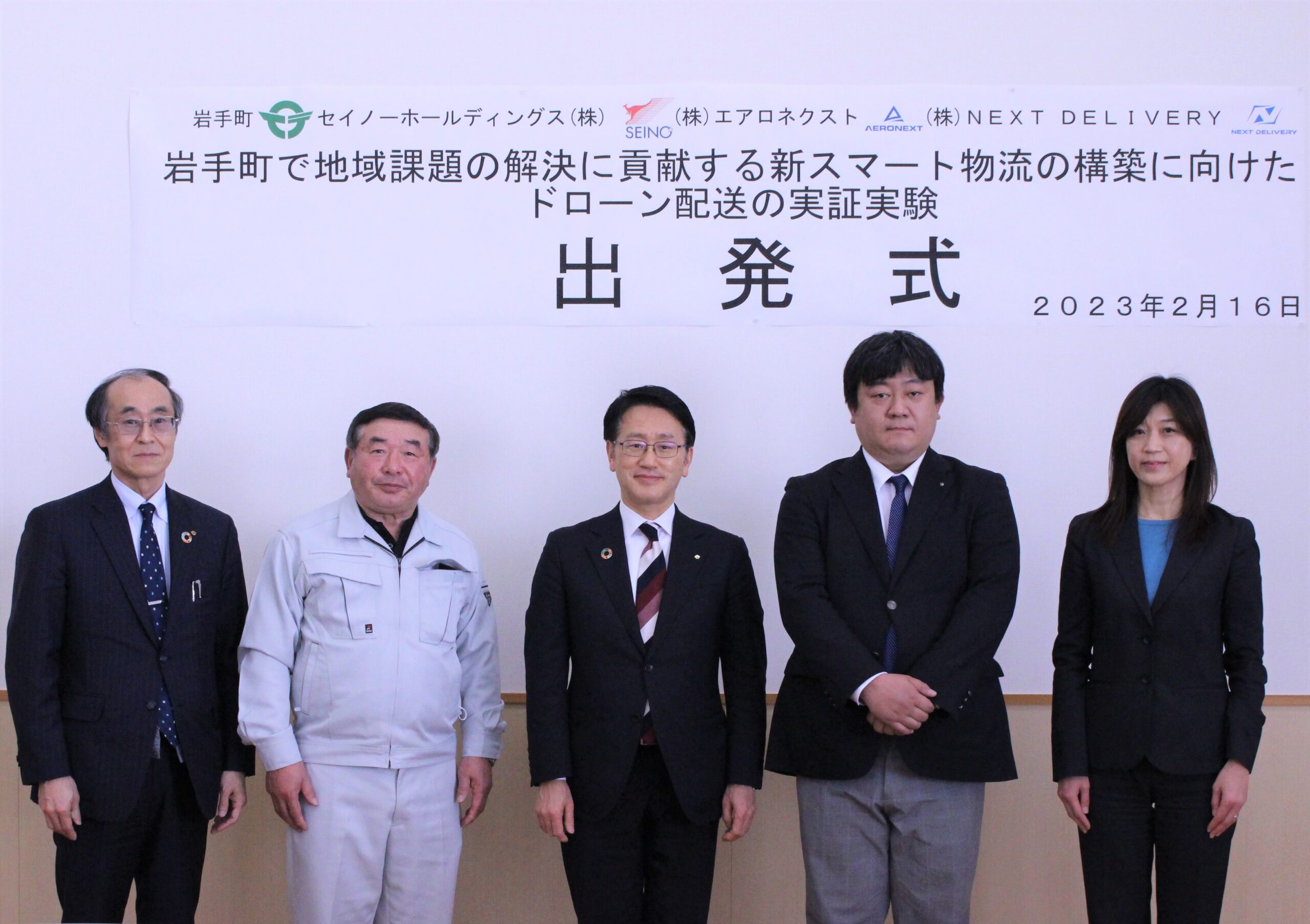 Iwate Town (Mayor: Koji Sasaki), Seino Holdings Co., Ltd. (Head office: Ogaki City, Gifu Prefecture; President: Yoshitaka Taguchi; hereinafter "Seino HD"), Aeronext Inc. (Head office: Shibuya-ku, Tokyo; Keisuke Toji, CEO; hereinafter "Aeronext"), NEXT DELIVERY Inc. (Head office: Kosuge Village, Yamanashi Prefecture; Keisuke Toji, President; hereinafter "NEXT DELIVERY") conducted a demonstration experiment of "drone delivery in mountainous areas" on February 16, 2023, starting from the Mori no Arena in Iwate Town, aiming to establish a new logistics services utilizing next-generation advanced technology.
Specifically, NEXT DELIVERY will conduct the study for societal implementation of "SkyHub®"*1, a new smart logistics system that combines drone delivery and land transportation, which Seino HD and Aeronext are developing and advancing.
【Demonstration Experiment Overview】
1.Background and Purpose
In July 2020, Iwate Town was selected as an SDGs Future City by the Japanese government, and as part of its promotion, the "Iwate Town Community Energy Laboratory" was implemented. In 2021, the town compiled the general framework of the "Iwate Town Environment and Energy Strategy Concept," which will be the basis for the "Iwate Town Environment and Energy Strategy Basic Plan," and has been exploring new initiatives to promote a smart city, build a decarbonized society, and solve local problems, which has led to the current demonstration experiment.
In this demonstration experiment, a temporary Drone Depot® and Drone Stand® will be set up in the Ikatai area to enhance residents' awareness and to identify local issues.
On the other hand, many residents in the Ikkatai area drive to the city center for shopping, and the percentage of elderly residents is nearly 50% in some areas, compared to 39.9% in Iwate Town as a whole, making the surrender of driver's licenses an emerging issue for the community.
In the future, we will also consider providing shopping services for shopping refugees, including pharmaceutical delivery, food delivery service, joint delivery, and freight consolidation, with the aim of revitalizing local communities.
2. Details
In this demonstration, we provided material support and delivered messages to children at Ikkatai Elementary School in a simulated disaster in the mountainous area.
AirTruck*3, a logistics drone developed by Aeronext, took off from Mori Arena and delivered the goods to the children waiting on the ground of Ikkatai Elementary School.
When the drone appeared out of the sky and delivered the goods, the students cheered loudly.A child commented, "I saw a drone for the first time, but it was bigger and more powerful than I expected. On the other hand, it was amazing to go back and forth to Ii Elementary School" (Kawaguchi Elementary School 4th grade student).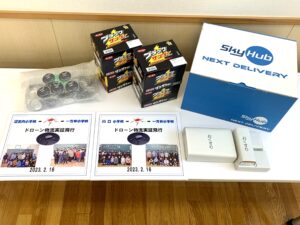 We will continue to study the societal implementation of "SkyHub®," a new smart logistics system that combines drone delivery and land delivery, utilizing drones and other next-generation advanced technologies to promote understanding among local residents and address local issues for the future of Iwate Town.
※This demonstration experiment has been adopted by the Organization for Environment and Development as a project eligible for a FY2022 subsidy for carbon dioxide emission control measures (a project to promote the introduction of advanced technologies that simultaneously realize social reform and decarbonization of logistics).
Reference
*1 New Smart Logistics
A public-private initiative to find solutions to the issues commonly faced by the logistics industry, such as labor shortages, environmental and energy issues, and DX areas, while utilizing digital and technology to ensure the future sustainability of logistics, which is an indispensable infrastructure for people's daily lives. The project aims to realize the last mile joint delivery, the best mix of land and air transportation, freight and passenger consolidation, automated technology, etc., through co-creation based on an open public platform (O.P.P.) that transcends the boundaries between the industry and the outside world.
*2 New Smart Logistics SkyHub®︎
A new smart logistics platform jointly developed and deployed by Aeronext and Seino HD that connects existing logistics and drone logistics, and connects ground and air infrastructure so that goods can be delivered anytime, anywhere. SkyHub® is an open and standardized system that incorporates drone delivery. On this platform, based on the Drone Depot®︎, we develop and provide services tailored to local issues and needs, such as delivery agency services based on the SkyHub® application, on-demand delivery, pharmaceutical delivery, and joint delivery of packages from different logistics companies in one package. The introduction of SkyHub® not only has the logistics benefits of promoting unmanned and inventory-free operations and improving last mile delivery efficiency, but also contributes to addressing social issues in the region, such as the shortage of workers due to the declining population and aging population, transportation problems in specific depopulated areas, medical problems, disaster countermeasures, and measures for the vulnerable in logistics, from the aspect of logistics reform, and will also raise the level of satisfaction of residents and communities by improving convenience and quality of life.
*3 Dedicated Logistics Drone AirTruck AirTruck
AirTruck, the first mass-produced logistics drone developed in Japan by Aeronext Corporation, a next-generation drone technology startup, in collaboration with ACSL, achieves stable flight with Aeronext's proprietary 4D GRAVITY®*4 airframe structure design technology. The AirTruck is a dedicated logistics drone that goes "faster, farther, and is more stable" with enhanced for logistics, specialized for forward motion, and aerodynamic characteristics required for long-distance flight. The prototype has flown in demonstration tests in various regions of Japan and has the No. 1 flight record in Japan.
*4 Airframe structural design technology 4D GRAVITY®
Airframe structure design technology developed by Aeronext optimizes aerodynamic characteristics by equalizing motor speed regardless of attitude, condition, or movement during flight and controlling lift, drag, and fuselage center of gravity based on fuselage shape and structure to improve the basic performance of industrial drones, such as stability, efficiency, and mobility, and the transportation performance of drones dedicated to logistics. Aeronext has patented this technology and manages it as part of the 4D GRAVITY® patent portfolio. 4D GRAVITY® improves basic performance and opens up new markets and applications for industrial drones.
【About Iwate Town, Iwate Prefecture】
Iwate Town is located in the center of Iwate Prefecture and is the only town in Japan where three types of entities (prefecture, county, and town) have the same name. Within the town is the Iwate Numamiyauchi Station of the Tohoku Shinkansen bullet train, which connects Tokyo to Iwate Numamiyauchi in about 2 hours and 30 minutes. With an annual gross agricultural product of approximately 13.5 billion yen, it is the leading food-producing region in the prefecture. In 1970, Iwate became the site of the field hockey competition at the Iwate National Athletic Meet, which led to the popularization of hockey as a town sport and the production of several Olympic athletes. The town also focuses on the field of cultural promotion, centering on the "Ishigami no Oka Art Museum," and has installed sculptures created during the "Iwate Town International Stone Sculpture Symposium," which has been held for 30 years, in the "Iwate Town Sculpture Park" and other locations throughout the town. Iwate City has been selected as one of the "SDGs Future Cities" by the Cabinet Office in 2020.
For more information: https://www.town.iwate.iwate.jp/
【About Seino Holdings Co., Ltd.】
Seino Holdings strives to be a value-creating comprehensive logistics trading company and aims to "provide value that transcends time and space" to its customers. Seino embraces an overall strategy of the group is to embody "Open Public Platform Construction (OPP)" that provides better and optimal services to customers through connections both inside and outside the industry in an open-neutral relationship in order to build a platform that is easy for customers and other companies in the same industry to use. In the last mile area, we are actively promoting and expanding the construction of a last mile O.P.P. that solves social issues such as measures for vulnerable shopping and measures for lower income families, while responding to changes in lifestyle and structure.
* For more information: https://www.seino.co.jp/seino/shd/overall-condition/
【About Aeronext Inc.】
Aeronext, an IP driven R & D technology startup for next-generation drones, is a company that designs the sky through technology to create a world where the sky becomes a social infrastructure, is economized, and solves social issues through drones. Our core technology is 4D GRAVITY®︎, a unique structural design technology that improves basic drone performance such as stability, efficiency, and mobility of industrial drones by optimizing the center of gravity of the aircraft. In order implement this 4D GRAVITY®︎ as standard equipment on industrial drones, we have constructed a strong patent portfolio and are promoting a partnership-based platform business for the 4D GRAVITY®︎ license globally.
AERONEXT has also founded a subsidiary to implement the SkyHub® smart logistics and pursue drone delivery.
*For more information: https://aeronext.com/company/
【About NEXT DELIVERY】
A subsidiary of Aeronext, a company mainly engaged in drone delivery, established in Kosuge Village, Yamanashi Prefecture in 2021 with the vision of "becoming a country where affluence is spread to every corner of the earth through 4D LogisticsTM infrastructure that connects air, land, and time in the age of 100 years of life. The company is also involved in the development, manufacture, sale, rental, and maintenance of hardware and software related to drone delivery. We are also developing peripheral businesses such as development, manufacturing, sales, rental, and maintenance of hardware and software related to drone delivery. Starting with Kosuge Village in Yamanashi Prefecture, we are working to improve the efficiency and revitalization of regional logistics in places such as Kamishihoro Town in Hokkaido and Tsuruga City in Fukui Prefecture.
*For more information: https://nextdelivery.aeronext.co.jp/#company/
*Aeronext and the Aeronext logo, as well as "4D GRAVITY®"  "SkyHub®" "Drone Depot ®" Drone Stand ®"   are trademarks of Aeronext Inc.
*Other company names and product/service names mentioned in this press release are registered trademarks or trademarks of their respective owners.