Press Release
Launch ceremony held at the start of joint deliveries by logistics companies in Kosuge and Tabayama villages.~Joint delivery starts in the SkyHub®*1 area Kosuge Village, Yamanashi Prefecture ~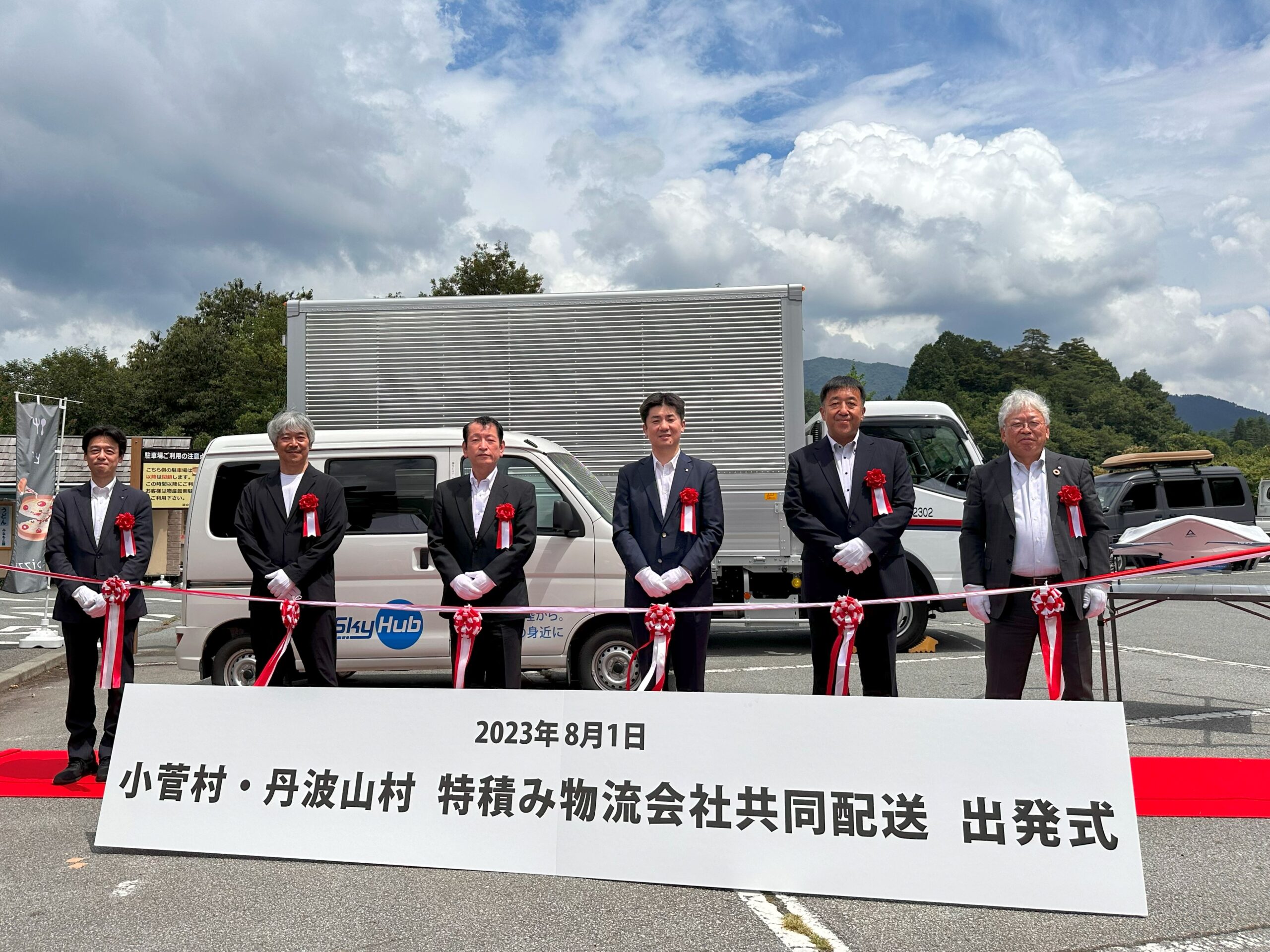 Kosuge Village, Kitatsuru-gun, Yamanashi Prefecture (Village Mayor: Naoyoshi Funaki), Tabayama Village, Kitatsuru-gun, Yamanashi Prefecture (Village Mayor: Yoshihito Kinoshita), Seino Holdings Co., Ltd. (Ogaki City, Gifu Prefecture; President: Yoshitaka Taguchi; hereinafter "Seino HD"), Fukuyama Transporting Co., Ltd. (Fukuyama City, Hiroshima Prefecture; President: Narihiro Komaru; hereinafter "Fukuyama Transporting"), FUGAKU EXPRESS Co.,Ltd. (Kofu City, Yamanashi Prefecture; President: Katsuhide Asanuma; hereinafter "Fugaku Express"), and NEXT DELIVERY Inc. (Kosuge Village, Yamanashi Prefecture, Representative Director: Keisuke Toji, hereinafter "NEXT DELIVERY") will begin delivery services to Kosuge and Tabayama villages as part of efforts to address the 2024 problem, with the aim of maintaining and rebuilding the delivery network in the mountainous areas through cooperation and collaboration between local governments and logistics companies. For the start of this initiative, a departure ceremony was held on Tuesday, August 1, 2023, attended by representatives of the local governments and companies.
The parties intend to build a regional logistics infrastructure by further automating and reducing required personnel, by combining land transportation and drone delivery and integrating those methods with the new smart logistics SkyHub® that is being developed in Kosuge Village. In the future, the parties plan to further increase efficiency and optimization through the participation and collaboration of new logistics companies.
Background
In mountainous areas, the population is aging and it is difficult to maintain daily life infrastructure such as transportation and logistics in daily life and in the event of disasters. In the logistics industry, it is expected that the 2024 problem will lead to a shortage of human resources, which will make it difficult to maintain logistics in mountainous areas, where it is difficult to address regional issues such as the need to improve the efficiency of delivery operations, ensure profitability, and increase productivity. Therefore, with this initiative, we aim to maintain logistics and build a logistics infrastructure that benefits all parties through collaboration and cooperation between the region and logistics providers.
Operation (Roles of the Parties)
For the current delivery in Kosuge and Tabayama villages, each company conducts the delivery from their bases in Tsuru and Otsuki cities at the foot of the mountain, which takes about 40 minutes one way up the mountain. However, the limited number of products being delivered means that delivery is made by air, and there are issues in terms of productivity and profitability.
Fukuyama Transporting brings goods for delivery from Kosuge Village and Tabayama Village to Fugaku Express.
Fugaku Express will load Fukuyama Transporting's delivery goods onto its existing delivery vehicles in Kosuge and Tabayama villages.
Fugaku Express delivers (unloads) Fukuyama Transporting's delivery items to the SkyHub® Kosuge Depot in Kosuge Village.
Fugaku Express delivers the goods in Fukuyama Transporting's lot.
NEXT DELIVERY delivers small parcels of goods sent by Fugaku Express for consolidation with intra-regional deliveries.
Effects
By reducing Fukuyama Express' delivery vehicles, Co2 emissions are also reduced. Annual reduction of approx. 3t-CO2.
Fukuyama Express will reduce overall working hours and improve efficiency by overhauling its delivery areas.
Profitability improved for Fugaku Express and NEXT DELIVERY.
Municipalities can encourage settlement and migration by maintaining logistics and building new infrastructure.
Outlook
The parties will introduce this initiative to other logistics companies to gain their understanding and further improve efficiency by increasing the number of collaborating companies. The parties will introduce this initiative to other logistics companies and through their understanding of the initiative, increase the number of collaborating parties to further improve efficiency.
(Reference)
*1 SkyHub®
A new smart logistics platform jointly developed and deployed by Aeronext and Seino HD that connects existing logistics and drone logistics, and connects ground and air infrastructure so that goods can be delivered anytime, anywhere. SkyHub® is an open and standardized system that incorporates drone delivery. On this platform, based on the Drone Depot®︎, we develop and provide services tailored to local issues and needs, such as delivery agency services based on the SkyHub® application, on-demand delivery, pharmaceutical delivery, and joint delivery of packages from different logistics companies in one package. The introduction of SkyHub® not only has the logistics benefits of promoting unmanned and inventory-free operations and improving last mile delivery efficiency, but also contributes to addressing social issues in the region, such as the shortage of workers due to the declining population and aging population, transportation problems in specific depopulated areas, medical problems, disaster countermeasures, and measures for the vulnerable in logistics, from the aspect of logistics reform, and will also raise the level of satisfaction of residents and communities by improving convenience and quality of life.
【About Seino Holdings Co., Ltd.】
With logistics as its central axis, Seino Holdings also provides one-stop value in areas peripheral to logistics, such as finance, human resources, and procurement. We aim to be a corporate group that connects hearts and minds beyond logistics to contribute to the prosperity of our customers and bring smiles and happiness to all.
Under the slogan of "Team Green Logistics," we are currently working to develop an open public platform (O.P.P.) that transcends industry and corporate boundaries as an overall strategy to solve social issues facing Japan, such as the declining birthrate, aging population, and environmental problems, and to take on the challenge of co-creating "green logistics" that will optimize a sustainable logistics network. In the last mile area, we are actively building a "last mile O.P.P. that solves social issues" as a countermeasure for vulnerable shoppers and poor families, in line with the changing lifestyles and structures of society as a whole.
*Open Public Platform (O.P.P.)
Our concept is to build a logistics platform that is open and accessible to all, regardless of industry or location, to improve the efficiency and value to each user, and to contribute to industry, the environment, and people's lives as an infrastructure.
* For more information: https://www.seino.co.jp/seino/shd/overall-condition/
【About Fukuyama Transporting Co., Ltd.】
Fukuyama Transporting delivers customers' goods anywhere in the country, making full use of its approximately 400 logistics bases and distribution and information infrastructure. The company provides safe, secure and reliable logistics services, which are lifelines that support industry and people's lives, while recognizing its social responsibility not only to transport goods but also to contribute to economic development, coexist with local communities and promote environmental protection, and further aims to be a company that is trusted by society. In addition, the company has made it a top management priority to respond immediately to the major social changes predicted by population decline and innovations in information and communication technology, based on the medium-term management plan "Challenge, Change 2023", and is working towards the realization of a sustainable society.
For more information https://corp.fukutsu.co.jp/company/profile.html
【About FUGAKU EXPRESS Co.,Ltd.】
Fugaku Express was founded in August 1959 as a successor after being initially established in 1944 when 14 small transport companies from six stations between Uenohara Station and Sasago Station on the JR Chuo Line and various stations on the Fujikyu Line merged under a wartime consolidation order. Initially, the company was mainly engaged in freight forwarding transport, but from the late 1960s, with the development of the road transport network, it gradually expanded into the car transport business. In addition, the company expanded its local transport business and expanded its route business to include Tokyo, Nagoya, Osaka and Kanagawa routes. In recent years, the company has also enhanced its warehousing, distribution and security businesses, and as the largest transporter in the prefecture, it connects Yamanashi Prefecture with the rest of the country, meeting diverse logistics needs to this day.
For more information http://www.fugaku.co.jp/company/index.html
【About NEXT DELIVERY】
A subsidiary of AERONEXT, a company mainly engaged in drone delivery, established in Kosuge Village, Yamanashi Prefecture in 2021 with the vision of "becoming a country where affluence is spread to every corner of the earth through 4D LogisticsTM infrastructure that connects air, land, and time in the age of 100 years of life. The company is also involved in the development, manufacture, sale, rental, and maintenance of hardware and software related to drone delivery, and related peripheral businesses. Starting with Kosuge Village in Yamanashi Prefecture, we are working to improve the efficiency and revitalization of regional logistics in places such as Kamishihoro Town in Hokkaido and Tsuruga City in Fukui Prefecture.
*For more information: https://nextdelivery.aeronext.co.jp/
*SkyHub(R)) is a trademark of Aeronext Inc.
*Other company names and product/service names mentioned in this press release are registered trademarks or trademarks of their respective owners.