Press Release
Kagoshima Prefecture Regional Problem-Solving Drone Demonstration Experiment in Hioki City and Ibusuki City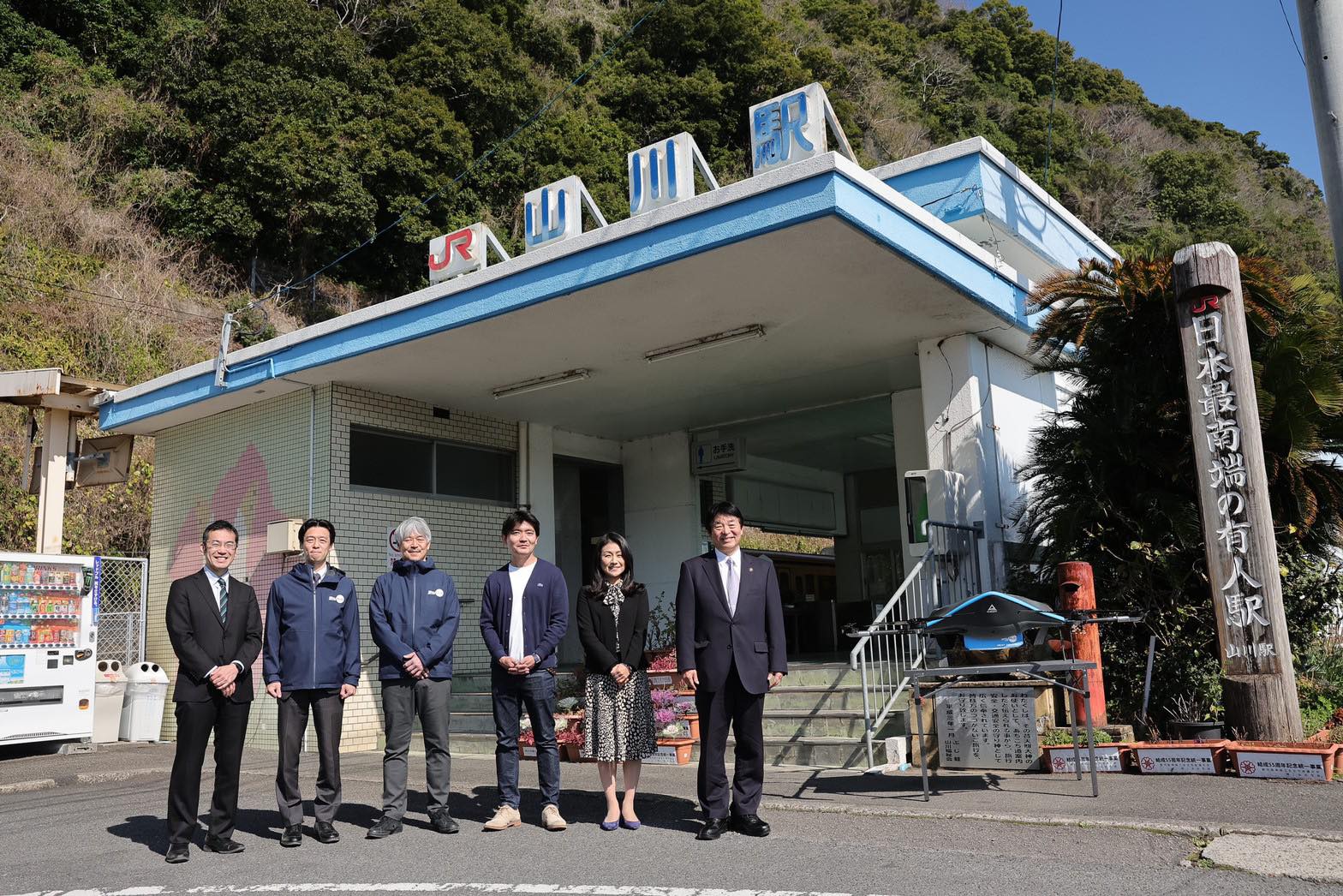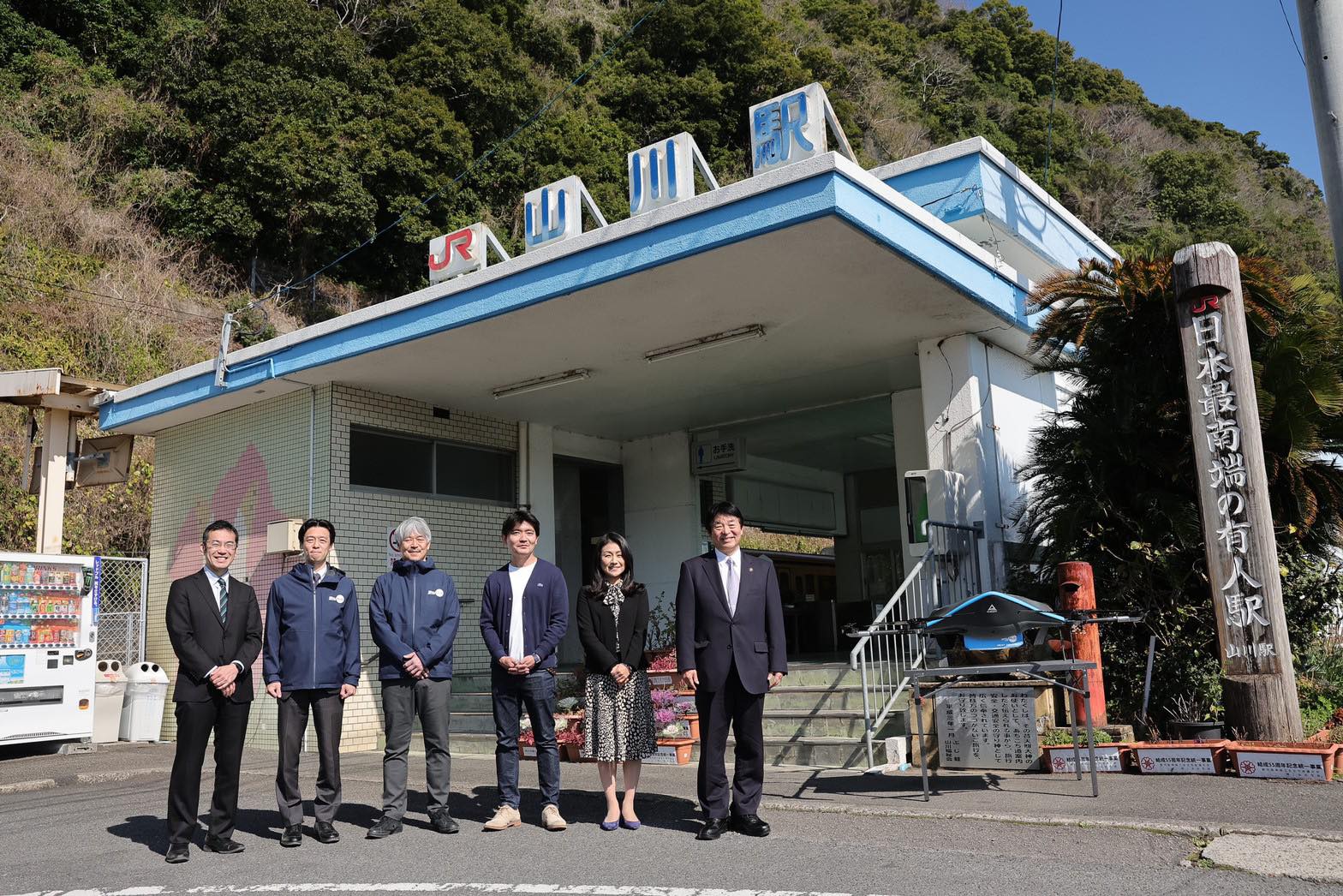 Change Kagoshima Inc. (Hioki-shi, Kagoshima Prefecture; President: Yu Nakagaki; hereinafter "Change"), Aeronext Inc. (Shibuya-ku, Tokyo; CEO: Keisuke Toji; hereinafter "Aeronext"), Seino Holdings Co., Ltd (Ogaki City, Gifu Prefecture, President: Yoshitaka Taguchi), Kyushu Railway Company (Hakata-ku, Fukuoka; President and CEO: Yoji Furumiya; hereinafter "JR Kyushu"), and KDDI SmartDrone Inc. (Minato-ku, Tokyo; President and CEO: Masafumi Hirono; hereinafter "KDDI SmartDrone Inc., conducted a drone demonstration experiment on Tuesday, February 14 in Hioki City, Kagoshima Prefecture(Mayor: Yohitaka Nagayama) and on Thursday, February 16 in Ibusuki City, Kagoshima Prefecture (Mayor: Akashi Uchikoshi) to address local issues in Kagoshima Prefecture. This experiment was conducted as part of the 2022 Kagoshima Prefecture Subsidy Program for Drone Experiments Addressing Regional Issues.
Demonstration Experiment Overview
1. Content and Objectives
This demonstration was conducted using the "FY2022 Kagoshima Prefecture Subsidy for Drone Demonstration Experiments to Address Local Issues", a Kagoshima Prefecture project in which Change Kagoshima Inc. was selected as the consortium representative. The project is also aimed at the societal implementation of a new stmart logistics*1 "SkyHub®"*2, that combines drone delivery and land transportation, which is being developed and advanced by Seino HD and Aeronext. The drone was operated by NEXT DELIVERY, a subsidiary of Aeronext, which is mainly engaged in the drone delivery service business.
2.Experiment and Validation Items
The first step in this verification experiment is to address regional issues of "shopping refugees" in Hioki City by providing daily necessities and medical supplies to local residents who will serve as monitors, and by providing shopping services and drone delivery in disadvantaged areas with few shopping options (for both shopping locations and items). In Ibusuki City, a drone was used to transport freshly produced local goods to the consumer's location in a short time. In this verification experiment, a drone was used to transport mixed cargo and passengers from the roadside station Yamakawa Port Iokaido to Yamakawa Station, and from the station to the consumption area by JR Kyushu passenger train, arriving at the consumption area Hakata in the evening of the same day and delivering the products to restaurants. We also investigated the "feasibility" and "sustainability" of the established business model from the viewpoints of both service users and providers through questionnaires and other means.
3. Demonstration Implementation Organization
| | |
| --- | --- |
| Overall project planning and supervision | Change Kagoshima |
| Aircraft operation and demonstration planning (route selection, etc.) | Aeronext, KDDI SmartDrone |
| Demonstration planning (advice on logistics use cases, etc.) | Seino HD |
| Demonstration projects (provision of own assets, passenger-cargo services, etc.) | JR Kyushu |
| Area Provision | Hioki City, Ibusuki City |
4.Details
One of the local issues identified through surveys and studies in this project is the problem of "shopping refugees". In this demonstration project, in order to solve this problem through drone logistics, a local supermarket in a densely populated area was used as a shopping agent for a "health food set" (approx. 2.4 kg) consisting of the products ordered by the resident monitors acting as customers, and the products were delivered by drone in approximately 10 minutes over a distance of 4.4 km from the Ogi Community Center (Hioki City), the take-off point, to the Takayama Community Center (Hioki City), a one-way trip.
The aircraft was AirTruck*3, Japan's first logistics-specific drone developed by Aeronext, and performed Level 2 flights (visually-guided autonomous flights over uninhabited areas). The aircraft was controlled by the SmartDrone Tools*5 operation management system developed by KDDI SmartDrone, which enables remote control and autonomous flight of the aircraft using mobile communications.
The products arrived in perfect condition and were safely delivered to the hands of the community monitors who were waiting for them on the grounds of the Takayaha Community Center. A community monitor who received a product delivered by drone said, "Nowadays, various technologies are making things more convenient. When I was younger, I couldn't have even imagined this. It's a dream come true to have things delivered by drone," he commented.
In addition, "Nanohana Kampachi" and "Sakuradai," specialty products of Ibusuki City, were collected from the roadside station Yamakawa Port Iokaido, and a landing site was secured at a parking lot near the nearest Yamakawa Station on the JR Ibusuki-makurazaki Line, where delivery was conducted by drone ("Nanohana Kampachi" was sent by land because it was beyond drone loading size). Afterwards, they were loaded onto a local train departing from Yamakawa Station bound for Kagoshima Chuo Station, and then onto the Kyushu Shinkansen from Kagoshima Chuo Station, and transported to Hakata Station, where they were delivered to a restaurant in JR Hakata City Kuuten, where they were served to customers during evening hours.
The combined use of trucks, drones, and passenger trains (conventional and Shinkansen) is expected to bring various benefits to both residents and delivery companies, such as shortening the time it takes for cargo to arrive, reducing truck drivers' working hours, and reducing fuel oil consumption by shortening the distance traveled.
In order to address regional issues and maintain and improve the quality of life in the prefecture, we will work to resolve the issues identified through this demonstration and subsequently commercialize drone logistics.
(Reference)
1. Notes
*1 New Smart Logistics
A public-private initiative to find solutions to the issues commonly faced by the logistics industry, such as labor shortages, environmental and energy issues, and DX areas, while utilizing digital and technology to ensure the future sustainability of logistics, which is an indispensable infrastructure for people's daily lives. The project aims to realize the last mile joint delivery, the best mix of land and air transportation, passenger-cargo services, automated technology, etc., through co-creation based on an open public platform (O.P.P.) that transcends the boundaries between the industry and the outside world.
*2 New Logistics SkyHub®︎
A new smart logistics platform jointly developed and deployed by Aeronext and Seino HD that connects existing logistics and drone logistics, and connects ground and air infrastructure so that goods can be delivered anytime, anywhere. SkyHub® is an open and standardized system that incorporates drone delivery. On this platform, based on the Drone Depot®︎, we develop and provide services tailored to local issues and needs, such as delivery agency services based on the SkyHub® application, on-demand delivery, pharmaceutical delivery, and joint delivery of packages from different logistics companies in one package. The introduction of SkyHub® not only has the logistics benefits of promoting unmanned and inventory-free operations and improving last mile delivery efficiency, but also contributes to addressing social issues in the region, such as the shortage of workers due to the declining population and aging population, transportation problems in specific depopulated areas, medical problems, disaster countermeasures, and measures for the vulnerable in logistics, from the aspect of logistics reform, and will also raise the level of satisfaction of residents and communities by improving convenience and quality of life.
*3 Dedicated Logistics Drone AirTruck
AirTruck, the first mass-produced logistics drone developed in Japan by Aeronext Corporation, a next-generation drone technology startup, in collaboration with ACSL, achieves stable flight with Aeronext's proprietary 4D GRAVITY®*4 airframe structure design technology. The AirTruck is a dedicated logistics drone that goes "faster, farther, and is more stable" with enhanced for logistics, specialized for forward motion, and aerodynamic characteristics required for long-distance flight. The prototype has flown in demonstration tests in various regions of Japan and has the No. 1 flight record in Japan.
*4 Airframe structural design technology 4D GRAVITY®
Airframe structure design technology developed by Aeronext optimizes aerodynamic characteristics by equalizing motor speed regardless of attitude, condition, or movement during flight and controlling lift, drag, and fuselage center of gravity based on fuselage shape and structure to improve the basic performance of industrial drones, such as stability, efficiency, and mobility, and the transportation performance of drones dedicated to logistics. Aeronext has patented this technology and manages it as part of the 4D GRAVITY® patent portfolio. 4D GRAVITY® improves basic performance and opens up new markets and applications for industrial drones.
*5 SmartDrone Tools
KDDI SmartDrone Inc. provided service that combines the "4G LTE Package," a set of basic tools necessary for remote autonomous drone flight, with options that suit the user's usage scenario. The "4G LTE Package" offers a combination of three tools: an "operation management system" that enables remote control of drones and real-time sharing of images from anywhere in Japan, a "cloud" for managing filmed data, and "mobile communications" for unlimited data usage.
2. Company Information
【About Change Kagoshima Co.】
Change Kagoshima Co. is a company that provides consultation, growth nurturing, and exit strategy support through the operation of the "Kagoshima STARTUP Support Fund," which invests in startup companies that solve social problems facing the region and make the region sustainable.
The Kagoshima STARTUP Support Fund was established to revitalize the economy of the Southern Kyushu region, and invests in startups that address regional issues and make the region more sustainable. In addition, Change Kagoshima Co. is providing companion support to the fund and helping the startups to grow their businesses.
【About Aeronext Inc.】
AERONEXT, an IP driven R & D technology startup for next-generation drones, is a company that designs the sky through technology to create a world where the sky becomes a social infrastructure, is economized, and solves social issues through drones. Our core technology is 4D GRAVITY®︎, a unique structural design technology that improves basic drone performance such as stability, efficiency, and mobility of industrial drones by optimizing the center of gravity of the aircraft. In order implement this 4D GRAVITY®︎ as standard equipment on industrial drones, we have constructed a strong patent portfolio and are promoting a partnership-based platform business for the 4D GRAVITY®︎ license globally.
AERONEXT has also founded a subsidiary to implement the SkyHub® smart logistics and pursue drone delivery.
*For more information: https://aeronext.com/company/
【About Seino Holdings Co., LTD.】
Seino Holdings strives to be a value-creating comprehensive logistics trading company and aims to "provide value that transcends time and space" to its customers. Seino embraces an overall strategy of the group is to embody "Open Public Platform Construction (OPP)" that provides better and optimal services to customers through connections both inside and outside the industry in an open-neutral relationship in order to build a platform that is easy for customers and other companies in the same industry to use. In the last mile area, we are actively promoting and expanding the construction of a last mile O.P.P. that solves social issues such as measures for vulnerable shopping and measures for lower income families, while responding to changes in lifestyle and structure.
* For more information: https://www.seino.co.jp/seino/shd/overall-condition/
【About Kyushu Railway Company】
Kyushu Railway Company (JR Kyushu, headquartered in Fukuoka City, Fukuoka Prefecture) operates the Kyushu Shinkansen and other D&S trains throughout Kyushu that feature special designs and stories rooted in the local community, making the train ride itself a pleasure. In addition, through the operation of the "Nanatsuboshi in Kyushu" cruise train, the city is striving to communicate the charms of Kyushu to the world and to attract more customers to visit Kyushu. We are developing various businesses such as real estate, hotel, distribution, and restaurant businesses to contribute to the sustainable development of Kyushu based on safe and secure mobility services, and we are working to create the future of the city with a focus on the local community.
【About KDDI SmartDrone】
KDDI Smart Drone builds services that enable safe remote and long-distance flights by controlling drones using mobile communications such as 4G LTE. KDDI Smart Drone is working to create new businesses with drones and provide agile services that meet customer needs in various fields such as inspection, logistics, surveillance, agriculture, and surveying.
*For more information: https://kddi.smartdrone.co.jp/
*AERONEXT and the AERONEXT logo, as well as "4D GRAVITY®" and "SkyHub® are trademarks of Aeronext Inc.
*Other company names and product/service names mentioned in this press release are registered trademarks or trademarks of their respective owners.