Press Release
Demonstration Experiment of Drone Delivery in Kamikawa Town to Establish a New Smart Logistics System that Contributes to Addressing Regional Issues~Initiatives based on the Comprehensive Collaboration Agreement signed by Kamikawa Town, Seino Holdings, and Aeronext.~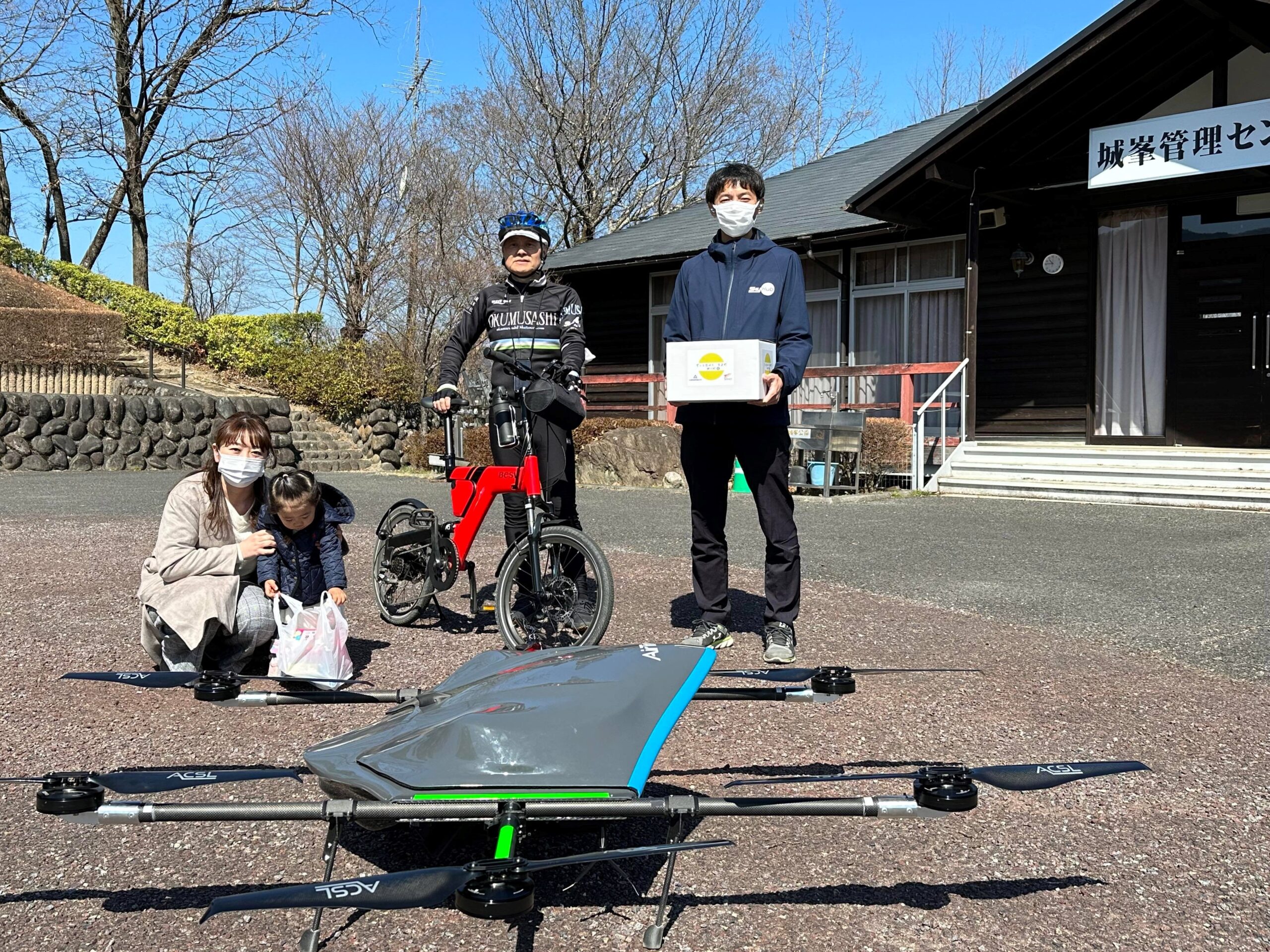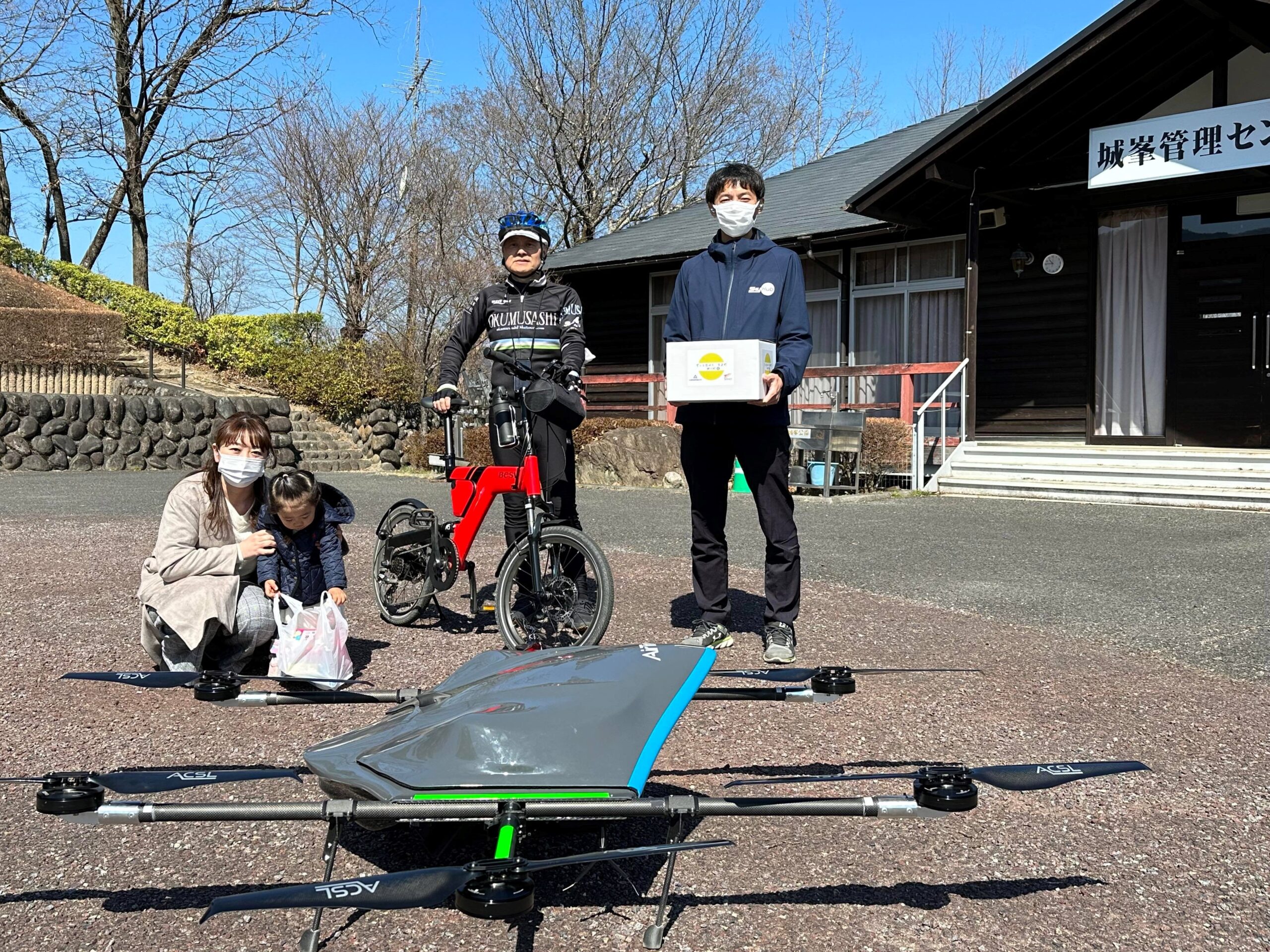 Kamikawa Town (Mayor: Akira Sakurazawa), Seino Holdings Co., Ltd. (Head Office: Ogaki City, Gifu Prefecture; President: Yoshitaka Taguchi; hereinafter referred to as "Seino HD"), Aeronext Inc. (Head Office: Shibuya-ku, Tokyo; Keisuke Toji, CEO; hereinafter "Aeronext"), and NEXT DELIVERY Inc. (Head Office: Kosuge Village, Yamanashi Prefecture; Representative Director: Keisuke Toji; hereinafter NEXT DELIVERY) conducted a demonstration experiment of drone delivery in Kamikawa Town on March 15, 2023, with the aim of building a new smart logistics system that will contribute to addressing regional issues.
This demonstration experiment is based on a comprehensive collaboration agreement signed on the same day by the town of Kamikawa, Seino HD, and Aeronext to address regional issues through the use of drones and other means.
Specifically, NEXT DELIVERY will study the societal implementation of SkyHub®*1, a new smart logistics system that combines drone delivery and land transportation, which Seino HD and Aeronext are developing and driving.
Demonstration Experiment Overview
Background and Purpose
Kamikawa Town has a total population of 13,127 (as of April 1, 2022). Jomine Mountain rises at the point where the three cities and towns overlap with Chichibu City and Minano Town in Chichibu County to the south. The Kanna River flows on the border with Fujioka City in Gunma Prefecture in the central part of the city, and Lake Kannna formed by the Shimokubo Dam is located there.
Envisioning "drone logistics linking urban areas and depopulated areas" to the former Kamiizumi Village area, where goods and commercial facilities are concentrated and depopulation is progressing, a temporary Drone Depot®*3 and Drone Stand®*4 were set up in Kamikawa Town to conduct a demonstration experiment for the purpose of identifying issues for regular flights. This experiment is aimed at creating a town where people will want to live in Kamikawa for the next 10 to 20 years and is a demonstration experiment to support the future of Japan as the birthrate declines and the population ages more.
Details
In this demonstration experiment, a drone delivery service was provided between the Multi-purpose exchange facility and Jomine Park, and the service combined the perspectives of disaster relief, food delivery, and product sales to ensure that the trucks were never empty. Relief supplies (baby formula, infant snacks, juice, sports drink, body wipes, etc.) collected at the Kanto Seino Honjo Branch and lunch boxes and tonjiru made from mackerel farmed on land at the Ofuro Café Hakusyu no Yu were delivered by light vehicle to the multi-purpose facility, and the relief supplies and lunch boxes and tonjiru were loaded onto a drone at the multi-purpose facility site. The AirTruck*5, a dedicated logistics drone, then delivered relief supplies to Jomine Park, a distance of approximately 5 km in 11 min. one way, and handed over relief supplies to local residents in case of a disaster and boxed lunches and tonjiru to a cyclist.
At Jomine Park, locally grown vegetables and mayonnaise, etc., purchased by the cyclist at a direct sales market, were loaded onto a drone for a return flight to the multi-purpose exchange facility.
The drone was used to check for hazardous areas, and live images from the drone's on-board camera were viewed on a monitor at the multi-purpose facility. The cargo delivered by the drone to the multipurpose facility was then loaded onto a light vehicle and shipped from the Kanto Seino Honjo Branch.
After receiving the bento and tonjiru delivered by drone at Jomine Park, Mr. Norikane said, "I'm happy to be able to eat freshly made bento and piping hot tonjiru on the hill climb. When cycling, I always try to carry as little luggage as possible. So, even at the event, lunch was carried to the destination by car, and I couldn't buy souvenirs. It is great if drone can deliver like today." Ms. Hara, who received relief supplies such as infant sweets and juices, stared at the drone with sparkling eyes, said, "If things are delivered by drone like this, it will be a town where my child will want to live when she grows up."
Roles of Each Company in the Demonstration Experiment
Kamikawa Town: Support for decarbonization efforts in hydrogen, renewable energy, zero-emission logistics, etc., providing staging sites for demonstration experiments, resources, and support for societal implementation.
Seino HD: Building a sustainable logistics network, solving last mile issues, and societal implementation of the new smart logistics SkyHub®.
Aeronext: Technology to realize high-performance drones, preparation of drones dedicated to logistics, societal implementation of SkyHub®, a new smart logistics system.
NEXT DELIVERY: Flight Operations, practical application of drone delivery service.
Summary of the press conference
Akira Sakurazawa, Mayor of Kamikawa Town, Shuji Kawai, Executive Officer of Seino HD, and Keisuke Toji, CEO of Aeronext and Representative Director of NEXT DELIVERY, attended the signing ceremony of the comprehensive collaboration agreement held on March 15, and made the following comments.
【Mayor of Kamikawa Town: Akira Sakurazawa】
With this agreement, we will study the possibility of using drones to build a new smart logistics system in Kamikawa, as well as for tourism and industrial promotion, and through these efforts, we will continue to "take on the challenge" of creating a town that people will want to live in for 10 or 20 years to come.
【Executive Officer, Seino HD : Shuji Kawai】
In the area of last-one-mile delivery, Seino Holdings is responding to lifestyle and structural changes by leveraging its strengths in trunk line transportation, and is actively advancing and expanding the construction of last-one-mile services that solve social issues such as measures for vulnerable shoppers and impoverished households.
In Kamikawa, we will pursue the creation of a livable Kamikawa town where residents can live with a sense of security, maintain and improve services by implementing the role of logistics and technology, and work to build a new air and land logistics model with a view to drone automation that will lead to the future 10 to 20 years from now.
【Representative Director and CEO, Aeronext / Representative Director, NEXT DELIVERY: Keisuke Toji】
In the Saitama version of the Super City Project, Kamikawa Town aims to provide an environment where people, goods, and information can move flexibly between locations, allowing residents to live flexibly and sustainably in a compact town. We believe that the new smart logistics initiative we are advancing to upgrade local social infrastructures based on logistics is an initiative that will lead to the actualization of this goal. We are happy to introduce a new model of mobility starting from Kamikawa town.
Details of the Comprehensive Collaborative Agreement (dated March 15, 2023)
Through the use of next-generation advanced technology, including drones, the following matters will be coordinated and agreed upon:
 Promotion of tourism, industry and economy
Creating a livable environment by addressing regional issues such as sustainable regional transportation and logistics in cooperation with local businesses
Enhancement and continuation of medical care, medication guidance, and welfare
Contribute to local disaster prevention and regional decarbonization, as well as the development of new social infrastructure
Regional employment, human resource development and industrial infrastructure development
The three parties will continue to collaborate on the societal implementation of SkyHub®, a new smart logistics system that combines drone delivery and land delivery by utilizing next-generation advanced technologies, including drones, to address regional issues.
※This demonstration experiment has been adopted by the Organization for Environment and Development as a project eligible for a FY2022 subsidy for carbon dioxide emission control measures (a project to promote the introduction of advanced technologies that simultaneously realize social reform and decarbonization of logistics).