Press Release
Kamishihoro Town, Seino HD, Dentsu, and Aeronext conclude a comprehensive cooperation agreement for "sustainable future town development" utilizing next-generation advanced technology that includes drones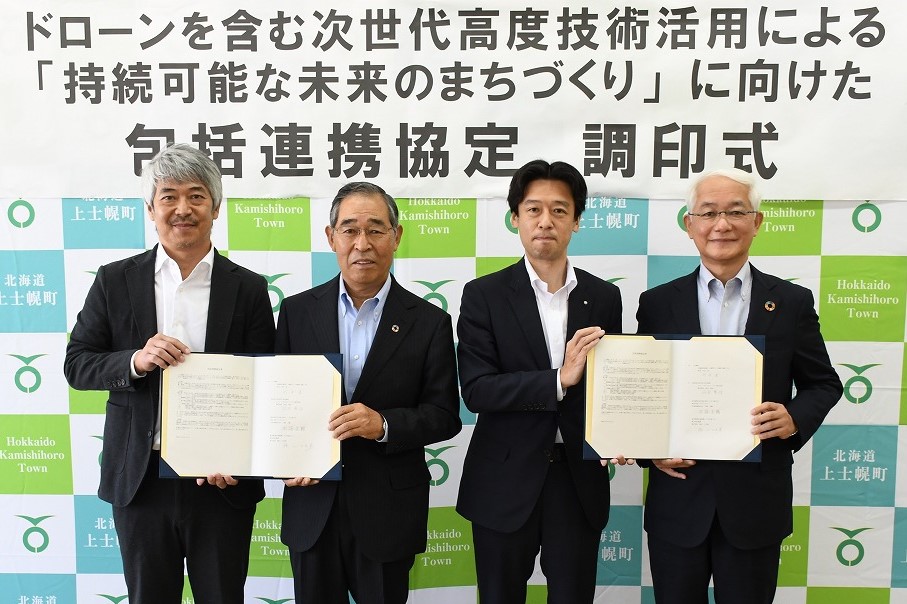 Kamishihoro Town (Mayor: Mitsugi Takenaka), Seino Holdings Co., Ltd. (Headquarters: Ogaki City, Gifu Prefecture, President: Yoshitaka Taguchi, hereinafter Seino HD), Dentsu Inc. (Headquarters: Minato-ku, Tokyo, President and CEO: Hiroshi Igarashi, hereinafter "Dentsu"), Aeronext Inc. (Headquarters: Shibuya-ku, Tokyo, CEO: Keisuke Toji, hereinafter Aeronext) will build and promote a smart town in Kamishihoro Town, which was selected as the SDGs Future City in 2021. By collaborating and cooperating for "sustainable future town development," we will implement a smart and sustainable society by utilizing next-generation advanced technology including drones in Kamishihoro Town, leading by example nationally and worldwide. A comprehensive cooperation agreement was signed on August 11, 2021, with the aim of becoming a role model for local governments.
Kamishihoro Town was awarded the Deputy General Manager's (Chief Cabinet Secretary of Japan) Award at the 4th Japan SDGs Awards held in December last year. As a local government that proposed excellent efforts to achieve SDGs, the Cabinet selected as "SDGs Future City" in 2021, and for being particularly leading in initiatives, it was also selected as a "local government SDGs model project" and is promoting "sustainable future town development." To aim for the sustainable development of the town, emphasizing the main industries and issues, further refinement of tourism and aging of agriculture sector, improving productivity with carbon neutral regional logistics transportation, making the town easer to live in and improving the environment and services in the town are continuing areas of focus. Kamishihoro Town, Seino HD, Dentsu, and Aeronext look to solve social issues in the town by actively utilizing next-generation advanced technology and expanding partner cooperation while cooperating with town operators such as karch Co., Ltd., working to create an attractive city that is easy to live in.
In particular, with drones, securing an environment that enables continuous flight, is necessary for revitalizing the domestic drone industry. Kamishihoro has become a valuable place for drone flight, by enabling an area where related parties can come together to make progress. Through this environment we aim to greatly contribute to the development of the domestic drone industry.
<Cooperation Outline>
1. Agreement Date
August 11, 2021
2. Cooperation Areas
Utilizing next-generation advanced technology including drones, we agree to cooperate on the following matters.
(1)Promotion of agriculture, tourism, industry, economy
(2)Sustainable local employment, human resources education, human resources development and industrial infrastructure development
(3)Ensuring sustainable regional transportation and logistics that is both carbon-neutral and convenient. Creating a comfortable living environment
(4)Contribution to regional disaster prevention and development of new social infrastructure
(5)Development of new tourism content in collaboration with tourism area trading company "karch Co., Ltd."
(6)Promoting information related to the above points
3.Planned Specifics
(1)Development of tourism products utilizing drones at Naitai Terrace
(2)Demonstration of drone delivery to private homes in utilizing next-generation advanced technology
(3)Examination for implementation of new smart logistics "SkyHub ® * 1" that integrates drone delivery and land transportation promoted by Seino HD and Aeronext
(4)Consideration and implementation of other initiatives that contribute to carbon neutrality and SDGs
The signing ceremony for the comprehensive cooperation agreement held at Kamishihoro Town Hall on August 11, 2021, was attended by Mitsugi Takenaka, Mayor of Kamishihoro Town, Shuji Kawai, Executive Officer of Seino HD, Hideo Tokuyama, Executive Officer of Dentsu, and Keisuke Toji, CEO of Aeronext. Comments from the parties are as follows:
<Comments by Kamishihoro Town Mayor Mitsugi Takenaka>
Kamishihoro Town advocates sustainable town development, promoting the construction of smart towns by implementing next-generation advanced technology and aims to support the lives of local residents and provide convenience by utilizing ICT. Through this cooperation agreement, we would like to pioneer tackling issues that cannot be solved by the government alone, and show Kamishihoro as a model for cooperation with industry.
<Comments by Seino HD Executive Officer Shuji Kawai>
Seino Holdings, leveraging the strength of its trunk line transportation network in the last one mile domain, will drive and expand improvements to address social issues for lower income and vulnerable citizens, in addition to responding to lifestyle changes and structural changes. In that, Seino expects the use of drones in logistics is one of the technologies that will contribute to automation and labor savings. For this "sustainable future town development," Seino would like to pursue finding how logistics and the implementation of technology will lead to the creation of a comfortable living environment and the services of residents in the Kamishihoro model.
<Comments by Dentsu Executive Officer Hideo Tokuyama>
Dentsu has been involved with the project from launch through to this comprehensive collaboration, including each demonstration step. In the future, Dentsu will work to carry out this project smoothly and effectively and build this "Kamishihoro model" with the team members. Furthermore, Dentsu intends to begin various initiatives and take on challenges making use of Dentsu's expertise in the marketing fields and beyond, aiming beyond just a mere demonstration, and achieving a self-propelling real world implementation.
<Comments by Aeronext CEO Keisuke Toji>
Aeronext is promoting the practical application of drone delivery in Kosuge Village, Yamanashi Prefecture, and with Seino Group realized a new smart logistics, including drones, called SkyHub®. For implementation of a "sustainable future town development," Aeronext will introduce SkyHub® to Kamishihoro Town, the first full implementation in Japan. Aeronext seeks to use the new technology embodied by drones to improve the convenience of life for everyone in Kamishihoro Town.
Through this cooperation agreement, effectively utilizing the resources of each of the four parties, the parties will coordinate and cooperate with each other to address the issues of the town and the needs of the townspeople in agriculture, tourism, and tourism by utilizing next-generation advanced technology including drones, promote industrial and economic promotion, sustainable regional employment and human resources education and human resources development, industrial infrastructure development, secure sustainable regional transportation logistics and create a comfortable environment, contribute to regional disaster prevention and develop new social infrastructure and by doing so, we will contribute to "sustainable future town development" in Kamishihoro Town.
*1 SkyHub®︎
A new smart logistics system that connects existing logistics and drone logistics jointly promoted by Aeronext and Seino Holdings Co., Ltd., connects the ground and air infrastructure so that goods can be delivered anytime, anywhere. It features an open platform and standardized mechanism that incorporates drone delivery to be coupled with traditional forms of delivery, thus realizing joint traditional and drone delivery. The introduction of SkyHub will revolutionize logistics by helping to solve social issues in the region, dealing with issues such as population decline, labor shortage due to declining birthrate and aging population, traffic problems in specific depopulated areas, medical problems, disaster countermeasures, and measures against vulnerable logistics. It is possible to raise the satisfaction level of residents and communities by improving the convenience and quality of life of residents, which is also contributes to promoting regional revitalization.
【About Kamishihoro Town】
Located in the northern part of Tokachi, Hokkaido, Kamishihoro is a town with a population of about 5,000 and an administrative area of about 700 square kilometers, with forests making up about 76% of the total area. The core industries center around farming, dairy farming, forestry, etc., and the number of dairy cows raised is one of the highest in Japan. The town also focuses on the tourism industry, and is famous for Nukabira Gensenkyo (the Naitai Highland Farm), which is the largest public ranch in Japan, as well as being famous for the former JNR Shihoro Line concrete arch bridge group, which was selected as a Hokkaido heritage site.
In addition, in response to the Ministry of Economy, Trade and Industry's Smart Mobility Challenge, in 2020, the town experimented with alleviating driver shortages and financial burdens by utilizing on demand elderly welfare buses used for shopping and outpatients for vulnerable people living in rural areas. The town seeks to improve the convenience of mobility services and solve transportation and logistics issues to realize a "town for lifelong success."
*For more information: https://www.kamishihoro.jp/
【About Seino Holdings】
Seino Holdings strives to be a value-creating comprehensive logistics trading company and aims to "provide value that transcends time and space" to its customers. Seino embraces an overall strategy of the group is to embody "Open Public Platform Construction (OPP)" that provides better and optimal services to customers through connections both inside and outside the industry in an open-neutral relationship in order to build a platform that is easy for customers and other companies in the same industry to use. In the last mile area, we are actively promoting and expanding the construction of a last mile O.P.P. that solves social issues such as measures for vulnerable shopping and measures for lower income families, while responding to changes in lifestyle and structure.
*About Seino Holding: https://www.seino.co.jp/seino/shd/overall-condition/
【About Dentsu】
Dentsu provides "Integrated Communication Design," a wholistic, integrated communication-related solution, as well as providing management and business consulting. Dentsu is committed to major projects in the Hokkaido area, such as participating in the "Hokkaido 7 Airport Privatization" and "Hokkaido Ball Park" projects, with the aim of contributing to the development of the Hokkaido economy. Dentsu aims to contribute to the development of the Hokkaido economy. In the SDGs domain, the Dentsu SDGs team and DJN Sustainability Promotion Office will play a central role in providing "SDGs Business Solutions" that support the construction of a circular economy for the entire value chain from strategic planning, story design, and communication related to SDGs / ESG. We support a wide range of corporate SDGs promotion and ESG management.
*For more information: https://www.dentsu.co.jp/vision/summary/
【About Aeronext Inc.】
AERONEXT, an IP driven R & D technology startup for next-generation drones, is a company that designs the sky through technology to create a world where the sky becomes a social infrastructure, is economized, and solves social issues through drones. The core technology is 4D GRAVITY®︎, a unique structural design technology that improves basic drone performance such as stability, efficiency, and mobility of industrial drones by optimizing the center of gravity of the aircraft. In order implement this 4D GRAVITY®︎ as standard equipment on industrial drones, we have constructed a strong patent portfolio and are promoting a partnership-based platform business for the 4D GRAVITY®︎ license globally.
AERONEXT has also founded a subsidiary to implement the SkyHub® smart logistics and pursue drone delivery.
*For more information: https://aeronext.co.jp/company/
*Aeronext, the Aeronext Logo, 4D GRAVITY® and Next DELIVERY® are registered marks of Aeronext Inc.
*All other marks belong to their respective owners.