Press Release
Demonstration experiment incorporating multiple advanced drone deliveries in Kamishihoro Town(Tourism product development, Japan's first drone home delivery, and Japan's first drone delivery of cow testing samples)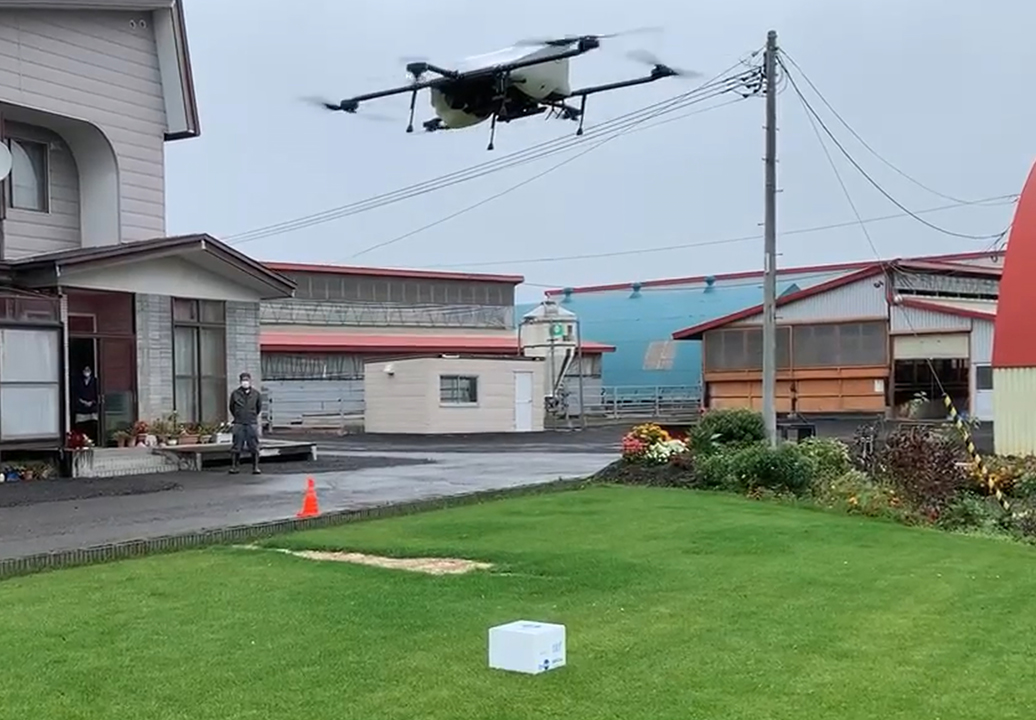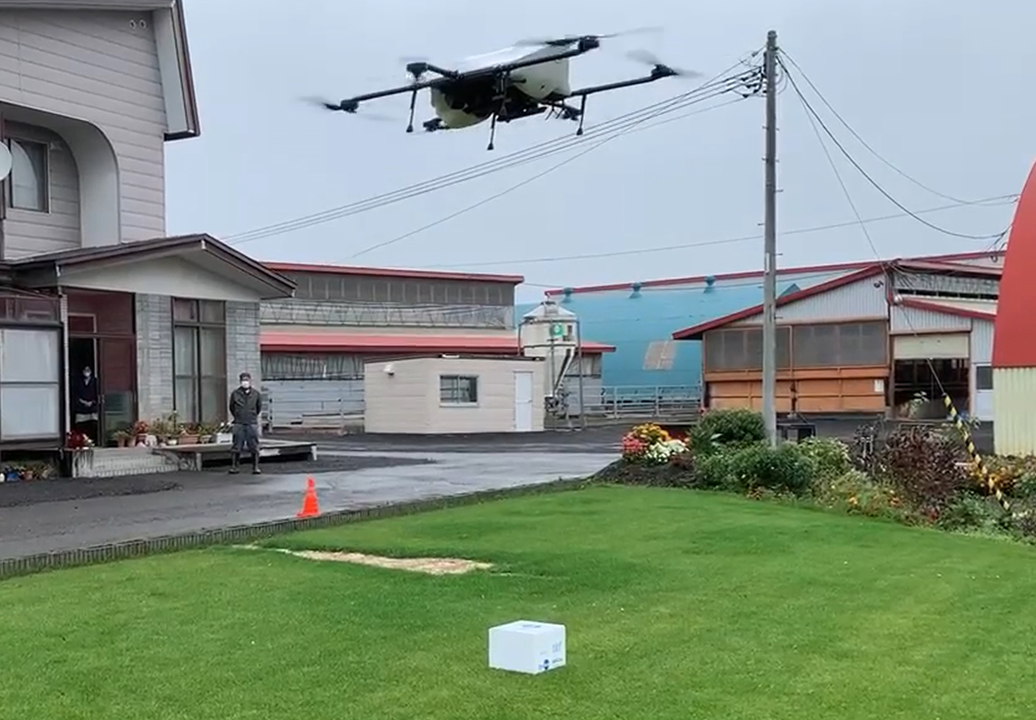 Innovation Challenge Executive Committee (Executive Committee Chair: Mitsugi Takenaka, Mayor of Kamishihoro Town), karch Co., Ltd. (Headquarters: Kamishihoro Town, Hokkaido, Representative Director Yoshiro Chiba, hereinafter karch), Seino Holdings Co., Ltd. (Headquarters: Ogaki City, Gifu Prefecture, President: Yoshitaka Taguchi, hereinafter Seino HD), Aeronext Inc. (Headquarters: Shibuya-ku, Tokyo, CEO: Keisuke Toji, hereafter Aeronext), Ministry of Economy, Trade and Industry Hokkaido Bureau of Economy, Trade and Industry (Sapporo, Hokkaido, hereafter Ministry of Economy, Trade and Industry) conducted multiple advanced demonstration experiments using drones from Wednesday, October 7th through Sunday, October 10th in multiple locations in Kamishihoro Town, and we released two of these demonstration experiments including a drone tourism demonstration and individual home shopping delivery using drones that took place on Wednesday, October 6th. This is the first demonstration experiment of drone home delivery in Japan.
This demonstration comes from activity conducted in August this year by Kamishihoro Town, Seino HD, Dentsu Inc. (Headquarters: Minato-ku, Tokyo, President and CEO: Hiroshi Igarashi), and Aeronext, and is based on "Development of tourism products utilizing drones at Naitai Terrace", which is a new tourism content development in collaboration with karch Co., Ltd., a demonstration that sought to secure sustainable regional transportation and logistics that are both carbon-neutral, convenient, and create an ideal environment to live in, as well as promote agriculture, tourism, industry, and the economy, and, comprehensive cooperation agreement on "sustainable future town development" by utilizing next-generation advanced technology including drones from Aeronext.
The following two demonstration experiments were conducted on Wednesday, October 6th and released to the press.
1) Tourism product development demonstration flight utilizing drones at Naitai Highland Farm :organized by karch
At the Naitai Highland Farm, the largest public ranch in Japan, which boasts an area of approximately 1,700 ha and an area equivalent to 358 Tokyo Domes, we conducted a demonstration experiment of developing new tourism products using drones. Under the supervision of Corso Sapporo, we set up a special glamping site on the Naitai Terrace and delivered by drone, drinks and steaks ordered by users from the foot of the mountain. We will consider implementing it in the future as a tourism product that creates a special way of spending time at Naitai Highland Farm, a unique tourism experience that combines the food of Kamishihoro with nature and technology.
2) Japan's first drone home delivery demonstration(drone delivery to private homes via the utilization of next-generation advanced technology):sponsored by Innovation Challenge Executive Committee)
With a view toward implementing shopping support for vulnerable people living in rural areas away from a town, we conducted a demonstration experiment to deliver food to private homes by drone. In this experiment, the inventory of a local supermarket was temporarily stocked at an abandoned elementary school, and the products ordered were delivered directly to the purchaser's home by drone. Mrs. Omichi lives in the Kamiotofuke area, uses a tablet to access the "reservation-based welfare bus" that the town is implementing to support the lives of residents. She uses it to go to town for social activities. In this demonstration, from her tablet computer, Mrs. Omichi ordered a "rice set" using an app that allows her to order an assortment of groceries from a local supermarket prepared in advance. About 2 minutes later, the drone landed in front of Mrs. Omichi's house with the delivery.
This demonstration is an experiment to investigate the implementation of the new smart logistics "SkyHub®*1" that combines drone delivery and land transportation, which is being developed and promoted by Seino HD and Aeronext. This marks the first attempt at home delivery using drones in Japan.
After that, from Thursday, October 7th to Sunday, October 10th, the shopping agency drone delivery to private homes will continue to be carried out to multiple private homes in the Kamiotofuke area.
We also carried out the following:
3)Delivery of Cow Testing Samples
With the cooperation of Novels Co., Ltd. (Headquarters: Kamishihoro-cho, Hokkaido, CEO Yuichiro Nobuyo), in the area of Bovine Mastitis, investigating the use of drone delivery coupled with land transportation for delivery of specimens, looking at evaluating quality control for temperature management and vibration all with a goal toward verifying the feasibility of implementing smart logistics in the livestock industry as a whole, which has many delivery issues that can be improved.
※ This demonstration will be carried out by utilizing the Ministry of Economy, Trade and Industry's "Regional Industry Digitalization Support Project" (implementing agency: Hokkaido Science and Technology Promotion Center).
These multiple demonstrations experiments will not be limited to just the experiments, but are efforts aimed at actual practical application in Kamishihoro Town in the future. From November, as a first step to introduce SkyHub® as a logistics infrastructure, we plan to set up a drone depot in the city to collect and temporarily store cargo and deliveries, and start a shopping agency service with drone delivery coupled with land transportation.
In the future, based on the comprehensive cooperation agreement, we will coordinate and cooperate with each other to address the issues of the town and the needs of the townspeople in agriculture, tourism, and tourism by utilizing next-generation advanced technology including drones, promote industrial and economic promotion, sustainable regional employment and human resources education and human resources development, industrial infrastructure development, secure sustainable regional transportation logistics and create a comfortable environment, contribute to regional disaster prevention and develop new social infrastructure and by doing so, we will contribute to "sustainable future town development" in Kamishihoro Town.
Reference
*1 SkyHub®︎
A new smart logistics system that connects existing logistics and drone logistics jointly promoted by Aeronext and Seino Holdings Co., Ltd., and connects the ground and air infrastructure so that goods can be delivered anytime, anywhere. It features an open platform and standardized mechanism that incorporates drone delivery and realizes joint delivery. The introduction of SkyHub will contribute to solving social issues in the region, such as population decline, labor shortage due to declining birthrate and aging population, traffic problems in specific depopulated areas, medical problems, disaster countermeasures, and measures against vulnerable logistics from the aspect of logistics reform. It is possible to raise the satisfaction level of residents and communities by improving the convenience and quality of life of residents, which is also meaningful in promoting regional revitalization.
【About The Innovation Challenge Executive Committee (Kamishihoro Town)】
The Innovation Challenge Executive Committee works together with the government, local organizations, and private companies, utilizing ICT and visualizing information in order to support the city of Kamishihoro's long term success in enhancement of mobile services and logistics issues.
【About karch】
As a tourist area trading company in Kamishihoro Town, March operates Road Station Kamishihoro and Naitai Terrace, sells travel products, and conducts electric retail business. As a company expands on the value of Kamishihoro, karch is actively involved in the utilization of drones. * Please see karch.jp for the company profile.
For more information: karch.jp
【About Seino Holdings】
Seino Holdings strives to be a value-creating comprehensive logistics trading company and aims to "provide value that transcends time and space" to its customers. Seino embraces an overall strategy of the group is to embody "Open Public Platform Construction (OPP)" that provides better and optimal services to customers through connections both inside and outside the industry in an open-neutral relationship in order to build a platform that is easy for customers and other companies in the same industry to use. In the last mile area, we are actively promoting and expanding the construction of a last mile O.P.P. that solves social issues such as measures for vulnerable shopping and measures for lower income families, while responding to changes in lifestyle and structure.
*For more information: https://www.seino.co.jp/seino/shd/overall-condition/
【About Aeronext】
Aeronext, an IP driven R & D technology startup for next-generation drones, is a company that designs the sky through technology to create a world where the sky becomes a social infrastructure, is economized, and solves social issues through drones. The core technology is 4D GRAVITY®︎, a unique structural design technology that improves basic drone performance such as stability, efficiency, and mobility of industrial drones by optimizing the center of gravity of the aircraft. In order implement this 4D GRAVITY®︎ as standard equipment on industrial drones, we have constructed a strong patent portfolio and are promoting a partnership-based platform business for the 4D GRAVITY®︎ license globally.
Aeronext has also founded a subsidiary to implement the SkyHub® smart logistics and pursue drone delivery.
*For more information: https://aeronext.co.jp/company/
【About The Ministry of Economy, Trade and Industry】
The Ministry of Economy, Trade and Industry solves social issues through implementation and industrial promotion of technology in new areas such as the movement of goods between points by drones and the movement of people with flying cars, and challenges itself to create a" safe and secure + exciting" future. The Hokkaido Bureau of Economy, Trade and Industry supports the implementation of technology efforts in regions and companies, such as the first nationwide delivery of non-face-to-face medical care and prescription drug drones under the theme of building a new business model that utilizes cutting-edge technologies such as drones.
Please see this link for more information: https://www.hkd.meti.go.jp/
*Aeronext, the Aeronext Logo, 4D GRAVITY® , SkyHub® , and Drone Depot ® are registered marks of Aeronext Inc.
*All other marks belong to their respective owners.