Press Release
World's first successful fertilized cow egg flown via transport demonstration using a drone in Kamishihoro-cho, Hokkaido.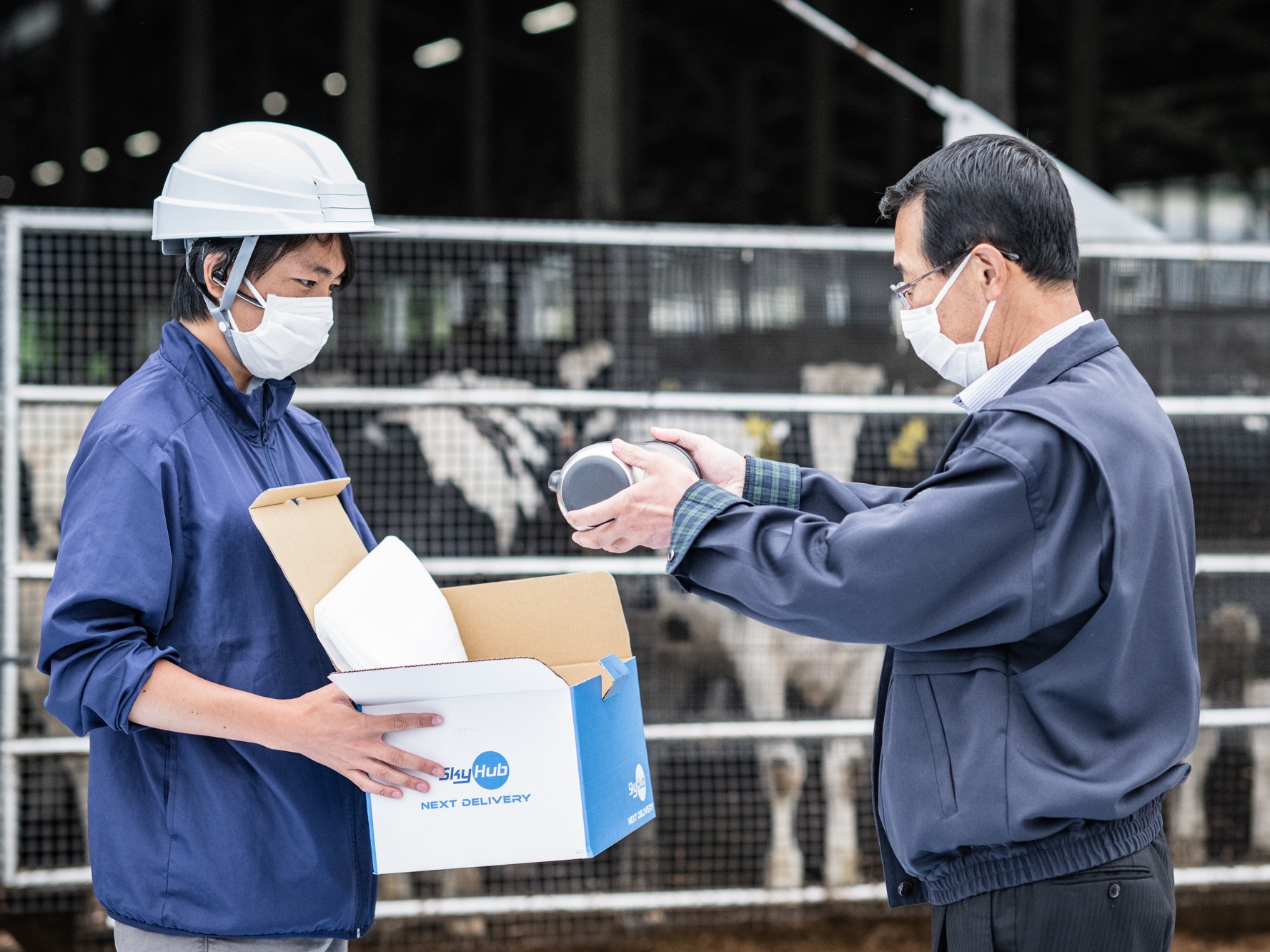 Kamishihoro Town, Hokkaido (Mayor: Mitsugi Takenaka), JA Kamishihoro Town (President: Shigetoshi Ogura), and NEXT DELIVERY Inc. (Head office: Kosuge Village, Yamanashi Prefecture; Representative Director: Keisuke Toji; hereinafter referred to as "NEXT DELIVERY"), with the cooperation of JA Zen-Noh ET Research Institute (Kamishihoro Town, Hokkaido; hereafter referred to as "ET Center"), conducted the world's first demonstration test of delivery of fertilized eggs from cows using a drone in Kamishihoro Town on Friday, July 1.
Fertilized cow eggs (fresh eggs that have not been frozen) collected at Center were successfully delivered by drone to farmers' homes in Kamishihoro-cho for transplant. This is the world's first drone delivery of fertilized bovine eggs.
This initiative is funded by the government's "Digital Rural City National Concept Promotion Grant "*1.
<Demonstration Details>
1.Background and Purpose
The ET Research Institute has been a pioneer in the world of Embryo Transfer (ET) and has built a unique embryo supply system to support the Wagyu production infrastructure. The ET Research Institute has established a unique fertilized egg supply system and supports the Wagyu production infrastructure in cooperation with JA, supplying ET for cows throughout Japan.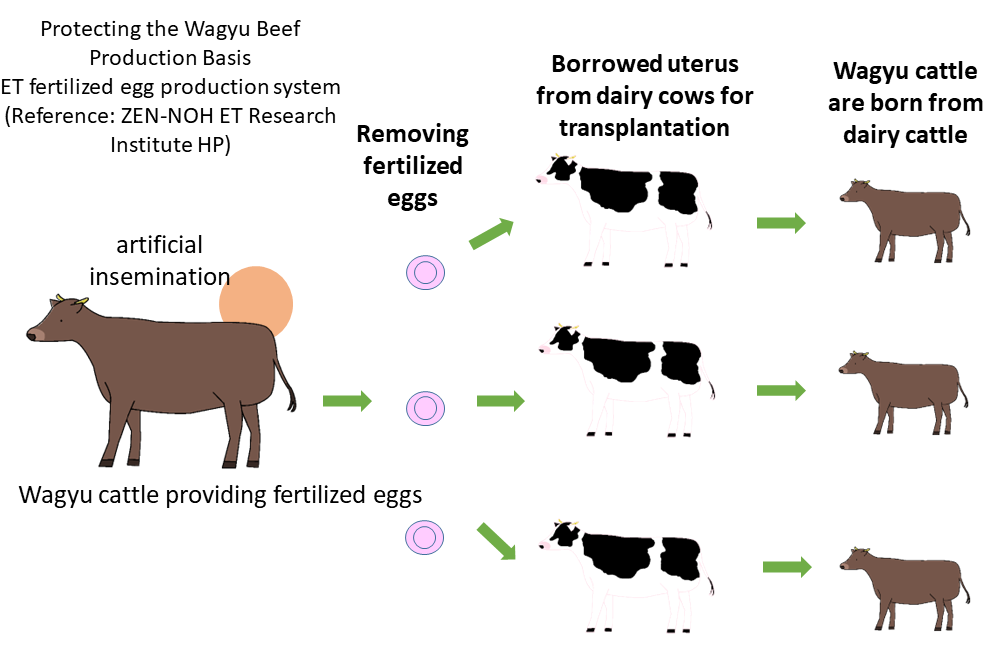 Typical fertilized egg transplants use frozen and preserved fertilized eggs, but if fertilized eggs are damaged during the freezing and thawing process, the conception rate is expected to decline. Fresh eggs, on the other hand, provide a more stable conception rate than frozen fertilized eggs, but they must be transferred on the same day of egg retrieval, and wide distribution is difficult due to egg retrieval, distribution, and use.
This experiment was conducted to verify the conception rate of fresh eggs and the possibility of wide-area distribution. The effectiveness of drone delivery was verified by comparing the labor and cost required by the farmer to transport the eggs to the farmer's yard. Including this demonstration, a total of four demonstrations are planned during this fiscal year.
2.Implementation Overview and Results
■The fertilized eggs in pots were delivered by AirTruck*2, a logistics drone developed by Aeronext, from the ET Research Institute to Kumagai Farm (managed by Hajime Kumagai), a distance of approximately 7.1 km one way in about 13 minutes, and handed to the transplant technician. Upon receipt, the transplanter immediately performed the transplant procedure on the estrus-synchronized dairy cows (Holstein cows), and completed the transplant approximately 10 minutes later.
■ As a result of the demonstration, it was confirmed that the temperature control, vibration, and post-delivery transplantation condition by this drone delivery were at a problem-free level and could withstand practical use.
■Mr. Shigetoshi Ogura, head of JA Kamishihoro, who cooperated in the experiment, commented, "the shorter the transport time and the less vibration, the better the conception rate. We hope to track and advance the fertilized eggs we transport to see what kind of Wagyu cattle and meat quality they will produce in the future."
■Comment from Hajime Kumagai, representative of Kumagai Farm, which manages the Kumagai Farm where the fertilized eggs were delivered: "Perviously it took more than 15 minutes each way to the facility in Shihoro Town to pick up the fertilized eggs. I think drone delivery can transport the eggs more quickly and safely, solve the shortage of cattle supply, and improve work efficiency. This method is also helpful with regard to livestock quarantine."
While digital transformation is progressing in various fields, the livestock industry is also facing the serious issue of a shortage of farmers due to the declining birthrate and aging population, which requires the use of various technologies.
In November of last year, Kamishihoro Town successfully conducted Japan's first drone-based relay delivery demonstration of cow specimens (milk) by drone and land transport, and is promoting the social implementation of new smart logistics including drone delivery with an eye to new delivery possibilities using digital technology, not limited to milk.
It was a great achievement for us to be able to verify the feasibility of implementing the new smart logistics in the livestock industry, where there are many issues such as delivery, especially in the delivery of fertilized eggs, which must be carried out under a meticulous management system.
We are planning to conduct multiple demonstrations in different seasons during the current fiscal year that advance toward practical applications, and will continue to collaborate and study the feasibility of the system. In addition to the livestock industry, the possibility of application and expansion into other industries is also increasing.
<Reference>
*1Grant for Promotion of Digital Rural City State Concept
Kamishihoro Town's "Kamishihoro Human-Mono MaaS Promotion Project" has been adopted as a digital implementation type (TYPE1) of the Digital Rural City National Concept Promotion Grant, and this initiative is part of that project.
The Digital Implementation Type (TYPE 1) of the Digital Rural City National Concept Promotion Grant supports the efforts of local governments to solve local issues and improve local attractiveness through the use of digital technology, and to rapidly deploy such technology horizontally by utilizing excellent models that have already been established in other regions.
*2 AirTruck Logistics Drone
AirTruck, the first mass-produced logistics drone developed in Japan by Aeronext Corporation, a next-generation drone technology startup, in collaboration with ACSL, achieves stable flight with Aeronext's proprietary 4D GRAVITY®*3 airframe structure design technology. The AirTruck is a dedicated logistics drone that goes "faster, farther, and is more stable" with enhanced for logistics, specialized for forward motion, and aerodynamic characteristics required for long-distance flight. The prototype has flown in demonstration tests in various regions of Japan and has the No. 1 flight record in Japan.
*3 Airframe structural design technology 4D GRAVITY®
Structural design technology that optimizes the center of gravity of the aircraft to make the motor speed uniform regardless of the attitude, state, and movement during flight, and improves the basic performance of the industrial drone in areas such as stability, efficiency, and mobility. This technology is characterized by a coupling structure between the airframe and payload. Aeronext patents this technology and manages its 4D GRAVITY® patent portfolio. By improving the basic performance industrial drones, 4D GRAVITY®, expands the applications of industrial drones allowing for expanded markets
【About Kamishihoro Town】
Located in the Tokachi region of Hokkaido, this farming and mountain village has a population of approximately 5,000 and an administrative area of approximately 700 square kilometers, which is larger than the 23 wards of Tokyo. The village has received the Chief Cabinet Secretary's Award at the 4th SDGs Awards in recognition of its efforts to address social issues, such as ICT-based welfare bus service on demand and drone delivery for vulnerable shoppers, in addition to its nationally top-level dairy farming, biomass gas renewable energy generation, local production for local consumption, and childcare support.
【About JA Kamishihoro Town】
Taking full advantage of the cool climate of northern Tokachi and the vast land of the Tokachi Plain, we are working together with producers to produce safe and secure agricultural and livestock products in order to provide consumers with a stable supply of "food for life" based on field crops, dairy farming, and livestock raising in the great outdoors. In addition to financial, mutual aid, and purchasing businesses, we are also developing various businesses to contribute to the local community by working closely with local residents through agriculture.
【About NEXT DELIVERY】
A subsidiary of Aeronext Inc., a company mainly engaged in drone delivery, established in Kosuge Village, Yamanashi Prefecture in 2021 with the vision of "becoming a country where affluence is spread to every corner of the earth through 4D LogisticsTM infrastructure that connects air, land, and time in the age of 100 years of life. The company is also involved in the development, manufacture, sale, rental, and maintenance of hardware and software related to drone delivery. We are also developing peripheral businesses such as development, manufacturing, sales, rental, and maintenance of hardware and software related to drone delivery. Starting with Kosuge Village in Yamanashi Prefecture, we are working to improve the efficiency and revitalization of regional logistics in places such as Kamishihoro Town in Hokkaido and Tsuruga City in Fukui Prefecture.
*For more information: https://nextdelivery.aeronext.co.jp/#company/
*AERONEXT and the AERONEXT logo, as well as "4D GRAVITY(R)," are trademarks of AERONEXT Inc.
*Other company names and product/service names mentioned in this press release are registered trademarks or trademarks of their respective owners.