Press Release
Building a New Smart Logistics System to Contribute to Solving Local Problems in Katsuura City, Chiba Prefecture Demonstration experiment of drone logistics in close proximity to local shopping areas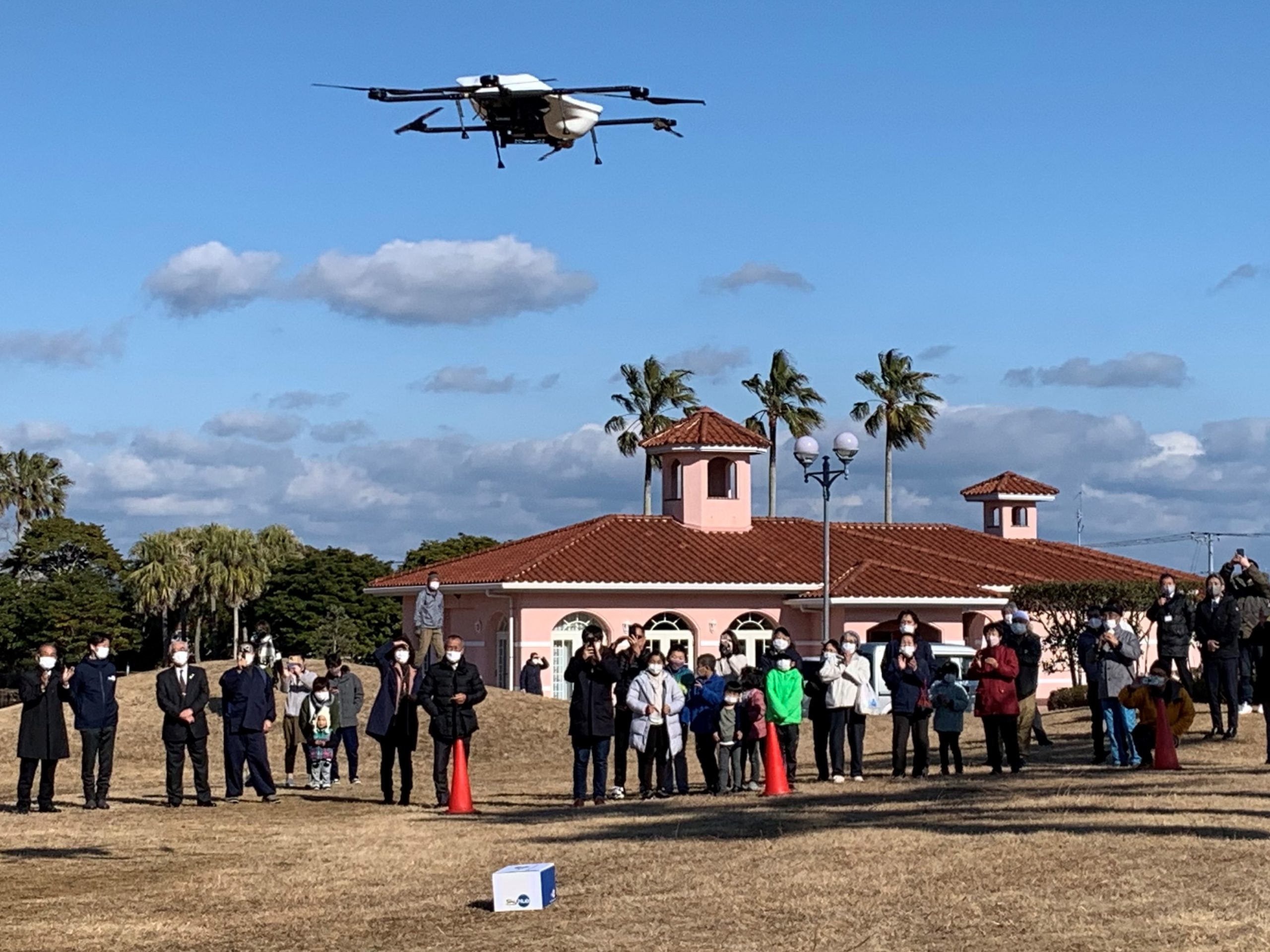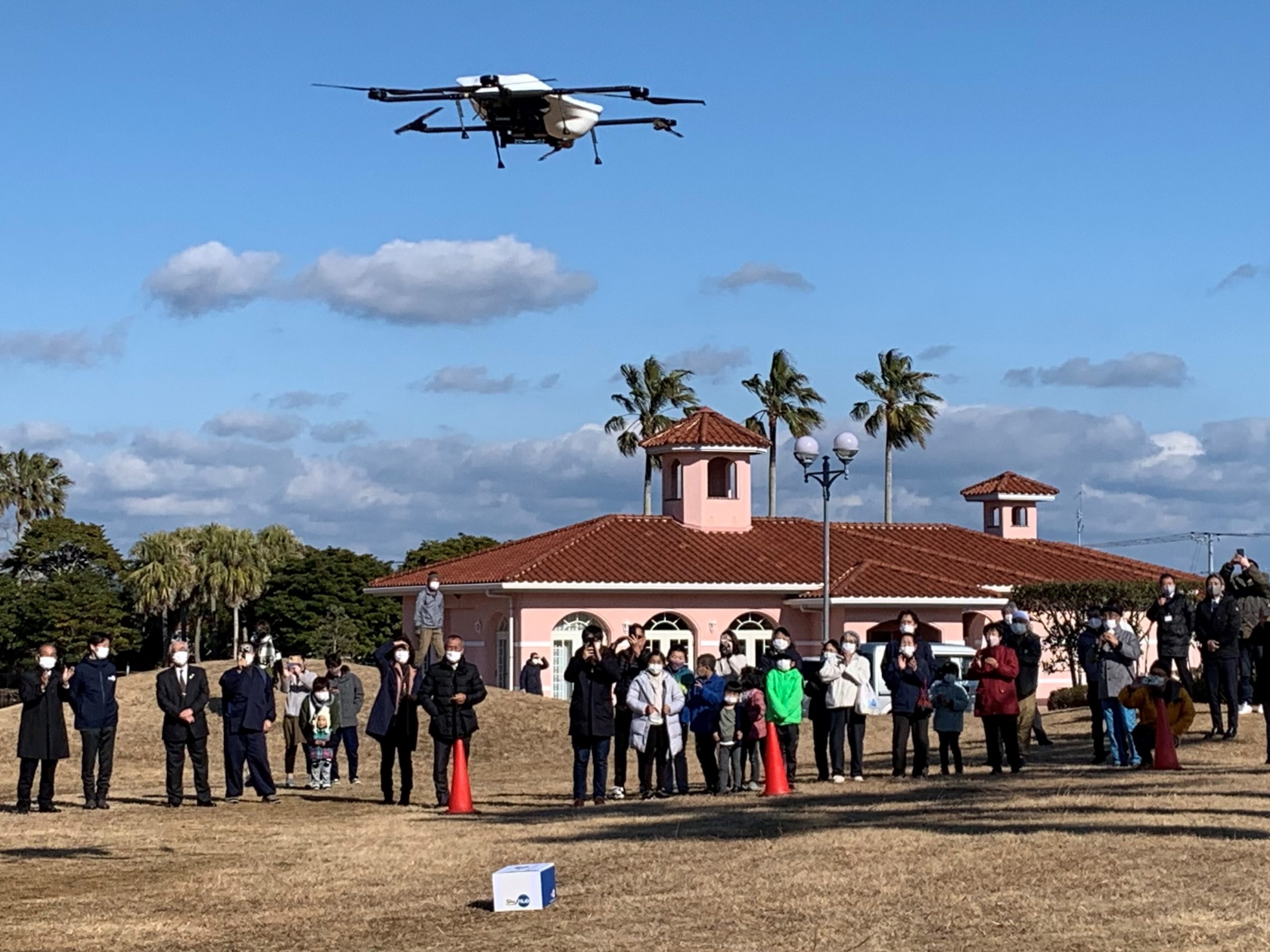 Seino Holdings Co. Ltd. (Headquarters: Ogaki City, Gifu Prefecture; President: Yoshitaka Taguchi; hereinafter referred to as "Seino Holdings"), Aeronext Inc. (Headquarters: Shibuya Ward, Tokyo; CEO: Keisuke Toji; hereinafter referred to as "Aeronext"), and NEXT DELIVERY Co. (Head office: Kosuge Village, Yamanashi Prefecture; President: Keisuke Toji; hereinafter referred to as "NEXT DELIVERY"), announced on Friday, February 11, that from Wednesday, February 9 to Friday, February 11 in Katsuura City in Chiba Prefecture, with the cooperation of Sumitomo Corporation (Head office: Chiyoda-ku, Tokyo; President and CEO: Masayuki Hyodo; hereinafter referred to as "Sumitomo Corporation"), and the Katsuura City Chamber of Commerce and Industry (Chairman: Shintaro Odaka), held a drone delivery demonstration experiment aiming toward the establishment of a new smart logistics system that contributes to the resolution of regional issues.
This demonstration experiment aims to be a model case of "drone logistics in close proximity to local shopping streets," which aims to solve the problem of limited shopping access and revitalize shopping streets by delivering products from Katsuura City's shopping streets to local villas, universities, elementary schools, temples, guest houses, and fishing ports.
Specifically, the project is aimed at the societal implementation of SkyHub®*1, a new smart logistics system that integrates drone delivery and land transportation, which is being developed and promoted by Seino HD and Aeronext, and will be implemented by NEXT DELIVERY, a subsidiary of Aeronext primarily engaged in the drone delivery service business.
【Outline of the demonstration experiment】
1.Background and Purpose
Katsuura City, with a total population of 16,386 (as of the end of December 2021) and an area of 93.96 km2, is located in the southeastern part of Chiba Prefecture, and its marine park and coastal areas are designated as Minamiboso National Park. It is also known as a tourist city and resort area, with many festivals and events, such as the Katsuura Morning Market, which has a tradition of 430 years dating to the Tensho era, and the Katsuura Big Hinamatsuri. On the other hand, the population is aging, and the once flourishing shopping district and tourism industry are facing a crisis of decline.
Against this backdrop, and with the aim of solving the problem of limited shopping access, as well as revitalizing shopping streets, we conducted a demonstration experiment with the aim of improving the understanding of residents and identifying issues for regular flights by setting up a temporary drone depot and drone stand, envisioned "drone logistics in close contact with local shopping streets," in which products from the Katsuura Central Shopping Street and Okitsu Shopping Street are delivered by drone to local villas, universities, elementary schools, temples, guest houses, and fishing ports.
2.Details
An assortment of food and daily necessities from the local shopping district, Katsuura tantanmen and sushi sets, and disaster supplies were delivered by drone (or truck in case of rain) from two temporary drone depots to six temporary drone stands (a round trip distance of about 1.6km–4.6km), including Millenia Katsuura, International Budo University, and Toyohama Elementary School.
On February 11th, when the event was open to the press, the Katsuura Tantanmen set was delivered, in about 5 minutes, about 1.7 kilometers one way from the Okitsu meeting place to the Millenia Katsuura management center, and then delivered while still hot into the hands of the customers.
On February 9th, chocolates for Valentine's Day were delivered by drone to the students of Toyohama Elementary School, which drew cheers from the students.
After the demonstration experiment released in the media on the 11th, we delivered food and daily necessities sets and food delivery to the residents of Millenia Katsuura, and many customers enjoyed it.
After this demonstration, we plan to set up a drone depot to consolidate packages in the shopping district, build the Katsuura model of the SkyHub application, and start looking toward services such as package delivery, shopping helpers, intra-regional delivery, and food delivery that combine delivery via both drone and over land.
We will continue to contribute to the revitalization of the local community in Katsuura City by promoting the development of a new social infrastructure that will improve the efficiency and vitality of local logistics.
Reference
*1 SkyHub®︎
A new smart logistics system that connects existing logistics and drone logistics jointly promoted by Aeronext and Seino Holdings Co., Ltd., and connects the ground and air infrastructure so that goods can be delivered anytime, anywhere. It features an open platform and standardized mechanism that incorporates drone delivery and realizes joint delivery. The introduction of SkyHub will contribute to solving social issues in the region, such as population decline, labor shortage due to declining birthrate and aging population, traffic problems in specific depopulated areas, medical problems, disaster countermeasures, and measures against vulnerable logistics from the aspect of logistics reform. It is possible to raise the satisfaction level of residents and communities by improving the convenience and quality of life of residents, which is also meaningful in promoting regional revitalization.
【About Seino HD】
Seino Holdings strives to be a value-creating comprehensive logistics trading company and aims to "provide value that transcends time and space" to its customers. Seino embraces an overall strategy of the group is to embody "Open Public Platform Construction (OPP)" that provides better and optimal services to customers through connections both inside and outside the industry in an open-neutral relationship in order to build a platform that is easy for customers and other companies in the same industry to use. In the last mile area, we are actively promoting and expanding the construction of a last mile O.P.P. that solves social issues such as measures for vulnerable shopping and measures for lower income families, while responding to changes in lifestyle and structure.
* For more information: https://www.seino.co.jp/seino/shd/overall-condition/
【About Aeronext】
Aeronext, an IP driven R & D technology startup for next-generation drones, is a company that designs the sky through technology to create a world where the sky becomes a social infrastructure, is economized, and solves social issues through drones. Our core technology is 4D GRAVITY®︎, a unique structural design technology that improves basic drone performance such as stability, efficiency, and mobility of industrial drones by optimizing the center of gravity of the aircraft. In order implement this 4D GRAVITY®︎ as standard equipment on industrial drones, we have constructed a strong patent portfolio and are promoting a partnership-based platform business for the 4D GRAVITY®︎ license globally.
Aeronext has also founded a subsidiary to implement the SkyHub® smart logistics and pursue drone delivery.
*For more information: https://aeronext.co.jp/company/
【About NEXT DELIVERY Inc.】
A subsidiary of AERONEXT, a company mainly engaged in drone delivery, established in Kosuge Village, Yamanashi Prefecture in 2021 with the vision of "becoming a country where affluence is spread to every corner of the earth through 4D LogisticsTM infrastructure that connects air, land, and time in the age of 100 years of life. The company is also involved in the development, manufacture, sale, rental, and maintenance of hardware and software related to drone delivery. We are also developing peripheral businesses such as development, manufacturing, sales, rental, and maintenance of hardware and software related to drone delivery. Starting with Kosuge Village in Yamanashi Prefecture, we are working to improve the efficiency and revitalization of regional logistics in places such as Kamishihoro Town in Hokkaido and Tsuruga City in Fukui Prefecture.
*AERONEXT and the AERONEXT logo, as well as "4D GRAVITY®," "SkyHub®" ," "Drone Depot® " and "Drone Stand® " are trademarks of AERONEXT Inc.
*Other company names and product/service names mentioned in this press release are registered trademarks or trademarks of their respective owners.