Press Release
Demonstration Experiment for Drone Delivery to Isolated Villages in Kawanehoncho in the Event of a Disaster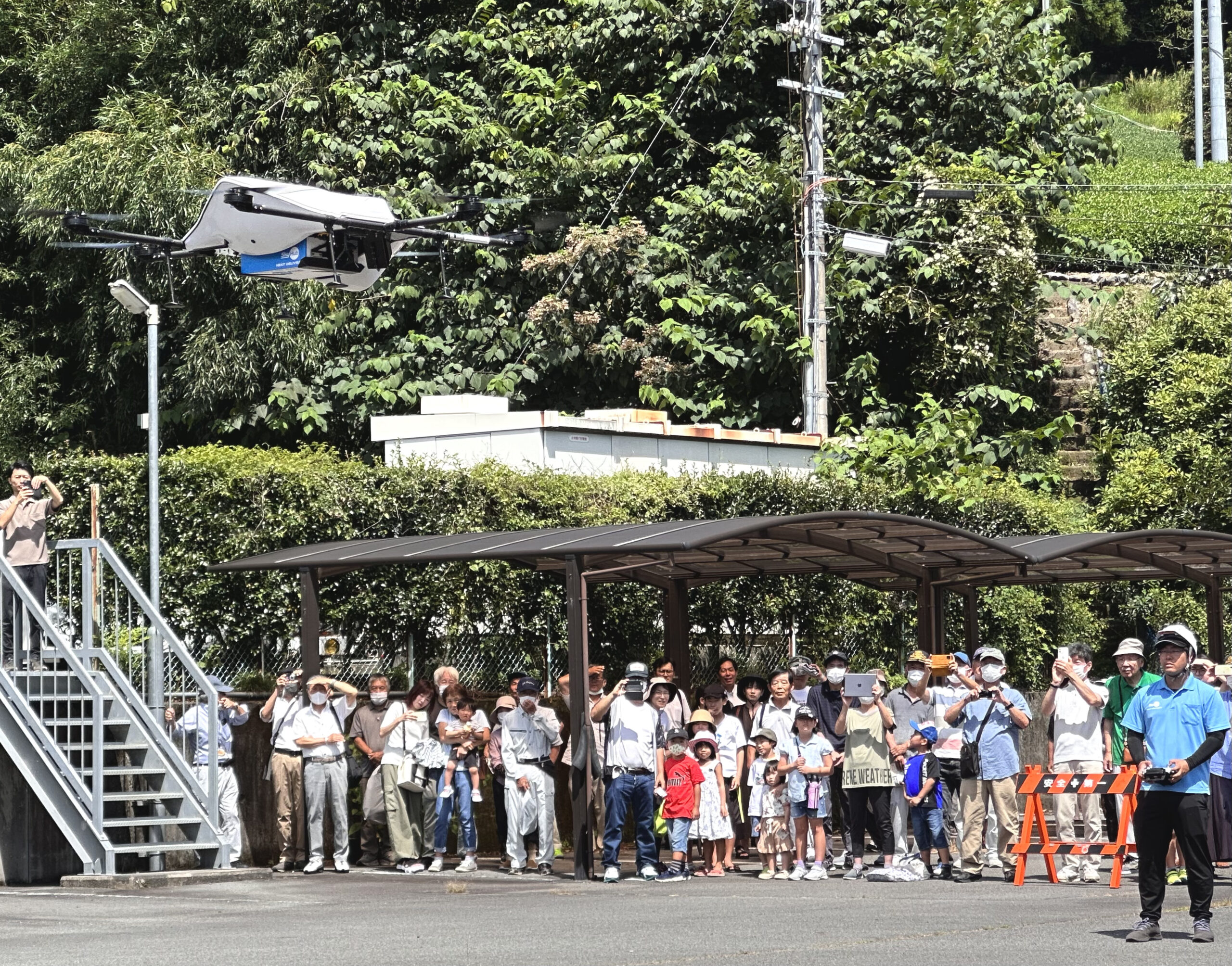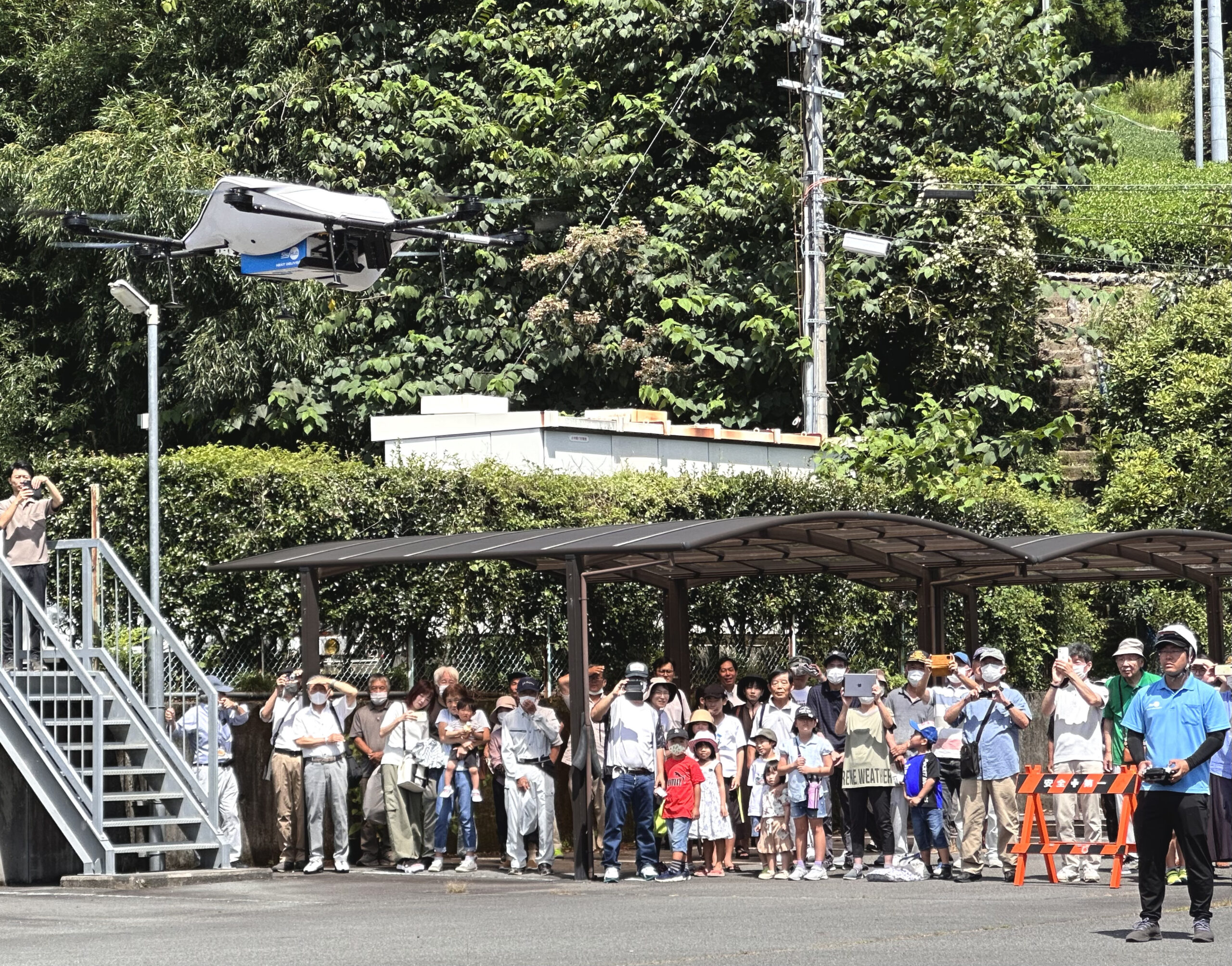 Kawanehoncho, Shizuoka Prefecture (Mayor: Yasukuni Sonoda) and NEXT DELIVERY Inc. (Kosuge Village, Yamanashi Prefecture; Representative Director: Keisuke Toji; hereinafter "NEXT DELIVERY") conducted a two-day demonstration experiment on Saturday, September 2 and Sunday, September 3, 2023, simulating drone delivery to isolated villages in the event of a disaster.
This demonstration experiment will be conducted by NEXT DELIVERY Inc. after it was awarded a publicly solicited contract to conduct a demonstration project for the transportation of goods to isolated villages in Kawanehoncho.
Demonstration Experiment Overview
1.Background and Purpose
Kawanehoncho has a total population of 6,014 (as of July 2023) and is located in the center of Shizuoka Prefecture. The town has a narrow north-south shape with an area of approximately 23 km east-west and 40 km north-south along the Oi River, covering 496.72 km² (6.4% of the prefecture), of which approximately 90% is covered by forest. Nature takes up a large percentage of the land, with scattered settlements far from the town center, and the aging population faces the challenge of shopping for daily needs. There are also many villages that may become isolated in the event of an emergency. Transporting goods when roads are blocked by disasters and there is no means of transportation will be a challenge.
Against this backdrop, a demonstration experiment was conducted to improve residents' understanding and identify issues for regular flights in order to solve the problems of shopping difficulties and isolation in the event of an emergency.
2.Details of Implementation
On September 2, the day of the media release, a departure ceremony was held during the Disaster Prevention Festival to explain the project and conduct a demonstration flight of the actual drone delivery.
The demonstration flight consisted of two flights, one to deliver a Kawane tea set (weighing approximately 2.1 kg) from the main office building of the town hall, where the Disaster Prevention Festival was held, to a riverside area (approximately 800 m away, approximately 3 minutes) and the other to a campsite (approximately 550m away, approximately 2 minutes).
On September 3, emergency food sets (weighing approximately 1.7 kg) were delivered using AirTruck*1, a drone developed by Aeronext, to two villages that are expected to be isolated in the event of an emergency: the Orokubo area (approximately 3.7 km away, approximately 10 minutes) and the Ichogochi area (approximately 5.3 km away, approximately 12 minutes).
Ms. Hamatani, the campsite manager who received the Kawane tea set delivered by drone on September 2, commented, "We hope that this set can be widely used for shopping assistance not only in times of disaster but also in normal times".
With a view toward the future of Kawanehoncho, we will continue to pursue regional implementation.