Press Release
Drone Logistics Demonstration Experiment in Mine City, Yamaguchi Prefecture, Aiming to Build a New Smart Logistics System to Solve Problems in Depopulated Areas, A Demonstration Experiment of Drone Logistics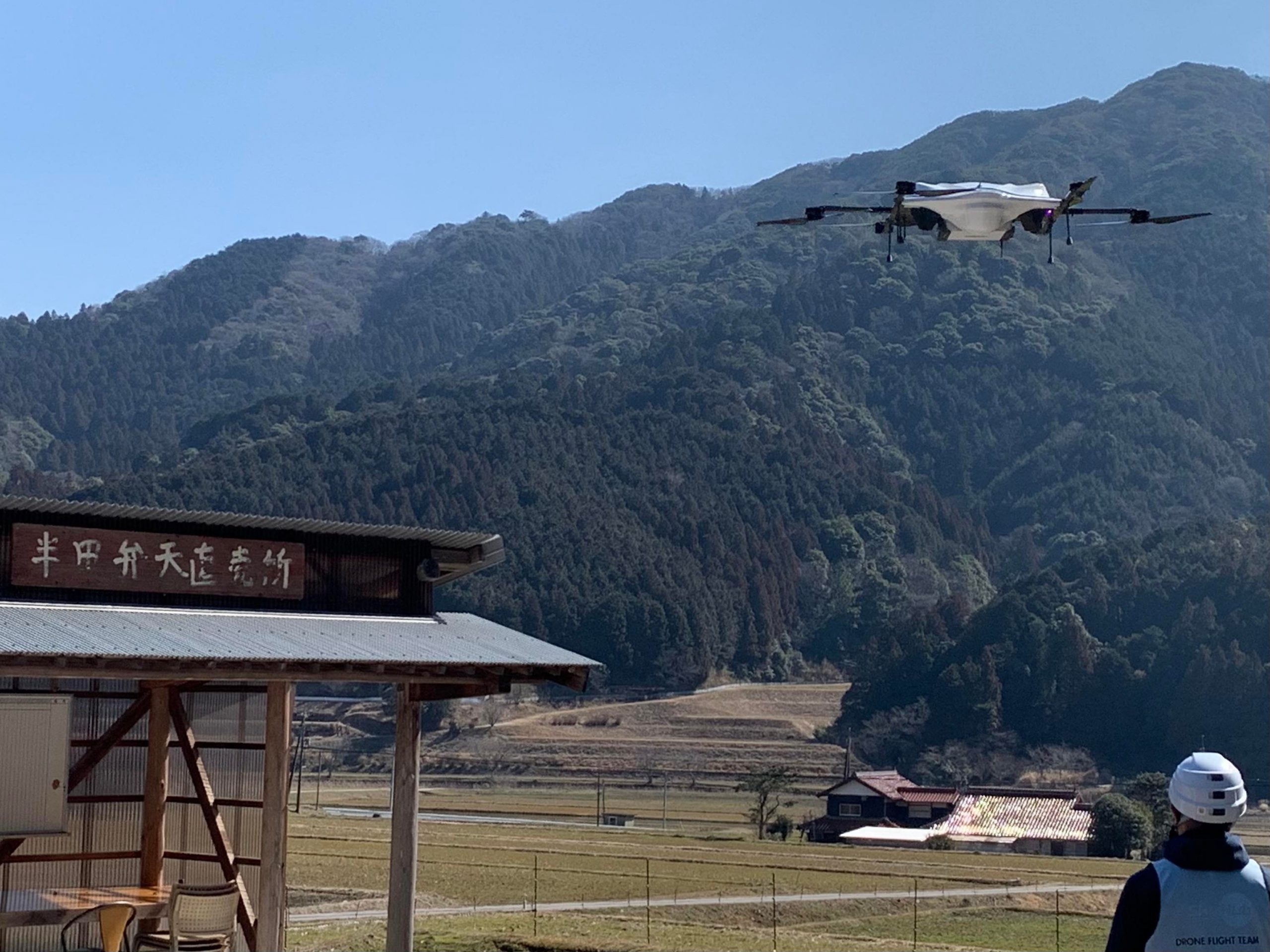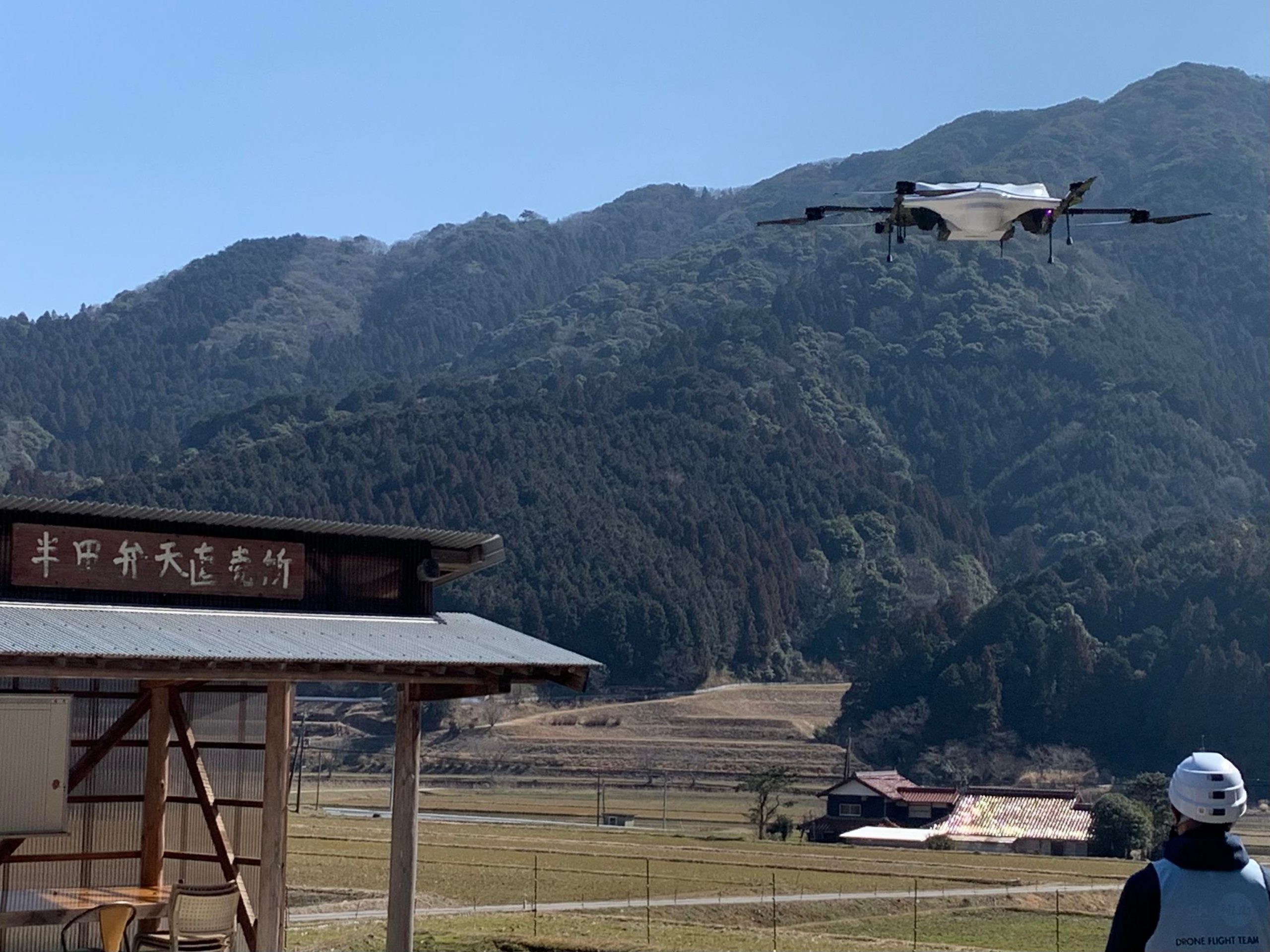 Mine City (Mayor: Yoji Shinoda), Seino Holdings Co., Ltd. (Head office: Ogaki City, Gifu Prefecture; President: Yoshitaka Taguchi; hereinafter referred to as Seino HD), Aeronext Inc. (Head office: Shibuya-ku, Tokyo; CEO: Keisuke Toji; hereinafter referred to as Aeronext), NEXT DELIVERY Inc.(headquartered in Kosuge Village, Yamanashi Prefecture; Keisuke Toji, CEO; hereinafter referred to as NEXT DELIVERY) announced on Thursday, March 3 that a drone delivery demonstration experiment was conducted in the Shuhoucho Kama and Yashiro district of Mine City from Thursday, March 3 to Saturday, March 5 to build a new smart logistics system that will contribute to solving regional issues.
This demonstration experiment was conducted as part of the "Digitech Open Innovation" project, in which members of the public-private partnership forum "Digitech for YAMAGUCHI" bring together their technologies and know-how to conduct demonstration experiments in Yamaguchi Prefecture, with the aim of creating leading examples of new solutions.
Specifically, the project is aimed at the societal implementation of SkyHub®*1, a new smart logistics system that integrates drone delivery and land transportation, which is being developed by Seino HD and Aeronext, and will be implemented by NEXT DELIVERY, a subsidiary of Aeronext focusing mainly on the drone delivery service business.
【Demonstration Experiment Outline】
1.Background and Purpose
In Mine City, small villages are widely scattered, there are few stores and restaurants, and the elderly account for about 44% of the population. For these reasons, there is an increasing need for measures to maintain the convenience of daily life, including daily shopping. In addition, the transportation industry is facing the challenge of maintaining deliveries, especially in depopulated areas, due to the lack of manpower and profitability. Therefore, with the aim of optimizing logistics, the private sector and the government are collaborating on a demonstration experiment to create a system to provide shopping services, disaster relief, and medical supplies delivery, etc., by incorporating drone delivery into the last mile of transportation and introducing a new smart logistics system that connects and integrates ground transportation and drone delivery.
2.Details
Shuhouyashiro Village of Warmth was set up as a temporary Drone Depot®, and the nearest assembly halls (Kainoki Public Hall, Yashiro Fureai Center, and Handa Public Hall) were set up as temporary Drone Stands® for drone deliveries to deliver assorted groceries from local supermarkets and emergency supplies to residents.
Information released on Thursday, March 3, said that a drone was flown from Shuhouyashiro Village of Warmth, a temporary Drone Depot® to the Handa Public Hall, about 1.6 km away. The drone will then be loaded with Beppu Benten Pond Spring Water, one of the 100 best springs in Japan, and flown back to the Shuhouyashiro Village of Warmth. 2 sets with Coffee brewed with the water from the Handa Benten Spring and "Trout Burgers", humburgers using rainbow trout grown in the famous water of Japan's 100 Selected Waters-Beppu Benten Pond- were then delivered by drone to Kainoki Public Hall, a temporary Drone Stand®, in about 3 minutes, about 1.2 km one way, into the hands of residents. The residents were excited and delighted with the hot coffee brewed with local specialty water "Trout Burgers" delivered by drone.
After this demonstration, with the aim of building a new smart logistics system that aims to solve the problems of depopulated areas, we investigate the needs of residents and the optimal distribution network, and then plan to establish a Drone Depot® that will consolidate the cargo of various companies and multiple Drone Stands® that will serve as landing sites for drones in the next fiscal year, and to start a shopping service on behalf of customers that envisions combined ground delivery and drone delivery step by step in the future.
Reference
*1 SkyHub®︎
A new smart logistics system that connects existing logistics and drone logistics jointly promoted by Aeronext and Seino Holdings Co., Ltd., and connects the ground and air infrastructure so that goods can be delivered anytime, anywhere. It features an open platform and standardized mechanism that incorporates drone delivery and realizes joint delivery. The introduction of SkyHub will contribute to solving social issues in the region, such as population decline, labor shortage due to declining birthrate and aging population, traffic problems in specific depopulated areas, medical problems, disaster countermeasures, and measures against vulnerable logistics from the aspect of logistics reform. It is possible to raise the satisfaction level of residents and communities by improving the convenience and quality of life of residents, which is also meaningful in promoting regional revitalization.
【About Mine City, Yamaguchi】
Mine City was established on March 21, 2008 through the merger of one city and two towns: the former Mine City, Mito-cho, and Shuhou-cho. Located almost in the center of the western part of Yamaguchi Prefecture, the area is home to a great natural environment where one can almost feel the peaceful flow of time, including Akiyoshidai, one of the largest karst plateaus in Japan, Akiyoshido Cave, one of the most famous limestone caves in the East, Keiseido Cave and Taisho Cave, which are natural treasures, and Beppu Benten Pond, one of Japan's best 100 natural waters. The town is a place where one can live and enjoy the changing seasons with nature: cherry blossoms in spring, greenery in summer, autumn leaves in fall, and snow in winter. Although the city is located in a mountainous area, it has three national highways, two expressway interchanges, and one junction to a regional high standard road, providing good automobile access to other cities in the prefecture. In addition, the Second Mine City Comprehensive Plan (FY2020 – FY2029) calls for a future that envisions a "proud hometown of Akiyoshidai," where young people, women, and the local community thrive and children's laughter reverberates, and the city is promoting new community development. In addition, on September 4, 2015, the entire area of Mine City area was recognized as the Mine Akiyoshidai Geopark.
*About Mine city: https://www2.city.mine.lg.jp/
【About Seino HD】
Seino Holdings strives to be a value-creating comprehensive logistics trading company and aims to "provide value that transcends time and space" to its customers. Seino embraces an overall strategy of the group is to embody "Open Public Platform Construction (OPP)" that provides better and optimal services to customers through connections both inside and outside the industry in an open-neutral relationship in order to build a platform that is easy for customers and other companies in the same industry to use. In the last mile area, we are actively promoting and expanding the construction of a last mile O.P.P. that solves social issues such as measures for vulnerable shopping and measures for lower income families, while responding to changes in lifestyle and structure.
*About Seino Holdings: https://www.seino.co.jp/seino/shd/overall-condition/
【About Aeronext Inc.】
Aeronext Inc., an IP driven R & D technology startup for next-generation drones, is a company that designs the sky through technology to create a world where the sky becomes a social infrastructure, is economized, and solves social issues through drones. Our core technology is 4D GRAVITY®︎, a unique structural design technology that improves basic drone performance such as stability, efficiency, and mobility of industrial drones by optimizing the center of gravity of the aircraft. In order implement this 4D GRAVITY®︎ as standard equipment on industrial drones, we have constructed a strong patent portfolio and are promoting a partnership-based platform business for the 4D GRAVITY®︎ license globally.
Aeronext has also founded a subsidiary to implement the SkyHub® smart logistics and pursue drone delivery.
*About Aeronext Inc.: https://aeronext.co.jp/company/
【About NEXT DELIVERY Inc.】
A subsidiary of Aeronext, a company mainly engaged in drone delivery, established in Kosuge Village, Yamanashi Prefecture in 2021 with the vision of "becoming a country where affluence is spread to every corner of the earth through 4D LogisticsTM infrastructure that connects air, land, and time in the age of 100 years of life. The company is also involved in the development, manufacture, sale, rental, and maintenance of hardware and software related to drone delivery. We are also developing peripheral businesses such as development, manufacturing, sales, rental, and maintenance of hardware and software related to drone delivery. Starting with Kosuge Village in Yamanashi Prefecture, we are working to improve the efficiency and revitalization of regional logistics in places such as Kamishihoro Town in Hokkaido and Tsuruga City in Fukui Prefecture.
*AERONEXT and the AERONEXT logo, as well as "4D GRAVITY®," "SkyHub®" ," "Drone Depot® " and "Drone Stand® " are trademarks of AERONEXT Inc.
*Other company names and product/service names mentioned in this press release are registered trademarks or trademarks of their respective owners.