Press Release
SkyHub's efforts were presented as an advanced case study at the "New Smart Logistics Symposium for Realizing the Digital Rural City State Concept" on March 22~Acceleration of the nationwide development of SkyHub, promoting societal implementation of drone logistics~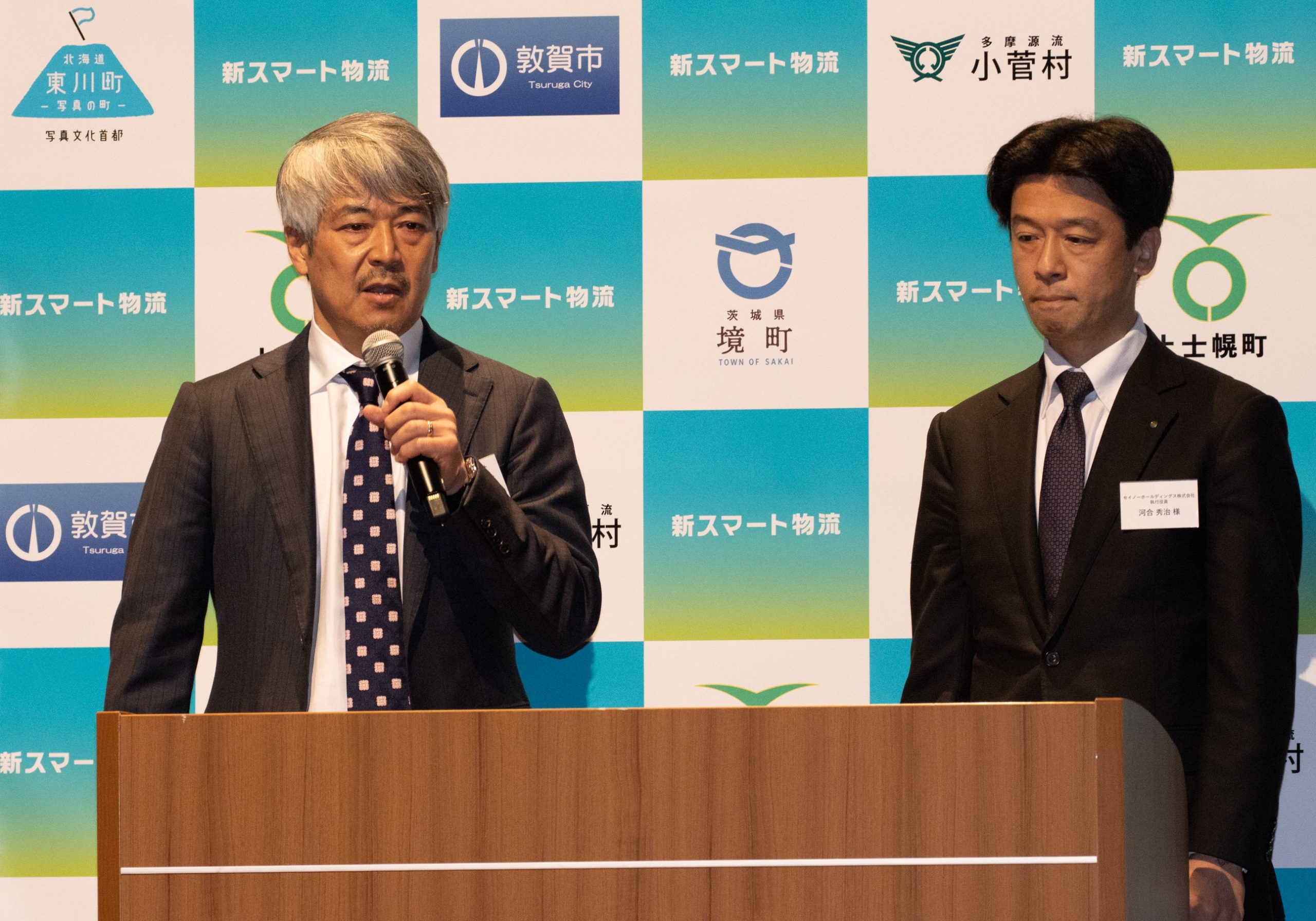 Seino Holdings Corporation (headquartered in Ogaki City, Gifu Prefecture; Yoshitaka Taguchi, President; hereinafter "Seino HD"), Aeronext Corporation (headquartered in Shibuya-ku, Tokyo; Keisuke Toji, CEO; hereinafter "Aeronext"), NEXT DELIVERY Inc. (Representative Director: Keisuke Toji, hereinafter referred to as NEXT DELIVERY) looking toward the "Digital Rural City State Concept," which aims to take the initiative in realizing "convenience and possibilities that rival those of cities while preserving the charm of rural areas," introduced SkyHub's efforts as an advanced example of new smart logistics at the "New Smart Logistics Symposium to Realize the Digital Rural City State Concept" held on Tuesday, March 22 to help local governments solve regional issues.
The "New Smart Logistics Symposium for Realizing the Digital Rural City National Concept", sponsored by the Preparatory Secretariat of the New Smart Logistics Promotion Council*1 was a high-profile event with nearly 300 online participants from municipalities across Japan, and the first part featured an announcement of a wide-area collaboration among five municipalities working to solve regional logistics issues: Kamishihoro Town, Hokkaido; Kosuge Village, Yamanashi Prefecture; Sakai Town, Ibaraki Prefecture; Tsuruga City, Fukui Prefecture; and Higashikawa Town, Hokkaido; and the launch of the New Smart Logistics Promotion Council, which aims for further development and expansion.
*This symposium can be viewed as an archive on the website of the New Smart Logistics Promotion Council. https://smartlogistics.jp/
In the second session, after Mr. Yosuke Tsuruho, Secretary-general of the Parliamentary League for the Promotion of Unmanned Aerial Vehicles (Drone Parliamentary Union) and a member of the House of Councilors took the stage, advanced case studies for the future of regional logistics were introduced and AirTruck, the first mass production logistics drone developed in Japan by A C S L Corporation and Aeronext, which announced its mass production launch on March 17, made its first public appearance. In addition, Shuji Kawai, Executive Officer of Seino HD and Representative Director of NEXT DELIVERY, and Keisuke Toji, Representative Director, CEO of Aeronext and Representative Director of NEXT DELIVERY, took the stage to discuss the significance, purpose, and the background of SkyHub®, its achievements, and future development were introduced. Last, Mr. Yoshimichi Terada, Deputy Minister for Public Transport and Logistics Policy, Minister's Secretariat, Ministry of Land, Infrastructure, Transport and Tourism, and Shuji Kawai, Executive Officer, Seino HD, concluded the session with a discussion on the theme of "Enriching Local Communities through the Flow of People and Goods: The Future of Regional Logistics Created with Technology and Green."
SkyHub is a new smart logistics system jointly developed and deployed by Aeronext and Seino HD that connects existing logistics with drone logistics, connecting ground and air infrastructure so that goods can be delivered anytime, anywhere. A new open-platform, standardized logistics infrastructure that incorporates a new Drone Depot*2 and Drone Stand*3 into the existing logistics network, and uses the Drone Depot as a base for SkyHub. SkyHub provides services such as shopping and delivery services based on the SkyHuB app, including on-demand delivery, pharmaceutical delivery, and joint delivery of packages from different logistics companies, and the introduction of SkyHub will promote unmanned, stockless, last mile delivery. This means not only logistics benefits of improving efficiency, but also introduction of a new logistics infrastructure, and from the aspect of logistics reform, it contributes to solving social problems in the region such as population decline, labor shortage due to low birthrate and aging population, transportation problems in specific depopulated areas, medical problems, disaster measures, and measures for the vulnerable in logistics. This is a meaningful way to promote regional revitalization, as it can raise the level of satisfaction of residents and communities by improving quality.
SkyHub is already in the phase of societal implementation, rather than the demonstration phase, and is being promoted for social implementation in Kamishihoro Town, Kosuge Village, Tsuruga City, and Katsuura City in Chiba Prefecture, Mine City in Yamaguchi Prefecture, and Aga Town in Niigata Prefecture, where wide-area collaboration was announced at this symposium.
Through this symposium, the three companies will further accelerate the nationwide deployment of SkyHub and steadily promote the construction of new smart logistics to help solve regional issues.
Reference
* 1 New Smart Logistics Promotion Council https://smartlogistics.jp/
In order to realize a prosperous local community through new smart logistics, it is extremely effective to share valuable experience values such as precedent regional efforts and implementation processes with related parties. A variety of players will share their wisdom and build a new social foundation together in order to realize the government-promoted digital rural city national concept of "convenience and potential that is comparable to cities while maintaining the attractiveness of local areas." .. It is an organization that promotes the faster social implementation of new smart logistics by conducting open discussions and information sharing that transcends boundaries between the public and private sectors and inside and outside the industry, centered on local governments.
* 2 Drone Depot®: A base where goods are accumulated and delivered, located at the connection point between existing logistics and drone logistics. It is also a warehouse for drone delivery and has a system that enables drone delivery of cargo.
* 3 Drone Stand®: facilities or spaces for drone takeoffs and landings located at the starting and ending points of drone logistics.
【About Seino HD】
Seino Holdings strives to be a value-creating comprehensive logistics trading company and aims to "provide value that transcends time and space" to its customers. Seino embraces an overall strategy of the group is to embody "Open Public Platform Construction (OPP)" that provides better and optimal services to customers through connections both inside and outside the industry in an open-neutral relationship in order to build a platform that is easy for customers and other companies in the same industry to use. In the last mile area, we are actively promoting and expanding the construction of a last mile O.P.P. that solves social issues such as measures for vulnerable shopping and measures for lower income families, while responding to changes in lifestyle and structure.
*About Seino Holding: https://www.seino.co.jp/seino/shd/overall-condition/
【About Aeronext】
AERONEXT, an IP driven R & D technology startup for next-generation drones, is a company that designs the sky through technology to create a world where the sky becomes a social infrastructure, is economized, and solves social issues through drones. Our core technology is 4D GRAVITY®︎, a unique structural design technology that improves basic drone performance such as stability, efficiency, and mobility of industrial drones by optimizing the center of gravity of the aircraft. In order implement this 4D GRAVITY®︎ as standard equipment on industrial drones, we have constructed a strong patent portfolio and are promoting a partnership-based platform business for the 4D GRAVITY®︎ license globally.
AERONEXT has also founded a subsidiary to implement the SkyHub® smart logistics and pursue drone delivery.
*For more information: https://aeronext.com/company/
【About NEXT DELIVERY Inc.】
A subsidiary of AERONEXT, a company mainly engaged in drone delivery, established in Kosuge Village, Yamanashi Prefecture in 2021 with the vision of "becoming a country where affluence is spread to every corner of the earth through 4D LogisticsTM infrastructure that connects air, land, and time in the age of 100 years of life. The company is also involved in the development, manufacture, sale, rental, and maintenance of hardware and software related to drone delivery. We are also developing peripheral businesses such as development, manufacturing, sales, rental, and maintenance of hardware and software related to drone delivery. Starting with Kosuge Village in Yamanashi Prefecture, we are working to improve the efficiency and revitalization of regional logistics in places such as Kamishihoro Town in Hokkaido and Tsuruga City in Fukui Prefecture.
* For more information: https://nextdelivery.aeronext.co.jp/
*AERONEXT and the AERONEXT logo, as well as "4D GRAVITY®," "SkyHub®" ," "Drone Depot® " and "Drone Stand® " are trademarks of AERONEXT Inc.
*Other company names and product/service names mentioned in this press release are registered trademarks or trademarks of their respective owners.