Press Release
Sanagochison to conduct a demonstration experiment on "drone delivery in mountainous areas," aiming to build a new logistics infrastructure through the use of next-generation advanced technology~Toward societal implementation of SkyHub®, a new smart logistics system that combines drone delivery and land delivery~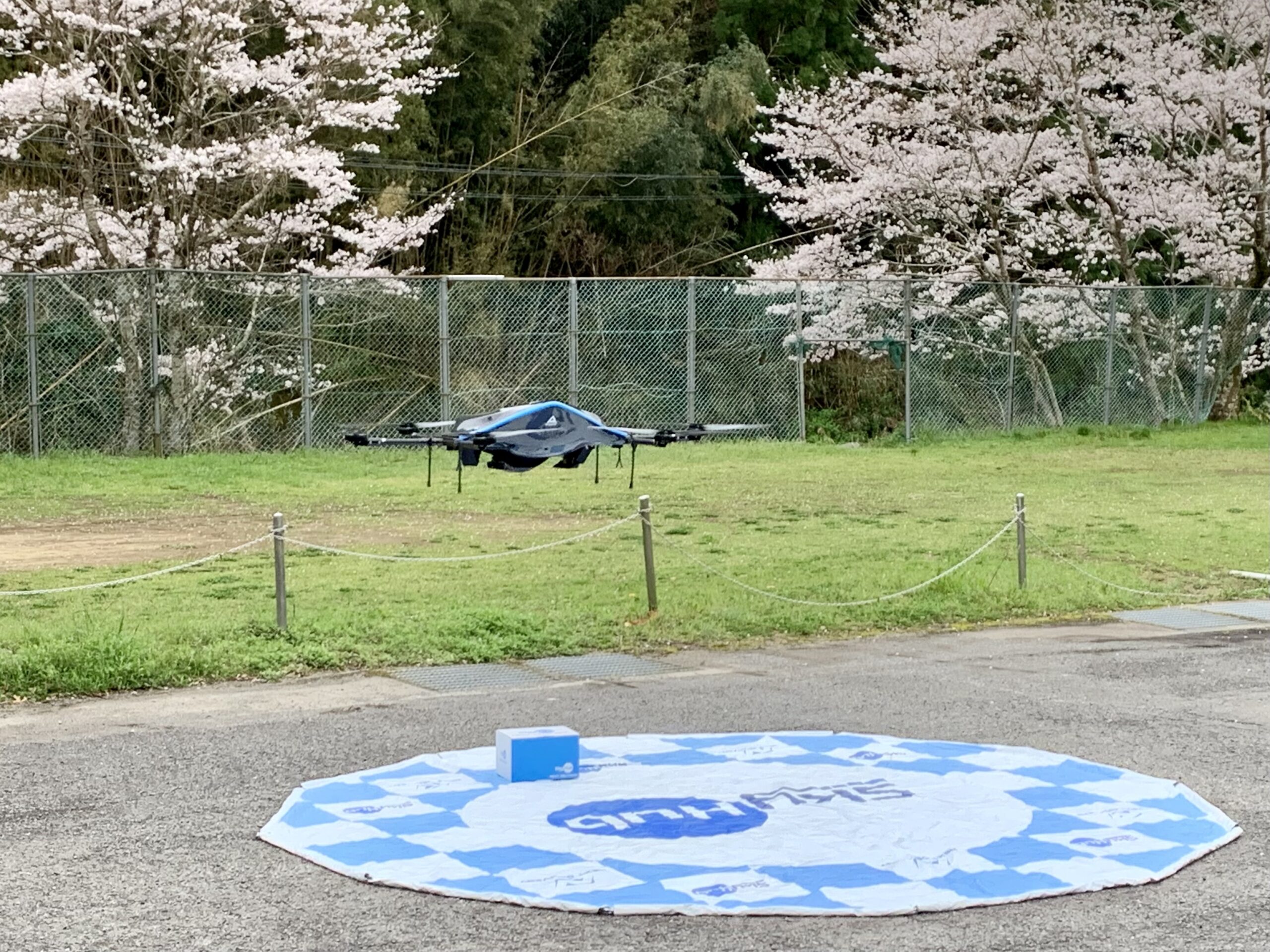 Sanagochison (Mayor: Yoshiji Iwaki), Seino Holdings Co., Ltd. (Head Office: Ogaki City, Gifu Prefecture; President: Yoshitaka Taguchi; hereinafter referred to as "Seino HD"), Aeronext Inc. (headquartered in Shibuya-ku, Tokyo; Keisuke Toji, CEO; hereinafter "Aeronext"), NEXT DELIVERY Inc. (Head office: Kosuge Village, Yamanashi Prefecture; Representative Director: Keisuke Toji; hereinafter referred to as NEXT DELIVERY), KDDI SmartDrone Inc. (Headquarters: Minato-ku, Tokyo; President&CEO : Masafumi Hirono; hereinafter "KDDI SmartDrone") released to the press that they conducted a demonstration experiment of "drone delivery in mountainous areas" on March 24, 2023 starting from the Sanagochison Town Hall building, aiming to build a new logistics service by utilizing next-generation advanced technology.
Specifically, NEXT DELIVERY and KDDI SmartDrone collaborated to study the societal implementation of SkyHub®*1, a new Smart Logistics*2 that combines drone delivery and land transportation, which Seino HD and Aeronext are developing and promoting.
Demonstration Experiment Overview
Background and Purpose
Although Sanagochison is located adjacent to Tokushima City, it is blessed with a natural environment, and this natural setting has created a beautiful landscape. Residents have a high interest in nature, and many of them have mentioned "abundance of nature" as an important factor for the future of the village and for the appeal of the village. Based on this opinion, the Sanagochison Comprehensive Plan formulated in 2020 also lists efforts to reduce the burden on the environment in order to protect and preserve the natural environment as a major initiative and undertaking for creating a comfortable environment in which to live.
In addition, Sanagochison is located in the mid-mountainous region of Tokushima Prefecture, and driving a car is essential for living in the area. Meanwhile, Sanagochison had a population of 2,171 and 942 households as of the end of January 2023, with an aging population of 47.6%, and the number of elderly people who have relinquished their driver's licenses is on the increase. Among the elderly who have driver's licenses, some of them drive only within the village due to their anxiety about driving. In the future, it is expected that the number of shopping refugees will increase, and logistics problems for depopulated areas will arise due to the shortage of carriers, making it difficult to ensure livability and convenience. In this context, Sanagochison is seeking new initiatives to promote a smart city, build a decarbonized society, and address regional issues, factors which led to this demonstration experiment. In the future, we will continue to identify issues that were clarified in the demonstration experiment and incorporate other services such as pharmaceutical delivery, food delivery service, joint delivery, and freight consolidation with the aim of revitalizing local communities.
Details
In this demonstration experiment, a temporary Drone Depot®*3 and Drone Stand®*4 will be set up to improve residents' understanding and identify local issues in the following three areas: (1) lunch box delivery service in the area of social welfare, (2) light crop transportation in the area of agriculture, and (3) shopping service.
This drone delivery demonstration uses AirTruck*5, a dedicated logistics drone developed by Aeronext. The aircraft is controlled by SmartDrone Tools*7, Flight Opereation System which enables remote control and autonomous flight of the aircraft using mobile communications developed by KDDI SmartDrone.
On Friday, March 24, a one-way flight distance of 1.6 km flight for approx.4min. from Saga Senior Citizen's Rest Home to Sanagochison Office for light food transportation, a 1.8 km flight for approx.. 4min. from Sanagochison Office to Sanagochison Insurance Center for meal delivery service, and a 4.1 km flight for approx.. 9min. from Sanagochison Office to Sakura Assembly Hall for shopping service were shown to the press.
Ms. Chie Tojo, who received a box lunch that was supposed to be a meal delivery service, commented, "I was surprised because it was so fast. This kind of service is necessary in rural areas. I highly hope that it will be put to practical use in the future."
We will continue to study the societal implementation of SkyHub®, a new smart logistics system that combines drone delivery and land delivery, utilizing drones and other next-generation advanced technologies to promote understanding among local residents and address regional issues.
※This demonstration experiment has been adopted by the Organization for Environment and Development as a project eligible for a FY2022 subsidy for carbon dioxide emission control measures (a project to promote the introduction of advanced technologies that simultaneously realize social reform and decarbonization of logistics).
(Reference)
*1 New Smart Logistics
A public-private initiative to find solutions to the issues commonly faced by the logistics industry, such as labor shortages, environmental and energy issues, and DX areas, while utilizing digital and technology to ensure the future sustainability of logistics, which is an indispensable infrastructure for people's daily lives. The project aims to realize the last mile joint delivery, the best mix of land and air transportation, freight and passenger consolidation, automated technology, etc., through co-creation based on an open public platform (O.P.P.) that transcends the boundaries between the industry and the outside world.
*2 New Smart Logistics SkyHub®
A new smart logistics system jointly developed and deployed by Aeronext and Seino HD that connects existing logistics with drone logistics and connects ground and air infrastructure to deliver goods anytime, anywhere.
Based on the SkyHub® system, the joint delivery service provides services such as joint delivery of packages from different logistics companies, shopping, delivery, food, medicine, etc. to Drone Stands® or private homes, based on the Drone Depot®.
The introduction of SkyHub® not only has the logistics benefits of promoting unmanned and inventory-free operations and improving last mile delivery efficiency, it also introduces a new logistics infrastructure, and from the aspect of logistics reform, it can be used to solve social issues in the region, such as labor shortages due to population decline and aging populations, transportation issues in specific depopulated areas, medical issues, disaster countermeasures, and measures for the vulnerable in logistics. In addition, it will contribute to addressing regional issues such as population decline, labor shortage due to aging and declining population, transportation problems in certain depopulated areas, medical problems, disaster measures, and measures for those who are vulnerable in logistics, as well as raising the level of satisfaction of residents and communities by improving convenience and quality of life for them.
*3 Drone Depot®
Warehouses and bases for the accumulation and delivery of goods at the connection points between existing land-based logistics and drone logistics, with a setup that enables drone delivery of goods.
*4 Drone Stand®
Facilities or locations for drone takeoffs and landings located at the origin and terminus of drone logistics.
*5 Dedicated Logistics Drone AirTruck
AirTruck, the first mass-produced logistics drone developed in Japan by Aeronext Corporation, a next-generation drone technology startup, in collaboration with ACSL, achieves stable flight with Aeronext's proprietary 4D GRAVITY®*6 airframe structure design technology. The AirTruck is a dedicated logistics drone that goes "faster, farther, and is more stable" with enhanced for logistics, specialized for forward motion, and aerodynamic characteristics required for long-distance flight. The prototype has flown in demonstration tests in various regions of Japan and has the No. 1 flight record in Japan.
*6 Airframe structural design technology 4D GRAVITY®
Airframe structure design technology developed by Aeronext optimizes aerodynamic characteristics by equalizing motor speed regardless of attitude, condition, or movement during flight and controlling lift, drag, and fuselage center of gravity based on fuselage shape and structure to improve the basic performance of industrial drones, such as stability, efficiency, and mobility, and the transportation performance of drones dedicated to logistics. Aeronext has patented this technology and manages it as part of the 4D GRAVITY® patent portfolio. 4D GRAVITY® improves basic performance and opens up new markets and applications for industrial drones.
*7 SmartDrone Tools
KDDI SmartDrone Inc. provided service that combines the 4G LTE Package, a set of basic tools necessary for remote autonomous drone flight, with options that suit the user's usage scenario. The 4G LTE Package offers a combination of three tools: an "operation management system" that enables remote control of drones and real-time sharing of images from anywhere in Japan, a cloud for managing filmed data, and mobile communications for unlimited data usage.
【About Sanagochison】
Sanagochison is the only village in Tokushima Prefecture, and even though it is located about 20 minutes from the prefectural capital, it retains beautiful natural scenery and has many outstanding landscapes, including stone piles. In the village, there are many mutual aid organizations called "kochu," which have been handed down from generation to generation, and resident self-governing organizations called "jokai" and "meichu." These are the cornerstones of self-government in Sanagochison and are still carried on as unique community organizations that link hearts and bond the local community. On the other hand, with the declining birthrate and aging population nationwide, it is becoming increasingly difficult to maintain community, self-governing cultures such as jokai, and the beautiful landscapes. Therefore, Sanagochison has set up a comprehensive strategy for local development to convey the charms of the village to the next generation and to nurture the three "wa" (meaning "connection," "harmony," and "communication"), and has established the basic philosophy of "nurturing the 'wa' of the only village in the prefecture for the next generation.
For more information: https://www.vill.sanagochi.lg.jp/
【About Seino Holdings Co., LTD.】
Seino Holdings strives to be a value-creating comprehensive logistics trading company and aims to "provide value that transcends time and space" to its customers. Seino embraces an overall strategy of the group is to embody "Open Public Platform Construction (OPP)" that provides better and optimal services to customers through connections both inside and outside the industry in an open-neutral relationship in order to build a platform that is easy for customers and other companies in the same industry to use. In the last mile area, we are actively promoting and expanding the construction of a last mile O.P.P. that solves social issues such as measures for vulnerable shopping and measures for lower income families, while responding to changes in lifestyle and structure.
* For more information: https://www.seino.co.jp/seino/shd/overall-condition/
【About Aeronext Inc.】
Aeronext, an IP driven R & D technology startup for next-generation drones, is a company that designs the sky through technology to create a world where the sky becomes a social infrastructure, is economized, and solves social issues through drones. Our core technology is 4D GRAVITY®, a unique structural design technology that improves basic drone performance such as stability, efficiency, and mobility of industrial drones by optimizing the center of gravity of the aircraft. In order implement this 4D GRAVITY® as standard equipment on industrial drones, we have constructed a strong patent portfolio and are promoting a partnership-based platform business for the 4D GRAVITY® license globally.
AERONEXT has also founded a subsidiary to implement the SkyHub® smart logistics and pursue drone delivery.
*For more information: https://aeronext.co.jp/company/
【About NEXT DELIVERY】
A subsidiary of AERONEXT, a company mainly engaged in drone delivery, established in Kosuge Village, Yamanashi Prefecture in 2021 with the vision of "becoming a country where affluence is spread to every corner of the earth through 4D LogisticsTM infrastructure that connects air, land, and time in the age of 100 years of life. The company is also involved in the development, manufacture, sale, rental, and maintenance of hardware and software related to drone delivery. We are also developing peripheral businesses such as development, manufacturing, sales, rental, and maintenance of hardware and software related to drone delivery. Starting with Kosuge Village in Yamanashi Prefecture, we are working to improve the efficiency and revitalization of regional logistics in places such as Kamishihoro Town in Hokkaido and Tsuruga City in Fukui Prefecture.
*For more information: https://nextdelivery.aeronext.co.jp/
【About KDDI SmartDrone】
KDDI SmartDrone builds services that enable safe remote and long-distance flights by controlling drones using mobile communications such as 4G LTE. KDDI SmartDrone is working to create new businesses with drones and provide agile services that meet customer needs in various fields such as inspection, logistics, surveillance, agriculture, and surveying.
*For more information:https://kddi.smartdrone.co.jp/
*Aeronext and the Aeronext logo, as well as "4D GRAVITY®" "SkyHub®" "Drone Depot®" "Drone Stand®" are trademarks of Aeronext Inc.
*Other company names and product/service names mentioned in this press release are registered trademarks or trademarks of their respective owners.