Press Release
Aeronext and Seino HD Signed Business Alliance for Commercialization of Unmanned/ No-Inventory New Smart Logistics -Joint Development of Smart Supply Chain "SkyHubTM" Connecting and Integrating Existing Logistics with Drone Logistics-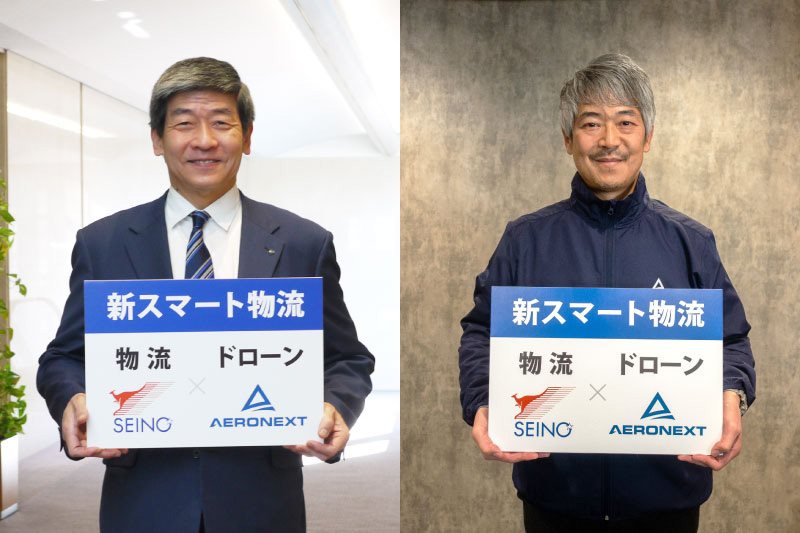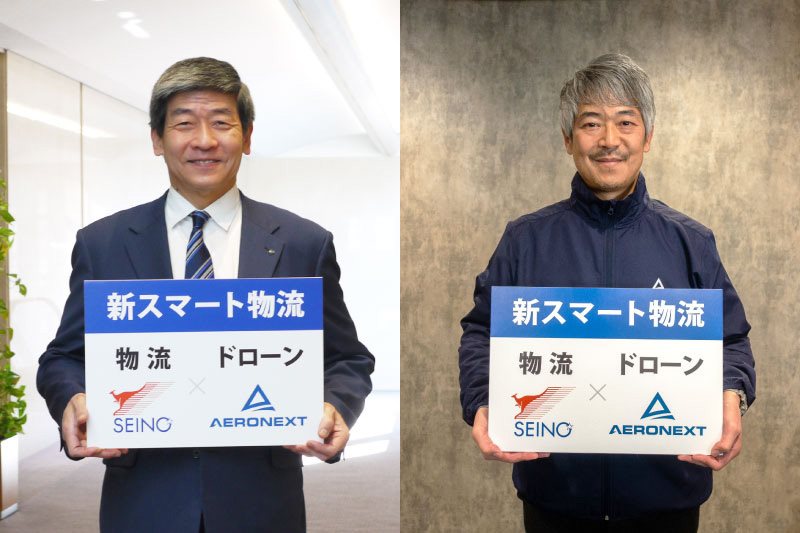 Seino Holdings Co., Ltd. (Headquarters / Ogaki City, Gifu Prefecture, President and Chief Operating Officer: Yoshitaka Taguchi, hereinafter Seino HD) and Aeronext Inc. (Headquarters / Shibuya-ku, Tokyo, CEO: Keisuke Toji, hereinafter Aeronext), a R & D technology startup for next-generation drones, have signed a business alliance agreement for new smart logistics business.
Seino HD, which advocates "Connecting our values-all for the prosperity of our customers" in the medium-term management policy for the fiscal year ending March 2020, contributes to the environment, industry, and life as a social infrastructure, and improves efficiency and quality. Focusing on the construction of an open public platform (OPP) that leads to improvement, Seino HD implement a smart supply chain by optimizing, automating, and eliminating the need for human operation in production, inventory, and delivery through DX (Digital Transformation) of logistics. As the Group's overall strategy, we are actively promoting the development of solutions that solve social issues, such as measures for the vulnerable in logistics and measures for lower income families, even in the "last one mile" sections.
Aeronext will enable drones to become indispensable for people's lives and to improve social issues, looking ahead to the future where the sky will become a significant economic zone and will be used as a social infrastructure, in the same was we use the surface. Recognizing this, we are working to build a social infrastructure in the sky that utilizes unique technology that can improve the reliability of the aircraft and ensure the safety and security that is indispensable for social implementation. Aeronext provides drone delivery services as well as aircraft, as in our newly established strategic subsidiary "NEXT DELIVERY Inc.".
The two companies, having admiration for the other's philosophy, will use both Seino HD's network and experience in Japan in both trunk lines and the last one mile, SEINO HD's deep knowledge and project leadership in universalization and optimization of logistics services from Logistics DX. In addition, Aeronext's unique technology and development ability and practical knowledge in building a comprehensive drone delivery service, including aircraft based on intellectual property, concluding business alliance agreements, both companies will cooperate with each other and will establish a new smart logistics service that connects and integrates existing logistics with drone logistics.
The joint development of the smart supply chain "SkyHubTM*1" will be part of this effort. Aeronext began a project in Kosuge Village, Yamanashi Prefecture, which signed a cooperation agreement for regional revitalization through drone logistics and social implementation of new smart logistics in November last year to demonstrate and implement this service model. In the future, Aeronext aims to quickly expand the service area and expand it nationwide.
 Purpose of the Alliance
By standardizing the connection between existing logistics and drone logistics, Seino HD and Aeronext will jointly build a service model for a new Open Public Platform (OPP) type smart logistics, resulting in contributing to solutions for population decline, traffic problems in specific depopulated areas, medical problems, and disaster countermeasures. We will contribute to such measures as vulnerable logistics and aim to revitalize the entire region by providing various solutions that promote the improvement of the quality of life in the community.
In this service model, people's lifestyles have changed due to the spread of the COVID-19, and the movement of people has been restricted, resulting in an increase in demand for speedy movement of goods, needs for non-face-to-face and non-contact methodology, in addition to EC. Against the background of the rapid progress of the above, we believe that this venture will be effective not only in rural areas, but also in urban areas.
Both companies are working toward "Sky Industrial Revolution Level 4 *2" in 2022 from the "Roadmap 2020 for the Sky Industrial Revolution", not only in remote islands and mountainous areas, but also in urban suburbs. We aim to expand to all parts of the country nationwide.
 Areas of Cooperation
Based on the outline of cooperation, both companies will form a project team to cooperate on the following:
(1) New Smart Logistics Systems(including "SkyHubTM") Development
(2) New Smart Logistics Systems Operation and Achievement in Kosuge Village
(3) Nationwide Implementation of New Smart Logistics Using the Kosuge Village as a Model Case.
*1 Smart Supply Chain "SkyHubTM"
A system and service model for joint delivery of packages transported by different logistics companies by drone, and other means, with a smart supply chain mechanism to realize new smart logistics.
*2 Aerial Industrial Revolution Level 4
The "Non-visual flight in manned areas without assistance" phase, planned for 2022, as per the public council's "Roadmap 2020 for the Industrial Revolution in the Sky"
【Seino Holdings Co., Ltd 】
Seino HD is the value-creating comprehensive logistics company. With our core behavior, "Opening up a beyond real future", we are aiming to improve the efficiency of Japan for the prosperity of our customers and realize providing value beyond time and space. By holding hands both inside and outside the industry in an open-neutral relationship, we are creating "Open Public Platform (OPP)" that provides better and optimal services to customers and easy for customers and other companies in the same industry to use. In the last one mile area, we are actively promoting and expanding the construction of OPP that solves social issues such as measures for food desert and measures for lower income families, while responding to changes in lifestyle and structure.
*For more information, please see https://www.seino.co.jp/seino/shd/overall-condition/
【Aeronext Inc.】
Aeronext, an IP driven R & D technology startup for next-generation drones, is a company that designs the sky through technology in order to create a world where the sky becomes a social infrastructure, is economized, and solves social issues through drones. The core technology is 4D GRAVITY®︎, a unique structural design technology that improves basic drone performance such as stability, efficiency, and mobility of industrial drones by optimizing the center of gravity of the aircraft. In order implement this 4D GRAVITY®︎ as standard equipment on industrial drones, we have constructed a strong patent portfolio and are promoting a partnership based platform business for the 4D GRAVITY®︎ license globally.
*For more information, please see https://Aeronext.co.com/company/
*Aeronext, the Aeronext Logo, 4D GRAVITY® are registered marks of Aeronext Inc.
*All other marks belong to their respective owners.
【News Release Inquiries】
Seino Holdings Co., Ltd. Open Innovation Planning Division Sugai, Higuchi Tel: 03-3851-2625
Aeronext Inc. Ito Tel: 03-6455-0626 Email: info@aeronext.com