Press Release
Societal Implementation of New Smart Logistics SkyHub® Using Drones Starts in Hidakagawa Town~Food delivery and shopping service for residents to be launched~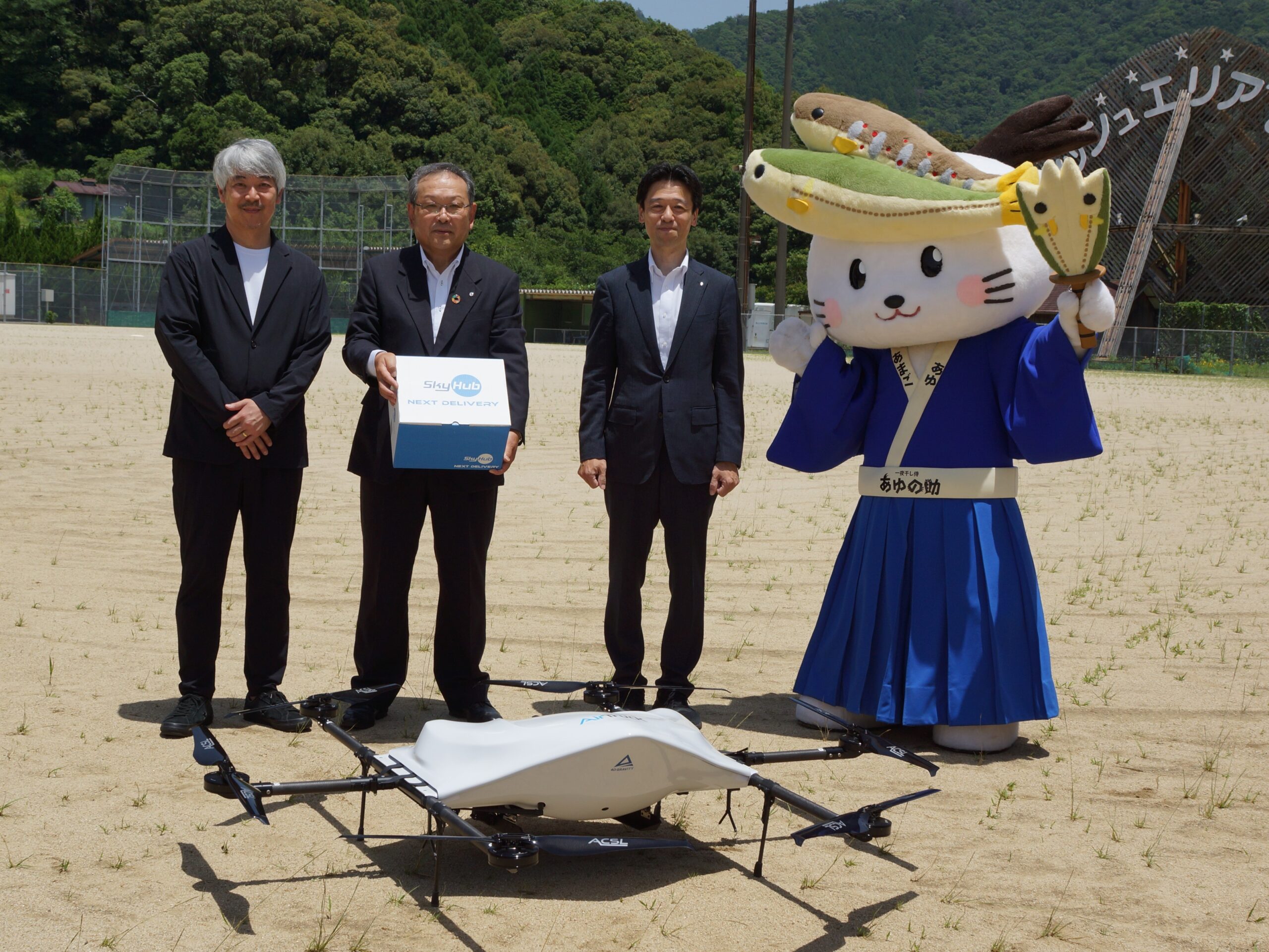 Hidakagawa Town, Wakayama Prefecture (Mayor: Hirofumi Kurume), Seino Holdings Co., Ltd. (Ogaki City, Gifu Prefecture; President: Yoshitaka Taguchi; hereinafter "Seino HD"), Aeronext Inc. (Shibuya-ku, Tokyo; CEO: Keisuke Toji; hereinafter "Aeronext"), and NEXT DELIVERY Inc. (Kosuge Village, Yamanashi Prefecture, Representative Director: Keisuke Toji, hereinafter referred to as NEXT DELIVERY) held a departure ceremony on Thursday, July 6, 2023, to mark the start of its new smart logistics SkyHub®*1 services in the Miyama and Nakatsu areas. The two new services, SkyHub® Delivery and SkyHub® Eats, will start on July 6, 2023 (Thursday), where service areas will be launched and expanded according to residents' needs. The Drone Depot®*2, which will serve as a delivery base and temporary warehouse for the new SkyHub® smart logistics system and will be located in Kawarago, Hidakagawa Town, aims to start joint delivery services in cooperation with various shipping companies by the end of this fiscal year.
The new smart logistics SkyHub® is designed to help address regional issues by building a new logistics infrastructure that integrates drone delivery and land transportation. Seino HD and Aeronext are implementing SkyHub® nationwide, and Hidakagawa Town is the sixth municipality in Japan to begin the implementation phase, following Kosuge Village in Yamanashi Prefecture, Kamishihoro Town in Hokkaido, Tsuruga City in Fukui Prefecture, Town of Sakai in Ibaraki Prefecture, and Katsuura City in Chiba Prefecture.
The delivery methods for the service will be light vans and drones, with drone delivery primarily utilizing AirTruck*3, a dedicated logistics drone developed by Aeronext Inc. in collaboration with ACSL.
This project has been selected as a "New Smart Logistics Implementation Project Using Drones" under the FY2023 Digital Rural City National Concept Promotion Grant (Digital Implementation Type 1).
From July 6, the two services will be launched, continuing to expand the coverage area while, at the same time, enhancing and deepening the product lineup to meet the needs of residents.
Services
1.SkyHub® Delivery: Shopping service in collaboration with local stores
This is a shopping and delivery service in which products from local stores and supermarkets purchased with the SkyHub® application are delivered to individual homes at the desired date and time. This service will contribute to DX initiatives of local stores and serve as an online supermarket.
In the Miyama area, customers can choose from approximately 50 grocery items and daily necessities from local supermarkets in the neighborhood and select their desired time. The fee is 300 yen (tax included) for delivery plus a service charge (10% of the total product price). For the time being, orders placed by 11:00 a.m. will be delivered on the same day.

2.SkyHub®Eats: Food Delivery Service
Food from partner restaurants in the Miyama and Nakatsu areas will be delivered by drone or car. The fee is expected to be 300 yen (tax included) for delivery plus a service charge (10% of total product price).

Drone Delivery
AirTruck, a dedicated logistics drone with a payload of 5 kg and a maximum flight distance of 20 km, developed from scratch by Aeronext specifically for logistics applications, will be used for drone delivery.
In an open house to the press on Thursday, July 6, Air Trucks delivered dried ayu (a specialty of Hidakagawa Town), vegetables, and binchotan (charcoal) in a 15-minute, 7-km one-way trip from the Miyama Branch Office to the Youth Plaza, assuming that local residents would use the trucks for their daily shopping.
Mayor Kurume, who received the dried ayu, a specialty of Hidakagawa Town, delivered by drone and immediately tasted it, said, "It is very tasty. We would like to work together with the residents to create a service that they can use in the future. With the declining birthrate and aging population, we would like to create a well-balanced town where people can receive the same services no matter where they live in the town," he commented.By the end of the year, we expect to have operated drone services for more than 70 days and make Level 3 flight drone deliveries (out-of-sight flights in unmanned zones).
The parties will continue to cooperate and collaborate to contribute to the revitalization of the community in Hidakagawa Town by ensuring sustainable local logistics and promoting the development of new societal infrastructure through the use of next-generation advanced technologies, including drones, in line with municipal priorities and the needs of citizens.
(Reference)
*1 SkyHub®︎
A new smart logistics platform jointly developed and deployed by Aeronext and Seino HD that connects existing logistics and drone logistics, and connects ground and air infrastructure so that goods can be delivered anytime, anywhere. SkyHub® is an open and standardized system that incorporates drone delivery. On this platform, based on the Drone Depot®︎, we develop and provide services tailored to local issues and needs, such as delivery agency services based on the SkyHub® application, on-demand delivery, pharmaceutical delivery, and joint delivery of packages from different logistics companies in one package. The introduction of SkyHub® not only has the logistics benefits of promoting unmanned and inventory-free operations and improving last mile delivery efficiency, but also contributes to addressing social issues in the region, such as the shortage of workers due to the declining population and aging population, transportation problems in specific depopulated areas, medical problems, disaster countermeasures, and measures for the vulnerable in logistics, from the aspect of logistics reform, and will also raise the level of satisfaction of residents and communities by improving convenience and quality of life.
*2 Drone Depot®
Warehouses and bases for the accumulation and delivery of goods at the connection points between existing land-based logistics and drone logistics, with a setup that enables drone delivery of goods.
*3 Dedicated Logistics Drone AirTruck
AirTruck, the first mass-produced logistics drone developed in Japan by Aeronext Corporation, a next-generation drone technology startup, in collaboration with ACSL, achieves stable flight with Aeronext's proprietary 4D GRAVITY®*4 airframe structure design technology. The AirTruck is a dedicated logistics drone that goes "faster, farther, and is more stable" with enhanced for logistics, specialized for forward motion, and aerodynamic characteristics required for long-distance flight. The prototype has flown in demonstration tests in various regions of Japan and has the No. 1 flight record in Japan.
*4 Airframe structural design technology 4D GRAVITY®
Airframe structure design technology developed by Aeronext optimizes aerodynamic characteristics by equalizing motor speed regardless of attitude, condition, or movement during flight and controlling lift, drag, and fuselage center of gravity based on fuselage shape and structure to improve the basic performance of industrial drones, such as stability, efficiency, and mobility, and the transportation performance of drones dedicated to logistics. Aeronext has patented this technology and manages it as part of the 4D GRAVITY® patent portfolio. 4D GRAVITY® improves basic performance and opens up new markets and applications for industrial drones.
【About Hidakagawa Town, Wakayama Prefecture】
Hidakagawa Town is located almost in the center of Wakayama Prefecture, and has the Hidakagawa River, the longest second class river in Japan, meandering east to west through the center of the town. The town is also rich in nature, with about 90% of its total area covered by forests. Blessed with a mild climate, abundant water, and vast forest resources, the town has long been active in agriculture and forestry, growing citrus fruits such as Onshu-mikan and Shiranui, and vegetables such as ususui peas and mini-tomatoes. Kishu-binchotan, which excels in flame output and burning time, and whose charcoal-making technique has been designated an Intangible Folk Cultural Asset of Wakayama Prefecture, boasts the highest production volume in Japan.
For more information: https://www.town.hidakagawa.lg.jp/
【About Seino Holdings Co., LTD.】
Seino Holdings strives to be a value-creating comprehensive logistics trading company and aims to "provide value that transcends time and space" to its customers. Seino embraces an overall strategy of the group is to embody "Open Public Platform Construction (OPP)" that provides better and optimal services to customers through connections both inside and outside the industry in an open-neutral relationship in order to build a platform that is easy for customers and other companies in the same industry to use. In the last mile area, we are actively promoting and expanding the construction of a last mile O.P.P. that solves social issues such as measures for vulnerable shopping and measures for lower income families, while responding to changes in lifestyle and structure.
* For more information: https://www.seino.co.jp/seino/shd/overall-condition/
【About Aeronext Inc.】
Aeronext, an IP driven R & D technology startup for next-generation drones, is a company that designs the sky through technology to create a world where the sky becomes a social infrastructure, is economized, and solves social issues through drones. Our core technology is 4D GRAVITY®, a unique structural design technology that improves basic drone performance such as stability, efficiency, and mobility of industrial drones by optimizing the center of gravity of the aircraft. In order implement this 4D GRAVITY® as standard equipment on industrial drones, we have constructed a strong patent portfolio and are promoting a partnership-based platform business for the 4D GRAVITY® license globally.
AERONEXT has also founded a subsidiary to implement the SkyHub® smart logistics and pursue drone delivery.
*For more information: https://aeronext.com/company/
【About NEXT DELIVERY】
A subsidiary of AERONEXT, a company mainly engaged in drone delivery, established in Kosuge Village, Yamanashi Prefecture in 2021 with the vision of "becoming a country where affluence is spread to every corner of the earth through 4D LogisticsTM infrastructure that connects air, land, and time in the age of 100 years of life. The company is also involved in the development, manufacture, sale, rental, and maintenance of hardware and software related to drone delivery, an related peripheral businesses. Starting with Kosuge Village in Yamanashi Prefecture, we are working to improve the efficiency and revitalization of regional logistics in places such as Kamishihoro Town in Hokkaido and Tsuruga City in Fukui Prefecture.
*For more information: https://nextdelivery.aeronext.co.jp/
*AERONEXT and the AERONEXT logo, as well as "4D GRAVITY®" "SkyHub®" "Drone Depot®" "Drone Stand®" are trademarks of Aeronext Inc.
*Other company names and product/service names mentioned in this press release are registered trademarks or trademarks of their respective owners.