Press Release
Social Implementation of New Smart Logistics SkyHub® Using Drones Starts in Katsuura City, Chiba Prefecture ~Themes include creating a lively shopping district, improving and optimizing logistics efficiency in the region, and becoming carbon neutral in the region~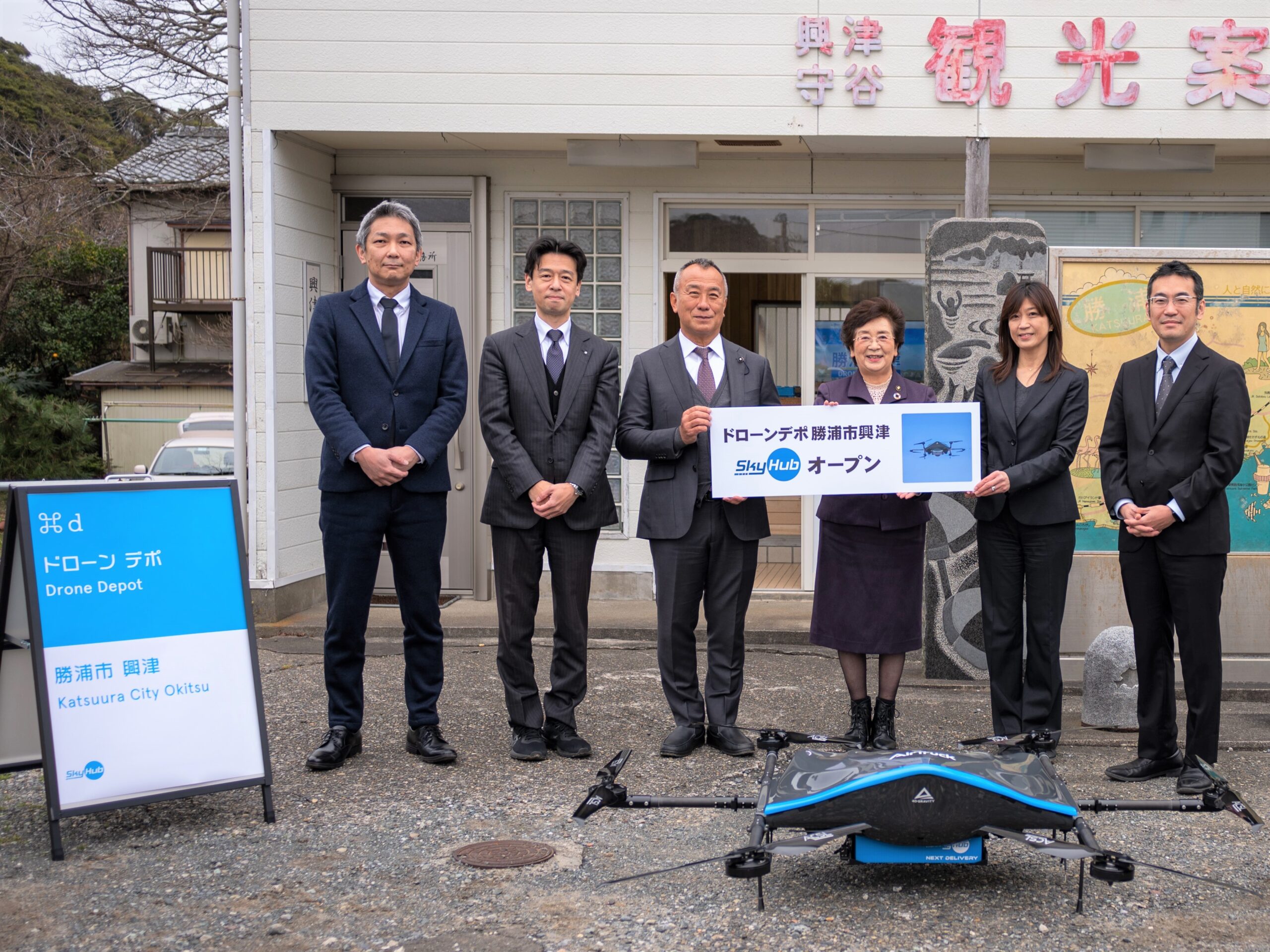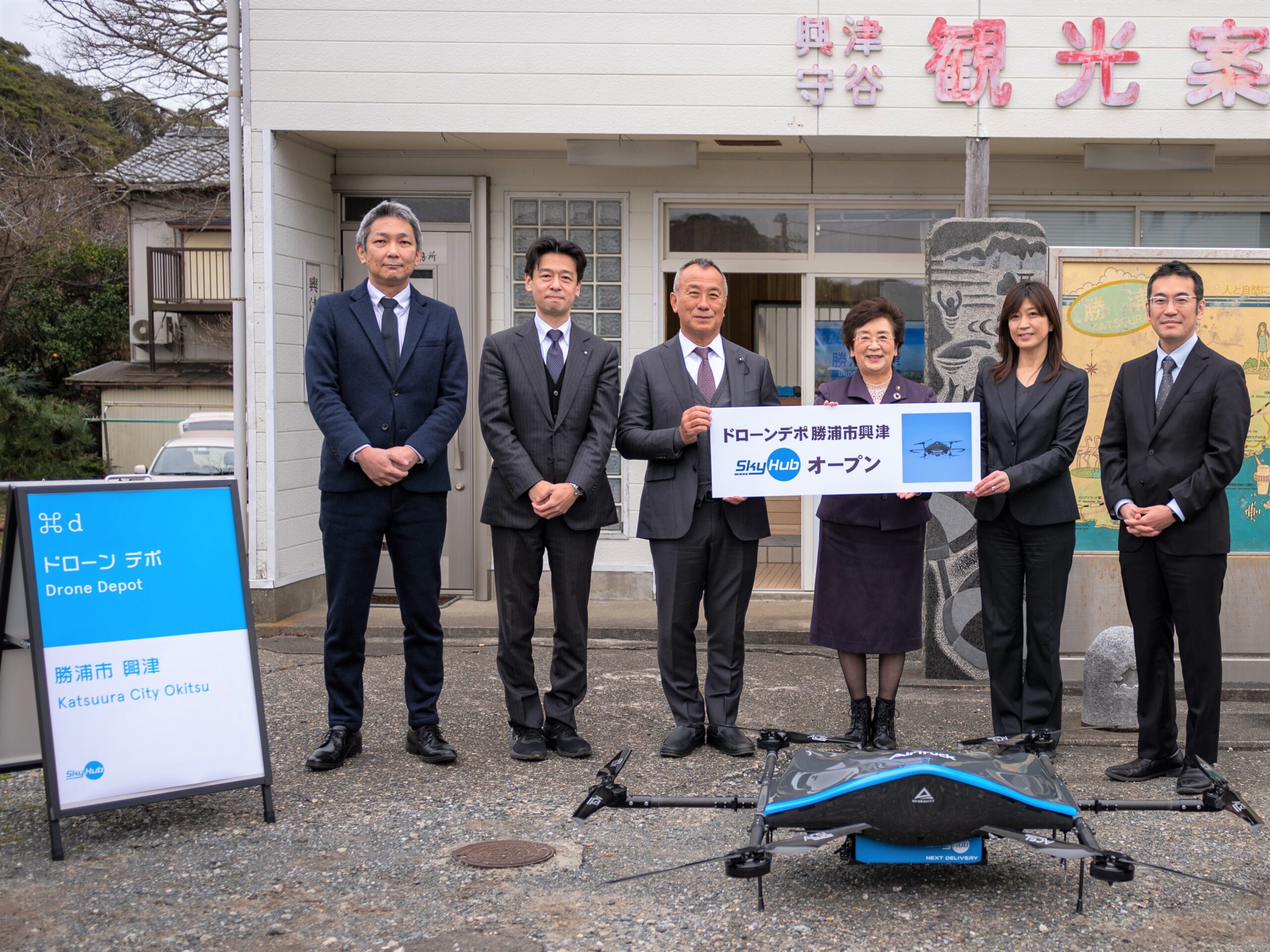 Katsuura City Shopping Street Revitalization Promotion Council (Chairman: Shinta Odaka), Katsuura City, Chiba Prefecture (Mayor: Yumiko Terukawa), NEXT DELIVERY Inc. (Kosuge Village, Yamanashi Prefecture, CEO: Keisuke Toji, hereafter "NEXT DELIVERY"), Aeronext Inc. (Shibuya-ku, Tokyo; CEO: Keisuke Toji; hereinafter "Aeronext"), SEINO HOLDINGS CO., LTD. (Ogaki City, Gifu Prefecture; Yoshitaka Taguchi, President & CEO; hereinafter "Seino HD"), KDDI SmartDrone Inc. (Minato-ku, Tokyo; Masafumi Hirono, President & CEO; hereinafter "KDDI SmartDrone"), Sumitomo Corporation (Chiyoda-ku, Tokyo; President & CEO: Hyodo), launched a new smart logistics SkyHub®*1 service on Wednesday, January 18, 2023 in Katsuura City, Chiba Prefecture, which will contribute to addressing regional issues.
Katsuura City has been pursuing the construction of a new delivery system since 2021, and after a demonstration test of a drone delivery service in February 2022, the city has begun the societal implementation of drone delivery service on January 18, 2023 (this project is scheduled to run for approximately two months from January 18 to March 20 in FY2010). The Drone Depot®, which will serve as a base for the development of on-demand delivery, shopping agency, and food delivery services in collaboration with local merchants, will be set up in front of Kazusa Okitsu Station to facilitate collaboration with the Okitsu shopping district and launch operations. On the day of the event, people involved in the project attended and observed the start.
Overview of Initiatives in Katsuura City
the "Creating a lively shopping center" project by building a new delivery service. Through the implementation of this project in collaboration with the above companies, Seino HD and Aeronext will introduce and improve SkyHub®, a new smart logistics system that integrates drone delivery and land transportation, and promote the development of service models that include other uses for drones, thereby contributing to solving local logistics issues and revitalizing Katsuura City.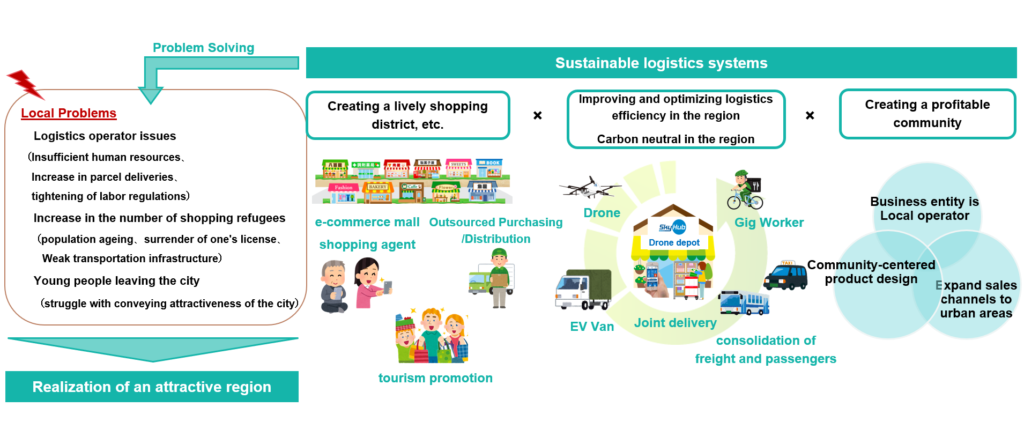 In Katsuura City, while developing services such as on-demand delivery, shopping service, and food delivery in cooperation with local stores, we will consider expanding to services, such as same-day delivery, online medical care/medicine delivery, meal delivery for the elderly/monitoring, lifesaving, and disaster prevention, and build businesses based on the following three themes:
Creation of a thriving commercial district
The project will take care of logistics operations such as purchasing, delivery, and delivery services for shopping malls, etc., and will make it easier for users to order products from shopping malls, etc., by building an EC site, thereby contributing to an increase in sales volume and expansion of the business area of each store. Furthermore, by promoting demand from outside the region, the project aims to create a livelier shopping area.
Improving and optimizing logistics efficiency in the region
In order to overcome future barriers such as shortage of logistics personnel, increase of parcel deliveries, and tightening of labor regulations, we aim to improve and optimize the efficiency of last mile delivery in the region by connecting air logistics to existing logistics, primarily land-based delivery. Specifically, we will implement drone delivery to less efficient delivery areas, joint delivery of packages from multiple local stores and logistics providers, and delivery system-related technologies using quantum technology.

Promoting carbon neutrality
By utilizing electric drones and EV vans, we aim to become carbon neutral. Furthermore, we will consider contributing to the reduction of CO2 emissions through freight and passenger consolidation, which combines the movement of people and goods within the region. The EV vans arranged by SMAS are equipped with "SMAS-Smart Connect" and will be used to automatically create operation records and utilize travel data.

In the future, we aim to evolve the service in a way that meets the issues and needs of Katsuura City, as well as build and socially implement the business in a wider area, including neighboring cities, and expand the business to areas facing similar logistics and regional issues.
Drone Delivery in Katsuura City
AirTruck*3, a dedicated logistics drone with a payload of 5 kg and a maximum flight distance of 20 km, developed from scratch by Aeronext specifically for logistics applications, will be used for drone delivery. And the AirTruck Starter Pack*5, a drone delivery package that combines "SmartDrone Tools "*4 provided by KDDI SmartDrone, which announced a business partnership with Aeronext in September of this year, will be used. Initially starting in the Okitsu/Ueno area, we will gradually expand to the entire Katsuura City area. In order to provide safe, reliable, and convenient service, we will also take on the challenge of advanced operations such as multi-aircraft operations, night flights, and Level 4 flights.
To achieve advanced operations, the reliability of the edge module and the stability of communications are essential, and we will employ KDDI Smart Drone's communications technology and operation management system, which will be the base of the AirTruck Starter Pack, in partnership with the KDDI Smart Drone.
In the future, each party will continue to mutually cooperate and collaborate with each other to contribute to regional employment, human resource education, human resource development, and industrial infrastructure development through the use of next-generation advanced technologies, including drones, in line with city issues and citizen needs, to ensure sustainable regional transportation and logistics and to create a livable environment, to contribute to regional disaster prevention and regional decarbonization, and to promote new social infrastructures. We will contribute to the revitalization of the local community in Katsuura City by advancing the development of new social infrastructure.
(Reference)
*1 SkyHub®︎
A new smart logistics system jointly developed and deployed by Aeronext and Seino HD that connects existing logistics with drone logistics and connects ground and air infrastructure to deliver goods anytime, anywhere.
An open platform and standardized mechanism that incorporates drone delivery. Based on Drone Depot®︎*2, it provides services such as delivery services based on the SkyHub® application, on-demand delivery, pharmaceutical delivery, and joint delivery of packages from different logistics companies in one batch.
The introduction of SkyHub® not only has the logistics benefits of promoting unmanned and inventory-free operations and improving last mile delivery efficiency, but also contributes to addressing social issues in the region, such as the shortage of workers due to the declining population and aging population, transportation problems in specific depopulated areas, medical problems, disaster countermeasures, and measures for the vulnerable in logistics, from the aspect of logistics reform and will also enhance the level of satisfaction of residents and communities by improving convenience and quality of life for residents, which will be meaningful in promoting regional revitalization.
*2 Drone Depot®
Warehouses and bases for the consolidation and delivery of goods at the connection points between existing land-based logistics and drone logistics, with a framework that enables drone delivery of goods.
*3 Dedicated Logistics Drone AirTruck
AirTruck, the first mass-produced logistics drone developed in Japan by Aeronext Corporation, a next-generation drone technology startup, in collaboration with ACSL, achieves stable flight with Aeronext's proprietary 4D GRAVITY®*3 airframe structure design technology. The AirTruck is a dedicated logistics drone that goes "faster, farther, and is more stable" with enhanced for logistics, specialized for forward motion, and aerodynamic characteristics required for long-distance flight. The prototype has flown in demonstration tests in various regions of Japan and has the No. 1 flight record in Japan.
*4 KDDI Smart Drone's "Smart Drone Tools"
This service combines the "4G LTE Package," which includes the basic tools necessary for remote autonomous drone flight, with options that suit the user's specific situation. The "4G LTE Package" provides a combination of three tools: an "operation management system" that enables remote control of drones and real-time sharing of images from anywhere in Japan, a "cloud" for managing filmed data, and "mobile communications" for unlimited data usage.
*5 Drone Delivery Package "AirTruck Starter Pack"
The AirTruck is a Japanese original logistics drone and the Smart Drone Tools, a mobile communication and operation management system developed by KDDI Smart Drone that enables remote control and long-distance flight of the drone, are the components of this highly economical and safe package for drone-based delivery. The package combines high economic efficiency and safety for drone-based delivery.
*6 Airframe structural design technology 4D GRAVITY®
Airframe structure design technology developed by Aeronext optimizes aerodynamic characteristics by equalizing motor speed regardless of attitude, condition, or movement during flight and controlling lift, drag, and fuselage center of gravity based on fuselage shape and structure to improve the basic performance of industrial drones, such as stability, efficiency, and mobility, and the transportation performance of drones dedicated to logistics. Aeronext has patented this technology and manages it as part of the 4D GRAVITY® patent portfolio. 4D GRAVITY® improves basic performance and opens up new markets and applications for industrial drones.
【About Katsuura City, Chiba Prefecture】
Katsuura City has a population of 16,126 (as of the end of November 2022) and an area of 93.96 km2. It is located in the southeastern part of Chiba Prefecture, and its marine park and coastal area are designated as Minami Boso National Park. It is also known as a tourist city and resort area, with many festivals and events such as the Katsuura Morning Market, which has a 430-year tradition dating back to the Tensho Period, and the Tsurura Big Hinamatsuri Doll Festival.
*For more information https://www.city.katsuura.lg.jp/
【About NEXT DELIVERY】
A subsidiary of Aeronext, NEXT DELIVERY is focused on drone delivery, and was established in Kosuge Village, Yamanashi Prefecture in 2021 with the vision of "becoming a country where affluence is spread to every corner of the earth through 4D LogisticsTM infrastructure that connects air, land, and time in the age of 100 years of life. NEXT DELIVERY is engaged in substantive planning and operation of SkyHub, a new smart logistics system that connects existing logistics and drone logistics, which has been jointly developed by Aeronext and Seino HD, and is promoting nationwide development of the system. NEXT DELIVERY is also developing peripheral businesses such as the development, manufacture, sale, rental, and maintenance of hardware and software related to drone delivery. Starting with Kosuge Village in Yamanashi Prefecture, the company is working to improve the efficiency and vitality of regional logistics in places such as Kamishihoro Town in Hokkaido and Tsuruga City in Fukui Prefecture.
*For more information https://nextdelivery.aeronext.co.jp/
【About Aeronext】
AERONEXT, an IP driven R & D technology startup for next-generation drones, is a company that designs the sky through technology to create a world where the sky becomes a social infrastructure, is economized, and solves social issues through drones. Our core technology is 4D GRAVITY®︎, a unique structural design technology that improves basic drone performance such as stability, efficiency, and mobility of industrial drones by optimizing the center of gravity of the aircraft. In order implement this 4D GRAVITY®︎ as standard equipment on industrial drones, we have constructed a strong patent portfolio and are promoting a partnership-based platform business for the 4D GRAVITY®︎ license globally.
AERONEXT has also founded a subsidiary to implement the SkyHub® smart logistics and pursue drone delivery.
*For more information https://aeronext.com/company/
【About KDDI Smart Drone】
KDDI Smart Drone builds services that enable safe remote and long-distance flights by controlling drones using mobile communications such as 4G LTE. KDDI Smart Drone is working to create new businesses with drones and provide agile services that meet customer needs in various fields such as inspection, logistics, surveillance, agriculture, and surveying.
*For more information https://kddi.smartdrone.co.jp/
Aeronext and the Aeronext logo, as well as "4D GRAVITY®" "SkyHub® " "Drone Depot ®" are trademarks of Aeronext Inc.
*Other company names and product/service names mentioned in this press release are registered trademarks or trademarks of their respective owners.