Press Release
Societal Implementation of New Smart Logistics SkyHub® Using Drones Begins in Komatsu City~Food delivery and shopping service for residents to be launched in phases~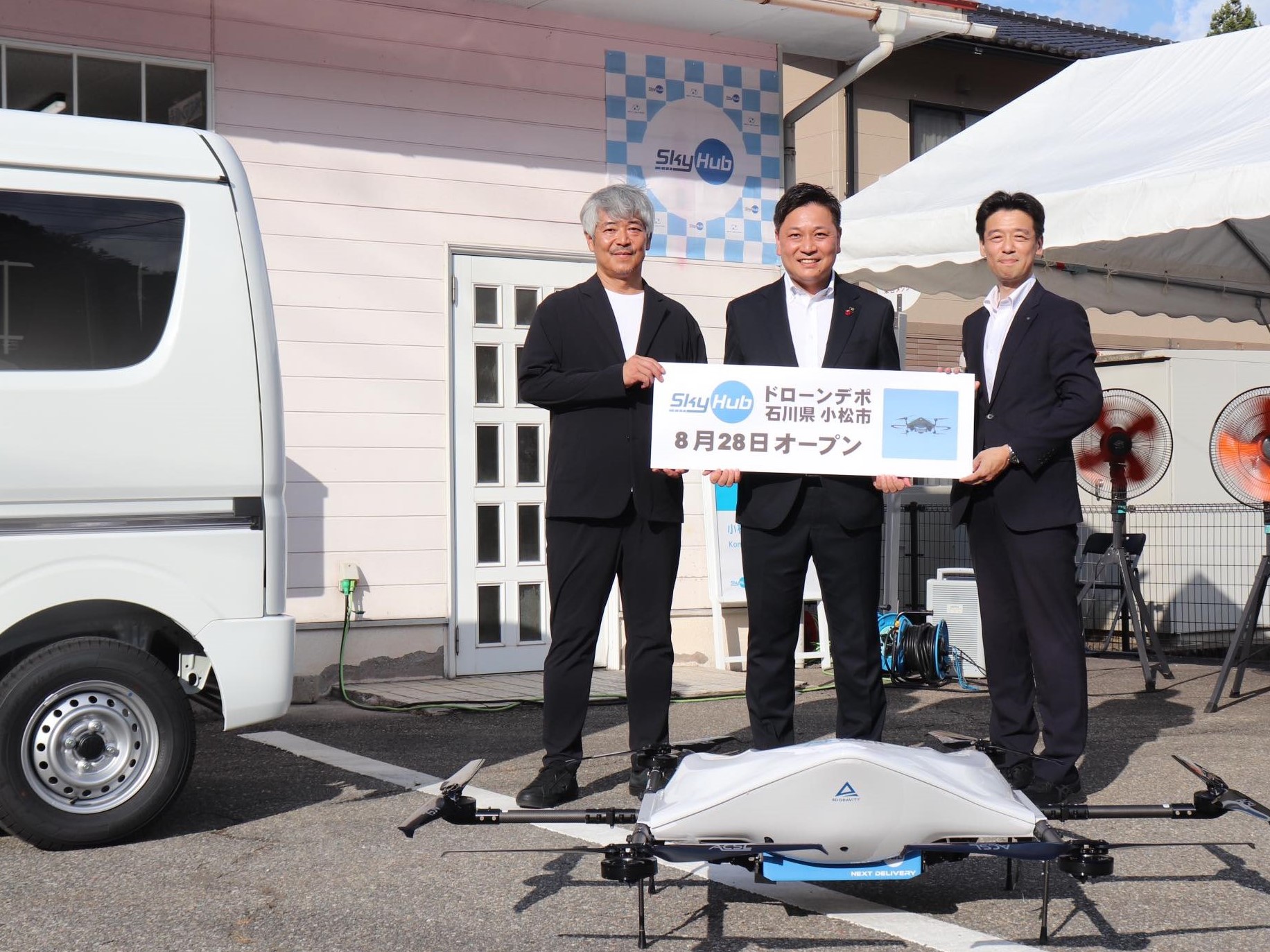 Komatsu City (Mayor: Shoei Miyahashi), Seino Holdings Co., Ltd. (Ogaki City, Gifu Prefecture, President: Yoshitaka Taguchi, hereinafter "Seino HD"), Aeronext Inc. (Head Office: Shibuya-ku, Tokyo, CEO: Keisuke Toji, hereinafter "Aeronext"), NEXT DELIVERY Inc. (Head office: Kosuge Village, Yamanashi Prefecture; Representative Director: Keisuke Toji; hereinafter "NEXT DELIVERY") held a ceremony on Monday, August 28, 2023, to open Drone Depot®*3 Komatsu for the new smart logistics*1 SkyHub®*2 service in the Shoto area, which aims to contribute to addressing regional issues. SkyHub® Delivery service will start on Monday, August 28, 2023, followed by SkyHub® Eats in September, with the service and coverage area to be expanded in phases, according to residents' needs. The Drone Depot®, which will serve as a delivery base and temporary storage warehouse for the new SkyHub® smart logistics service, will be located in "Honobono Shoto" in the Shoto district, and by the end of this fiscal year, the parties will begin considering joint delivery services in collaboration with various transportation companies.
Komatsu City, Seino HD, Aeronext and KDDI SmartDrone Inc. signed a "Collaboration Agreement for Regional Development through the Utilization of Next Generation Advanced Technology" on December 13, 2022. On December 27, 2022, based on the collaboration agreement, NEXT DELIVERY, which is primarily engaged in drone delivery services, conducted a demonstration experiment of drone delivery of daily necessities in the Shoto district of Komatsu City, with the aim of addressing regional issues faced by the city.
SkyHub® is a new logistics infrastructure that integrates drone delivery and land transportation to help address regional issues and is being advanced nationwide by Seino HD and Aeronext. Komatsu City is the seventh municipality in Japan to enter the societal implementation phase, following Kosuge Village in Yamanashi Prefecture, Kamishihoro Town in Hokkaido, Tsuruga City in Fukui Prefecture, Sakai Town in Ibaraki Prefecture, and Katsuura City in Chiba Prefecture.
This project has been selected as a "New Smart Logistics Implementation Project Using Drones" under the FY2023 Digital Rural City National Concept Promotion Grant (Digital Implementation Type 1).
The delivery means for the service will be light vans and drones, with drone delivery primarily utilizing AirTruck*4, a dedicated logistics drone developed by Aeronext Inc. in collaboration with ACSL.
After August 28, the two services outlined below will be launched sequentially, expanding the coverage area while enhancing and deepening the product lineup to meet the needs of residents.
Outline of Services
1. Shopping service in collaboration with local supermarkets,drugstores, etc.: SkyHub® Delivery


A shopping and delivery service in which products from local drugstores and other stores purchased through the SkyHub® dedicated website and flyers are delivered to individual homes at the desired date and time. This service is also an initiative to support the DX initiatives of local stores and is an online supermarket service.
In the Shoto district, customers can choose from approximately 120 food and daily necessities items from nearby drugstores and select the desired time to place their order. The fee is 300 yen (tax included) for delivery and a service charge (10% of the total product price). For the time being, orders placed by 12:00 a.m. will be delivered on the same day.


2. Food delivery service: SkyHub® Eats
Food from partner restaurants in the Shoto district will be delivered by drone or car delivery service. The fee is expected to be 300 yen (tax included) for delivery.
About the Drone Delivery
The drone delivery will use AirTruck, a logistics-specific drone with a maximum payload of 5 kg and a maximum flight distance of 20 km, which was developed from scratch by Aeronext specifically for logistics applications. On Monday, August 28, an Air Truck delivered snacks and other items by Air Truck from the parking lot of Hobono Shoto, where the drone depot is located, to Shoto Children's School in approximately 1.0 km one way in approximately 3 minutes, simulating daily shopping by local residents.
First, we are preparing for drone deliveries on multiple routes within the Shoto area, with the aim of operating drones for more than 70 days and flying at Level 3 (out-of-sight flights in unmanned zones) by the end of the fiscal year, with implementation scheduled to begin in the fall or later.
The parties will continue to mutually cooperate and collaborate with each other to promote sustainable local logistics and the development of new social infrastructure through the use of next-generation advanced technologies, including drones, in line with the town's issues and the needs of its residents, thereby contributing to the revitalization of the local community in Komatsu City.