Press Release
Two SkyHub® services that includes drone delivery to start from November 1st in Kosuge Village, Yamanashi Prefecture where Seino HD and Aeronext have been jointly developing and promoting SkyHub® ~Accelerating efforts to improve logistics efficiency in depopulated areas, including combined freight and passenger loading and joint delivery~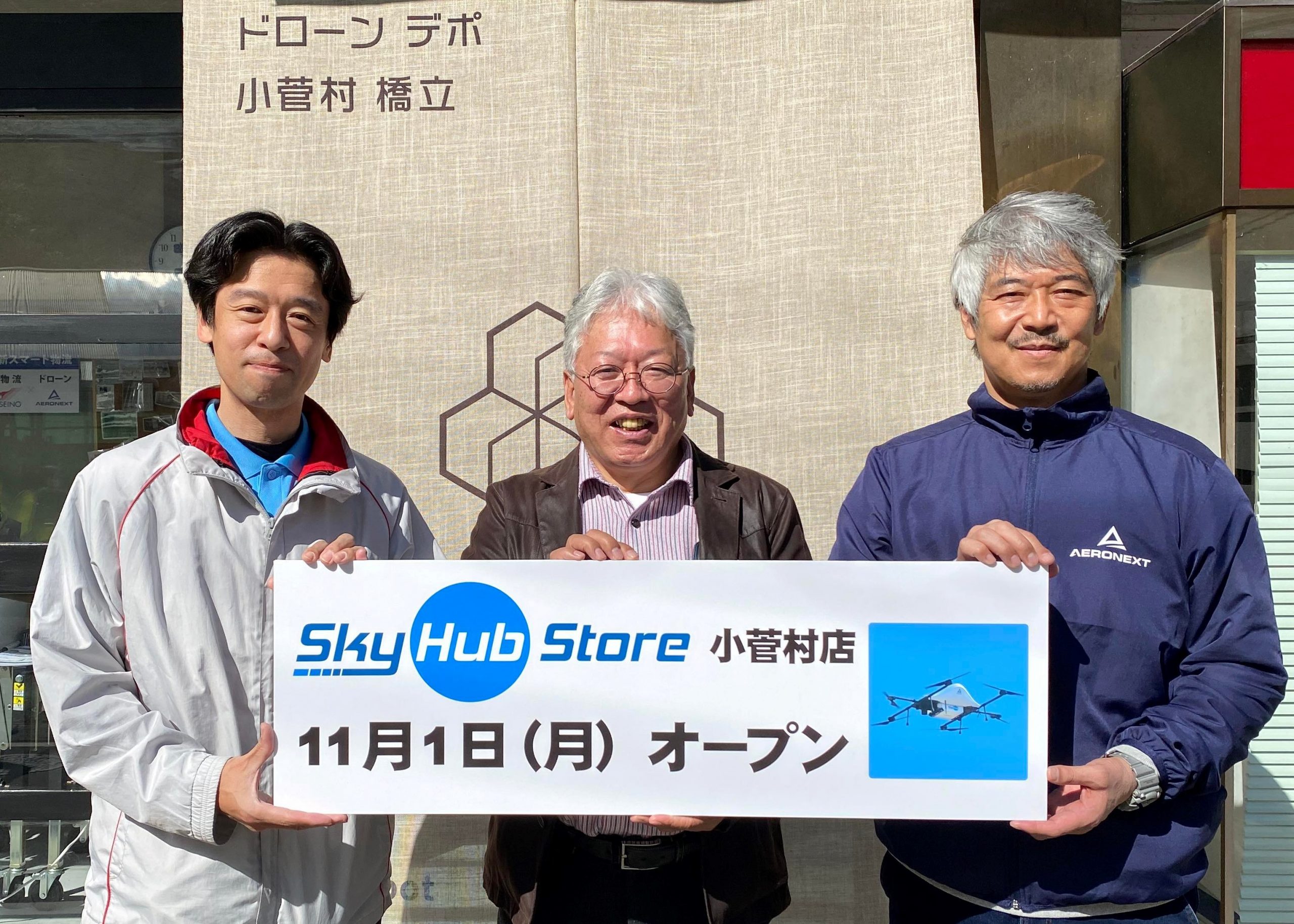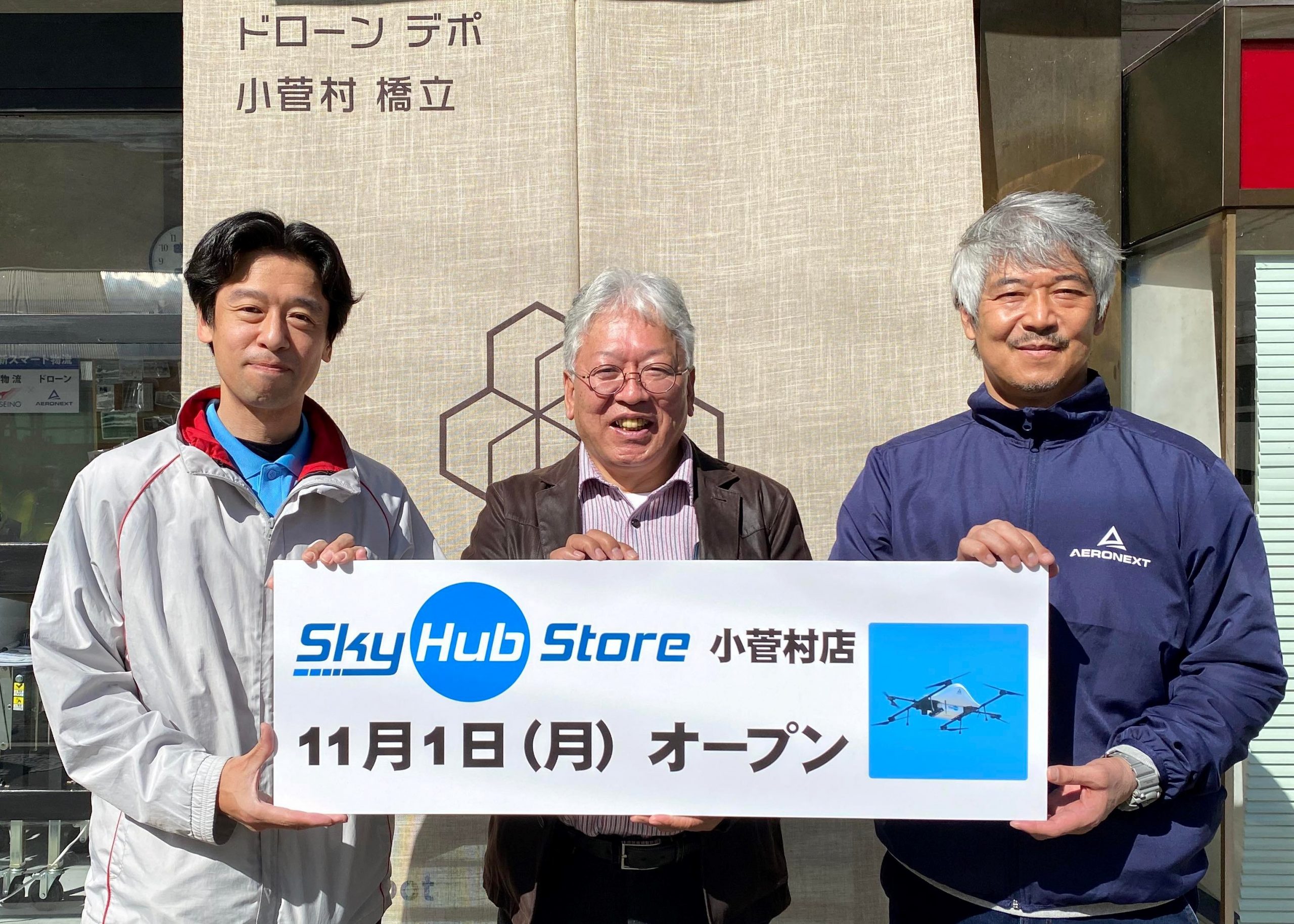 Seino Holdings Co., Ltd. (Headquarters: Ogaki City, Gifu Prefecture, President: Yoshitaka Taguchi, hereinafter Seino HD) and Aeronext Inc. (Headquarters: Shibuya-ku, Tokyo, CEO: Keisuke Toji, hereinafter Aeronext) announce from November 1st in Kosuge Village, Yamanashi Prefecture, the start of the societal implementation of new smart logistics SkyHub*1 that includes drone delivery for two services: a convenience store specializing in on-demand delivery service (SkyHub® Store), and, a shopping service/delivery service (SkyHub® Delivery) in collaboration with local shops.
Seino HD and Aeronext entered a business alliance in January of this year to commercialize a new smart logistics system that realizes no-inventory and unmanned operations. This alliance standardizes the connection between existing logistics and drone logistics, jointly building a new service model for Open Public Platform (OPP) smart logistics and contributes to improving social issues in the region such as population decline, transportation problems in specific depopulated areas, medical problems, disaster countermeasures, and countermeasures for areas vulnerable in terms of logistics. At the same time, this project works toward the aim of revitalizing the entire region by providing various solutions that improve the quality of the community.
Specifically, in November last year, Aeronext started a project in Kosuge, Yamanashi Prefecture, and in April signed a cooperation agreement for regional revitalization by introducing a drone delivery service and societal implementation of new smart logistics with drones. Aeronext started trial operation of delivery and shopping services, and, has repeatedly demonstrated this service model while serving residents.
Drone delivery started from the Drone Depot®*2 in the Hashidate area, initially with one route to the Drone Stand*3 in the Kawaike area, about 600 m away. That route has two flights a day, three days a week. Currently we have expanded that service to 5 routes in 4 out of 8 districts in the village, once of which is a rooftop of an inn, realizing a delivery area unprecedented in Japan. As of October 30, the drone delivery been carried out 190 times and the shopping agency service has achieved usage of 375 times. After a verification period of about half a year, from November 1st, the service will change from fee to one that has a usage charge.
The two services are detailed below:
◆On demand, delivery only Convenience Store(SkyHub® Store)
An on-demand delivery service that allows you to order groceries and daily necessities from the SkyHub® app up to 30 minutes before delivery. The system uses a Drone Depot®︎, a drone delivery base, that is a "dark store" and is an on-demand service that utilizes purchase forecasts based on customers' purchase records, such as groceries, daily necessities, seasonings, and medicine, and, delivers them by the most suitable means ranging from air to land depending on the situation.
In Kosuge Village, customers can select products from 300 different items of groceries and daily necessities, then they select the desired delivery time frame and the delivery destination Drone Stand®︎ from a 16-time slot delivery frame set at 30-minute intervals, and then place an order. The shipping fee is 300 yen. Deliveries are usually made by drone unless flight becomes difficult due to situations, including weather. If drone flight is not an option, then overland delivery by car is also used.
◆ Shopping/delivery service in collaboration with local stores(SkyHub® Delivery)
A shopping and delivery service that delivers products from local shops, supermarkets, and restaurants to your home on a desired date and time all through the SkyHub® app. This services also represents an initiative to support for local stores' DX conversions, as well as a "mall EC" online supermarket and food delivery service.
In Kosuge, you can choose from about 1,000 items, groceries, and daily necessities, from local supermarkets in the area, and select the desired time frame from the time frame at 2-hour intervals. The shipping fee is 300 yen. Currently, orders are delivered by noon the same day.
In Kosuge Village, as part of the implementation of the new smart logistics SkyHub®, with the cooperation of bus companies and logistics companies, various initiatives such as mixed cargo-passenger and joint delivery will be conducted on a trial basis.
In addition to the new smart logistics SkyHub® model fully launched in Kosuge, we will also look to speedily deploy this system to approx. 820 depopulated areas all over Japan. As a first step in this nationwide expansion, in August this year, a comprehensive cooperation agreement was signed with Kamishihoro Town, Hokkaido. This agreement was in anticipation of the implementation of SkyHub®, and we conducted multiple demonstration experiments including Japan's first drone home delivery in October. With a population of about 5,000, there are many stores in the area, coupled with many ranches, that have spacious house, ideal for drone takeoffs and landings. In November, activities are scheduled to start in Kamishihoro.
Seino HD and Aeronext will continue to cooperate with each other to implement the new smart logistics SkyHub®︎ as a new societal infrastructure in depopulated areas, thereby contributing to depopulated areas and revitalizing the areas.
Reference
*1 SkyHub®︎
A new smart logistics system that connects existing logistics and drone logistics jointly promoted by Aeronext and Seino Holdings Co., Ltd., and connects the ground and air infrastructure so that goods can be delivered anytime, anywhere. It features an open platform and standardized mechanism that incorporates drone delivery and realizes joint delivery. The introduction of SkyHub will contribute to solving social issues in the region, such as population decline, labor shortage due to declining birthrate and aging population, traffic problems in specific depopulated areas, medical problems, disaster countermeasures, and measures against vulnerable logistics from the aspect of logistics reform. It is possible to raise the satisfaction level of residents and communities by improving the convenience and quality of life of residents, which is also meaningful in promoting regional revitalization.
*2 Drone Deopot
A warehouse for drone delivery installed at the connection point between existing logistics and drone logistics, that has the capability for drone delivery of packages and serves as the base of the new smart logistics SkyHub®.
*3 Drone Stand
Drone take-off and landing site and/or equipment located at the start and end points of drone logistics routes.
【Seino HD】
Seino Holdings strives to be a value-creating comprehensive logistics trading company and aims to "provide value that transcends time and space" to its customers. Seino embraces an overall strategy of the group is to embody "Open Public Platform Construction (OPP)" that provides better and optimal services to customers through connections both inside and outside the industry in an open-neutral relationship in order to build a platform that is easy for customers and other companies in the same industry to use. In the last mile area, we are actively promoting and expanding the construction of a last mile O.P.P. that solves social issues such as measures for vulnerable shopping and measures for lower income families, while responding to changes in lifestyle and structure.
*About Seino Holding: https://www.seino.co.jp/seino/shd/overall-condition/
【Aeronext】
AERONEXT, an IP driven R & D technology startup for next-generation drones, is a company that designs the sky through technology to create a world where the sky becomes a social infrastructure, is economized, and solves social issues through drones. The core technology is 4D GRAVITY®︎, a unique structural design technology that improves basic drone performance such as stability, efficiency, and mobility of industrial drones by optimizing the center of gravity of the aircraft. In order implement this 4D GRAVITY®︎ as standard equipment on industrial drones, we have constructed a strong patent portfolio and are promoting a partnership-based platform business for the 4D GRAVITY®︎ license globally.
*For more information: https://aeronext.co.jp/company/
*Aeronext, the Aeronext Logo, 4D GRAVITY® and SkyHub® are registered marks of Aeronext Inc.
*All other marks belong to their respective owners.