Press Release
Start of Societal Implementation of New Smart Logistics SkyHub® Using Drones in Sanagawachison ~Shopping and food delivery services for residents begin in phases. Joint delivery is also envisioned.~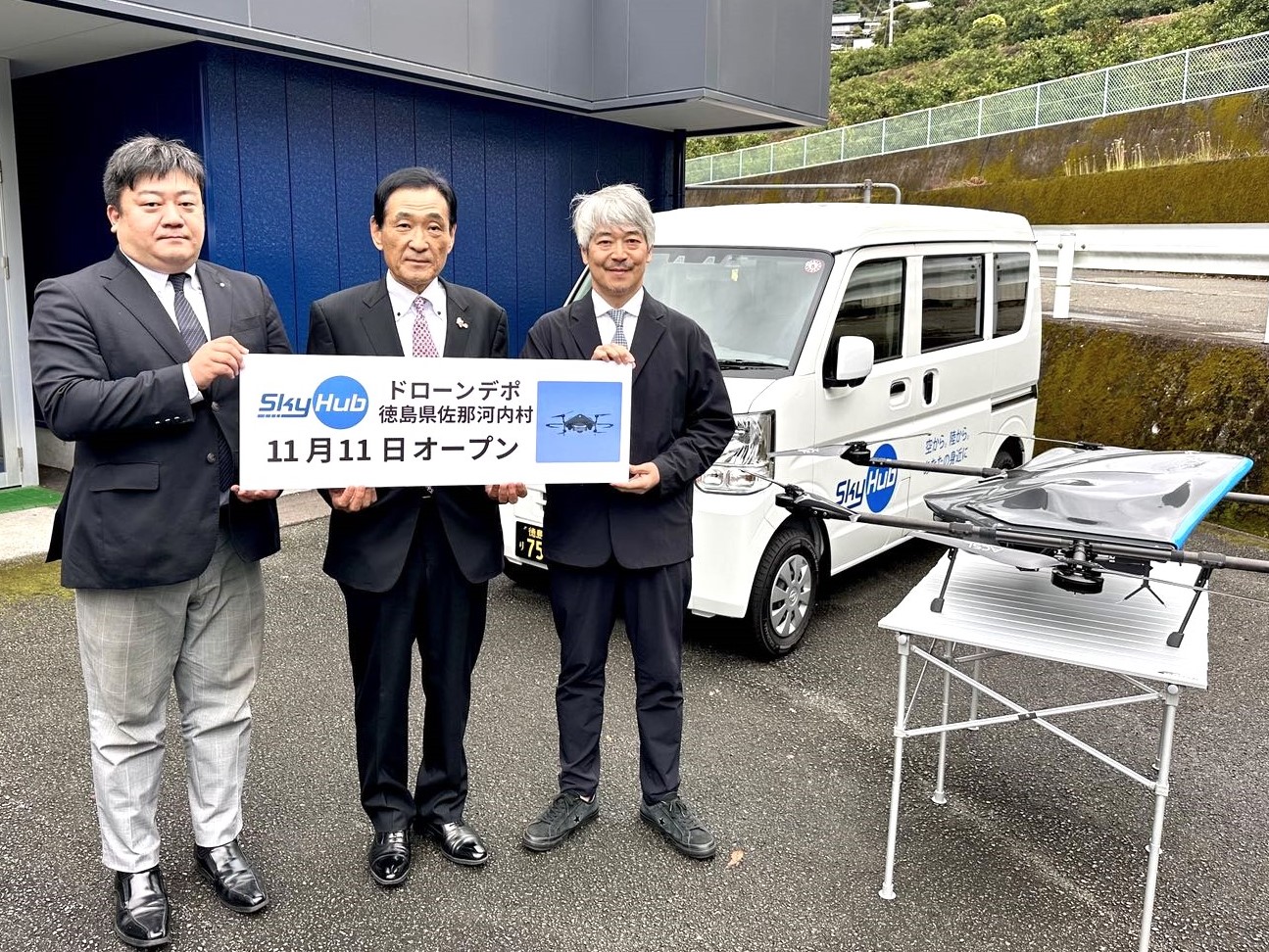 Sanagochison(Mayor: Yoshiji Iwaki), Seino Holdings Co., Ltd. (Ogaki City, Gifu Prefecture, President: Yoshitaka Taguchi, hereinafter "Seino HD"), Aeronext Inc. (Shibuya-ku, Tokyo, CEO: Keisuke Toji, hereinafter "Aeronext"), NEXT DELIVERY Inc. Kosuge Village, Yamanashi Prefecture; Representative Director: Keisuke Toji, hereinafter "NEXT DELIVERY") held an opening ceremony on Saturday, November 11, 2023, to mark the start of the new smart logistics SkyHub®*1 service in the Teradani area.
The service to be launched on November 11, 2023 will be SkyHub® Delivery (shopping service), followed by SkyHub® Eats (food delivery) service by the end of the year, subject to residents' needs. The Drone Depot®*2, which will serve as a delivery base and temporary warehouse for the new SkyHub® smart logistics system, will be located in the Sanagochison Multipurpose Regional Exchange Facility, with the aim of starting joint delivery services in cooperation with other transportation companies.
The new smart logistics SkyHub® contributes to addressing regional issues by building a new logistics infrastructure that integrates drone delivery and land transportation. Sanakawachison is the eighth municipality in Japan to enter the societal implementation phase, following Kosuge Village in Yamanashi Prefecture, Kamishihoro Town in Hokkaido, Tsuruga City in Fukui Prefecture, Sakai Town in Ibaraki Prefecture, Katsuura City in Chiba Prefecture, Hidakagawa Town in Wakayama Prefecture and Komatsu City in Ishikawa Prefecture.
The delivery methods for the service will be light vans and drones, with drone delivery primarily utilizing AirTruck*3, a dedicated logistics drone developed by Aeronext in collaboration with ACSL.
This project has been selected as a "New Smart Logistics Implementation Project Using Drones" under the FY2023 Digital Rural City National Concept Promotion Grant (Digital Implementation Type 1).
After November 11, the following two services will be launched in phases, and we will enhance and expand our product lineup to meet the needs of residents.
Services


1. Shopping service in collaboration with local stores:SkyHub® Delivery
SkyHub® Delivery is a shopping and delivery service in which products from local stores and supermarkets purchased with the SkyHub® application are delivered to individual homes at the desired date and time.
You can select from approximately 90 items of food and daily necessities from convenience stores and local merchants in the village and select the desired time to deliver your order. The fee is 300 yen (tax included) for delivery and a service charge (10% of the total product price). Initially, orders placed by noon will be delivered on the same day.


2. Food delivery service: SkyHub® Eats
Food from partner restaurants will be delivered by drone or car. The fee is expected to be 300 yen (tax included) for delivery.
About Drone Delivery
The drone delivery will use AirTruck*3, a dedicated logistics drone with a maximum payload of 5 kg and a maximum flight distance of 20 km, developed from scratch by Aeronext specifically for logistics applications. In an event open to the press on November 11, the drone delivered goods (food and daily necessities) from FamilyMart Sanakawachi and Yoshinaga Shoten, with the assumption that the drone would provide shopping assistance to transportation disadvantaged residents in the Teradani area. The procedure involved loading the box containing the goods onto the drone, which then flew the 4.4 km one way to Teradani Rural Park in about 8 minutes to deliver the goods to the residents. Mr. Kazuo Ichijo, who received the drone-delivered goods, commented "these are convenient times. I am grateful to have this kind of service because the day will come when I will no longer be able to drive. "
The parties aim to begin drone deliveries by the end of the fiscal year with at least 90 days of operations and Level 3 flights (out-of-sight flights in unmanned zones) beginning in December or later.
The parties will continue to cooperate and collaborate with each other to contribute to the revitalization of the community in Sanagochison by ensuring sustainable local logistics and promoting the development of new social infrastructure through the use of next-generation advanced technologies, including drones, in line with the village's issues and the needs of its residents.