Press Release
Implementation of New Smart Logistics SkyHub® Using Drones Begins in Tsuruga City ~Launch of three services: on-demand delivery by drone in as little as 30 minutes, shopping service, and food delivery as a model for connecting urban areas and depopulated areas~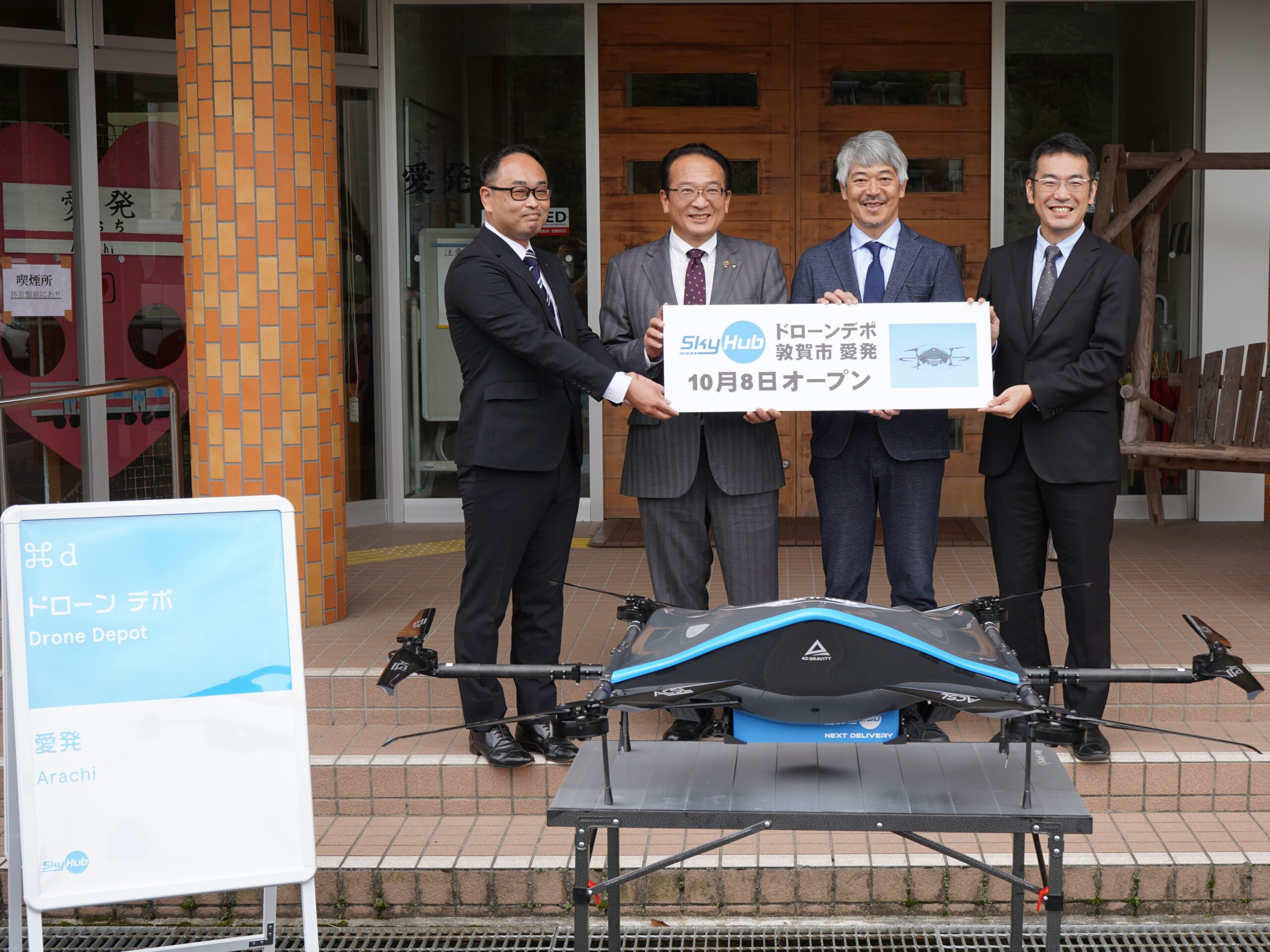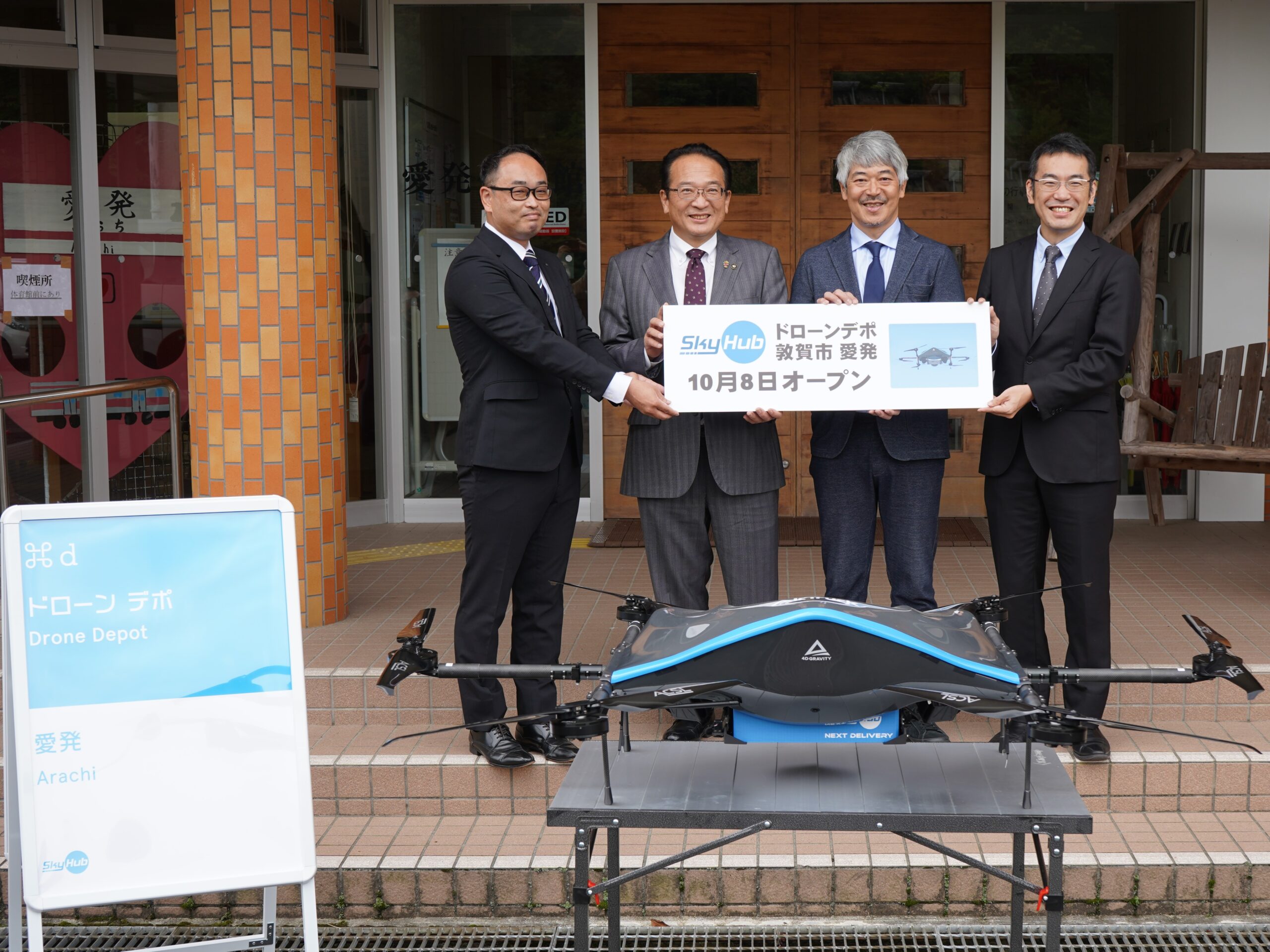 Tsuruga City, Fukui Prefecture (Mayor: Takanobu Fuchikami), SEINO HOLDINGS CO., LTD. (Ogaki City, Gifu Prefecture; President: Yoshitaka Taguchi; hereinafter "Seino HD"), KDDI SmartDrone Inc. (Minato-ku, Tokyo; President & CEO: Masafumi Hirono; hereinafter "KDDI SmartDrone"), NEXT DELIVERY Inc. (Kosuge Village, Yamanashi Prefecture; Keisuke Toji, President; hereinafter "NEXT DELIVERY") launched a new smart logistics SkyHub®*1 service on Saturday, October 8, 2022 in the Arachi district of Tsuruga City as a "connected urban area and depopulated area" model to help solve issues faced by the region. The three services to be launched are an on-demand delivery by drone in as little as 30 minutes, shopping assistance, and food delivery. These will be launched sequentially in response to the needs of residents, and the service area will be expanded. On the day of the event, a ceremony was held. Also the Drone Depot®*2 (Arachi Community Center), which serves as a delivery base and warehouse, and the on-demand drone delivery service were shown to the press.
Since the signing of a comprehensive partnership agreement in November 2021 between Tsuruga City, Seino HD, and Aeronext Corporation (Shibuya-ku, Tokyo; Keisuke Toji, CEO; hereinafter "Aeronext"), which is the parent company of NEXT DELIVERY, the two companies have been working together to implement a new smart logistics business utilizing drones in Tsuruga City. After two demonstration tests of drone delivery in January and August 2022, the service will be launched for residents in the Arachi district of Tsuruga City on October 8, 2022.
Specifically, Tsuruga City is the third municipality in Japan, following Kosuge Village in Yamanashi Prefecture and Kamishihoro Town in Hokkaido, to enter the societal implementation phase of drone delivery and land transportation with SkyHub®, jointly developed by SeinoHD and Aeronext.
Tsuruga City is characterized by a central urban area with a concentration of goods and commercial facilities, surrounded by radial mountainous areas and dotted with depopulated areas. This is a very big step forward in terms of the possibility of future deployment in many other regions in Japan with similar characteristics.
For drone delivery, Aeronext will utilize AirTruck, a dedicated logistics drone jointly developed by Aeronext and ACSL Ltd., and the SmartDrone Tools*5 operation management system developed by KDDI SmartDrone, which enables remote control and autonomous flight of the aircraft using mobile communications.
The following three services will be launched, and after October 8, while enhancing and deepening the product lineup to meet the needs of residents, other services will be launched sequentially in addition to expanding the coverage area.
【Services】
On demand convenience store delivery service (SkyHub® Store)
This on-demand delivery service delivers ordered groceries and daily necessities in as little as 30 minutes via the SkyHub® app or by phone order from a catalog. This on-demand service is also an effort to convert Drone Depot®︎, a drone delivery base, into a dark store, stocking food, daily necessities, seasonings, and other items based on customer preferences and purchase predictions from a customer survey, and delivering them by the most appropriate means from the air or land according to customer orders.
In the Arachi district, customers can select products from approximately 100 items of groceries and daily necessities, and then place an order by selecting the desired delivery time frame and the delivery destination Drone Stand®*3 from the slots set at 30-minute intervals. The delivery fee is 300 yen. Basic delivery is by drone, but if drone delivery is difficult due to weather conditions, etc., we will deliver by vehicle over land.

Shopping service in cooperation with local stores(SkyHub® Delivery)
This is a shopping and delivery service whereby products from local stores and supermarkets purchased via the SkyHub® application are delivered to individual homes on the desired date and time. This service is also an initiative to support the DX initiatives of local stores and is an online supermarket service developed in the form of an EC mall.
In the Arachi district, customers can select products from approximately 500 items of groceries and daily necessities from local supermarkets in neighboring areas and place orders by selecting the desired time frame from slots at two-hour intervals. The fee is 300 yen for delivery and a service charge (10% of the total merchandise price). For the time being, orders placed by 10:30 a.m. will be delivered on the same day.

Food delivery service(SkyHub® Eats)
Demae-can Co., Ltd (Shibuya-ku, Tokyo; President & CEO: Hideo Fujii; hereinafter referred to as "Demae-can"), with which we collaborated in the drone delivery demonstration experiment conducted in Tsuruga City in August of this year, we will deliver food from partner restaurants in Tsuruga City via drone delivery or delivery by car. The estimated delivery fee is 420 yen.

SkyHub®Store service will start with delivery to 4 of the 11 villages in the Arachi district, Hikida, Okuno, Sosogi, and Sugihashi, and will be expanded to all 11 villages in November. SkyHub® delivery and food delivery services are also scheduled to begin in November.
【About drone delivery】
The drone delivery will use AirTruck*4, a dedicated logistics drone with a payload of 5 kg and a maximum flight distance of 20 km, developed from scratch by Aeronext specifically for logistics applications. This will be the first full-scale use of the AirTruck Starter Pack*6, a drone delivery package that combines KDDI SmartDrone's "SmartDrone Tools "*5, with which Aeronext announced a business partnership in September of this year.
We will start with two units and aim to have a fleet of five units by 2023, operating more than 100 days and making drone deliveries (out-of-sight flights in unmanned areas) on Level 3 flights by the end of the fiscal year.
To achieve this long-term continuous operation, the reliability of the edge module and the stability of communications are essential, and we will work with and adopt KDDI's communications technology and operation management system, which will be the base of the AirTruck Starter Pack.
The parties will continue to mutually collaborate and cooperate with each other to contribute to regional employment, human resource education, human resource development, and industrial infrastructure development through the use of next-generation advanced technologies, including drones, in line with city issues and citizen needs, to ensure sustainable regional transportation and logistics and to create a livable environment, also to contributing to regional disaster prevention and regional decarbonization. Through all of this we hope to contribute to the revitalization of the Tsuruga City area by promoting the development of new social infrastructure.
<Reference>
*1 SkyHub®︎
A new smart logistics platform jointly developed and deployed by Aeronext and Seino HD that connects existing logistics and drone logistics, and connects ground and air infrastructure so that goods can be delivered anytime, anywhere.
The platform is an open and standardized system that incorporates drone delivery, and on this platform, based on the Drone Depot®︎. We will develop and provide services tailored to local issues and needs, such as SkyHub® application-based delivery services, on-demand delivery, pharmaceutical delivery, as well as joint delivery of packages from different logistics companies in bulk. The company develops and provides services tailored to local issues and needs.
The adoption of SkyHub® not only has the logistics benefits of facilitating unmanned and inventory-free operations and improving last mile delivery efficiency, but also contributes to the solution of social issues in the region, such as the shortage of workers due to the declining population and aging population, transportation problems in specific depopulated areas, medical problems, disaster countermeasures, and measures for the vulnerable in logistics, from the aspect of logistics reform. It aims to raise the level of satisfaction of residents and communities by improving convenience and quality of life for residents.
*2 Drone Depot®
Warehouses and bases for the accumulation and delivery of goods at the connection points between existing land-based logistics and drone logistics, that enables drone delivery of goods.
*3 Drone Stand®
Facilities or space for drone takeoffs and landings at the origin and destination of drone logistics
*4 AirTruck Logistics Drone
AirTruck, the first mass-produced logistics drone developed in Japan by Aeronext Inc., a next-generation drone technology startup, in collaboration with ACSL, achieves stable flight with Aeronext's proprietary 4D GRAVITY®*3 airframe structure design technology. The AirTruck is a dedicated logistics drone that goes "faster, farther, and is more stable" with enhanced for logistics, specialized for forward motion, and aerodynamic characteristics required for long-distance flight. The prototype has flown in demonstration tests in various regions of Japan and has the No. 1 flight record in Japan.
*5 SmartDrone Tools
A service that combines the "4G LTE Package," which includes the basic tools necessary for remote autonomous drone flight, with options that suit the customer's usage scenario. The "4G LTE Package" offers three tools in one: an "operation management system" that enables remote control of drones and real-time video sharing from anywhere in Japan, a "cloud" for managing filmed data, and "mobile communications" for unlimited data usage.
*6 Drone Delivery Package: AirTruck Starter Pack
The AirTruck is a Japonese original logistics drone and the SmartDrone Tools, a mobile communication and operation management system developed by KDDI SmartDrone that enables remote control and long-distance flight of the drone, are the components of this highly economical and safe package for drone-based delivery. The package combines high economic efficiency and safety for drone-based delivery.
*7 Airframe structural design technology 4D GRAVITY®
Airframe structure design technology developed by Aeronext optimizes aerodynamic characteristics by equalizing motor speed regardless of attitude, condition, or movement during flight and controlling lift, drag, and fuselage center of gravity based on fuselage shape and structure to improve the basic performance of industrial drones, such as stability, efficiency, and mobility, and the transportation performance of drones dedicated to logistics. Aeronext has patented this technology and manages it as part of the 4D GRAVITY® patent portfolio. 4D GRAVITY® improves basic performance and opens up new markets and applications for industrial drones.
【About Tsuruga City, Fukui Prefecture】
Located in the center of Fukui prefecture, the north faces the Sea of Japan, and the other three sides are lined with mountains which surround plains. With an area of 251.41 k㎡, and a habitable area of 53.07 k㎡, there are few plains and many mountainous areas.
The city is implementing efforts for decarbonization, such as experiments with a virtual power plant and power from hydrogen derived from renewable energy for our goal of reducing greenhouse gases and becoming a zero-carbon city by 2050.
*For more information about Tsuruga City, please visit
https://www.city.tsuruga.lg.jp/index.html
【About Seino HD】
Seino Holdings strives to be a value-creating comprehensive logistics trading company and aims to "provide value that transcends time and space" to its customers. Seino embraces an overall strategy of the group is to embody "Open Public Platform Construction (OPP)" that provides better and optimal services to customers through connections both inside and outside the industry in an open-neutral relationship in order to build a platform that is easy for customers and other companies in the same industry to use. In the last mile area, we are actively promoting and expanding the construction of a last mile O.P.P. that solves social issues such as measures for vulnerable shopping and measures for lower income families, while responding to changes in lifestyle and structure.
*About Seino Holding: https://www.seino.co.jp/seino/shd/overall-condition/
【About KDDI SmartDrone】
KDDI SmartDrone builds services that enable safe remote and long-distance flights by controlling drones using mobile communications such as 4G LTE. KDDI SmartDrone is working to create new businesses with drones and provide agile services that meet customer needs in various fields such as inspection, logistics, surveillance, agriculture, and surveying.
*For more information https://kddi.smartdrone.co.jp/
【About NEXT DELIVERY】
A subsidiary of AERONEXT, a company mainly engaged in drone delivery, established in Kosuge Village, Yamanashi Prefecture in 2021 with the vision of "becoming a country where affluence is spread to every corner of the earth through 4D LogisticsTM infrastructure that connects air, land, and time in the age of 100 years of life. The company is also involved in the development, manufacture, sale, rental, and maintenance of hardware and software related to drone delivery. We are also developing peripheral businesses such as development, manufacturing, sales, rental, and maintenance of hardware and software related to drone delivery. Starting with Kosuge Village in Yamanashi Prefecture, we are working to improve the efficiency and revitalization of regional logistics in places such as Kamishihoro Town in Hokkaido and Tsuruga City in Fukui Prefecture.
*For more information: https://nextdelivery.aeronext.co.jp/#company/
*AERONEXT and the AERONEXT logo, as well as "4D GRAVITY®" "SkyHub®" "DroneDepot®" "Drone Stand®" are trademarks of AERONEXT Co.
*Other company names and product/service names mentioned in this press release are registered trademarks or trademarks of their respective owners.