Press Release
Linking SkyHub®TMS and KDDI SmartDrone Flight Operation Management System to Improve Efficiency of Regional Logistics through Multimodal Delivery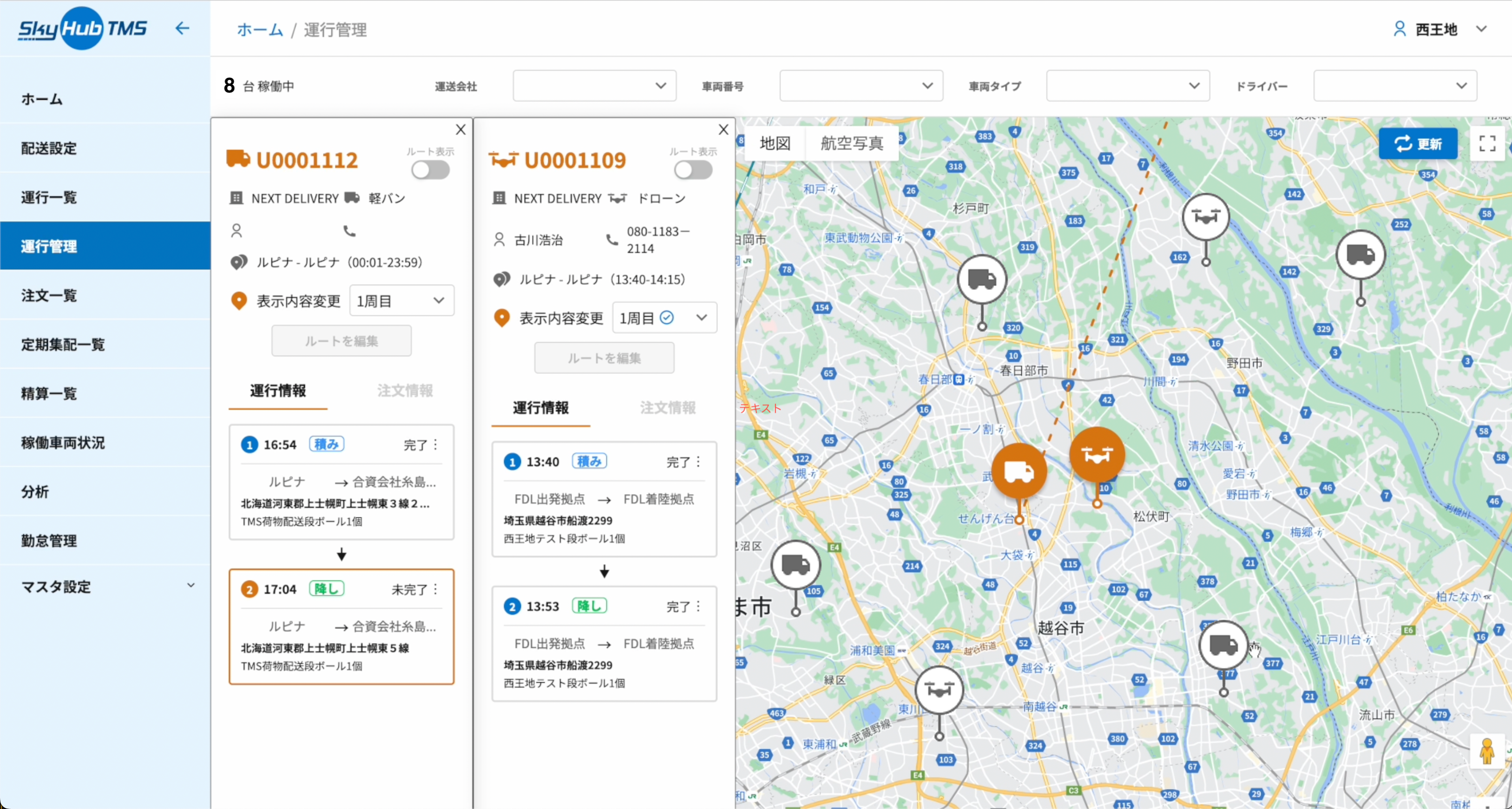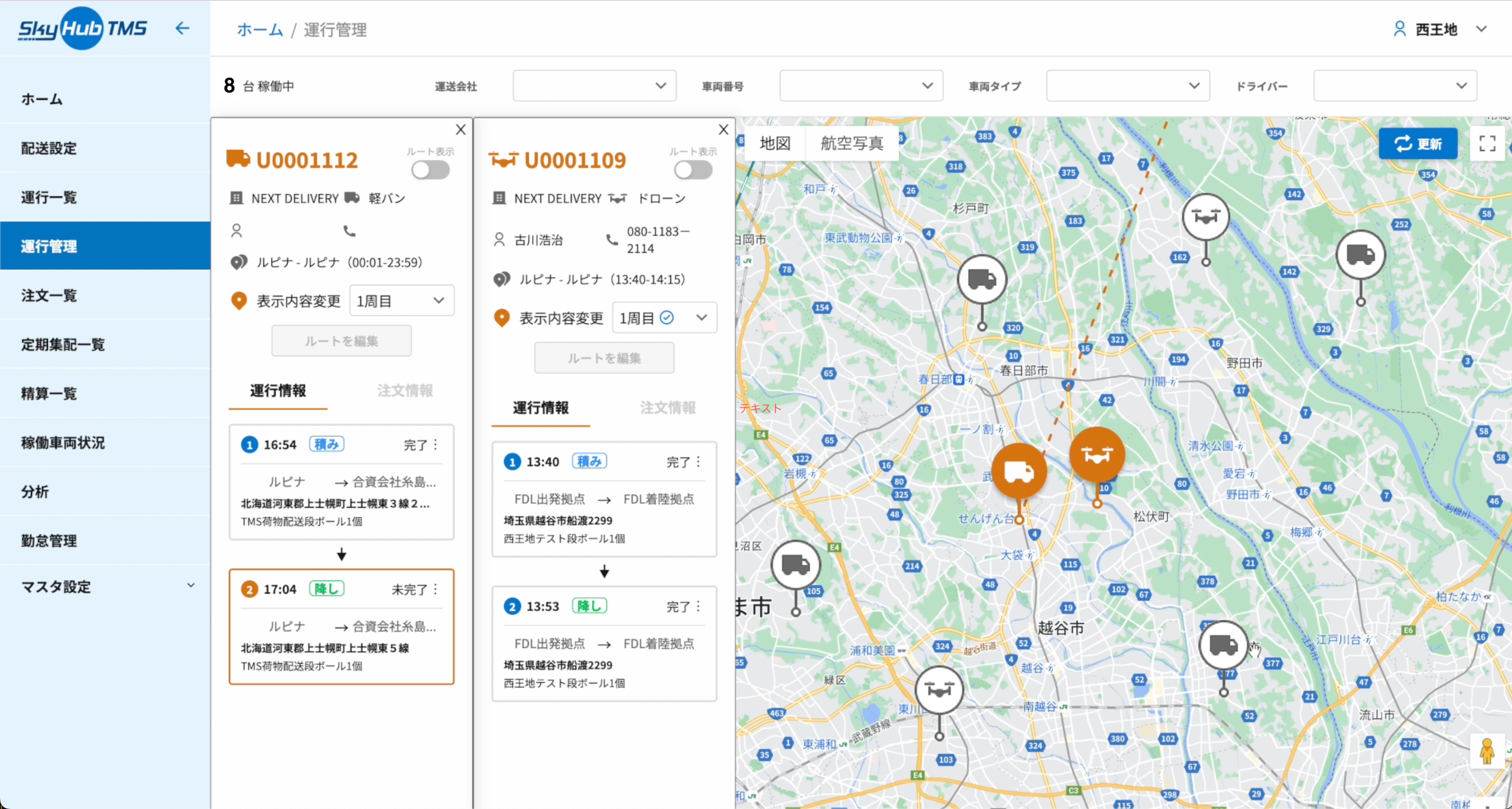 NEXT DELIVERY Inc. (Kosuge Village, Yamanashi Prefecture; Keisuke Toji, President; hereinafter "NEXT DELIVERY") and KDDI SmartDrone Inc. (Head Office: Minato-ku, Tokyo; Masafumi Hirono, President&CEO ; hereinafter "KDDI SmartDrone") have announced that they will link the SkyHub®︎TMS*1, currently being developed by NEXT DELIVERY, to KDDI SmartDrone's flight operation management system.
SkyHub®︎TMS is a system that streamlines regional logistics and is the core system for the nationwide development of the new smart logistics*2 SkyHub®*3 jointly developed and promoted by Aeronext Inc. and Seino Holdings Co., Ltd. On October 31, 2022, NeverMile Nevermile Inc. agreed to a business alliance for the development and sales of SkyHub®︎TMS, and the companies have been working together to develop the system. SkyHub® has been tested in various locations where it has been deployed in society, and now it has evolved into an advanced TMS with new multi-logic and multi-modal functions and can be linked to the KDDI SmartDrone Flight Operation Management System*4. The new TMS has been further enhanced by incorporating new multi-logic and multi-modal functions.
This is the first TMS in Japan*5 with multi-modal functions to combine truck delivery and drone delivery for greater efficiency and management.
*Click here to see a video of the multimodal and multi-logic functions in action on SkyHub®︎TMS
https://youtu.be/blvYsVBx0qQ
Features and Benefits
1)Multi-modal function
This function classifies packages by urgency, delivery distance, weight, size, content, etc., and selects the most appropriate delivery method to manage delivery. While a typical TMS manages only a single delivery method, such as trucks, SkyHub®︎TMS can now manage multiple delivery methods in combination. This will improve the overall efficiency of local delivery by removing inefficiently delivered packages from the truck delivery route and leaving those packages to the drones. For drone delivery, the system is linked to the KDDI SmartDrone flight operation management system, and the trajectories of multiple drones can all be viewed on a single screen of the SkyHub®︎TMS. The order status can be confirmed as complete by the action of the drone landing at the package delivery location, detaching the package, and then taking off again. SkyHub®︎TMS is the first TMS in Japan to offer this feature.
2)Multi-logic function
A function that uses different logic to specify delivery routes according to the experience of delivery personnel and other factors. OPTIMIND Inc.'s Loogia*6, a cloud-based automated vehicle dispatch service for last mile delivery, takes orders and vehicles into consideration and assigns packages to the most appropriate vehicles and in the best order. Loogia's automatic delivery route designation function allows inexperienced delivery personnel to follow the optimal route, while experienced delivery personnel can freely set delivery routes based on various hard to measure with data factors, such as road congestion and parking locations by using Google.
The upgraded SkyHub®︎TMS will be launched sequentially in Kosuge Village, Yamanashi Prefecture; Kamishihoro Town, Hokkaido; Tsuruga City, Fukui Prefecture; Town of Sakai, Ibaraki Prefecture; and Katsuura City, Chiba Prefecture, where the new smart logistics SkyHub®︎ is currently in operation. We also plan to conduct demonstration tests of multi-logic and multi-modal functions with our trial partner, a regional transportation company, using SkyHub®︎TMS.
By leveraging SkyHub®︎TMS, linked to a drone operation system, we will further accelerate the social implementation of the new smart logistics SkyHub® that is being deployed in various parts of Japan and ensure: multi-modal optimization, including the use of drones and mixed freight/passenger transport using public transportation; optimization of overall regional logistics delivery; and establishment of a sustainable regional delivery system.
*1 SkyHub®︎ TMS
A new smart logistics system to streamline regional logistics, jointly developed by NEXT DELIVERY and NeverMile, that centralizes the management of various types of cargo, assigns cargo to the best available delivery resources (trucks, drones, etc.), and visualizes cargo movement to optimize and streamline logistics operations.
Specifically, it will streamline regional logistics using criteria and features that include:
(1) Manage packages to be delivered with a unique ID
(2) Manage available delivery resources within the deliverable area, available slots for each delivery resource, and the location and movement of delivery resources.
(3) Evaluate packages by weight, delivery/pickup location, and desired delivery/pickup time
(4) Evaluate delivery resources in terms of land/air transportation, lead time to completion of delivery, and load capacity/weight
(5) Based on the evaluation of (3) and (4) above, assign available and optimal delivery resources to the package
*2 New Smart Logistics
A public-private initiative to find solutions to the issues commonly faced by the logistics industry, such as labor shortages, environmental and energy issues, and DX areas, while utilizing digital and technology to ensure the future sustainability of logistics, which is an indispensable infrastructure for people's daily lives. The project aims to realize the last mile joint delivery, the best mix of land and air transportation, freight and passenger consolidation, automated technology, etc., through co-creation based on an open public platform (O.P.P.) that transcends the boundaries between the industry and the outside world.
*3 SkyHub®︎
A new smart logistics platform jointly developed and deployed by Aeronext and Seino HD that connects existing logistics and drone logistics, and connects ground and air infrastructure so that goods can be delivered anytime, anywhere. SkyHub® is an open and standardized system that incorporates drone delivery. On this platform, based on the Drone Depot®︎, we develop and provide services tailored to local issues and needs, such as delivery agency services based on the SkyHub® application, on-demand delivery, pharmaceutical delivery, and joint delivery of packages from different logistics companies in one package. The introduction of SkyHub® not only has the logistics benefits of promoting unmanned and inventory-free operations and improving last mile delivery efficiency, but also contributes to addressing social issues in the region, such as the shortage of workers due to the declining population and aging population, transportation problems in specific depopulated areas, medical problems, disaster countermeasures, and measures for the vulnerable in logistics, from the aspect of logistics reform, and will also raise the level of satisfaction of residents and communities by improving convenience and quality of life.
*4 KDDI SmartDrone flight operation management system
A system developed by KDDI SmartDrone that enables autonomous out-of-sight drone flight through remote monitoring and control using mobile communications. The system enables real-time monitoring of drone flight status and remote control of emergency landings and other operations to achieve safe out-of-sight autonomous flight.
*5 First TMS with multimodal functionality in Japan
Based on in-house research via the Internet, etc., as of June 30, 2023.
*6 Loogia
Highly accurate cloud-based automated vehicle dispatch service made possible by cutting-edge algorithms and big data analysis developed and driven by OPTIMIND. Utilizing a combinatorial optimization algorithm, a delivery plan, which vehicle goes to which destination and in which order, is created in a short time, taking into account complex conditions and site constraints, to provide an efficient route.
【About NEXT DELIVERY】
A subsidiary of AERONEXT, a company mainly engaged in drone delivery, established in Kosuge Village, Yamanashi Prefecture in 2021 with the vision of "becoming a country where affluence is spread to every corner of the earth through 4D LogisticsTM infrastructure that connects air, land, and time in the age of 100 years of life. The company is also involved in the development, manufacture, sale, rental, and maintenance of hardware and software related to drone delivery, and related peripheral businesses. Starting with Kosuge Village in Yamanashi Prefecture, we are working to improve the efficiency and revitalization of regional logistics in places such as Kamishihoro Town in Hokkaido and Tsuruga City in Fukui Prefecture.
*For more information: https://nextdelivery.aeronext.co.jp/
【About KDDI SmartDrone】
KDDI SmartDrone builds services that enable safe remote and long-distance flights by controlling drones using mobile communications such as 4G LTE. KDDI SmartDrone is working to create new businesses with drones and provide agile services that meet customer needs in various fields such as inspection, logistics, surveillance, agriculture, and surveying.
*For more information: https://kddi.smartdrone.co.jp/
*AERONEXT and the AERONEXT logo, as well as "SkyHub®" are trademarks of Aeronext Inc.
*Other company names and product/service names mentioned in this press release are registered trademarks or trademarks of their respective owners.