Press Release
NEXT DELIVERY to streamline regional logistics with NeverMile Business alliance for development and sales of SkyHub®︎TMS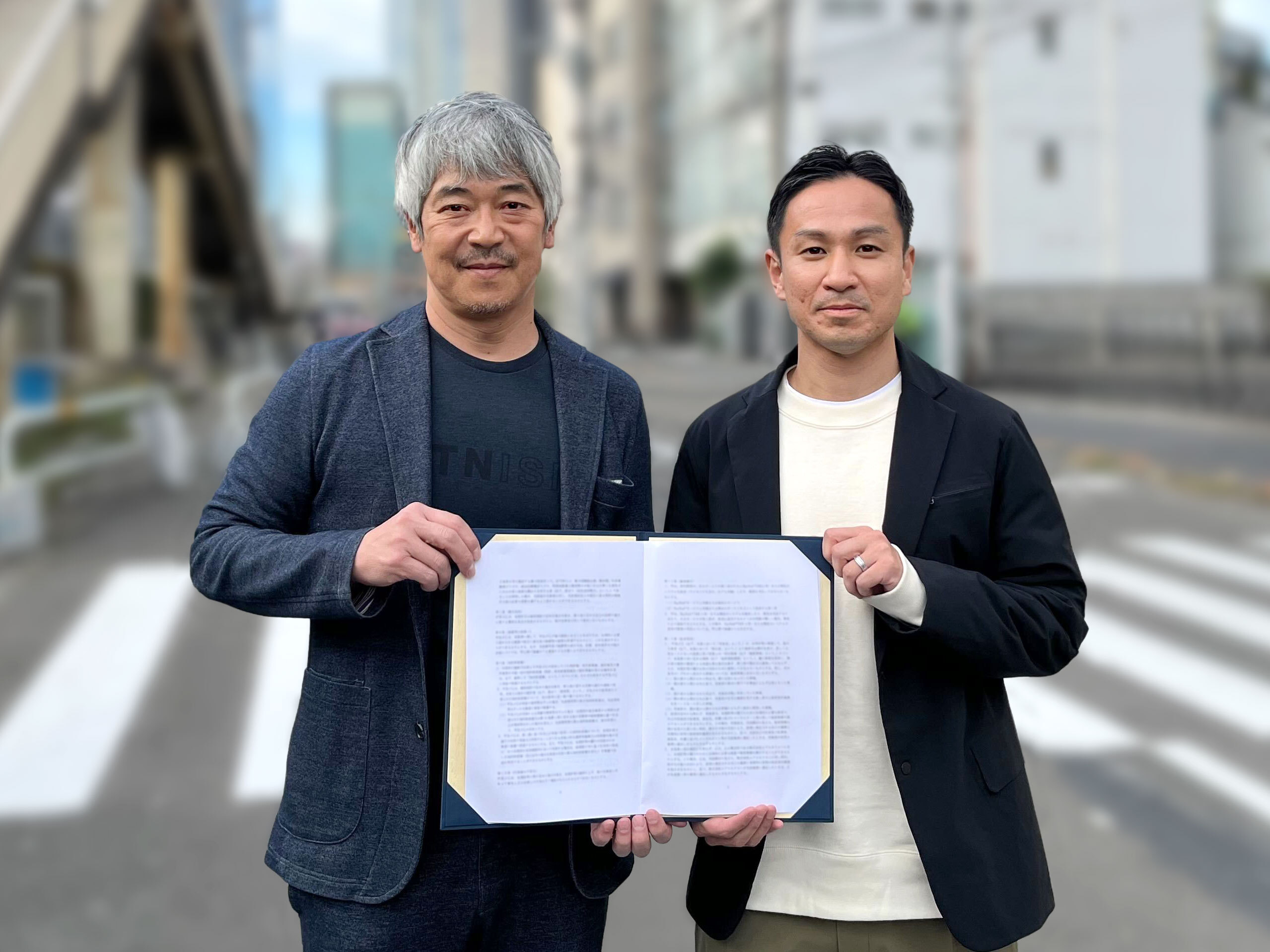 NEXT DELIVERY Inc. (Kosuge Village, Yamanashi Prefecture; Keisuke Toji, Representative Director; hereinafter "NEXT DELIVERY") and NeverMile Inc. (Tokorozawa City, Saitama Prefecture; Kota Fukasaku, Representative Director; hereinafter "NeverMile") entered into a business alliance on October 31, 2022, to develop and market "SkyHub®︎TMS" to streamline regional logistics.
SkyHub®TMS is a system that streamlines regional logistics, centralizes the management of various types of packages, assigns packages to available and optimal delivery resources (trucks, drones, etc.), and data visualization of package movements to optimize and streamline logistics operations. SkyHub®TMS is the core system in the nationwide development of the new smart logistics SkyHub®, jointly developed and promoted by Aeronext Inc. and Seino Holdings Co., Ltd.
Starting with this partnership, the two parties will collaborate with each other to accelerate the societal implementation of the new smart logistics SkyHub®, starting with Kamishihoro Town in Hokkaido, followed by other municipalities planning to introduce the SkyHub®.
【Business Alliance Details】
Both companies will perform roles in the development and marketing of SkyHub®︎TMS
【Roles for each company】
NEXT DELIVERY
・Planning, marketing and operation of SkyHub®︎ services
・SkyHub®︎ TMS implementation for SkyHub®︎ service
・Relationship building with local governments
NeverMile
・Planning, design, development, and maintenance of SkyHub®︎ TMS
・Support for SkyHub®︎ TMS operations
・Sales activities necessary to sell SkyHub®︎TMS
【About SkyHub®︎TMS】
SkyHub®︎TMS is a new smart logistics system that streamlines regional logistics as defined by the following requirements
Manage packages to be delivered with a unique ID
Manage the location and movement of available delivery resources within the available delivery area, the available slots, and delivery resources.
Evaluate packages by weight, delivery/pickup location, and desired delivery/pickup time
Evaluate delivery resources by land and air transportation, lead time to complete delivery, and loadable capacity and weight.
Based on 3 and 4, allocate available and optimal shipping resources to packages
【SkyHub®︎TMS Main Features】
Coordination of delivery request information with food delivery and major e-commerce sites
Linkage of delivery-related information with truck, drone, and other operation management systems
Management of available delivery resources for periods and days of the week
Automatic allocation of cargo and trucks
Optimal routing of delivery resources
Delivery destination database that allows switching of delivery locations based on season and customer convenience
Reimbursement processing to manage billing and payments for deliveries
Dashboard for real-time confirmation of truck location, loaded weight, number of deliveries, distance traveled, etc.
Maintenance of a centralized primary list for delivery resource information and driver/operator information
Management of shipping-related contract information with carriers and shippers
*1 SkyHub®︎
A new smart logistics platform jointly developed and deployed by Aeronext and Seino HD that connects existing logistics and drone logistics, and connects ground and air infrastructure so that goods can be delivered anytime, anywhere.
The platform is an open and standardized system that incorporates drone delivery, and on this platform, based on the Drone Depot®︎. We will develop and provide services tailored to local issues and needs, such as SkyHub® application-based delivery services, on-demand delivery, pharmaceutical delivery, as well as joint delivery of packages from different logistics companies in bulk. The company develops and provides services tailored to local issues and needs.
The adoption of SkyHub® not only has the logistics benefits of facilitating unmanned and inventory-free operations and improving last mile delivery efficiency, but also contributes to the solution of social issues in the region, such as the shortage of workers due to the declining population and aging population, transportation problems in specific depopulated areas, medical problems, disaster countermeasures, and measures for the vulnerable in logistics, from the aspect of logistics reform. It aims to raise the level of satisfaction of residents and communities by improving convenience and quality of life for residents.
【About NEXT DELIVERY】
A subsidiary of AERONEXT, a company mainly engaged in drone delivery, established in Kosuge Village, Yamanashi Prefecture in 2021 with the vision of "becoming a country where affluence is spread to every corner of the earth through 4D LogisticsTM infrastructure that connects air, land, and time in the age of 100 years of life. The company is also involved in the development, manufacture, sale, rental, and maintenance of hardware and software related to drone delivery. We are also developing peripheral businesses such as development, manufacturing, sales, rental, and maintenance of hardware and software related to drone delivery. Starting with Kosuge Village in Yamanashi Prefecture, we are working to improve the efficiency and revitalization of regional logistics in places such as Kamishihoro Town in Hokkaido and Tsuruga City in Fukui Prefecture.
*For more information: https://nextdelivery.aeronext.co.jp/#company/
【About NeverMile】
A technology company that continues to create new value through the power of software in the logistics domain for all industries. With a broad client base ranging from top companies in various industries to traditional local companies, we are developing a diversified business from technical proposals to human resource development, with a focus on software development. With a focus in the area of transportation and delivery, we have dedicated engineers to provide support from data management to optimization of delivery operations. We are working and collaborating with a large number of customers to expand our business beyond the boundaries of a traditional software company, starting with the construction of systems.
*For more information https://nevermile.co.jp/
*AERONEXT and the AERONEXT logo, as well as "4D GRAVITY®" "SkyHub®" "DroneDepot®" "Drone Stand®" are trademarks of Aeronext Inc..
*Other company names and product/service names mentioned in this press release are registered trademarks or trademarks of their respective owners.