Press Release
Introducing the achievements and innovative case studies of the societal implementation of the SkyHub® approach to new smart logistics at the "2nd New Smart Logistics Symposium – Taking on the Logistics 2024 Problem" on July 7.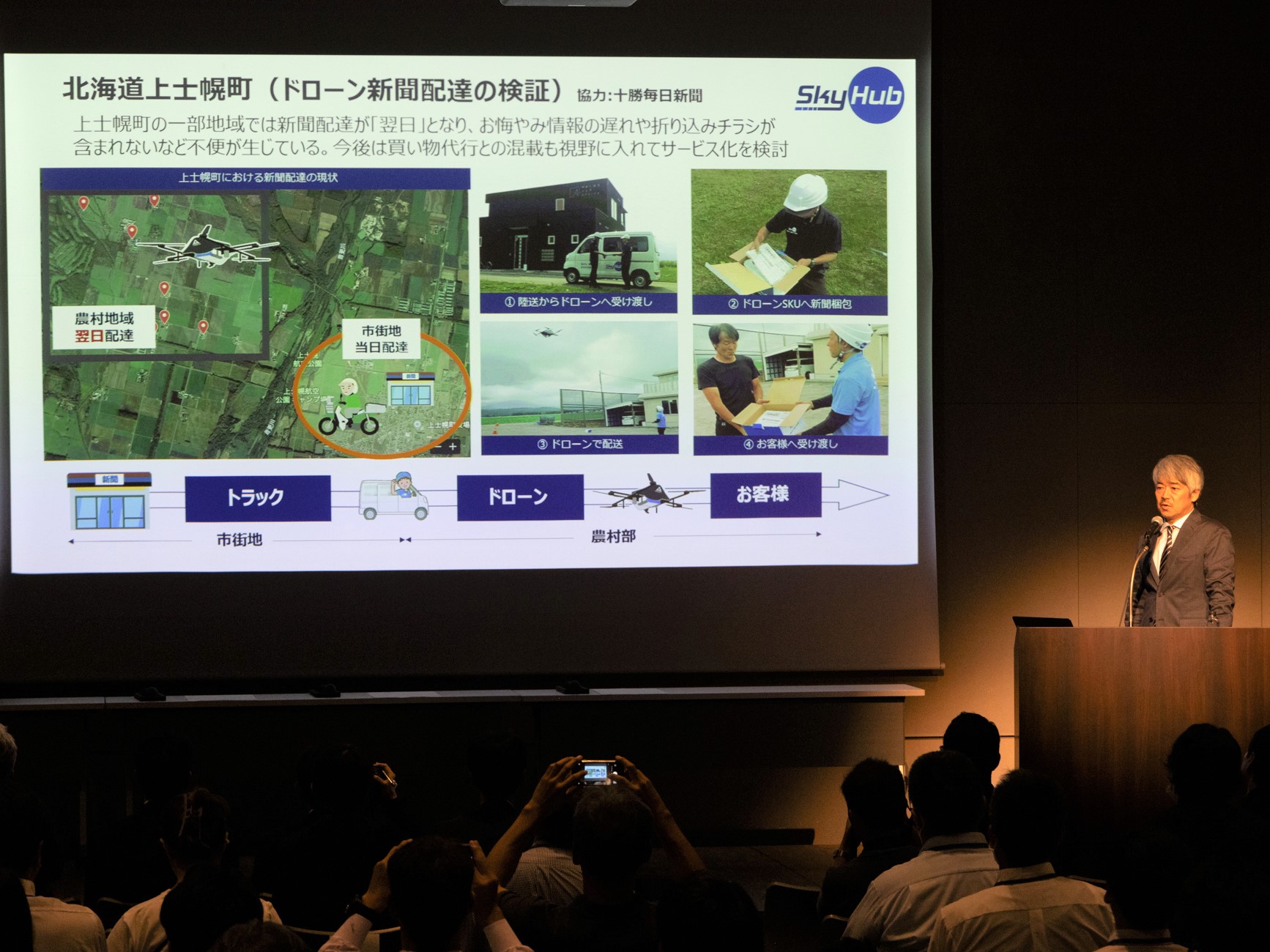 Seino Holdings Co., Ltd. (Head Office: Ogaki City, Gifu Prefecture; President: Yoshitaka Taguchi; hereinafter "Seino HD"), Aeronext Inc. (Head Office: Shibuya-ku, Tokyo; CEO: Keisuke Toji; hereinafter "Aeronext"), and NEXT DELIVERY Inc. (Head Office: Kosuge Village, Yamanashi Prefecture; Representative Director: Keisuke Toji; hereafter "NEXT DELIVERY") presented "Tackling the Logistics 2024 Problem: Accelerating New Smart Logistics Initiatives and Future Possibilities" at the 2nd New Smart Logistics Symposium held on Friday, July 7, and introduced the achievements and initiatives of the societal implementation of new smart logistics SkyHub®︎ as an advanced case study.
The "2nd New Smart Logistics Symposium" (organized by the New Smart Logistics Promotion Council*1) was a high-profile event attended by more than 300 local government officials from across Japan and businesses from various industries, including the logistics industry, and held in person and through online events. Mr. Taro Kono, Minister of Digital Affairs, gave a keynote lecture on "Creating a prosperous society from local communities through the power of digital" and Mr. Hirohisa Tsuruta, Director-General, Road Transport Bureau(Deputy Minister for Logistics Policy), Ministry of Land, Infrastructure, Transport and Tourism, gave a lecture on "Measures for the Logistics 2024 problem and expectations for drone logistics". Keisuke Toji, CEO of Aeronext and Representative Director of NEXT DELIVERY, presented the initiatives, results, and case studies of the National Council for New Smart Logistics Promotion. Next, he presented the results of the introduction of new smart logistics in Kamishihoro Town, Hokkaido; Kosuge Village, Yamanashi Prefecture; Town of Sakai, Ibaraki Prefecture; Tsuruga City, Fukui Prefecture; and Katsuura City, Chiba Prefecture, as well as examples of joint deliveries and mixed freight and passenger loads. Masafumi Hirono, President and CEO of KDDI SmartDrone Inc. and Keisuke Toji, CEO of Aeronext Inc. and President of NEXT DELIVERY Inc. introduced their new products and services for improving the efficiency of regional logistics, including KDDI SmartDrone Inc.'s Flight Operation Management System and SkyHub®︎ TMS*2.
In addition, Mr. Shuji Kawai, Executive Officer of Seino HD and Director of NEXT DELIVERY Inc. moderated a panel discussion on the theme of "Tackling the Logistics 2024 Problem: Toward the Realization of Sustainable Regional Logistics" with Mr. Hirohisa Tsuruta, Ministry of Land, Infrastructure, Transport and Tourism, Mr. Ryohei Sato, General Manager of Business Development Department, Tokyo Head Office, Sagawa Express Co.
(This symposium is archived on the New Smart Logistics Promotion Council website https://smartlogistics.jp/)
SkyHub®, jointly developed and deployed by Aeronext and Seino HD, is a new smart logistics initiative to address regional issues and protect prosperous and vibrant communities by rebuilding a new regional logistics infrastructure for the next generation through digital and technological innovations such as last mile joint delivery, best mix of land and air transportation, freight and passenger consolidation, automation technology, among other areas. This is a new open platform and standardized logistics infrastructure that incorporates Drone Depot®*3 and Drone Stand®*4 into the existing logistics network, providing services such as shopping and delivery agency, on-demand delivery, pharmaceutical delivery, and joint delivery of packages from different logistics companies based on SkyHub®TMS, using the Drone Depot® as a base.
The introduction of SkyHub®︎ is not only beneficial in terms of logistics by promoting unmanned and inventory-free operations and improving last mile delivery efficiency, but also by introducing a new logistics infrastructure, as well as from the aspect of logistics reform. Introduction is expected to contribute to addressing various social issues in the region, including the shortage of workers due to the declining population and aging population, the increase in individual home delivery due to the growth of the EC market, and logistics. The company will further contribute to addressing regional issues such as the serious driver shortage caused by the "2024 problem," environmental and energy issues such as CO2 reduction, transportation problems in specific depopulated areas, medical issues, disaster countermeasures, and measures for the vulnerable in logistics, as well as raising the satisfaction level of residents and communities by improving convenience and quality of life for them. It is also meaningful in promoting regional revitalization.
SkyHub®︎ has already entered the societal implementation phase in a number of regions. In addition to Kamishihoro Town, Kosuge Village, Tsuruga City, Town of Sakai, and Katsuura City, which were introduced as examples at this symposium, this year, Hidakagawa Town, Wakayama Prefecture, Komatsu City, Ishikawa Prefecture, and Kyotango City, Kyoto Prefecture are pursuing implementation.
Through this symposium, the three parties will further accelerate the nationwide deployment of SkyHub and steadily advance the construction of new smart logistics to address regional issues.
(Reference)
*1 New Smart Logistics Promotion Council https://smartlogistics.jp/
The organization was established on May 16, 2022, with five local governments* as founding members, with the aim of contributing to the creation of prosperous local communities through faster social implementation of new smart logistics by bringing together a wide range of knowledge from the private sector, mainly from local governments, and conducting open information exchanges, experience sharing, discussion, and research that transcends boundaries both within and outside the logistics industry. Currently more than 40 members, mainly local governments, are members. Currently, the council is vigorously pursuing various initiatives and activities through public-private partnerships to streamline and optimize the flow of goods in local communities and make last mile logistics sustainable, focusing on the combination of existing land-based delivery and drone delivery.
(* Kamishihoro Town, Hokkaido; Kosuge Village, Yamanashi Prefecture; Town of Sakai, Ibaraki Prefecture; Tsuruga City, Fukui Prefecture; Higashikawa Town, Hokkaido)
*2 TMS:abbreviation of Transportation Management System
*3 Drone Depot®
Warehouses and bases for the accumulation and delivery of goods at the connection points between existing land-based logistics and drone logistics, with a setup that enables drone delivery of goods.
*4 Drone Stand®
Facilities or locations for drone takeoffs and landings located at the origin and terminus of drone logistics.
【About Seino Holdings Co., Ltd.】
With logistics as its central axis, Seino Holdings also provides one-stop value in areas peripheral to logistics, such as finance, human resources, and procurement. We aim to be a corporate group that connects hearts and minds beyond logistics to contribute to the prosperity of our customers and bring smiles and happiness to all.
Under the slogan of "Team Green Logistics," we are currently working to develop an open public platform (O.P.P.) that transcends industry and corporate boundaries as an overall strategy to solve social issues facing Japan, such as the declining birthrate, aging population, and environmental problems, and to take on the challenge of co-creating "green logistics" that will optimize a sustainable logistics network. In the last mile area, we are actively building a "last mile O.P.P. that solves social issues" as a countermeasure for vulnerable shoppers and poor families, in line with the changing lifestyles and structures of society as a whole.
*Open Public Platform (O.P.P.)
Our concept is to build a logistics platform that is open and accessible to all, regardless of industry or location, to improve the efficiency and value to each user, and to contribute to industry, the environment, and people's lives as an infrastructure.
* For more information: https://www.seino.co.jp/seino/shd/overall-condition/
【About Aeronext Inc.】
AERONEXT, an IP driven R & D technology startup for next-generation drones, is a company that designs the sky through technology to create a world where the sky becomes a social infrastructure, is economized, and solves social issues through drones. Our core technology is 4D GRAVITY®, a unique structural design technology that improves basic drone performance such as stability, efficiency, and mobility of industrial drones by optimizing the center of gravity of the aircraft. In order implement this 4D GRAVITY® as standard equipment on industrial drones, we have constructed a strong patent portfolio and are promoting a partnership-based platform business for the 4D GRAVITY® license globally.
AERONEXT has also founded a subsidiary to implement the SkyHub® smart logistics and pursue drone delivery.
*For more information: https://aeronext.com/company/
【About NEXT DELIVERY】
A subsidiary of AERONEXT, a company mainly engaged in drone delivery, established in Kosuge Village, Yamanashi Prefecture in 2021 with the vision of "becoming a country where affluence is spread to every corner of the earth through 4D LogisticsTM infrastructure that connects air, land, and time in the age of 100 years of life. The company is also involved in the development, manufacture, sale, rental, and maintenance of hardware and software related to drone delivery, and related peripheral businesses. Starting with Kosuge Village in Yamanashi Prefecture, we are working to improve the efficiency and revitalization of regional logistics in places such as Kamishihoro Town in Hokkaido and Tsuruga City in Fukui Prefecture.
*For more information: https://nextdelivery.aeronext.co.jp/
*AERONEXT and the AERONEXT logo, as well as "4D GRAVITY®" "SkyHub®" "Drone Depot®" "Drone Stand®" are trademarks of Aeronext Inc.
*Other company names and product/service names mentioned in this press release are registered trademarks or trademarks of their respective owners.