Press Release
Demonstration Experiment of Drone Delivery of Daily Necessities and Relief Supplies Transport to Build a New Logistics in Tenryu Village, Nagano Prefecture ~Toward societal implementation of "SkyHub®," a new smart logistics system that combines drone and land delivery~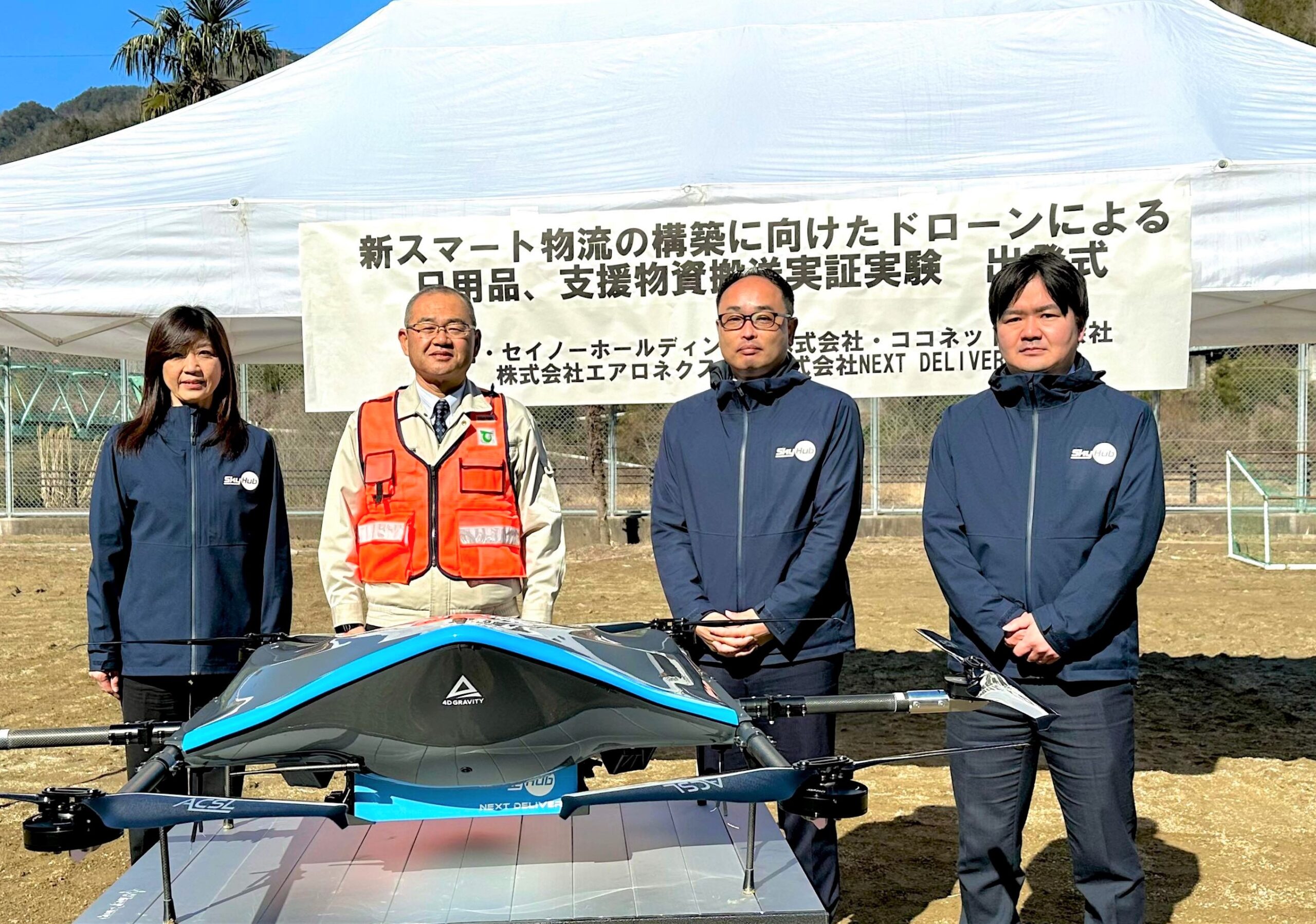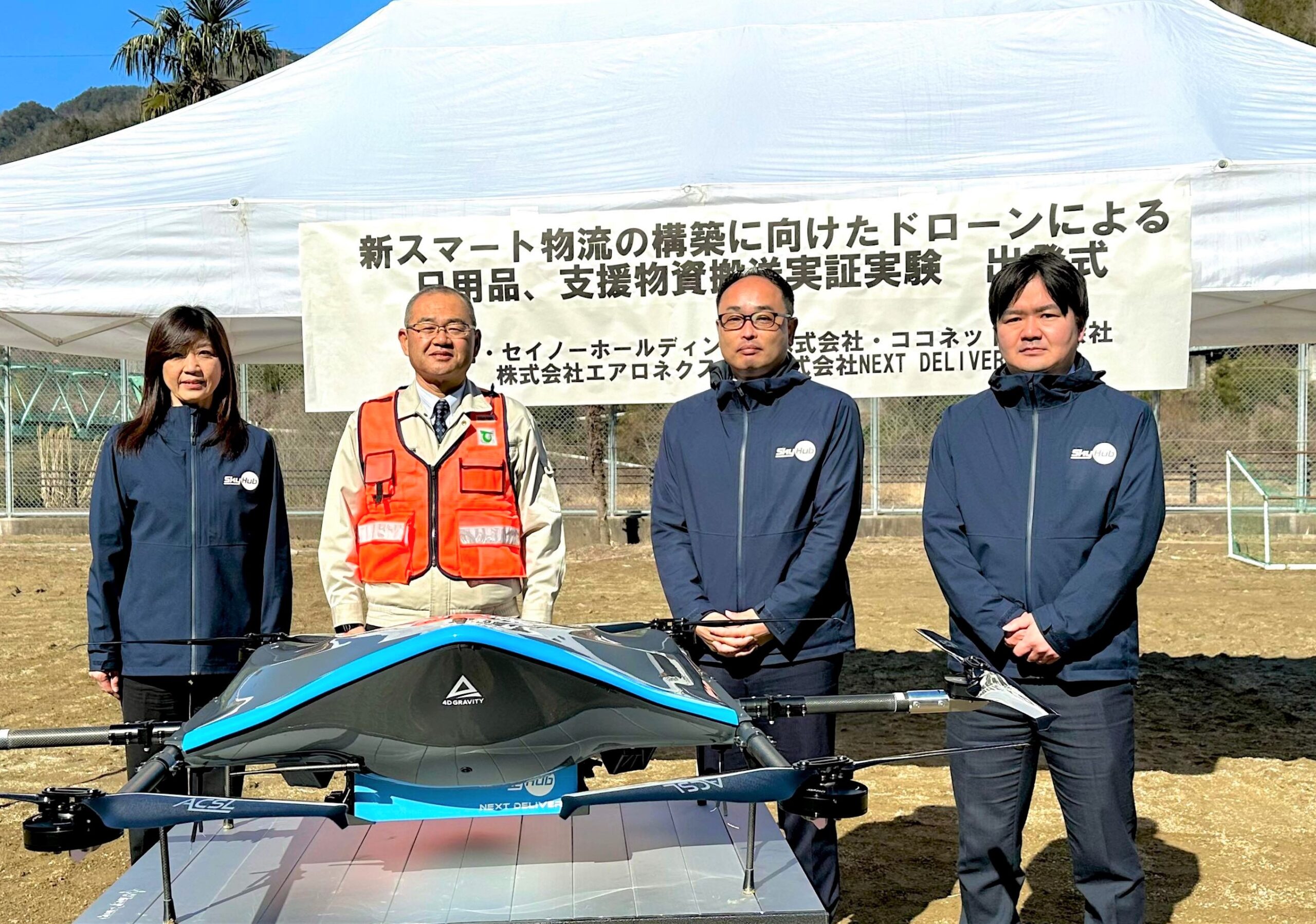 Tenryu Village (Mayor: Seiichi Nagamine), Coconet Inc. (Head Office: Chuo-ku, Tokyo; President and Chief Executive Officer: Shuji Kawai (also Executive Officer of Seino Holdings Co., Ltd.)), Seino Holdings Co., Ltd. (Head Office: Ogaki City, Gifu Prefecture; President: Yoshitaka Taguchi; hereinafter referred to as "Seino HD"), Aeronext Inc. (Head Office: Shibuya-ku, Tokyo; CEO: Keisuke Toji; hereinafter "Aeronext"), and NEXT DELIVERY (Head Office: Kosuge Village, Yamanashi Prefecture; Keisuke Toji, President; hereinafter referred to as "NEXT DELIVERY") conducted a demonstration experiment for "drone delivery in mountainous areas," aiming to establish a new logistics service by utilizing next-generation advanced technology, starting from Tenryu Village Junior High School on February 27, 2023.
NEXT DELIVERY will conduct the study for societal implementation of the new smart logistics*1 "SkyHub®"*2, that combines drone delivery and land transportation, which Seino HD and Aeronext are developing and pursuing.
【Demonstration Experiment Overview】
1.Purpose and Background
Tenryu Village is located at the southern tip of Nagano Prefecture. It is a mountain village of 108.9 square kilometers in area, with an irregular shape measuring 11.4 km from east to west and 9.9 km from north to south, and is surrounded by 800-meter mountains. Mount Kumabushi is the highest peak to the east. The Tenryu River flows southward through the center of the village, and the villages are scattered in the V-shaped valley created by its tributaries. The area has been seriously depopulated due to the long-term decline of the forestry industry since the high economic boom, and many residents travel to Iida City for shopping, which takes about one hour each way. In addition, the declining birthrate and aging population are serious problems, and the percentage of the population over 65 years old (geriatric population) was more than 60%, which is the 1st highest in the prefecture and the 3rd highest in the nation.
As of the end of 2021, there are only two shops that sell food, and it is difficult to continue due to the aging of the shopkeepers. In order to overcome this situation, the village opened a mini-supermarket "Mitsushimaya" by a public and private company in 2022. In addition to the increasing number of shopping refugees, there are many areas where roads to scattered villages are narrow and there are no alternative roads, and there is a risk of being isolated for a long time in the event of a disaster.
Through this demonstration experiment, we will promote the resolution of local issues in the village, the promotion of the tourism industry and economy by introducing drone delivery, and the development of infrastructure for local employment, human resource development, and local disaster prevention.
2.Details
In this demonstration for practice of operations during a disaster, a temporary Drone Depot® was set up at the Tenryu Village Junior High School to transport relief supplies to the Tenryu Village Elementary School and Tenryu Village Nursery School, which were designated as evacuation centers, using AirTruck*3, a drone developed by Aeronext exclusively for logistics.
When the drone descended from the sky and delivered the goods, the students cheered loudly and A representative student commented, "I was surprised at how big the drone was. Thank you for carrying so many things to us."
We will continue to study the societal implementation of "SkyHub®," a new smart logistics system that combines drone delivery and land delivery, utilizing drones and other next-generation advanced technologies to promote understanding among local residents and address regional issues.
※ Coconet Inc. is a principal partner in this demonstration experiment, and it has been selected by the Organization for Environment Promotion as a project eligible for a grant for fiscal 2022 to cover the cost of projects to control carbon dioxide emissions (a project to promote the introduction of advanced technologies to simultaneously achieve social reform and decarbonization of logistics).