Press Release
Tsuruga City to build a new smart logistics system that contributes to solving regional issues and conduct a demonstration experiment for drone logistics linking urban areas and depopulated areas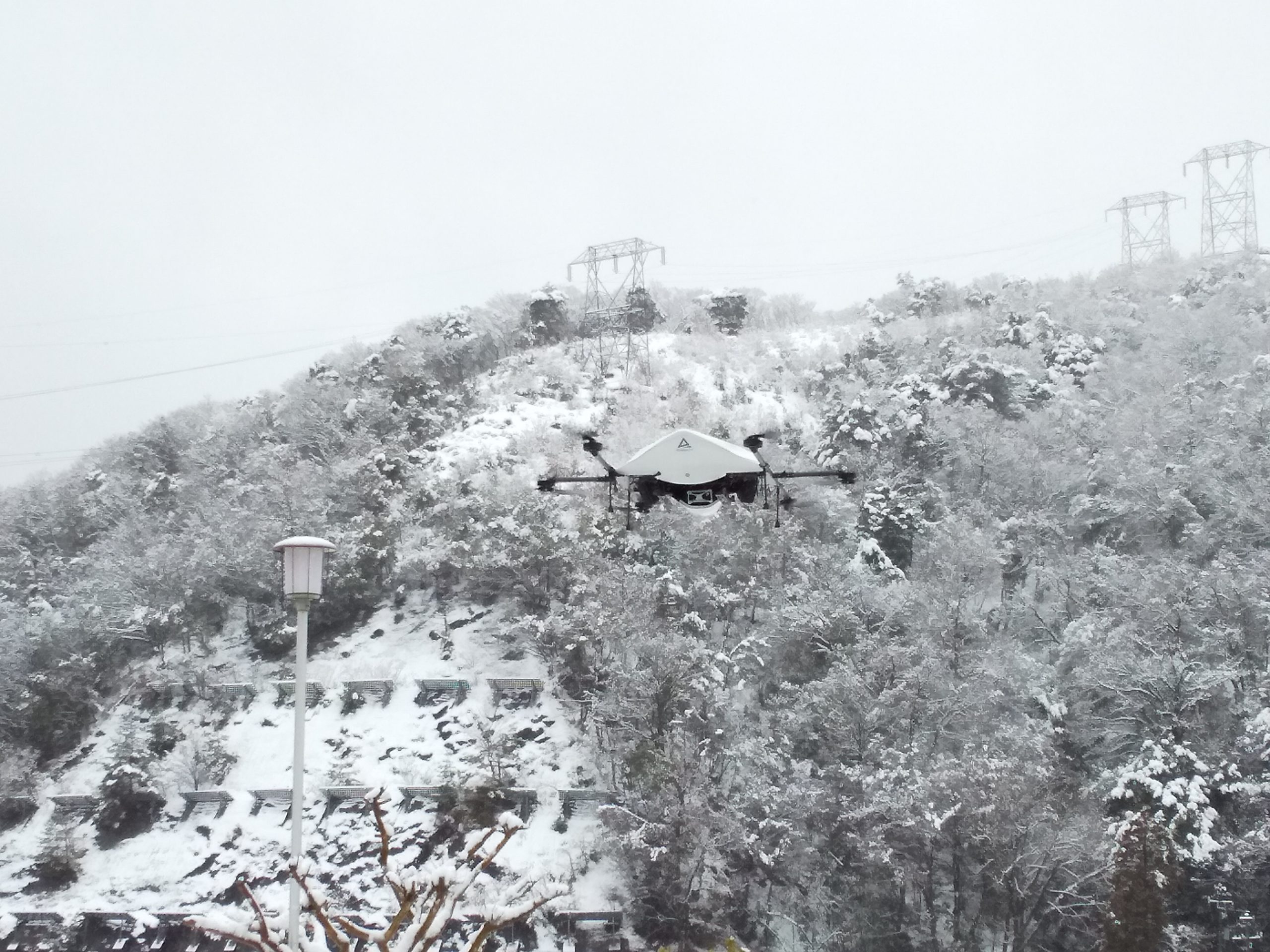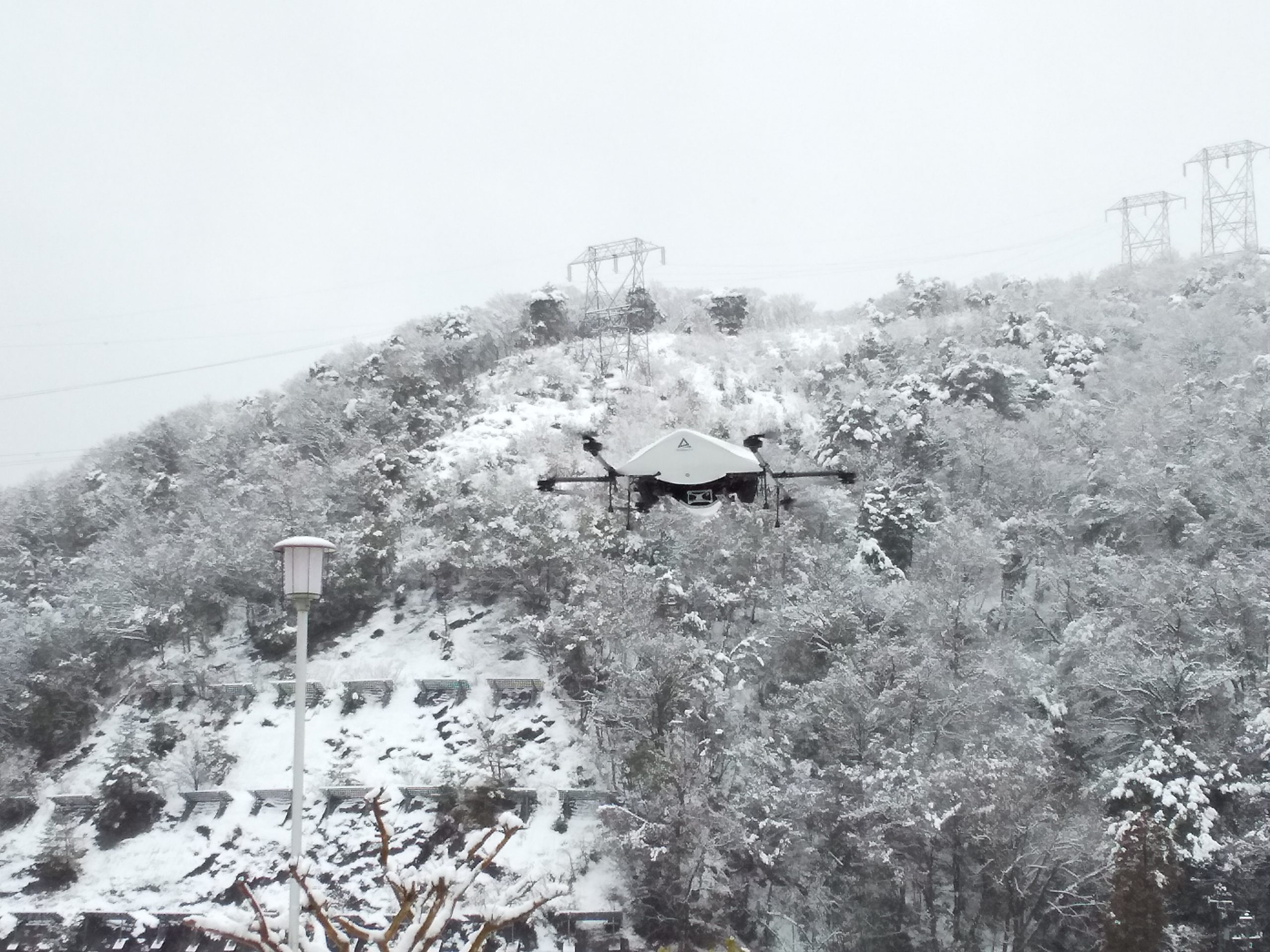 ~Concrete measures based on the content of the comprehensive cooperation agreement concluded in November for the establishment of a new smart logistics system that contributes to the solution of regional issues through the use of next-generation advanced technologies including drones~
Tsuruga City (Mayor: Takanobu Fuchikami), Seino Holdings Co., Ltd. (Head office: Ogaki City, Gifu Prefecture; President: Yoshitaka Taguchi; hereinafter referred to as Seino HD), Aeronext Inc. (Head office: Shibuya Ward, Tokyo; CEO: Keisuke Toji; hereinafter referred to as Aeronext), and NEXT DELIVERY Inc. (headquartered in Kosuge Village, Yamanashi Prefecture; Keisuke Toji, CEO; hereinafter referred to as "NEXT DELIVERY") announced on Thursday, January 20, 2022, that they will conduct a drone delivery demonstration experiment from Thursday, January 20 to Friday, January 21 in the Arachi district of Tsuruga City, with the aim of establishing a new smart logistics system that will contribute to solving regional issues.
This demonstration experiment is based on a comprehensive cooperation agreement signed in November of last year between Tsuruga City, Seino HD, and Aeronext, with the aim of working on regional issues such as the aging of the population and depopulation of the city, as well as decarbonization efforts, such as hydrogen, renewable energy, and zero-emission logistics. The project aims to build a new logistics business model by utilizing next-generation advanced technologies, and will be implemented as a model case of "drone logistics connecting urban areas and depopulated areas," all while taking into account the geographical characteristics of Tsuruga City.
Specifically, the project is aimed at the societal implementation of "SkyHub®*1," a new smart logistics system that integrates drone delivery and land transportation, which is being developed and promoted by Seino HD and Aeronext, and will be implemented by Aeronext's subsidiary NEXT DELIVERY, which is primarily engaged in the drone delivery service business.
In addition, this demonstration experiment has been selected by the Organization for the Promotion of Low Emission Vehicles as a project eligible for subsidies for carbon dioxide emission control projects in 2021 (a project to promote the introduction of advanced technologies that simultaneously realize social innovation and decarbonization of logistics).
【Outline of the demonstration experiment】
1.Background and objectives
Tsuruga City has a total population of 64,425 people (as of the end of September, 2021) and the third largest area in the prefecture with 251.41 km2, that includes an Alluvial fan-shaped geography, with the city center located in the middle and mountainous areas spreading out radially. Recognizing the urban area where supplies and commercial facilities are concentrated and the depopulated area of Arachi district, this demonstration will look to connect urban areas and depopulated areas by setting up temporary Drone Depo and Drone Stands in the Arachi district to evaluate and improve understanding and identifying issues for regular flights for residents.
2.Implementation
In order to provide grocery shopping support to the transportation-disadvantaged people living in the Arachi district, which is far away from the city center, we will deliver an assortment of groceries from local supermarkets ordered by the residents via the SkyHub app from the temporary drone depot (Arachi Community Center) to 3 temporary drone stands in the Arachi district (round trip distance of about 1.4 km to 2.3km) and delivered by drone. As of January 20, at the time of this release to the press, "Meal set" ordered by Mrs. Maekawa via the SkyHub app was delivered by drone about 5 minutes later over a distance of about 0.7km one way to the Hikita Meeting Hall in the Okuno district, then into the hands of Mr. & Mrs. Maekarwa.
After this demonstration, at points that connect the city to the Arachi district, Drone Depo to consolidate the cargo of various companies, and multiple Drone Stands will be set up in the Arachi district to serve as landing sites for drones to begin services linking drone delivery with land delivery.
Based on the Comprehensive Collaborative Agreement, the three parties will continue to mutually collaborate and cooperate with each other to promote local employment, human resources education and training, industrial infrastructure development, securing sustainable local transportation and logistics, creating a livable environment, contributing to local disaster prevention and regional decarbonization, and developing new social infrastructure through the use of next-generation advanced technologies including drones, in line with the challenges of the city center and the the city and the needs of its citizens. We will also contribute to regional revitalization in Tsuruga City by promoting the development of new social infrastructure.
*1 SkyHub®︎
A new smart logistics system that connects existing logistics and drone logistics jointly promoted by Aeronext and Seino Holdings Co., Ltd., and connects the ground and air infrastructure so that goods can be delivered anytime, anywhere. It features an open platform and standardized mechanism that incorporates drone delivery and realizes joint delivery. The introduction of SkyHub will contribute to solving social issues in the region, such as population decline, labor shortage due to declining birthrate and aging population, traffic problems in specific depopulated areas, medical problems, disaster countermeasures, and measures against vulnerable logistics from the aspect of logistics reform. It is possible to raise the satisfaction level of residents and communities by improving the convenience and quality of life of residents, which is also meaningful in promoting regional revitalization.
【About Tsuruga City, Fukui Prefecture\】
Located in the center of Fukui prefecture, the north faces the Sea of Japan, and the other three sides are lined with mountains which surround plains. With an area of 251.41 m2, and a habitable area of 53.07 m2, there are few plains and many mountainous areas.
The city is implementing efforts for decarbonization, such as experiments with a virtual power plant and power from hydrogen derived from renewable energy for our goal of reducing greenhouse gases and becoming a zero carbon city by 2050.
*For more information about Tsuruga City, please visit https://www.city.tsuruga.lg.jp/index.html
【About Arachi District, Tsuruga City, Fukui Prefecture】
Bordering Shiga prefecture, we have long been a key point for logistics, connecting Kinki and Hokuriku. In the early Edo period, ships carrying rice, and other goods from the Hokuriku region entered Tsuruga Port and were transported from Tsuruga Port to Osaka via Aiki, making us a popular logistics hub. In addition, when the Tsuruga Lake Biwa Canal was conceived in the 19th century, we opened a part of it, the "Hikida Funagawa." In the Meiji era, we saw the the first railway on the Sea of Japan side opened, in addition to the oldest existing railway tunnel in Japan, the Kotone Tunnel. Further we saw the longest tunnel in Japan at that time constructed by only Japanese people, the Yanagase Tunnel.
Last year, a convenience store in the area closed, and shopping has become an issue for the region.
【About Seino HD】
Seino Holdings strives to be a value-creating comprehensive logistics trading company and aims to "provide value that transcends time and space" to its customers. Seino embraces an overall strategy of the group is to embody "Open Public Platform Construction (OPP)" that provides better and optimal services to customers through connections both inside and outside the industry in an open-neutral relationship in order to build a platform that is easy for customers and other companies in the same industry to use. In the last mile area, we are actively promoting and expanding the construction of a last mile O.P.P. that solves social issues such as measures for vulnerable shopping and measures for lower income families, while responding to changes in lifestyle and structure.
*About Seino Holding: https://www.seino.co.jp/seino/shd/overall-condition/
【About Aeronext】
AERONEXT, an IP driven R & D technology startup for next-generation drones, is a company that designs the sky through technology to create a world where the sky becomes a social infrastructure, is economized, and solves social issues through drones. Our core technology is 4D GRAVITY®︎, a unique structural design technology that improves basic drone performance such as stability, efficiency, and mobility of industrial drones by optimizing the center of gravity of the aircraft. In order implement this 4D GRAVITY®︎ as standard equipment on industrial drones, we have constructed a strong patent portfolio and are promoting a partnership-based platform business for the 4D GRAVITY®︎ license globally.
AERONEXT has also founded a subsidiary to implement the SkyHub® smart logistics and pursue drone delivery.
*For more information: https://aeronext.co.jp/company/
【About NEXT DELIVERY】
A subsidiary of AERONEXT, a company mainly engaged in drone delivery, established in Kosuge Village, Yamanashi Prefecture in 2021 with the vision of "becoming a country where affluence is spread to every corner of the earth through 4D LogisticsTM infrastructure that connects air, land, and time in the age of 100 years of life. The company is also involved in the development, manufacture, sale, rental, and maintenance of hardware and software related to drone delivery. We are also developing peripheral businesses such as development, manufacturing, sales, rental, and maintenance of hardware and software related to drone delivery. Starting with Kosuge Village in Yamanashi Prefecture, we are working to improve the efficiency and revitalization of regional logistics in places such as Kamishihoro Town in Hokkaido and Tsuruga City in Fukui Prefecture.