Press Release
Tsuruga City to Build a New Smart Logistics System that Contributes to Solving Regional Challenges Second Drone Logistics Demonstration to Help Solve Local Problems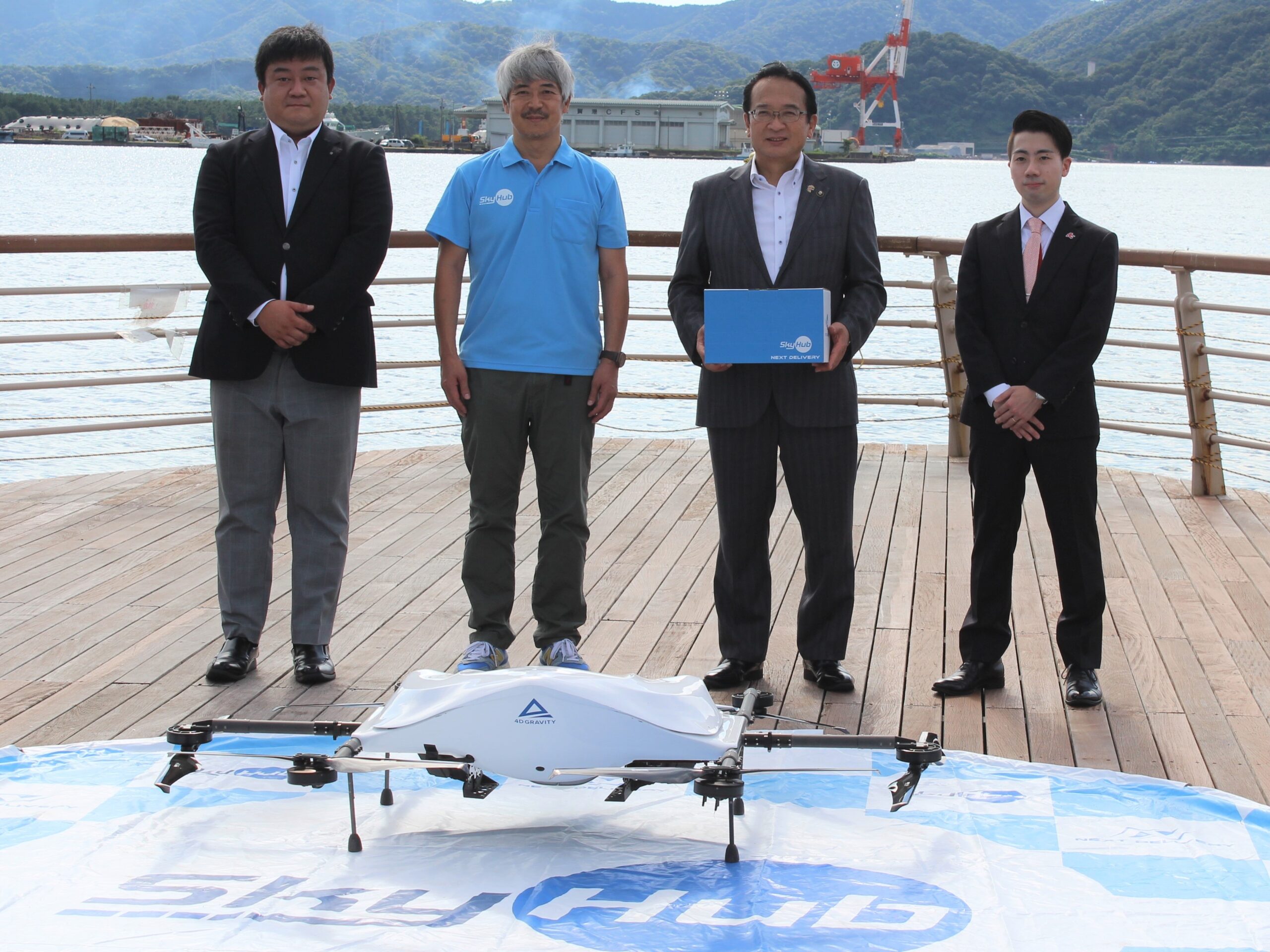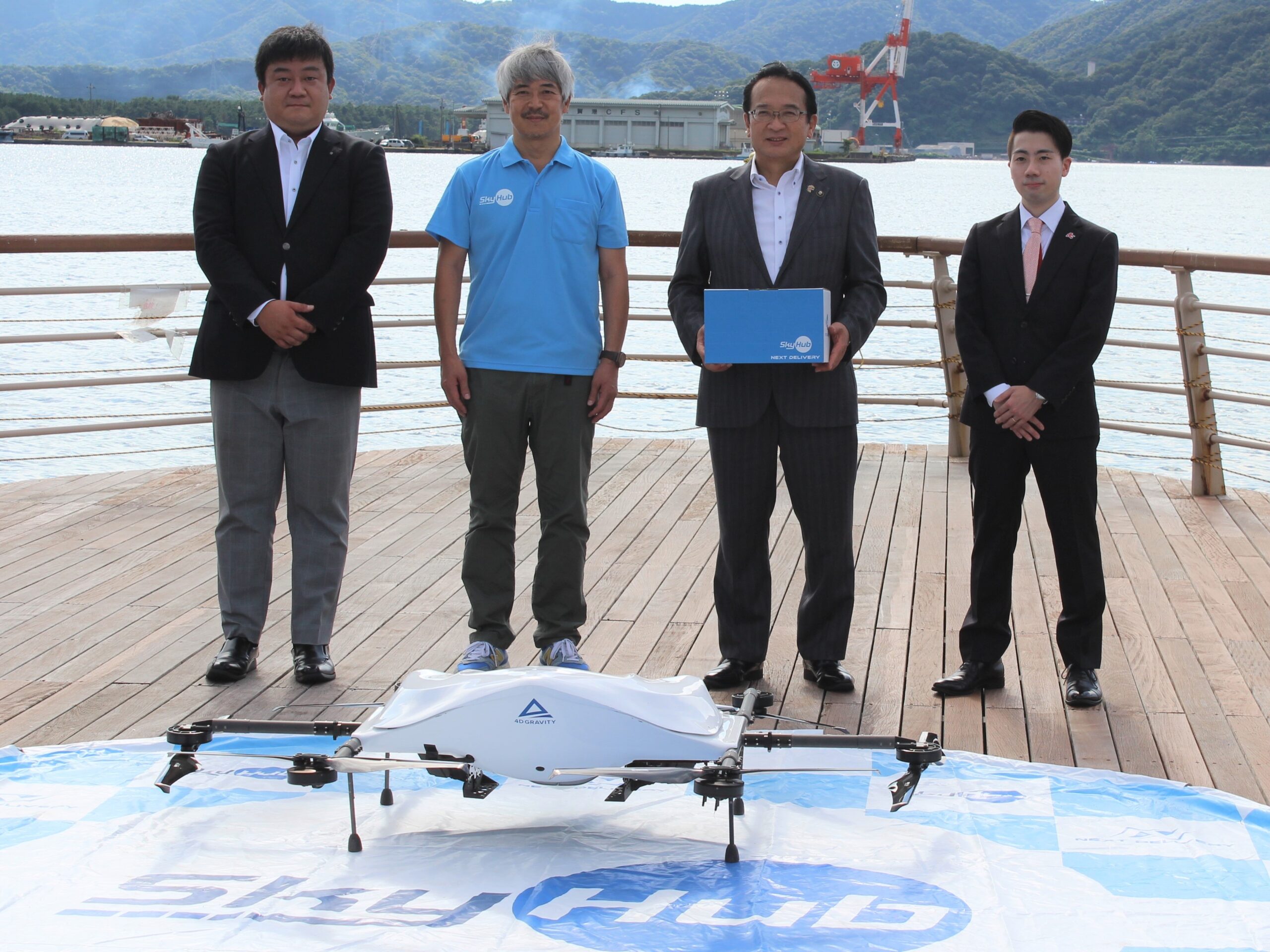 Tsuruga City (Mayor: Takanobu Fuchikami), SEINO HOLDINGS CO., LTD. (Ogaki City, Gifu Prefecture; Yoshitaka Taguchi, President and Representative Director; hereinafter "Seino HD"), Demae-can Co., Ltd. (Shibuya-ku, Tokyo; Hideo Fujii, President and Representative Director; hereinafter referred to as "Demae-can"), and NEXT DELIVERY Co. (Kosuge Village, Yamanashi Prefecture; Keisuke Toji, President; hereinafter referred to as "NEXT DELIVERY") announced to the press that they conducted a drone delivery demonstration experiment on Firday, August 26 in the Kanegasaki Green and Higashiura areas of Tsuruga City, Japan, with the aim of building a new smart logistics system that will contribute to solving regional issues.
This demonstration experiment is an initiative utilizing the government's "Digital Rural City National Concept Promotion Grant*1".
Last November, Tsuruga City, Seino HD, and Aeronext Corporation (Shibuya-ku, Tokyo; Keisuke Toji, CEO; hereinafter "Aeronext"), a next-generation drone R&D startup that is the parent company of NEXT DELIVERY, signed a comprehensive collaboration agreement to solve regional issues such as aging and depopulation through decarbonization initiatives such as hydrogen, renewable energy, and zero-emission logistics, which Tsuruga City is aiming for. They are working together to create a new business model for logistics by utilizing next-generation advanced technologies.
Specifically, the project is aimed at social implementation of "SkyHub®*2 ," a new smart logistics system that integrates drone delivery and land transportation, which is being developed and promoted by Seino HD and Aeronext. NEXT DELIVERY is responsible for implementation, and while making preparations for systemic integration of the SkyHub® system and the delivery center application, the project is being promoted for implementation to begin this autumn in Tsuruga City.
In January of this year, a demonstration experiment was conducted in the Aibu area to test "drone logistics linking urban areas and depopulated areas," taking into account the geographical characteristics of Tsuruga City, and this is the second such experiment.
【Demonstration Experiment Overview】
1.Background and Purpose
Tsuruga City has a total population of 63,839 (as of July 31, 2022) and the third largest area of 251.41 km2 in the prefecture. Geographically, the city has a typical fan shape, with the urban area in the center and mountainous areas radiating out. The Higashiura area, where the demonstration experiment will be conducted, faces Tsuruga Bay and is a scenic area. However, it is a depopulated area with only one access road, so it takes time for local residents to get to the city center for food and daily necessities and to medical facilities, and there is a risk that the area will become an isolated settlement in the event of a disaster.
This demonstration experiment will be conducted in the Kanegasaki Green and Higashiura areas to foster public understanding of the project and to assess the possibility of expanding the project to other areas of Tsuruga City.
2.Details
Looking toward shopping support for transportation disadvantaged people living in Higashiura area, and Cooperation with tourist facilities takeout products in Tsuruga Red Brick Warehouse was delivered by drone from Kanegasaki Green area to Higashiura Community Center.
The ordering process for residents was through the Demae-can app, which would then handle notifications to the SkyHub®︎ system.
The ordered food, drink and desert were prepared at a restaurant, Sogno-Poli and Red Brick Café in the Tsuruga Red Brick Warehouse, delivered by the staff to the drone take-off site in Kanegasaki Green by foot, set on the drone, delivered by AirTruck*2, a dedicated logistics drone developed by Aeronext, over a distance of approximately 7.8 km one way in approximately 16 minutes, and delivered to the waiting Mr. Taro Uemoto at the Higashiura Community Center.
Mr. Taro Uemoto, who received the takeout product delivered by drone, said, "I was surprised because I didn't think that a drone would fly so far from the distant such as Kanegasaki Green. When it snows, National Route 8 will stop, so I think drone delivery is really nice".
After this verification experiment, we will first begin the implementation of a new smart logistics SkyHub® in the Arachi area of Tsuruga City this fall. Specifically, a Drone Depot® will be set up as a base for consolidating and temporarily storing cargo from various companies, and several Drone Stands® will be set up as landing sites for drones in the Arachi area, in preparation for the launch of ground delivery and future drone delivery services, such as shopping service and Preparations are underway for the launch of services such as ground delivery and etc.
The parties will continue to mutually collaborate and cooperate with each other to contribute to regional revitalization in Tsuruga City by promoting local employment, human resource education, human resource development, and industrial infrastructure development, ensuring sustainable regional transportation and logistics and creating a livable environment, contributing to regional disaster prevention and regional decarbonization, and developing new social infrastructure by utilizing next-generation advanced technologies including drones, in accordance with municipal challenges and the needs of the citizens.
*1 Grant for Promotion of Digital Rural City State Concept
Tsuruga City, Fukui Prefecture, has been selected for the "Smart Logistics Project Using Drones" as part of the Digital Implementation Type (TYPE1) of the Digital Rural City National Concept Promotion Grant. The Digital Implementation Type (TYPE 1) of the Digital Rural City National Concept Promotion Grant supports local governments in their efforts to solve regional issues and improve regional attractiveness through the use of digital technology, by utilizing excellent models already established in other regions, rapid deployment and other methods.
*2 SkyHub®︎
A new smart logistics system that connects existing logistics and drone logistics jointly promoted by Aeronext and Seino Holdings Co., Ltd., and connects the ground and air infrastructure so that goods can be delivered anytime, anywhere. It features an open platform and standardized mechanism that incorporates drone delivery and realizes joint delivery. The introduction of SkyHub will contribute to solving social issues in the region, such as population decline, labor shortage due to declining birthrate and aging population, traffic problems in specific depopulated areas, medical problems, disaster countermeasures, and measures against vulnerable logistics from the aspect of logistics reform. It is possible to raise the satisfaction level of residents and communities by improving the convenience and quality of life of residents, which is also meaningful in promoting regional revitalization.
*3 AirTruck Logistics Drone
AirTruck, the first mass-produced logistics drone developed in Japan by Aeronext Corporation, a next-generation drone technology startup, in collaboration with ACSL, achieves stable flight with Aeronext's proprietary 4D GRAVITY®*3 airframe structure design technology. The AirTruck is a dedicated logistics drone that goes "faster, farther, and is more stable" with enhanced for logistics, specialized for forward motion, and aerodynamic characteristics required for long-distance flight. The prototype has flown in demonstration tests in various regions of Japan and has the No. 1 flight record in Japan.
*4 Airframe structural design technology 4D GRAVITY®
Structural design technology that optimizes the center of gravity of the aircraft to make the motor speed uniform regardless of the attitude, state, and movement during flight, and improves the basic performance of the industrial drone in areas such as stability, efficiency, and mobility. This technology is characterized by a coupling structure between the airframe and payload. Aeronext patents this technology and manages its 4D GRAVITY® patent portfolio. By improving the basic performance industrial drones, 4D GRAVITY®, expands the applications of industrial drones allowing for expanded markets
【About Tsuruga City, Fukui Prefecture】
Located in the center of Fukui prefecture, the north faces the Sea of Japan, and the other three sides are lined with mountains which surround plains. With an area of 251.41 m2, and a habitable area of 53.07 m2, there are few plains and many mountainous areas.
The city is implementing efforts for decarbonization, such as experiments with a virtual power plant and power from hydrogen derived from renewable energy for our goal of reducing greenhouse gases and becoming a zero carbon city by 2050.
*About Tsuruga City: https://www.city.tsuruga.lg.jp/index.html
【About Seino HD】
Seino Holdings strives to be a value-creating comprehensive logistics trading company and aims to "provide value that transcends time and space" to its customers. Seino embraces an overall strategy of the group is to embody "Open Public Platform Construction (OPP)" that provides better and optimal services to customers through connections both inside and outside the industry in an open-neutral relationship in order to build a platform that is easy for customers and other companies in the same industry to use. In the last mile area, we are actively promoting and expanding the construction of a last mile O.P.P. that solves social issues such as measures for vulnerable shopping and measures for lower income families, while responding to changes in lifestyle and structure.
*About Seino Holdings: https://www.seino.co.jp/seino/shd/overall-condition/
【About Demae-can Co., Ltd.】
Demae-can is one of the largest delivery services in Japan with a nationwide network covering 47 prefectures and is available both on the website and mobile app. Since its launch, the number of restaurants/shops on the platform has expanded to more than 100,000.
Originally started as a food delivery service, recent Demae-can has been providing the service called, "quick commerce," a last mile delivery service of daily necessities, beverages, and other essentials to everyday life. With food delivery as its starting point, Demae-can will continue to expand its service to fullfil a variety of needs and move forward as a life infrastructure.
*About Demae-can Co., Ltd.: https://demae-can.com/
【About NEXT DELIVERY】
A subsidiary of AERONEXT, a company mainly engaged in drone delivery, established in Kosuge Village, Yamanashi Prefecture in 2021 with the vision of "becoming a country where affluence is spread to every corner of the earth through 4D LogisticsTM infrastructure that connects air, land, and time in the age of 100 years of life. The company is also involved in the development, manufacture, sale, rental, and maintenance of hardware and software related to drone delivery. We are also developing peripheral businesses such as development, manufacturing, sales, rental, and maintenance of hardware and software related to drone delivery. Starting with Kosuge Village in Yamanashi Prefecture, we are working to improve the efficiency and revitalization of regional logistics in places such as Kamishihoro Town in Hokkaido and Tsuruga City in Fukui Prefecture.
*For more information: https://nextdelivery.aeronext.co.jp/#company/
*AERONEXT and the AERONEXT logo, as well as "4D GRAVITY(R)," are trademarks of AERONEXT Co.
*Other company names and product/service names mentioned in this press release are registered trademarks or trademarks of their respective owners.