Press Release
Unnan City, Seino HD, Aeronext conclude a comprehensive cooperation agreement for the construction of new smart logistics that contributes to solving regional issues by utilizing next-generation advanced technology including drones.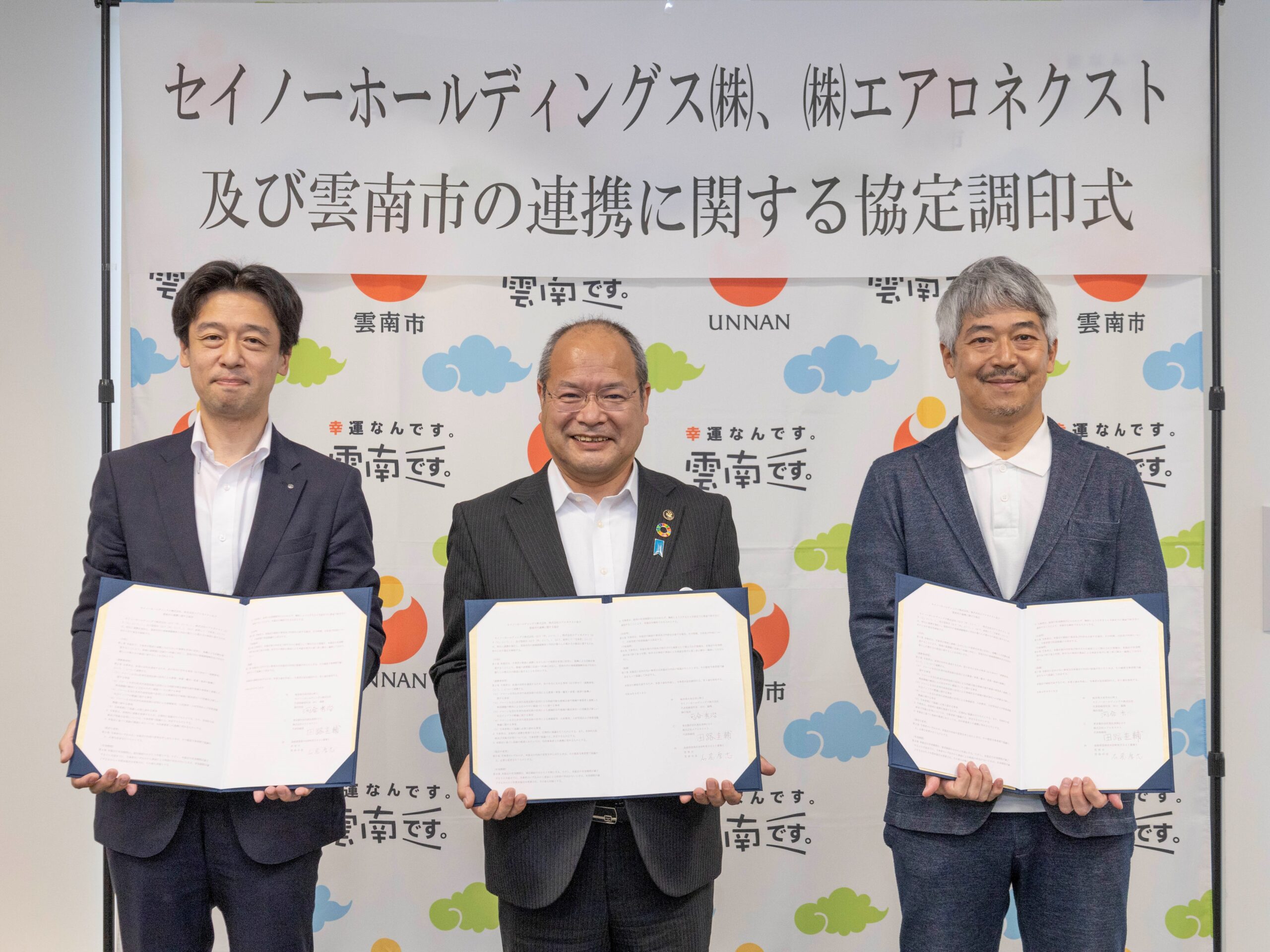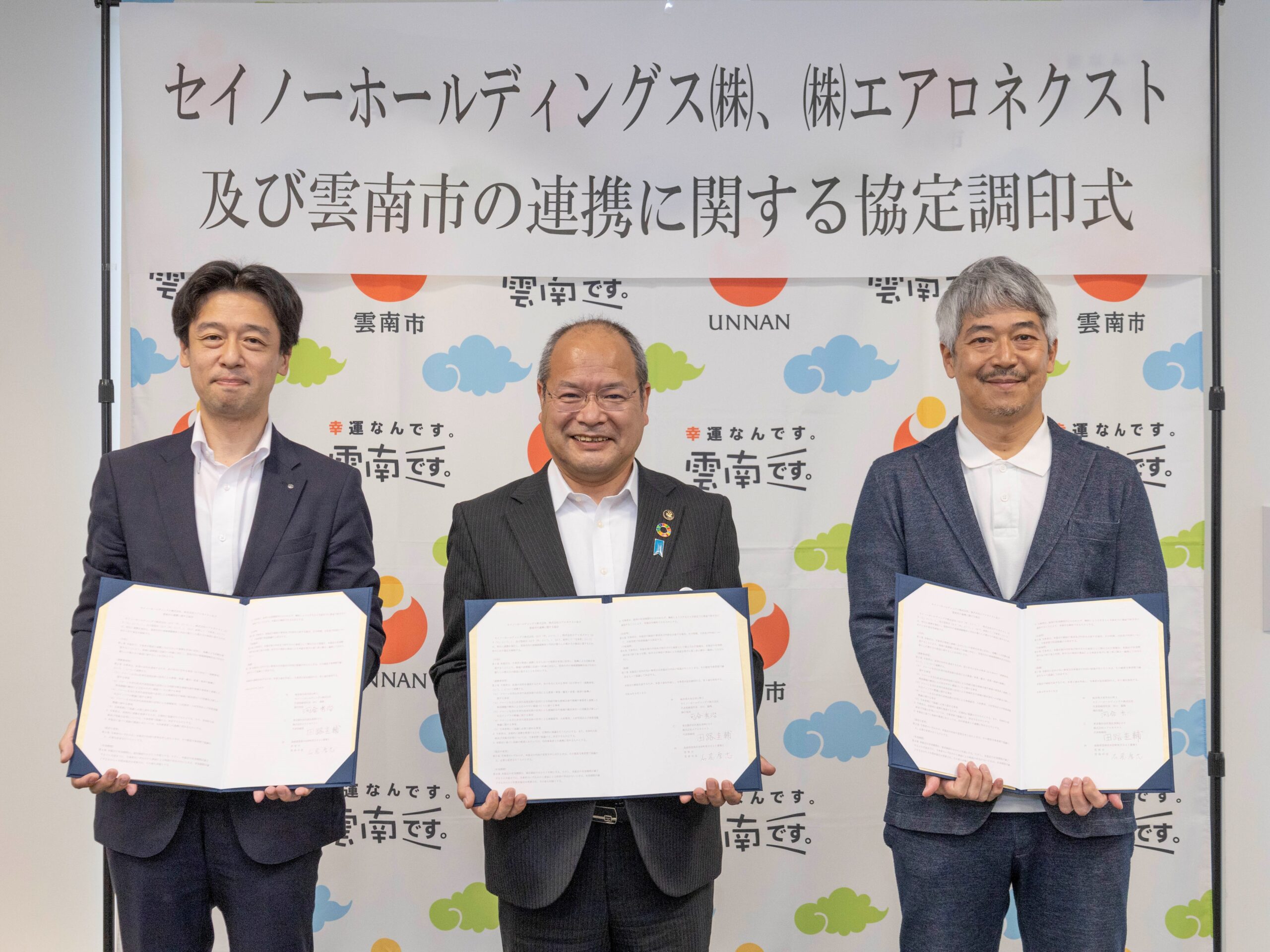 Unnan City (Mayor: Atsushi Ishitobi), Seino Holdings Corporation (Head Office: Ogaki City, Gifu Prefecture; President: Yoshitaka Taguchi; hereinafter "Seino HD"), and Aeronext Inc. (Head Office: Shibuya-ku, Tokyo; CEO: Keisuke Toji; hereinafter "Aeronext) concluded a cooperation agreement on September 16, 2022 to establish new smart logistics*1 that will contribute to solving regional issues by utilizing next-generation advanced technologies, including drones, as a "Corporate Challenge" to solve social issues and create new value through collaboration between companies and local communities.
The purpose of this agreement is to create a new logistics business model through mutual collaboration and cooperation, with a focus on the Hata and Iruma districts of Kakeiai Town and the Yoshida district of Yoshida Town, with the aim of realizing Unnan City's goals of "safety and security," "vitality and liveliness," and "healthy longevity and lifelong activity," and to solve regional issues related to aging and depopulation, while fostering citizen understanding and envisioning expansion to other areas in Unnan City. The purpose of the agreement is to establish a new logistics business model through the use of next-generation advanced technology, including a drone delivery demonstration experiment in cooperation with local self-governing bodies and local businesses.
<Outline of Cooperative Agreement>
 Agreement Date
September 16, 2022
Areas Covered by Agreement
The following areas will pursued through the use of next-generation advanced technology, including drones.
(1)Regional employment, human resources education, human resources development, and industrial infrastructure development
(2)Ensuring sustainable regional transportation and logistics and creating a livable environment
(3)Local disaster prevention and contribution to the decarbonization of the region and the development of new social infrastructure
Initiative Outline
In Unnan City, small villages are widely scattered, there are few stores and restaurants, and about 40% of the population is elderly. In the transportation industry, maintaining delivery services is becoming an issue, especially in depopulated areas, due to labor shortages and profitability.
In order to optimize logistics, the private sector and the government will collaborate on a demonstration experiment that aims to solve these issues by creating a system to provide shopping services, disaster relief, and pharmaceutical delivery by introducing a new smart logistics system that incorporates drone delivery as the last mile transportation method and links and integrates ground transportation and drone delivery.
In this demonstration project, we are studying the implementation of food delivery and delivery of groceries and daily necessities to local residents, mainly in the Hata and Iruma districts of Kakeiai-cho and the Yoshida district of Yoshida-cho, in cooperation with local volunteer organizations and local businesses.
Atsushi Ishitobi, Mayor of Yunnan City, Shuji Kawai, Executive Officer of Seino HD, and Keisuke Toji, CEO of Aeronext, attended the signing ceremony of the comprehensive cooperation agreement held at Unnan City Hall on September 16, and made the following comments.
<Comments by Atsushi Ishitobi, Mayor of Unnan>
In Unnan City, the number of elderly single-person households is increasing, especially in mountainous areas, and maintaining daily shopping and other conveniences has become a challenge. In addition, the delivery and collection of agricultural products is also a challenge for those who have returned their driver's licenses and have limited means of delivery to the produce markets. We will construct an optimal logistics network to address these local issues and conduct a demonstration project in cooperation with local voluntary organizations and businesses in the city, while taking into consideration the wishes of the local community.
<Comment from Shuji Kawai, Executive Officer of Seino HD>
Seino Holdings is actively promoting and expanding the construction of last-one-mile delivery systems in the area of last-mile delivery by leveraging its strengths in trunk line transportation, responding to changes in lifestyles and structures, and solving social issues such as measures for vulnerable shoppers and impoverished households.
In Unnan City, we will build a multi-task base that can handle delivery at the lowest possible cost in the region, and pursue the creation of a comfortable environment for residents and resident services with a view to automation with drones in the future. We will work to build new air and land infrastructure while leaving behind the wonderful structure and things of the town.
<Comments from Keisuke Toji, CEO and Representative Director of Aeronext>
We believe that the "2024 logistics problem" will have a significant impact on local immigration and settlement policies of each community, as goods will be harder or more difficult to reach in some municipalities. We hope to help maintain and improve the convenient living environment for the residents of Unnan City by providing services through SkyHub®, a new smart logistics service that successfully combines various means of transportation, including drones and trucks.
Through this comprehensive cooperation agreement, the three parties will mutually collaborate and cooperate to contribute to the revitalization of the community in Unnan City by promoting local employment, human resource education, human resource development, and industrial infrastructure development, ensuring sustainable local transportation and logistics and creating a livable environment, contributing to local disaster prevention and regional decarbonization, and developing new social infrastructure by utilizing next-generation advanced technologies including drones in accordance with city issues and citizen needs.
<Reference>
*1 New Smart Logistics
A public-private initiative to find solutions to the issues commonly faced by the logistics industry, such as labor shortages, environmental and energy issues, and DX areas, while utilizing digital and technology to ensure the future sustainability of logistics, which is an indispensable infrastructure for people's daily lives. The project aims to realize the last mile joint delivery, the best mix of land and air transportation, freight and passenger consolidation, automated technology, etc., through co-creation based on an open public platform (O.P.P.) that transcends the boundaries between the industry and the outside world.
*2 AirTruck
AirTruck, the first mass-produced logistics drone developed in Japan by Aeronext Corporation, a next-generation drone technology startup, in collaboration with ACSL, achieves stable flight with Aeronext's proprietary 4D GRAVITY®*3 airframe structure design technology. The AirTruck is a dedicated logistics drone that goes "faster, farther, and is more stable" with enhanced for logistics, specialized for forward motion, and aerodynamic characteristics required for long-distance flight. The prototype has flown in demonstration tests in various regions of Japan and has the No. 1 flight record in Japan.
*3 New Logistics SkyHub®︎
A new smart logistics system that connects existing logistics and drone logistics jointly promoted by Aeronext and Seino Holdings Co., Ltd., and connects the ground and air infrastructure so that goods can be delivered anytime, anywhere. It features an open platform and standardized mechanism that incorporates drone delivery and realizes joint delivery. The introduction of SkyHub will contribute to solving social issues in the region, such as population decline, labor shortage due to declining birthrate and aging population, traffic problems in specific depopulated areas, medical problems, disaster countermeasures, and measures against vulnerable logistics from the aspect of logistics reform. It is possible to raise the satisfaction level of residents and communities by improving the convenience and quality of life of residents, which is also meaningful in promoting regional revitalization.
【About Unnan City, Shimane Prefecture】
The current population of Yunnan City is just over 36,000. Depopulation and aging are progressing at a rapid pace, and the aging rate, which rose to 37% in 2015, is 25 years ahead of the national average. Unnan City is trying to change this situation by positioning itself as an "advanced problem-solving area," one step ahead of other "advanced problem-oriented areas. The Unnan Social Challenge Valley Project is a demonstration experiment in new social design for this purpose.
This is a series of measures to create a chain of multi-generational and diverse challenges at the respective stages of children, youth, and adults in order to build a system to develop and secure diverse human resources to lead the region and to enhance the sustainability of the region. Now, in pursuit of even greater impact, the "Corporate Challenge" is being added to these measures to create an ecosystem of social challenges for all players. The "Corporate Challenge" is an attempt to provide Unnan City as a demonstration field for companies and NPOs that aim to create new social designs through their products and services, and to develop them into projects while linking them with local voluntary organizations.
*For more information: http://www.co-unnan.jp/ch-kigyou.php
【About Seino Holdings Co., Ltd.】
Seino Holdings strives to be a value-creating comprehensive logistics trading company and aims to "provide value that transcends time and space" to its customers. Seino embraces an overall strategy of the group is to embody "Open Public Platform Construction (OPP)" that provides better and optimal services to customers through connections both inside and outside the industry in an open-neutral relationship in order to build a platform that is easy for customers and other companies in the same industry to use. In the last mile area, we are actively promoting and expanding the construction of a last mile O.P.P. that solves social issues such as measures for vulnerable shopping and measures for lower income families, while responding to changes in lifestyle and structure.
* For more information: https://www.seino.co.jp/seino/shd/overall-condition/
【About Aeronext Inc.】
Aeronext, an IP driven R & D technology startup for next-generation drones, is a company that designs the sky through technology to create a world where the sky becomes a social infrastructure, is economized, and solves social issues through drones. Our core technology is 4D GRAVITY®︎, a unique structural design technology that improves basic drone performance such as stability, efficiency, and mobility of industrial drones by optimizing the center of gravity of the aircraft. In order implement this 4D GRAVITY®︎ as standard equipment on industrial drones, we have constructed a strong patent portfolio and are promoting a partnership-based platform business for the 4D GRAVITY®︎ license globally.
AERONEXT has also founded a subsidiary to implement the SkyHub® smart logistics and pursue drone delivery.
*For more information: https://aeronext.com/company/
*AERONEXT and the AERONEXT logo, as well as "4D GRAVITY®" and "SkyHub® are trademarks of AERONEXT Co.
*Other company names and product/service names mentioned in this press release are registered trademarks or trademarks of their respective owners.