Press Release
Demonstration experiment for the construction of a new smart logistics system that contributes to addressing regional issues in Unnan City, Shimane Prefecture~Toward societal implementation of SkyHub®, a new smart logistics system that combines drone delivery and land delivery~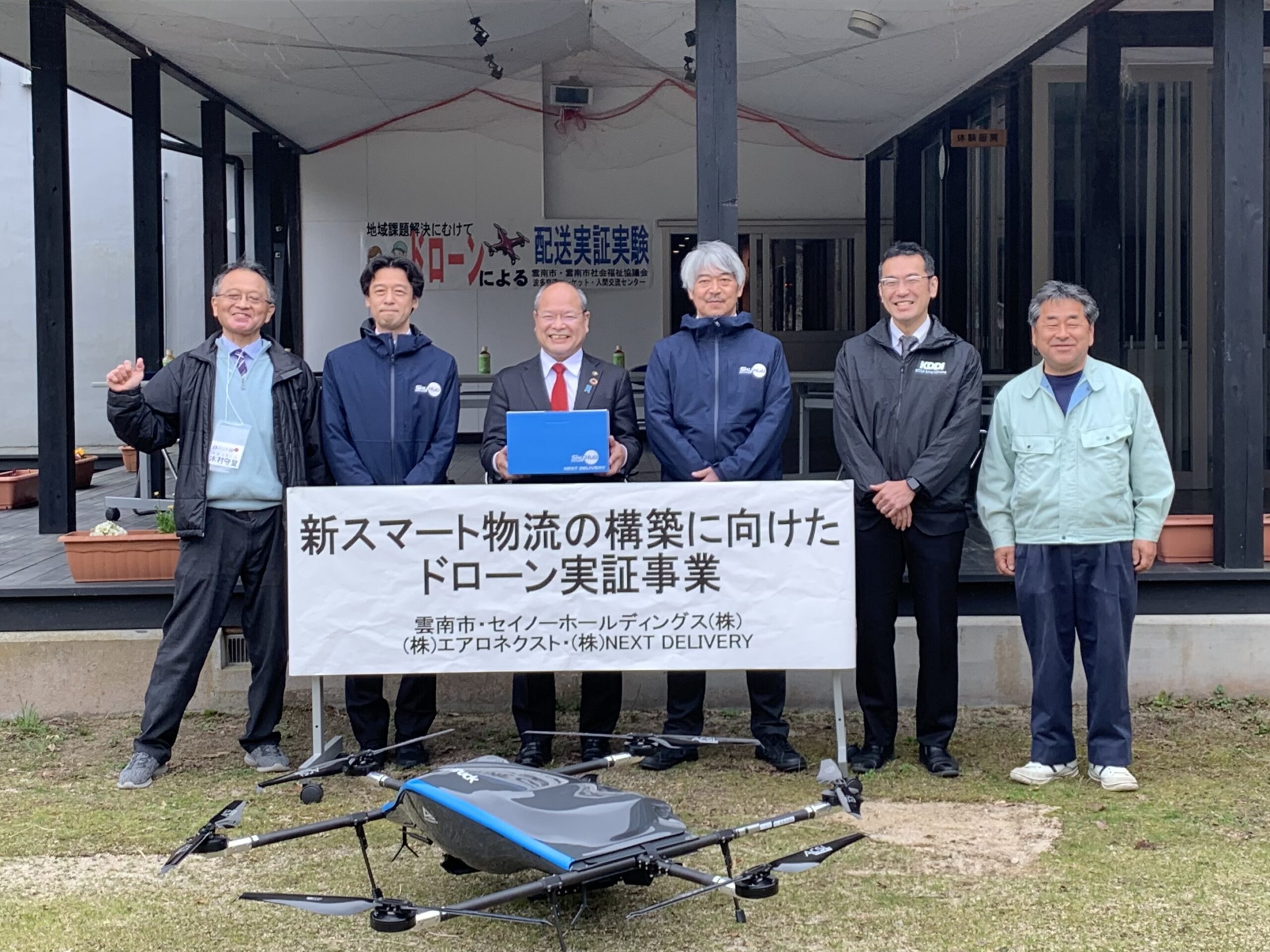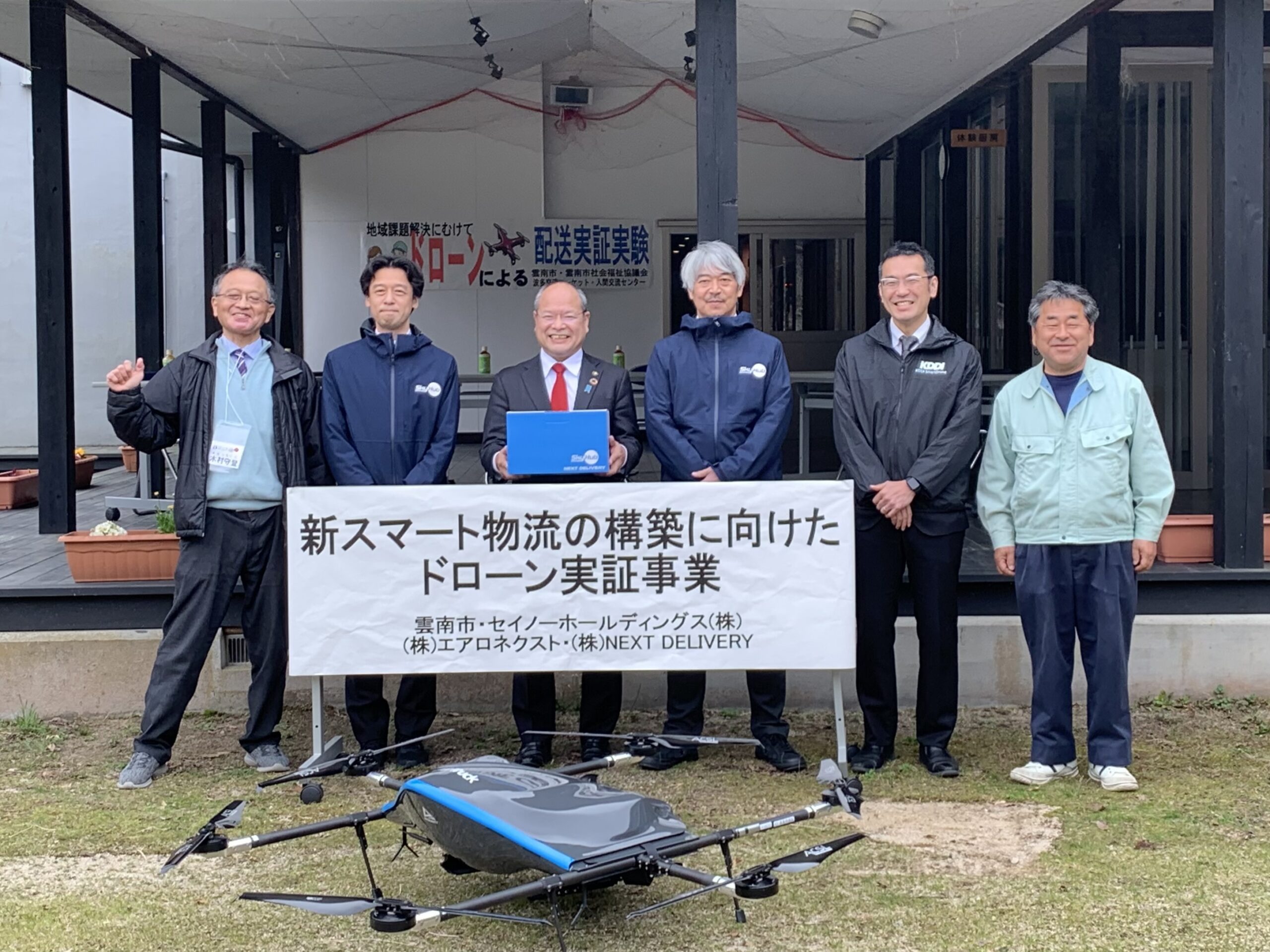 Unnan City (Mayor: Atsushi Ishitobi), Seino Holdings Co., Ltd. (Head office: Ogaki City, Gifu Prefecture, President: Yoshitaka Taguchi), Aeronext Inc. (headquartered in Shibuya-ku, Tokyo; Keisuke Toji, CEO; hereinafter "Aeronext"), NEXT DELIVERY Inc. (Head office:Kosuge Village, Yamanashi Prefecture; Keisuke Toji, President; hereinafter "NEXT DELIVERY"), and KDDI SmartDrone Inc. (Head office:Minato-ku, Tokyo; President & CEO: Masafumi Hirono; hereinafter "KDDI SmartDrone") on Friday, March 17 released to the press that on Friday, the establishment of roadside station Kakeiai no Sato and Hatata Market as a logistics base, and operations for drone delivery starting from that base on March 17 and Saturday March 18.
This demonstration experiment is based on a comprehensive collaboration agreement signed last September between Unnan City, Seino HD, and Aeronext to build a new smart logistics system that contributes to address regional issues through the use of next-generation advanced technologies, including drones.
Specifically, the project is aimed at studying the societal implementation of SkyHub®*2, a new smart logistics system*1 that combines drone delivery and land transportation, which is being developed and driven by Seino HD and Aeronext. KDDI SmartDrone collaborated with NEXT DELIVERY to conduct the drone operation.
Demonstration Experiment Overview
Background and Purpose
Unnan City is surrounded by rich forests, rivers, waterfalls, and a rich natural environment unique to a mountainous area. It is a beautiful region with a pleasant and peaceful impression created by water and greenery, with urban development that blends nature with the lives of citizens, where cherry blossoms and fireflies come alive, and hot spring facilities and tourist facilities that make the most of local resources. Small villages are widely scattered, there are few stores and restaurants, and about 40% of the population is elderly. In the transportation industry, the shortage of labor and profitability are making it increasingly difficult to maintain deliveries, especially in underpopulated areas. In order to optimize logistics, the private sector and the government will collaborate on a demonstration experiment that aims to solve these issues by creating a system that provides shopping services, disaster relief, and pharmaceutical delivery by introducing a new smart logistics system that incorporates drone delivery as the last mile transportation method and connects and integrates ground transportation and drone delivery.
Details
In this demonstration, a meal delivery service provided by volunteers in the Iruma area was tested to improve efficiency by replacing the work of picking up boxed lunches at the Council of Social Welfare with a drone. In addition, in order to increase the number of users of Hata Market, we conducted a demonstration of on-demand delivery by drone of products ordered via an app mainly to elderly people who have difficulty visiting the market. The drone delivery demonstrations used AirTruck*3, a dedicated logistics drone developed by Aeronext, and the aircraft was controlled by SmartDrone Tools*5, a Flight Opereation System developed by KDDI SmartDrone that enables remote control and autonomous flight of the aircraft using mobile communications.
At the opening to the press on Thursday, March 17, the drone first flew in about 18 minutes from the Social Welfare Council as a temporary Drone Depot®*6 to the Iruma Nursing Care Office, a hypothetical drone station*7 about 8 km one way, to deliver one meal for the meal delivery service. In order to tackle the problem of "shopping refugees," one of the regional issues, through drone logistics, a "set of oden and grilled mackerel sushi" (approx. 2.4 kg), consisting of products ordered by resident monitors acting as customers, was loaded from Hatamarket and delivered by drone to the Iruma Exchange Center, the take-off point, a distance of 7.3 km one way, in approx. 16 minutes. It took approximately 16 minutes to deliver the package to the Iruma Koryu Center, the takeoff point.
The products arrived without any damage or damage to the items and were safely delivered to the hands of the community monitors who were waiting for them at the Iruma Exchange Center. One of the community member monitors who received the drone-delivered items commented, "We have various technologies that make things convenient now, but when I was young I couldn't even imagine it. It is like a dream to have something delivered by drone."
We will continue to study the societal implementation of SkyHub®, a new smart logistics system that combines drone delivery and land delivery, utilizing drones and other next-generation advanced technologies to promote understanding among local residents and address regional issues.
※ This demonstration experiment has been adopted by the Organization for Environment and Development as a project eligible for a FY2022 subsidy for carbon dioxide emission control measures (a project to promote the introduction of advanced technologies that simultaneously realize social reform and decarbonization of logistics).
(Reference)
*1 New Smart Logistics
A public-private initiative to find solutions to the issues commonly faced by the logistics industry, such as labor shortages, environmental and energy issues, and DX areas, while utilizing digital and technology to ensure the future sustainability of logistics, which is an indispensable infrastructure for people's daily lives. The project aims to realize the last mile joint delivery, the best mix of land and air transportation, freight and passenger consolidation, automated technology, etc., through co-creation based on an open public platform (O.P.P.) that transcends the boundaries between the industry and the outside world.
*2 New Smart Logistics SkyHub®︎
A new smart logistics system jointly developed and deployed by Aeronext and Seiho HD that connects existing logistics with drone logistics and connects ground and air infrastructure to deliver goods anytime, anywhere.
Based on the SkyHub® system, the joint delivery service provides services such as joint delivery of packages from different logistics companies, shopping, delivery, food, medicine, etc. to drone stands® or private homes, based on the Drone Depot®.
The introduction of SkyHub® not only has the logistics benefits of promoting unmanned and inventory-free operations and improving last mile delivery efficiency, it also introduces a new logistics infrastructure, and from the aspect of logistics reform, it can be used to solve social issues in the region, such as labor shortages due to population decline and aging populations, transportation issues in specific depopulated areas, medical issues, disaster countermeasures, and measures for the vulnerable in logistics. In addition, it will contribute to addressing regional issues such as population decline, labor shortage due to aging and declining population, transportation problems in certain depopulated areas, medical problems, disaster measures, and measures for those who are vulnerable in logistics, as well as raising the level of satisfaction of residents and communities by improving convenience and quality of life for them.
*3 Dedicated Logistics Drone AirTruck
AirTruck, the first mass-produced logistics drone developed in Japan by Aeronext Corporation, a next-generation drone technology startup, in collaboration with ACSL, achieves stable flight with Aeronext's proprietary 4D GRAVITY®*4 airframe structure design technology. The AirTruck is a dedicated logistics drone that goes "faster, farther, and is more stable" with enhanced for logistics, specialized for forward motion, and aerodynamic characteristics required for long-distance flight. The prototype has flown in demonstration tests in various regions of Japan and has the No. 1 flight record in Japan.
*4 Airframe structural design technology 4D GRAVITY®
Airframe structure design technology developed by Aeronext optimizes aerodynamic characteristics by equalizing motor speed regardless of attitude, condition, or movement during flight and controlling lift, drag, and fuselage center of gravity based on fuselage shape and structure to improve the basic performance of industrial drones, such as stability, efficiency, and mobility, and the transportation performance of drones dedicated to logistics. Aeronext has patented this technology and manages it as part of the 4D GRAVITY® patent portfolio. 4D GRAVITY® improves basic performance and opens up new markets and applications for industrial drones.
*5 SmartDrone Tools
KDDI SmartDrone Inc. provided service that combines the "4G LTE Package," a set of basic tools necessary for remote autonomous drone flight, with options that suit the user's usage scenario. The "4G LTE Package" offers a combination of three tools: an "Flight Opereation System" that enables remote control of drones and real-time sharing of images from anywhere in Japan, a "cloud" for managing filmed data, and "mobile communications" for unlimited data usage.
*6 Drone Depot®
Warehouses and bases for the accumulation and delivery of goods at the connection points between existing land-based logistics and drone logistics, with a setup that enables drone delivery of goods.
*7 Drone Stand®
Facilities or locations for drone takeoffs and landings located at the origin and terminus of drone logistics.
【About Unnan City】
The current population of Yunnan City is just over 36,000. Depopulation and aging are proceeding at a rapid pace, and the aging rate, which rose to 37% in 2015, is 25 years ahead of the national average. Unnan City is trying to change this situation by positioning itself as an "advanced problem-solving area" that is one step ahead. The Unnan Social Challenge Valley Initiative is a new social design demonstration experiment for this purpose. This is a series of measures to create a system to develop and secure diverse human resources to take charge of the region, as well as to create a chain of multi-generational and diverse challenges at the respective stages of children, youth, and adults, to enhance the sustainability of the region. And now, in pursuit of even greater impact, we are adding a "Corporate Challenge" on top of that to create an ecosystem of social challenges by all players. The "Corporate Challenge" is an experiment where companies and NPOs aim to create new social designs through their products and services are provided to Unnan as a field for demonstration, which is then transformed into a project by connecting them with local voluntary organizations.
For more information: http://www.co-unnan.jp/ch-kigyou.php
【About Seino Holdings Co., LTD.】
Seino Holdings strives to be a value-creating comprehensive logistics trading company and aims to "provide value that transcends time and space" to its customers. Seino embraces an overall strategy of the group is to embody "Open Public Platform Construction (OPP)" that provides better and optimal services to customers through connections both inside and outside the industry in an open-neutral relationship in order to build a platform that is easy for customers and other companies in the same industry to use. In the last mile area, we are actively promoting and expanding the construction of a last mile O.P.P. that solves social issues such as measures for vulnerable shopping and measures for lower income families, while responding to changes in lifestyle and structure.
* For more information: https://www.seino.co.jp/seino/shd/overall-condition/
【About Aeronext Inc.】
Aeronext, an IP driven R & D technology startup for next-generation drones, is a company that designs the sky through technology to create a world where the sky becomes a social infrastructure, is economized, and solves social issues through drones. Our core technology is 4D GRAVITY®︎, a unique structural design technology that improves basic drone performance such as stability, efficiency, and mobility of industrial drones by optimizing the center of gravity of the aircraft. In order implement this 4D GRAVITY®︎ as standard equipment on industrial drones, we have constructed a strong patent portfolio and are promoting a partnership-based platform business for the 4D GRAVITY®︎ license globally.
Aeronext has also founded a subsidiary to implement the SkyHub® smart logistics and pursue drone delivery.
*For more information: https://aeronext.co.jp/company/
【About NEXT DELIVERY】
A subsidiary of AERONEXT, a company mainly engaged in drone delivery, established in Kosuge Village, Yamanashi Prefecture in 2021 with the vision of "becoming a country where affluence is spread to every corner of the earth through 4D LogisticsTM infrastructure that connects air, land, and time in the age of 100 years of life. The company is also involved in the development, manufacture, sale, rental, and maintenance of hardware and software related to drone delivery. We are also developing peripheral businesses such as development, manufacturing, sales, rental, and maintenance of hardware and software related to drone delivery. Starting with Kosuge Village in Yamanashi Prefecture, we are working to improve the efficiency and revitalization of regional logistics in places such as Kamishihoro Town in Hokkaido and Tsuruga City in Fukui Prefecture.
*For more information: https://nextdelivery.aeronext.co.jp/
【About KDDI SmartDrone】
KDDI SmartDrone builds services that enable safe remote and long-distance flights by controlling drones using mobile communications such as 4G LTE. KDDI SmartDrone is working to create new businesses with drones and provide agile services that meet customer needs in various fields such as inspection, logistics, surveillance, agriculture, and surveying.
*For more information: https://kddi.smartdrone.co.jp/
*AERONEXT and the AERONEXT logo, as well as "4D GRAVITY®" "SkyHub®" "Drone Depot®" "Drone Stand®" are trademarks of Aeronext Inc.
*Other company names and product/service names mentioned in this press release are registered trademarks or trademarks of their respective owners.