Press Release
Demonstration Experiment of Daily Necessities and Relief Supplies Transport by Drone" Conducted in Yazu Town, Tottori Prefecture, Japan, to Establish New Smart Logistics that Contributes to Address Regional Issues in Collaboration with an Existing Dedicated-localized Digital Platform for Daily Life~Toward societal implementation of SkyHub®, a new smart logistics system that combines drone delivery and land delivery~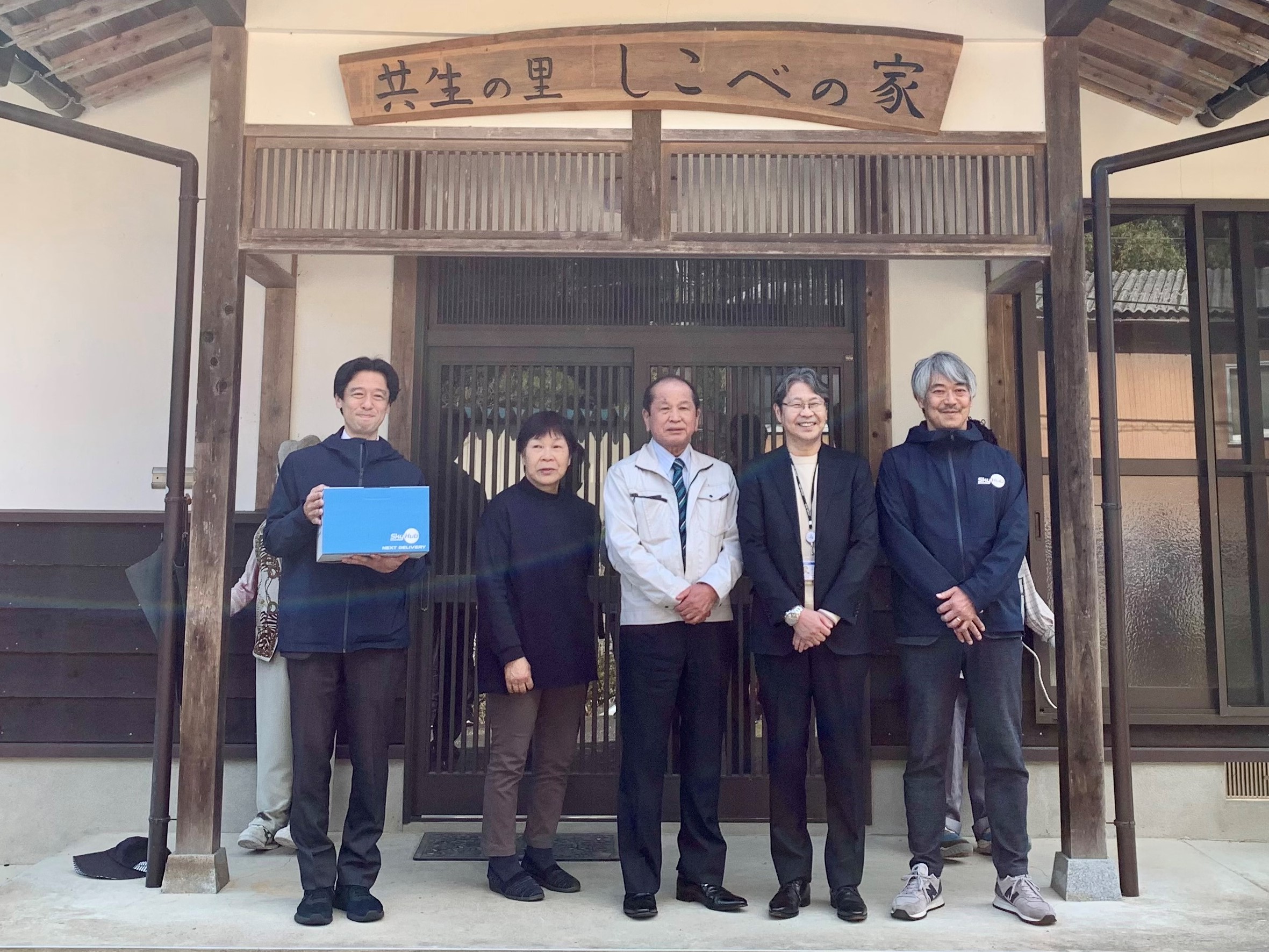 Yazu Town (Mayor: Hideto Yoshida), COCONET Inc. (Head Office: Chuo-ku, Tokyo; President and Chief Executive Officer: Shuji Kawai (also Executive Officer of Seino Holdings Co., Ltd.)), Seino Holdings Co., Ltd. (Head Office: Ogaki City, Gifu Prefecture; President: Yoshitaka Taguchi; hereinafter referred to as "Seino HD"), Aeronext Inc. (Head Office: Shibuya-ku, Tokyo; CEO: Keisuke Toji; hereinafter "Aeronext"), NEXT DELIVERY Inc. (Head Office: Kosuge-mura, Yamanashi Prefecture; Representative Director: Keisuke Toji; hereinafter referred to as NEXT DELIVERY), AXIS CO.,LTD. (Head Office: Tottori-shi, Tottori, Japan; Representative Director: Satoshi Sakamoto; hereinafter referred to as "AXIS"), KDDI SmartDrone Inc. (Head Office: Minato-ku, Tokyo; President&CEO: Masafumi Hirono; hereinafter "KDDI SmartDrone") conducted a demonstration experiment on "drone delivery in mountainous areas" on March 20, 2023, aiming to build a new logistics service by utilizing next-generation advanced technology, starting from Hayabusa Lab.
Specifically, the project is aimed at studying the societal implementation of SkyHub®*1, a new smart logistics system that combines drone delivery and land transportation, which is being developed and promoted by Seino HD and Aeronext. The project was conducted in collaboration with NEXT DELIVERY, KDDI SmartDrone, and AXIS, a local company.
Demonstration Experiment Overview
Background and Purpose
Yazu Town had a census population of 19,434 in 2005, the year of the merger, but the population continued to decline to 16,985 in 2020. The percentage of the juvenile population (0-14 years old) was 12.2%, similar to the national average, while the percentage of the elderly population was 32.02%, higher than the national average. The rapid aging of the population is expected to continue in the future, and urban planning to cope with a declining and aging population is required. The "Yazu Town Future Countryside Project" (collaboration agreement signed on October 25, 2021), promoted by Yazu Town, C-Seven Hayabusa, and Tottori Bank, aims to address regional issues in a society with a declining population through the power of "technology" and "community" and to create a sustainable future countryside. Based on this project, we have conducted a demonstration experiment for a "practical logistics project using unmanned aircraft in depopulated areas, etc." in collaboration with the existing Bird*3, a super community-based lifestyle platform. In addition, the drone delivery demonstration used AirTruck*4, a dedicated logistics drone developed by Aeronext. The aircraft was controlled by the SmartDrone Tools*5 Flight Opereation System developed by KDDI SmartDrone, which enables remote control and autonomous flight of the aircraft using mobile communications.
This experiment will help address regional issues in the town, promote the tourism industry and economy through the introduction of drone delivery, develop infrastructure for regional employment, human resource development, and regional disaster prevention, and improve efficiency by establishing a joint delivery system in cooperation with local businesses and human resources to address the 2024 problem faced by logistics companies, namely inefficient delivery in underpopulated areas.
Details
In this demonstration, a temporary Drone Depot®︎ was set up at Hayabusa Lab to deliver relief supplies, shopping, and food to Kyosei no Sato Shikobe no Ie and Hatto Sports Park using AirTruck, a logistics drone developed by Aeronext, to simulate a disaster in a mid-mountainous area.
Ms. Nakayama, who received the ordered idems by drone delivery, commented, "The egg was not broken and the drink was not spilled. I will be elderly in the future, so it would be very convenient and helpful if there was such a service."
We will continue to study the societal implementation of SkyHub®, a new smart logistics system that combines drone delivery and land delivery, utilizing drones and other next-generation advanced technologies to promote understanding among local residents and address regional issues.
※COCONET Inc. is the prime sponsor of this demonstration experiment, which has been selected by the Organization for Environment Promotion as a project eligible for a FY2022 subsidy for projects to reduce CO2 emissions (a project to promote the introduction of advanced technologies to simultaneously realize social reform and decarbonization of logistics).