Press Release
Japan's first on-demand drone delivery service for hot lunches to healthcare professionals Demonstration experiment in Yokosuka City, Kanagawa Prefecture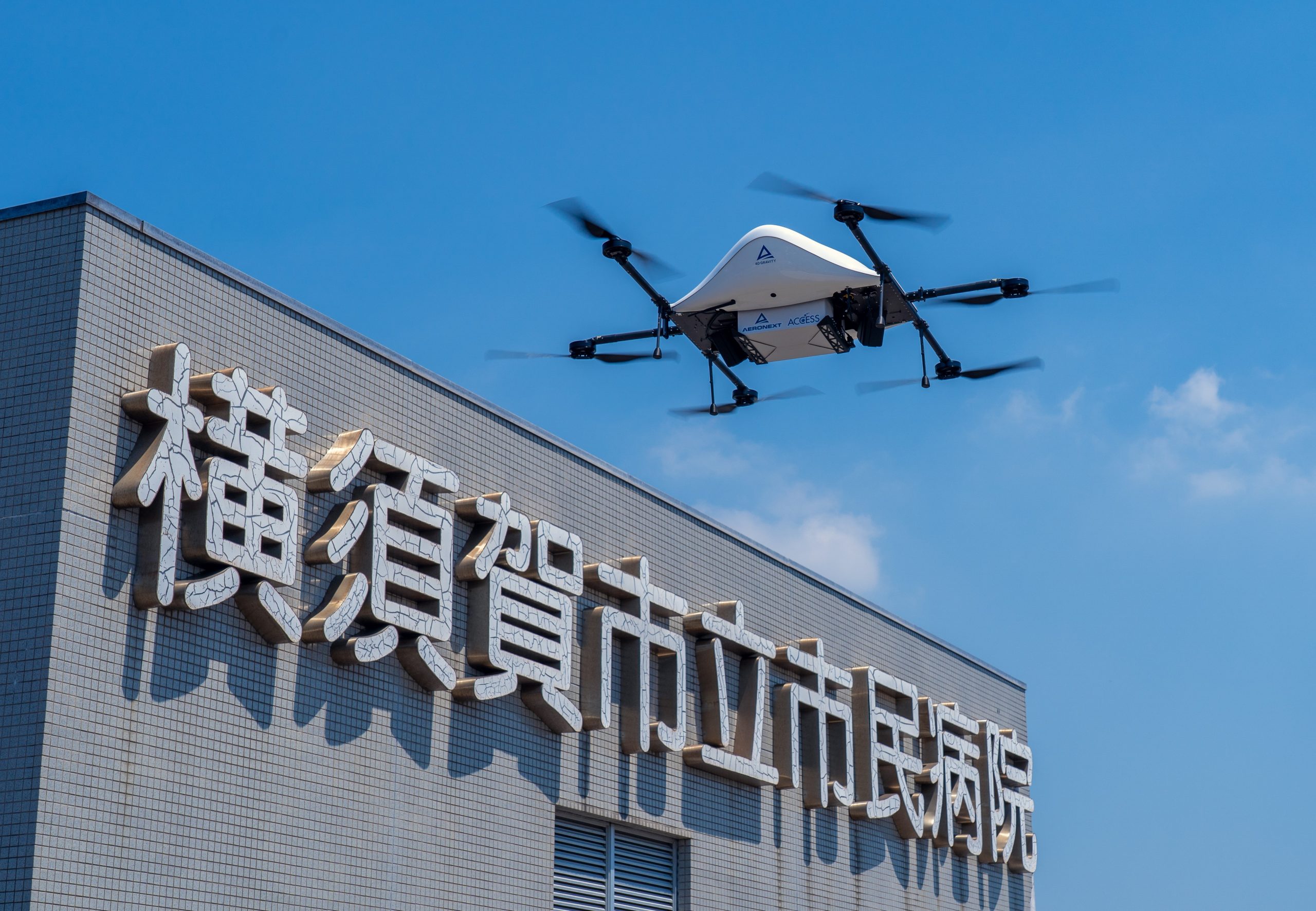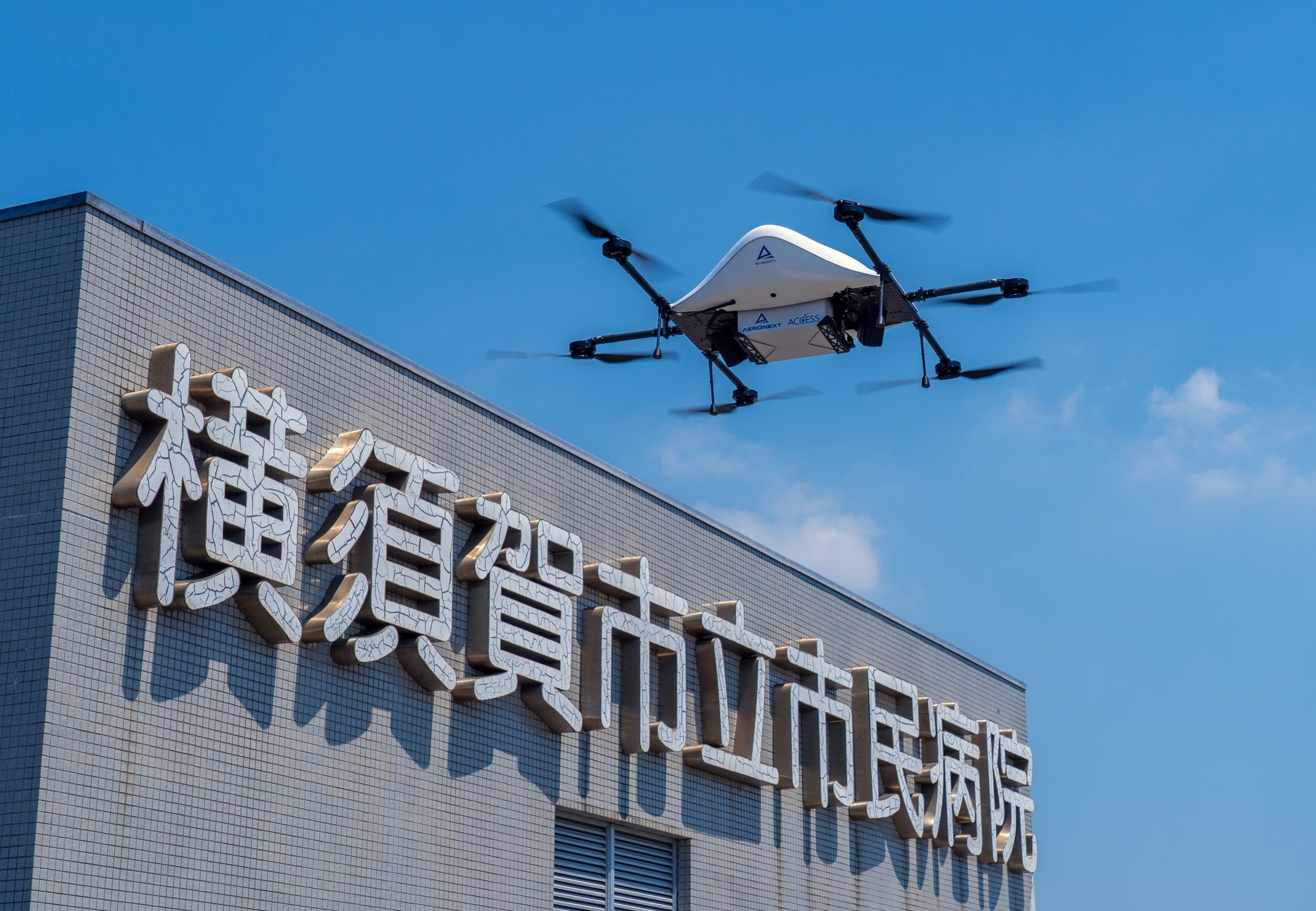 Aeronext Inc. (Shibuya, Tokyo, Keisuke Toji, President/CEO, hereinafter, Aeronext), ACCESS CO., LTD. (Chiyoda, Tokyo, Kiyo Oishi, President & CEO, hereinafter ACCESS), Demae-can Co., Ltd. (Shibuya, Tokyo, Hideo Fujii, President & CEO, hereinafter Demae-can),YOSHINOYA CO.,LTD. (Chuo, Tokyo, Yasutaka Kawamura, Representative Director/President, hereinafter YOSHINOYA), Kanagawa Prefecture (Yuji Kuroiwa, Governor),Yokosuka City (Katsuaki Kamiji, Mayor), Yokosuka City Hospital (Shunji Kitamura, Manager), Kanagawa Prefectural Marine Science High School (Takashi Ishigaki, Headmaster) partnered to experiment with delivery of YOSHINOYA Beef Bowl bentos ordered through Demae-can's app to medical staff at Yokosuka City Hospital via on demand drone delivery on June 10th, 2021.
This initiative was selected in December, 2019 as a model project for the realization of a drone-based society in Kanagawa Prefecture. Aeronext's "Demonstration Experiment for Opening Regular Drone Logistics Route" with Yokosuka's "Yokosuka x Smart Mobility Challenge" aimed at solving regional issues in Yokosuka City, are part of efforts looking toward the start of "Sky Industrial Revolution Level 4*1" in 2022, that includes looking to future regular drone delivery of food and medicine.
◆Outline of Demonstration Experiment ◆
(1)Date: Thursday, June 10, 2021
(2)Flight Area: Yokosuka Tateishi Park~Yokosuka City Hospital
(3)Items Delivered: YOSHINOYA Beef Bowl Bento
(4)Procedure:
• YOSHINOYA Beef Bowl Bentos ordered through Demae-can's app will be prepared in YOSHINOYA's mobile kitchen (Orange Dream) and put in a special box. Delivery staff from Demae-can deliver to the drone take off point (Tateishi Park)
• A drone with a special box attached will take off from Tateishi Park and fly 4.5km over ocean and 0.7km over land for a total of 5.2km and flight time of about 10 minutes. The drone will land on the roof of Yokosuka City Hospital for delivery to the medical staff for lunch.
• After delivery we will be able to show the food was still hot, not spiled, or the contents spoiled, and, that the delivery method met high standards.
(5)Yokosuka City Hospital Background
Yokosuka City Hospital is a hospital designated as a "priority medical institution" that accepts moderately ill patients who have been diagnosed as needing hospitalization for the COVID-19 infection. For hospital staff meals, there are few places for lunch in the surrounding area, and often there is not enough time to go out for lunch making it difficult to get a hot lunch. In addition, we have begun to consider online medical care in the future, and in this demonstration experiment, we have decided to cooperate with the possibility of online medical care and drug delivery in the future.
(6)Drone Used
This drone, unveiled for the first time, features Aeronext's original airframe structural design technology 4D GRAVITY® *2 and is an aircraft specialized for logistics applications with excellent flight performance, response performance, and landing performance. This latest logistics drone developed jointly by ACSL and Aeronext was announced on March 19th. Please see https://aeronext.com/news/acsl-access/ for details.
<Features>
4D GRAVITY® equipped logistics aircraft have the following three features, and improve flight speed, flight distance, deliverable weight, and delivery quality.
1) Ensures optimal balance of the cargo near the ideal center of gravity of the aircraft
2) Steady, horizontal flight and advanced, specialized logistics aircraft
3) Mechanism for independently maintaining the cargo horizontally
◆Roles
Aeronext: Coordination and control of this demonstration, drone equipped with original stable technology and provision of engineers
ACCESS: Remote operation management of drones, drone operations, provide engineers
Demae-can: Order System, Delivery
YOSHINOYA: Provide and prepare Beef Bowl Bento
Yokosuka City Hospital: Demonstration Cooperation
Kanagawa Prefectural Marine Science High School: Demonstration Cooperation
Yokosuka City: Demonstration Cooperation and coordination with related parties
Kanagawa Prefecture: Demonstration Cooperation and coordination with related parties
◆Reference
*1 Industrial Revolution Level 4:
The "Non-visual flight in manned areas without assistance" phase, planned for 2022, as per the public council's "Roadmap 2020 for the Industrial Revolution in the Sky" announced in July, 2020 for small unmanned aerial vehicles.
*2 4D GRAVITY® Airframe Structure Design Technology
Structural design technology that optimizes the center of gravity of the aircraft to make the motor speed uniform regardless of the attitude, state, and movement during flight, and improves the basic performance of the industrial drone in areas such as stability, efficiency, and mobility. This technology is characterized by a coupling structure between the airframe and payload. Aeronext patents this technology and manages its 4D GRAVITY® patent portfolio. By improving the basic performance industrial drones, 4D GRAVITY®, expands the applications of industrial drones allowing for expanded markets.
【About Aeronext】
Aeronext, an IP driven R & D technology startup for next-generation drones, is a company that designs the sky through technology in order to create a world where the sky becomes a social infrastructure, is economized, and solves social issues through drones. The core technology is 4D GRAVITY®︎, a unique structural design technology that improves basic drone performance such as stability, efficiency, and mobility of industrial drones by optimizing the center of gravity of the aircraft. In order implement this 4D GRAVITY®︎ as standard equipment on industrial drones, we have constructed a strong patent portfolio and are promoting a partnership based platform business for the 4D GRAVITY®︎ license globally.
*For more information: https://aeronext.com/company/
【About ACCESS】
Since 1984, ACCESS CO., LTD.  (Tokyo Stock Exchange First Section Index, 4813) has been providing advanced IT solutions centered around mobile and network software technologies to telecom carriers, consumer electronics manufacturers, broadcasting and publishing companies, the automotive industry and energy infrastructure providers around the world. The company develops mobile software solutions that have been installed on over 1.5 billion devices, and network software solutions that have been used by over 350 companies. Utilizing its network virtualization technology skills and knowledge, the company is currently focusing on the development and commercialization of IoT solutions that combine embedded and cloud technology. Headquartered in Tokyo, Japan, the company operates subsidiaries and affiliates in Asia, Europe and the United States to support and expand its business globally.globally.
* For more information: https://www.access-company.com/en/company/company_profile/
【About Demae-can】
"Demae-can" is a food delivery service that be used in a variety of situations to easily order foods from apps and websites.We can just delivery Guests orders after cooking in Restaurants. Demae-can has more than 70,000 member stores, making it one of the largest services in Japan. In addition, Demae-can is not just a food delivery service, but is a close community that continues to evolve connecting online and offline. Demae-can continues to work on new businesses, such as Sharing Delivery® (delivery agency), take-out business, and Incubation Kitchen® (delivery base with cloud kitchen), and create a life infrastructure aiding regional revitalization.
* For more information: https://corporate.demae-can.com/company/profile.html
【About YOSHiNOYA】
Since its founding, YOSHINOYA has continued to provide the unique value of the YOSHINOYA, "delicious, easy, and fast," with the beef bowl as its main product, in order to always satisfy customers. YOSHINOYA increases value by making improvements, while preserving traditional taste, and creates new products.
* For more information: https://www.yoshinoya.com/company/data/
*Aeronext, the Aeronext Logo, and 4D GRAVITY® are registered marks of Aeronext Inc.
*ACCESS and the ACCESS logo are registered marks of ACCESS CO., LTD. in Japan, the United States and other countries.