Press Release
Experimental Drone Delivery of Gyudon from Yoshinoya Store to Suburban Areas in Komatsu City~Expanding new smart logistics SkyHub® service launched in August~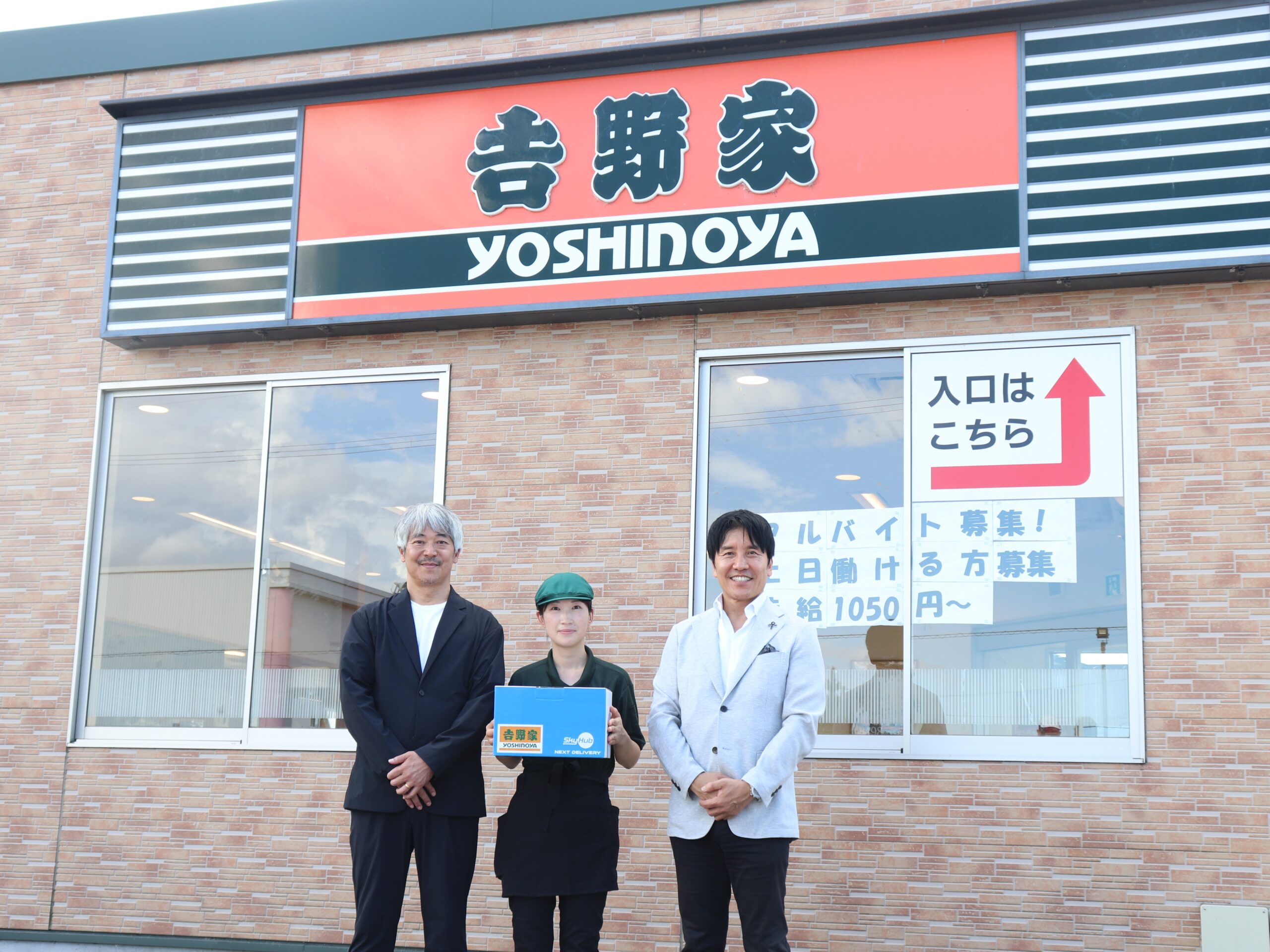 YOSHINOYA CO.,LTD. (Chuo-ku, Tokyo; Yasutaka Kawamura, Representative Director/President; hereinafter "Yoshinoya") and NEXT DELIVERY Inc. (Kosuge village, Yamanashi; Keisuke Toji, President; hereinafter "NEXT DELIVERY") have conducted a drone delivery demonstration in Komatsu City, Japan, to deliver beef bowls from Yoshinoya store to suburban areas.
On August 28, Komatsu City started the societal implementation of new smart logistics*1 SkyHub®*2 using drones, and held an opening ceremony for "Drone Depot® Komatsu" located in Honobono Shoto, which will serve as a base.
NEXT DELIVERY has already taken the lead in implementing the new smart logistics SkyHub® service, and has already launched a shopping service and other services. Yoshinoya's boxed lunches are currently delivered to customers' homes by land transport, and this experiment was conducted with an eye toward future drone deliveries.
Outline of the Demonstration
Date
Tuesday, September 12, 2023
Flight overview
A 2.5 km one-way flight from Yoshinoya Komatsu to the Kiba Lagoon Canoeing Stadium boatyard in approximately 6 minutes
Items to be transported: Gyudon lunchboxes from Yoshinoya (4 gyudon lunchboxes per delivery)
Overview
Four beef bowl lunchboxes prepared at Yoshinoya Komatsu Store were placed in a box and loaded onto a drone by Yoshinoya Komatsu Store staff, which took off at approximately 30-minute intervals starting at 10:30 a.m. and flew a total of nine times along one route to deliver the lunchboxes to Komatsu citizens and canoeists.
Since the route in question flies over the planned tracks of the Hokuriku Shinkansen Line, scheduled to open in 2024, and is located in the vicinity of Komatsu Airport, the implementation was completed after prior coordination with the related parties concerned.
The gyudon bento arrived hot and flawless performance of the delivery, with no spillage of the beef bowl sauce and no unevenness in the contents. A resident of Komatsu who received and ate a gyudon bento delivered by drone said, "It tastes just as good as the ones at the store, in fact, it feels warmer than usual."
Aircraft Used
The drone delivery uses AirTruck*3, a dedicated logistics drone with a maximum payload of 5 kg and a maximum flight distance of 20 km, developed from scratch by Aeronext specifically for logistics applications.
Drone delivery in Komatsu City will be combined with land transportation at first, and is scheduled to start by November, based at "Drone Depot® Komatsu".
Starting with Komatsu City, the parties will cooperate and collaborate to develop food delivery services utilizing next-generation advanced technologies, including drones, in accordance with the needs of residents throughout Japan, thereby contributing to the revitalization of local communities.