Press Release
Demae-can and Aeronext in Business Alliance to Create New Product Distribution Mechanism Using Drones 〜Jointly pursue regional introduction of delivery services using hybrid air-land transportation〜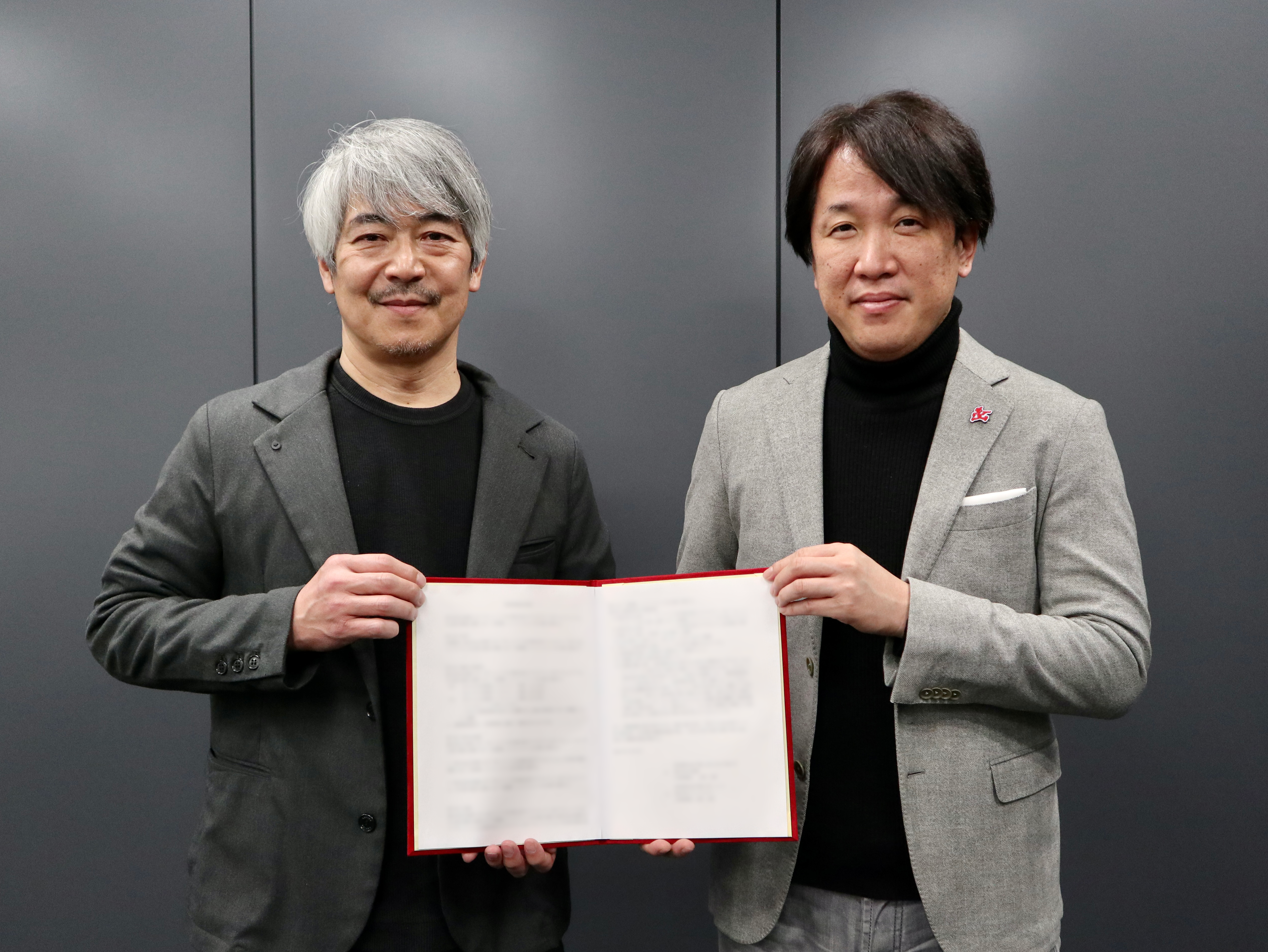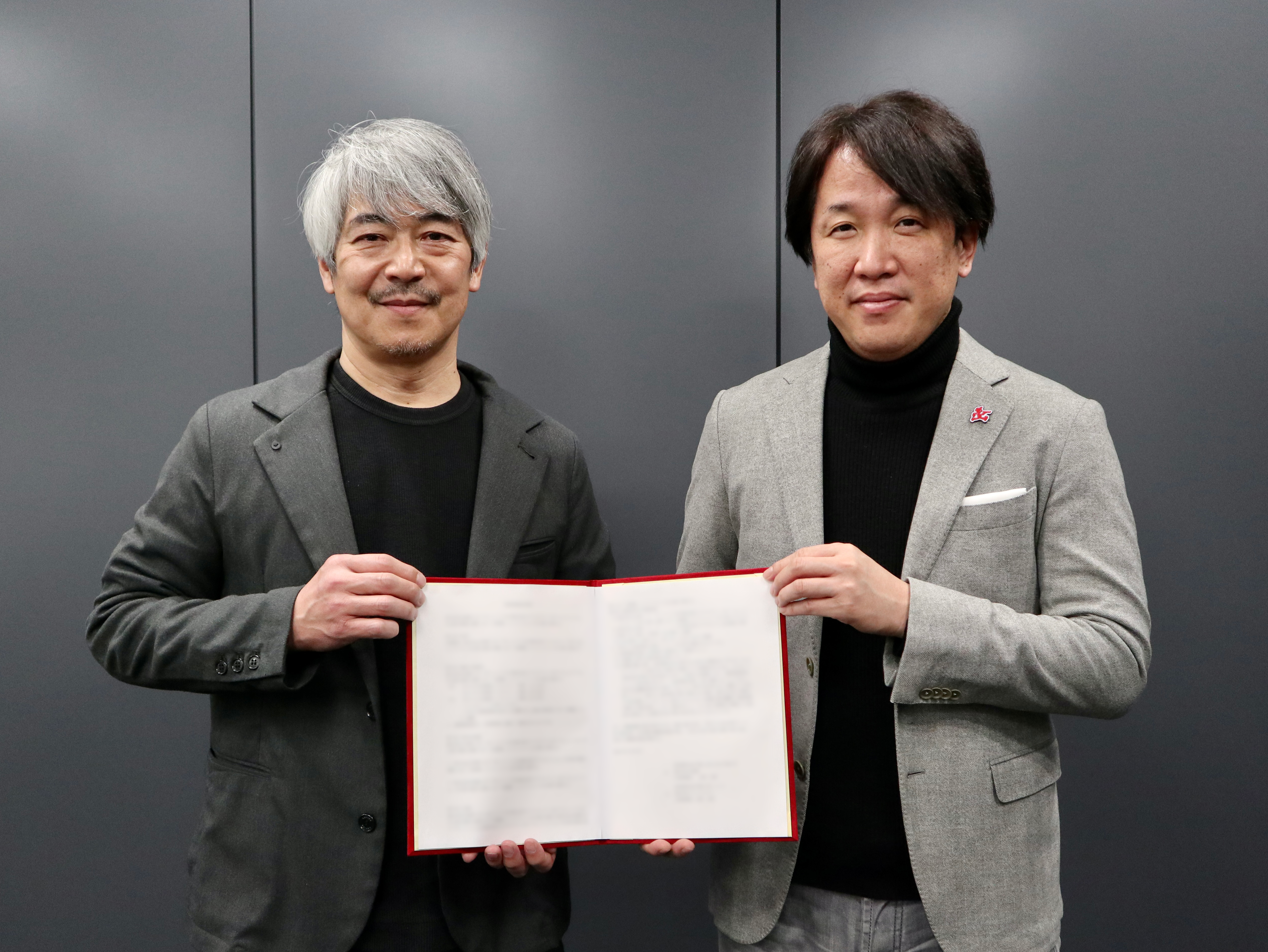 Demae-can Co., Ltd. (Shibuya-ku, Tokyo; CEO: Hideo Fujii; hereinafter "Demae-can") and Aeronext Inc. (Shibuya-ku, Tokyo; CEO: Keisuke Toji; hereinafter "Aeronext") signed a business alliance agreement on Thursday, December 29, 2022 to establish a new product distribution system using drones.
Beginning with this partnership, the two companies will jointly pursue the regional introduction of delivery services using a hybrid of air and land transportation in conjunction with the Demae-can application in municipalities that plan to introduce the new smart logistics*1SkyHub®*2. Seino HD and Aeronext will begin operating the SkyHub® in Tsuruga City, Fukui Prefecture and Sakai Town, Ibaraki Prefecture, with which they have concluded comprehensive cooperation agreements.
Background and Purpose of Business Alliance
Of the 1,747 basic municipalities in Japan, 885 have depopulated areas (as announced by the Ministry of Internal Affairs and Communications on April 1, 2022), representing more than 50% of all municipalities. Depopulated areas face a variety of common problems related to the movement of people and goods, including those who are vulnerable in terms of shopping, medical care, and distribution, as well as those who have no means of transportation due to the closure or closure of local transportation systems.
In addition, the spread of COVID-19 has had an impact on lifestyles and logistics, and there is a need to address a wide range of needs and resolve issues in the last-one-mile area.
Demae-can's vision is to create a "life infrastructure that connects the happiness of local people" and aims to make delivery services even more commonplace as a life infrastructure that supports all kinds of people through the use of new technologies. Aeronext is developing a drone delivery business based on the development of industrial drone technology. Since last year, in cooperation with Seino HD, Aeronext has been developing "SkyHub®", a new smart logistics system that incorporates drone logistics and joint delivery, promoting its nationwide deployment, and is working to solve regional issues by building new logistics infrastructure mainly in depopulated areas and mountainous regions.
Demae-can and Aeronext have already conducted drone delivery demonstration tests in Yokosuka City and Tsuruga City*4 in an effort to solve problems in local communities. Through this business alliance, the two companies aim to expand the deployment area of Demae-can, establish drone delivery for Aeronext, and popularize SkyHub®TMS. The two companies will work together to achieve the aims of both parties by leveraging their strengths, further bolstering collaboration, and establishing a new product distribution mechanism.
Details of the Business Alliance
The purpose of this project is to work in cooperation with each other on the following specifics in the construction of a new product distribution system to support people who have difficulty in shopping due to depopulation and aging of the local population (hereinafter referred to as "residents in the target area").
To establish and efficiently operate a new commodity distribution system
Expansion of product delivery areas and target customers and support for the food and beverage industry through hybrid delivery with air and land transport by drone
Study and research ways to reduce manpower and improve efficiency in logistics
Cooperation with government, including local governments
Roles for the Companies
Demae-can
Provision of infrastructure for service website offering products to residents in the target area
Using the partnership with "Aeronext" as a means to achieve delivery to residents in the target area
Aeronext
Implementation of delivery using aerial drones as a means of delivery to residents of the target area.
Developing distributors of products that have been difficult to obtain for residents of the target area and working with Demae-can
(Reference)
*1 New Smart Logistics
A public-private initiative to find solutions to the issues commonly faced by the logistics industry, such as labor shortages, environmental and energy issues, and DX areas, while utilizing digital and technology to ensure the future sustainability of logistics, which is an indispensable infrastructure for people's daily lives. The project aims to realize the last mile joint delivery, the best mix of land and air transportation, freight and passenger consolidation, automated technology, etc., through co-creation based on an open public platform (O.P.P.) that transcends the boundaries between the industry and the outside world.
*2 New Logistics SkyHub®︎
A new smart logistics system that connects existing logistics and drone logistics jointly promoted by Aeronext and Seino Holdings Co., Ltd., and connects the ground and air infrastructure so that goods can be delivered anytime, anywhere. It features an open platform and standardized mechanism that incorporates drone delivery and realizes joint delivery. The introduction of SkyHub will contribute to solving social issues in the region, such as population decline, labor shortage due to declining birthrate and aging population, traffic problems in specific depopulated areas, medical problems, disaster countermeasures, and measures against vulnerable logistics from the aspect of logistics reform. It is possible to raise the satisfaction level of residents and communities by improving the convenience and quality of life of residents, which is also meaningful in promoting regional revitalization.
*3 AirTruck
AirTruck, the first mass-produced logistics drone developed in Japan by Aeronext Corporation, a next-generation drone technology startup, in collaboration with ACSL, achieves stable flight with Aeronext's proprietary 4D GRAVITY®*3 airframe structure design technology. The AirTruck is a dedicated logistics drone that goes "faster, farther, and is more stable" with enhanced for logistics, specialized for forward motion, and aerodynamic characteristics required for long-distance flight. The prototype has flown in demonstration tests in various regions of Japan and has the No. 1 flight record in Japan.
*4 Examples of demonstration experiments conducted in collaboration between the two companies
Yokosuka City: https://aeronext.com/news/yokosuka_beefbowldelivery/
Tsuruga City: https://aeronext.com/news/tsurugacity_poc08292022/
【About Demae-can Co., Ltd.】
Demae-can Co., Ltd. is one of the largest delivery services in Japan, with a nationwide network of 47 prefectures, and offers a wide range of services that can be used for a variety of occasions, including easy ordering via an app or website. Since its launch, the number of member restaurants has expanded to more than 100,000. Originating as a food delivery service, "Demae-can" has recently expanded its service to the "last mile" area, such as the delivery of daily necessities, and continues to evolve. With food delivery as its starting point, the company will continue to expand its business as a service that fits a variety of situations and advances as a life infrastructure.
【About Aeronext Inc.】
AERONEXT, an IP driven R & D technology startup for next-generation drones, is a company that designs the sky through technology to create a world where the sky becomes a social infrastructure, is economized, and solves social issues through drones. Our core technology is 4D GRAVITY®︎, a unique structural design technology that improves basic drone performance such as stability, efficiency, and mobility of industrial drones by optimizing the center of gravity of the aircraft. In order implement this 4D GRAVITY®︎ as standard equipment on industrial drones, we have constructed a strong patent portfolio and are promoting a partnership-based platform business for the 4D GRAVITY®︎ license globally.
AERONEXT has also founded a subsidiary to implement the SkyHub® smart logistics and pursue drone delivery.
*For more information: https://aeronext.com/company/
*Aeronext and the Aeronext logo, as well as "4D GRAVITY®" and "SkyHub® are trademarks of Aeronext Inc.
*Other company names and product/service names mentioned in this press release are registered trademarks or trademarks of their respective owners.